More of a visual person? Then match my new video guide to West Ireland and remember to subscribe to my YouTube Channel! For more in-depth details and bonus suggestions read the article below (or do both and be SUPER prepared for your trip)!
Growing up my mom always reminded me of my Irish heritage. Mostly, during those days on the beach when I was the only kid who had to wear a t-shirt to protect me from the sun (embarrassing)! She also reminded me of my heritage through her cooking, which was the most enjoyable part of growing up with an Irish American mother. She would incorporate Irish dishes with a modern American spin. It made for tasty meals and I always told myself that one day I would visit the country myself.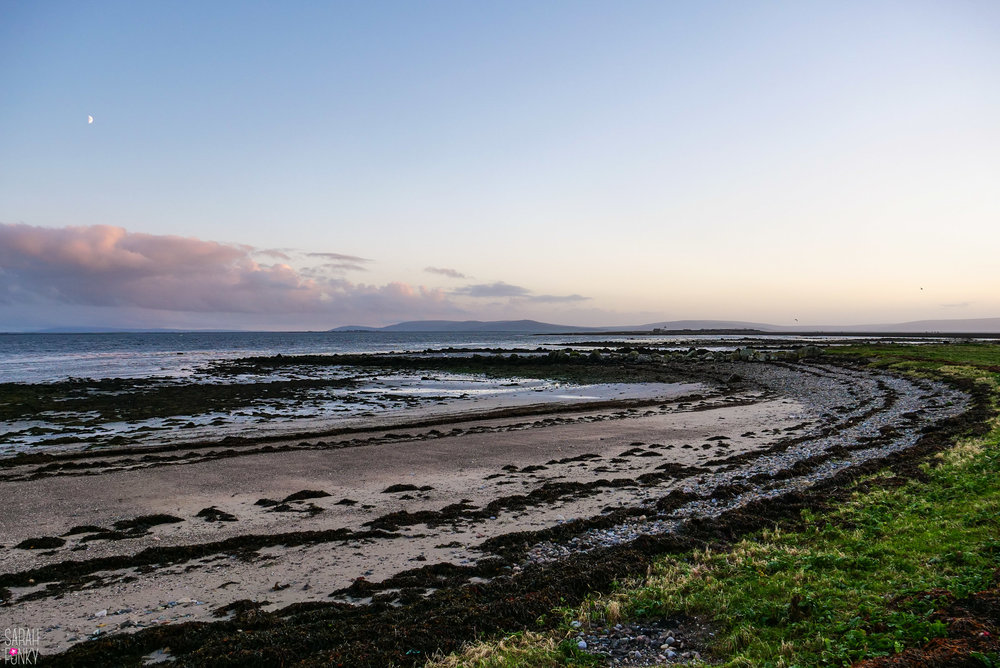 In 2017, I took my first trip to what one could call my "homeland". More recently, I visited this November again to see my best friend get married in a beautiful castle. During this trip, I wanted to connect with my Irish roots on a deeper level so that I could understand my heritage fully. To begin, I booked a flight into Shannon Airport, rented a car through Enterprise, and began my journey along the Wild Atlantic Way.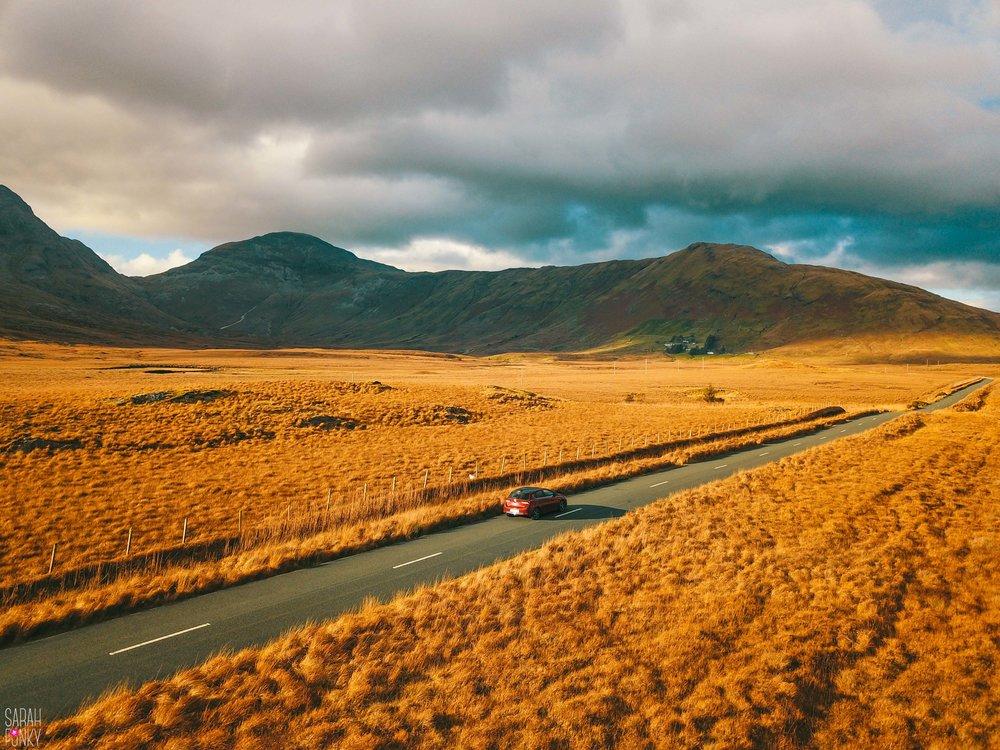 DAY 1: GALWAY
When I think of Galway, I immediately hear Ed Sheeran's Galway Girl play in my head. This city is one that gives you a proper Irish town feel and I love that about it. It is a coastal city with tons of character and many great spots to eat. To learn a bit more about the culinary scene, Luis and I took a food tour with Galway Food Tours.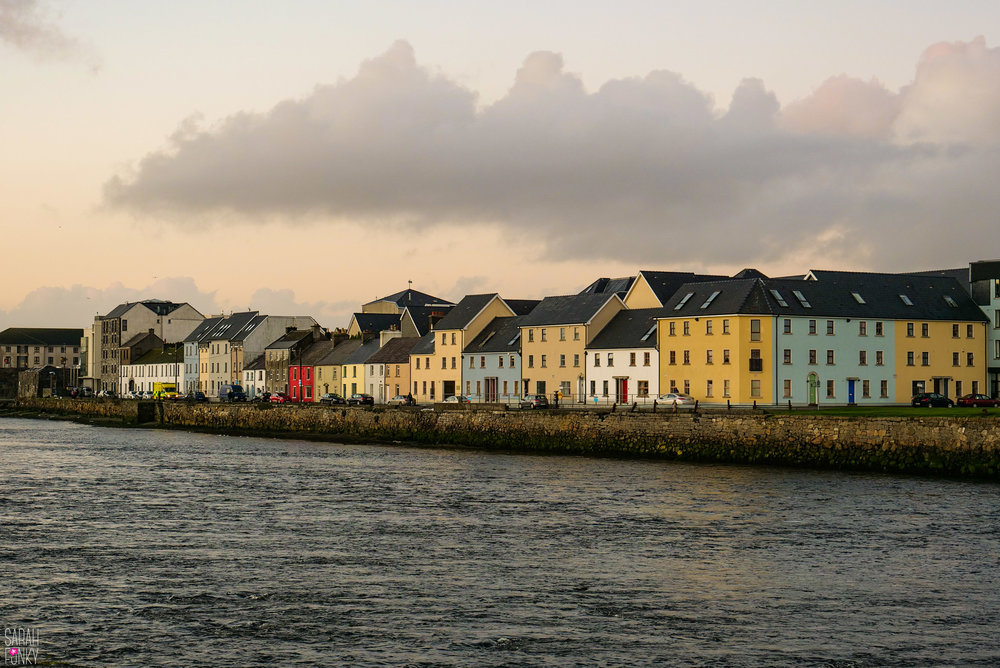 During the two hour culinary walking tour, we learned that the passionate people and local produce make Galway one of Irelands' gourmet jewels. During the tour we had tastings from artisan producers, cheese makers, creative beer makers, and local chocolatiers. We also visited everything from traditional family run businesses, to young entrepreneurs with devotion and commitment to showcase the best of Irish produce.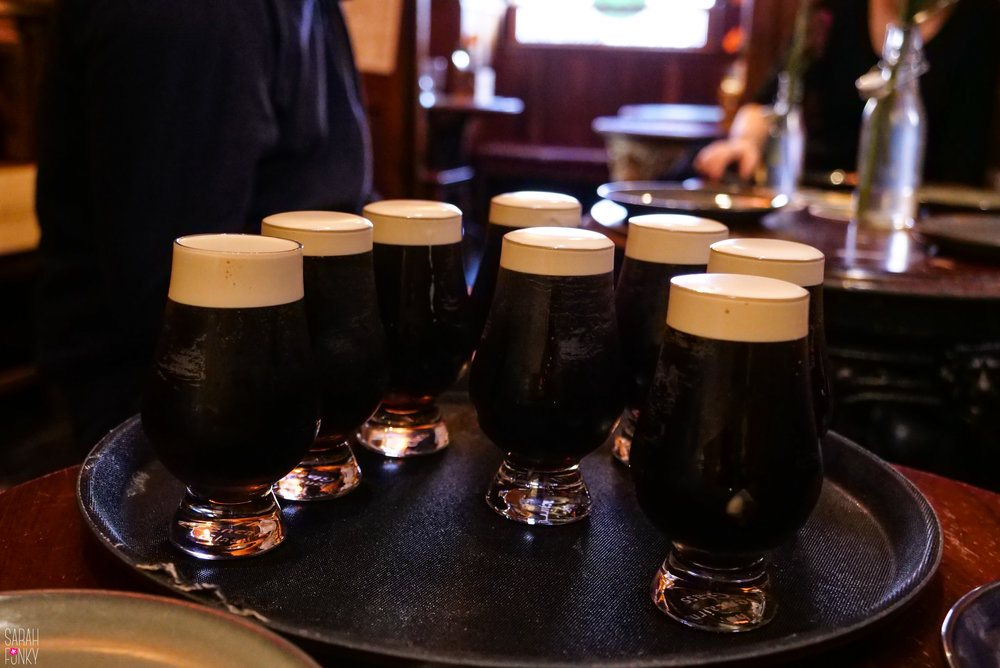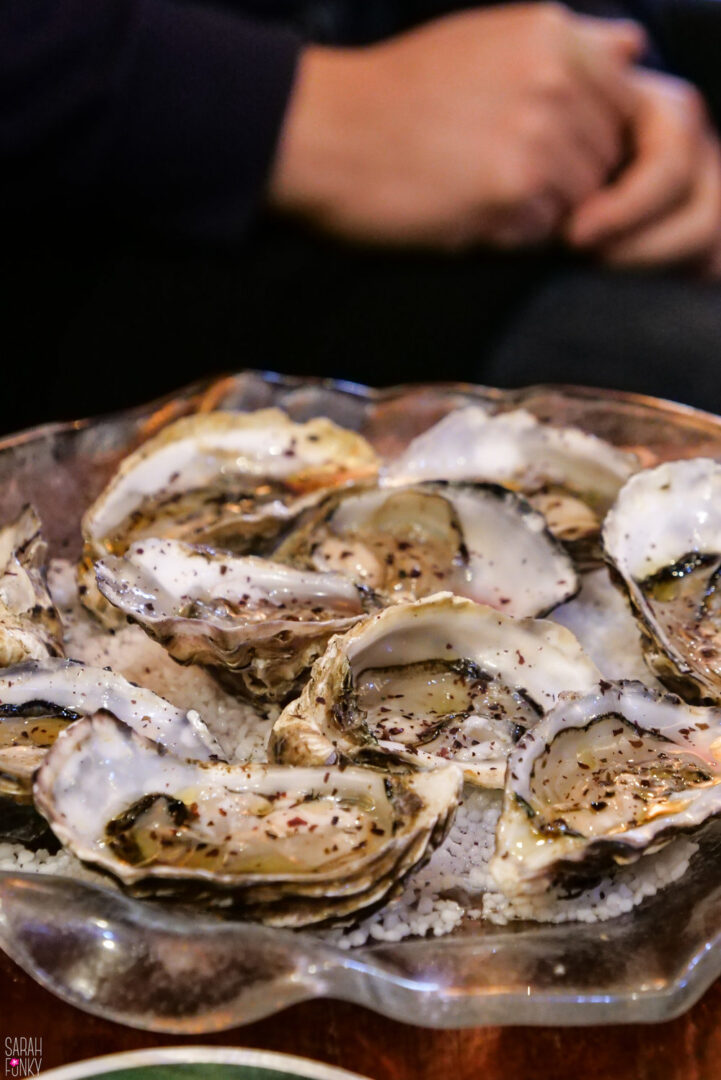 After the tour it was time to walk off all the food we ate. To gain a better understanding of Galway we visited The Spanish Arch and the Long Walk. These are also some of the most picturesque parts of the city, as they are right near the coastline. I recommend timing this walk during sunset for beautiful shots of the surrounding area and landscape.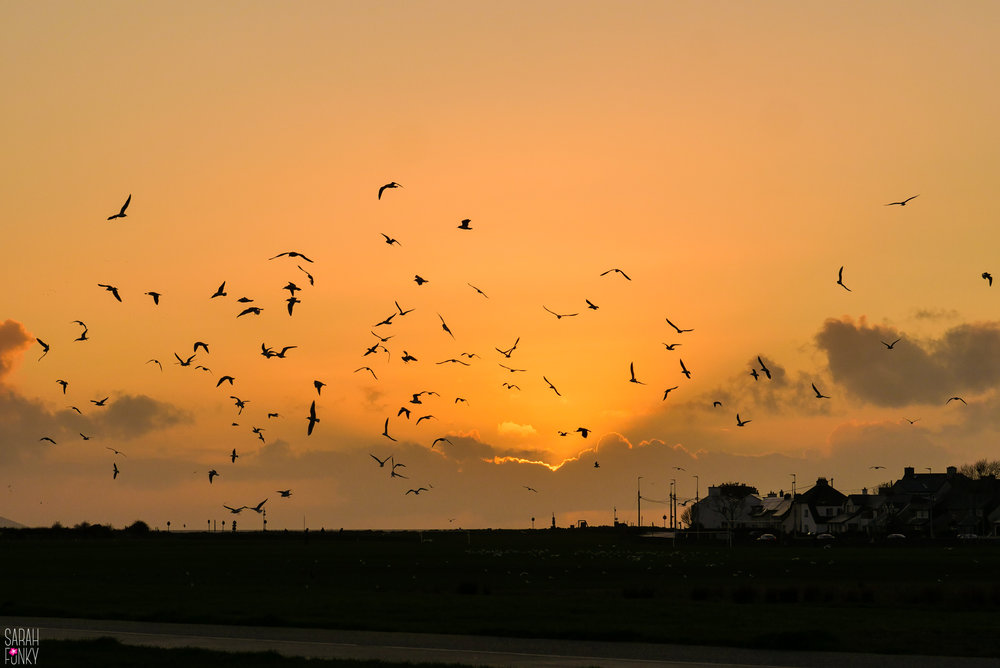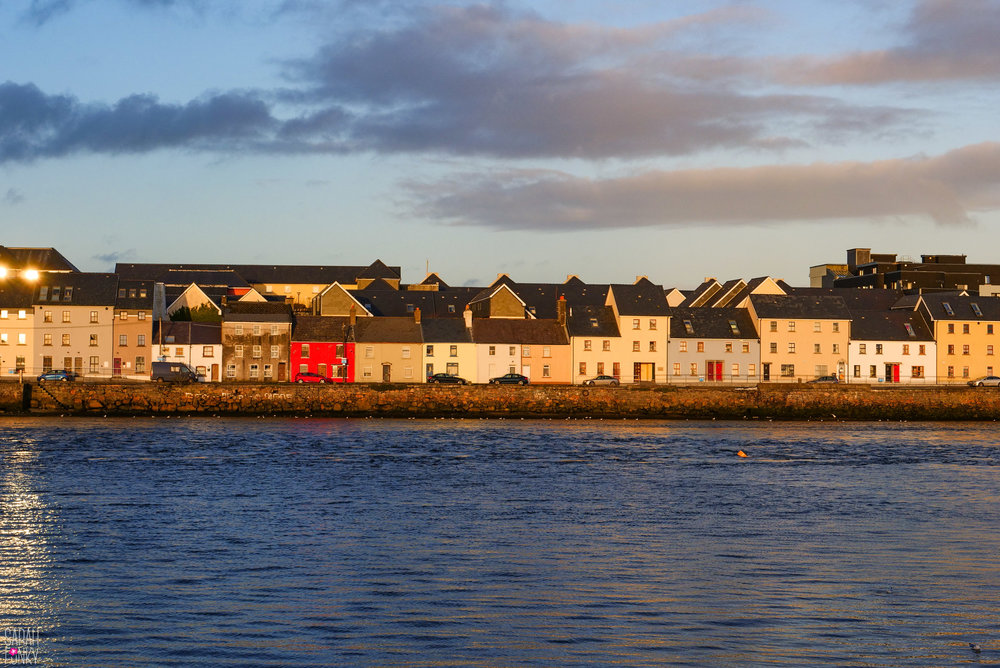 Next, we were off to a spot that I have been eyeing since our first trip to Ireland in 2017 but never got the chance to go. It is an adorable little Irish tea shop called Cupan Tae. The interior reminded me of Professor Umbridge's office at Hogwarts. There were frilly lace table-clothes, cute little framed photos on the walls, and tons of pastel colored porcelain cups and saucers. It is everything one could want in a tea shop.
I recommend doing their afternoon tea. It is €20 per person and your tea is served on a tiered china stand with a selection of finger sandwiches, savory delights, homemade scones and sweet treats. This experience was everything I could have ever wanted it to be!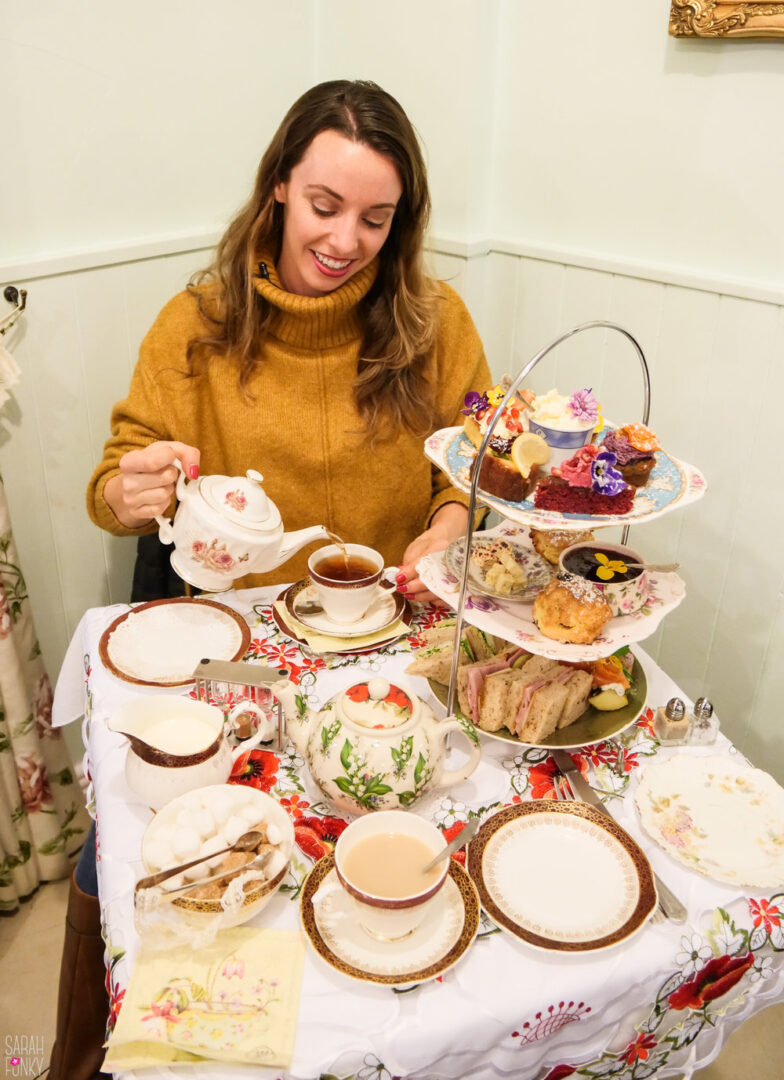 After tea, we walked around Galway and did a little shopping. When I travel anywhere I always make sure that if I bring back any souvenir, it must be locally made. At The Sheep we found the absolute perfect gift for those that couldn't join us on the trip. This shop makes handcrafted sheep that are made using locally produced products. For a behind the scenes experience, we headed upstairs with the store owner, Mark Tierney, who showed us the process for making each sheep. This is something that anyone can see so make sure you ask when you come into the store! It is so important to buy items like this instead of refrigerator magnets or branded t-shirts that are not made locally when you travel. Supporting the local community is a great way to give back to the place you are vacationing!
For dinner, we went to Ard Bia at Nimmos. This was a recommendation both from the tourism board and our local guide from Galway Food tours so we knew we were in for a special treat. It is one of Galway's most enduring restaurants and housed in one of the city's most iconic restaurant spaces. What I loved about Ard Bia at Nimmos is that they place as much emphasis on community experiences and aesthetic stimulation as serving great food in a fun environment. All of their dishes are representative of Galway but also take inspiration from around the world. Make sure you get a reservation if you want to dine here. They are very popular!
After a tasty dinner, we headed to the luxurious 5-star G Hotel & Spa to spend the night. It was designed by world renowned milliner and Galway native, Philip Treacy. The rooms are colorful, modern and spacious. They also have three signature lounges for casual dining and Afternoon Tea, as well as Restaurant gigi's, winner of 'Best Hotel Restaurant in Galway' at the Irish Restaurant Awards. What I loved was wandering through the hotel and discovering their color themed rooms. They had an all pink dining area, an all purple dining area, and then a silver lounging area that was complete with festive holiday decor.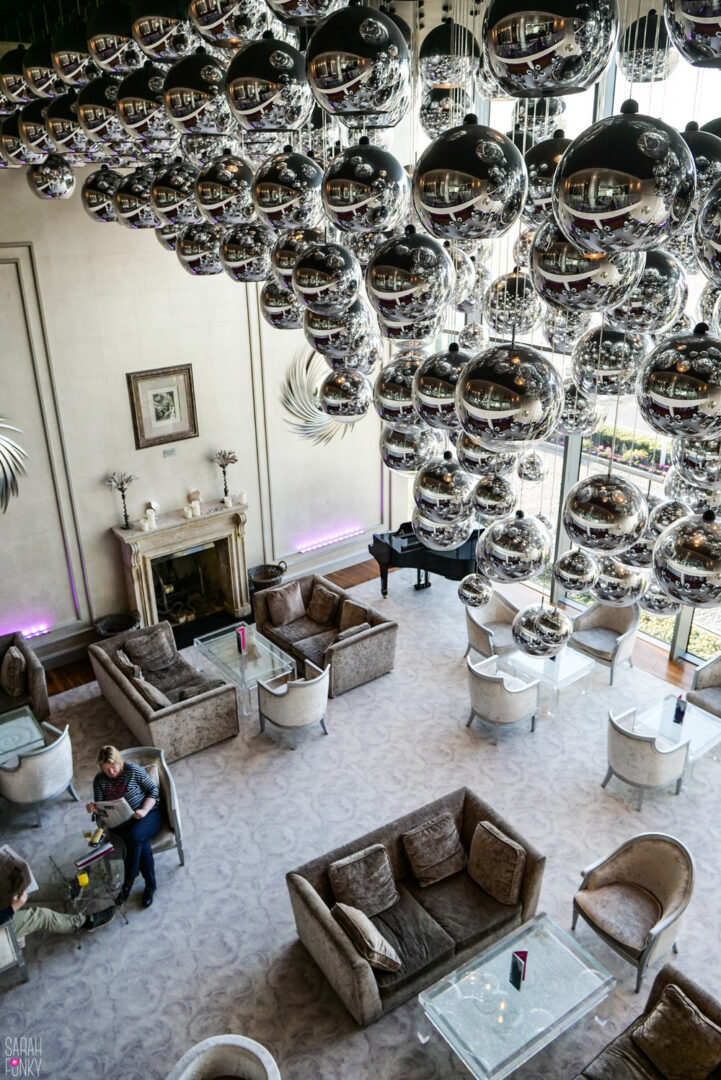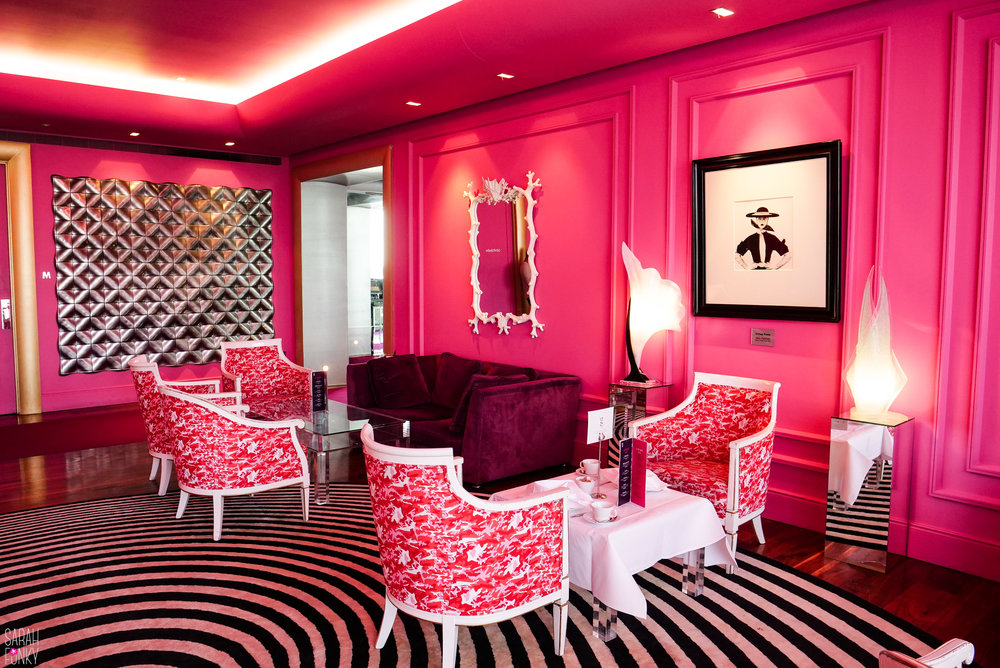 DAY 2: CONNEMARA
What is Ireland without its castles? It is estimated that there are about 30,000 castles and castle ruins that dot the Irish landscape. Naturally, every visitor should stay at one while they're exploring the rolling green hills. The next morning we enjoyed a traditional Irish breakfast of bacon rashers, pork sausages, fried eggs, black pudding, toast and fried tomato at the G Hotel & Spa, then hopped in our Enterprise rental car and headed along the Wild Atlantic Way to check into our castle for the night.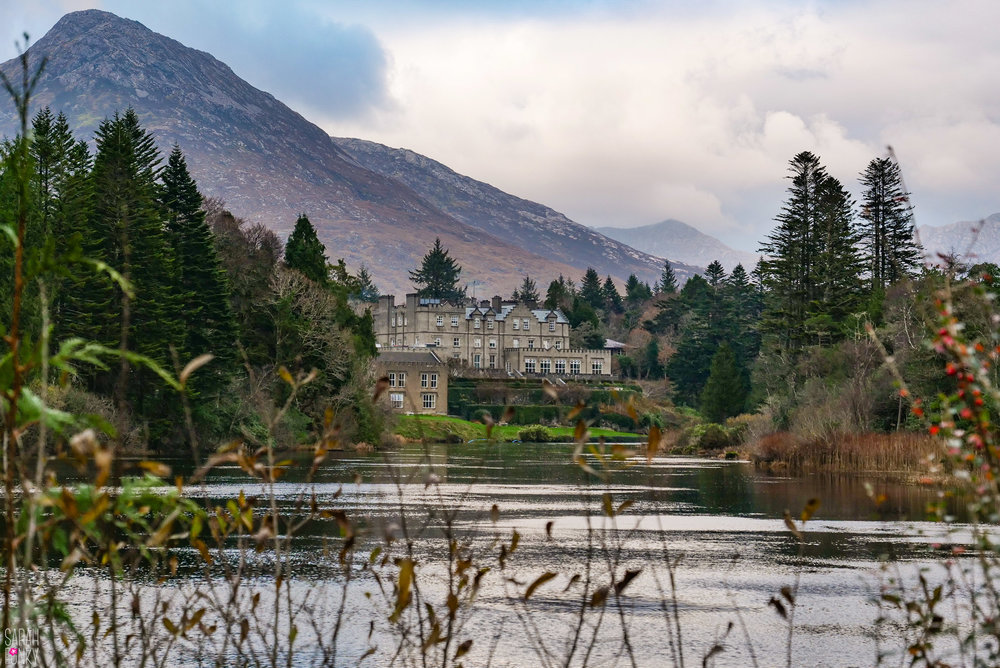 Along the way we stopped at Brigits Gardens. These Celtic gardens portray the countries heritage and mythology. They are widely regarded as one of the most spectacular in Ireland, set within 11 acres of native woodland & wildflower meadows. In addition to the Celtic Gardens, visitors can enjoy the nature trail, an ancient ring fort, a thatched roundhouse and crannog, and the largest calendar sundial in Ireland. There is also a little cafe and nice shop, which are great to relax in during the cold months of the year. We had a fun time walking around the property, with a tea in hand, and seeing the beautiful Celtic oasis.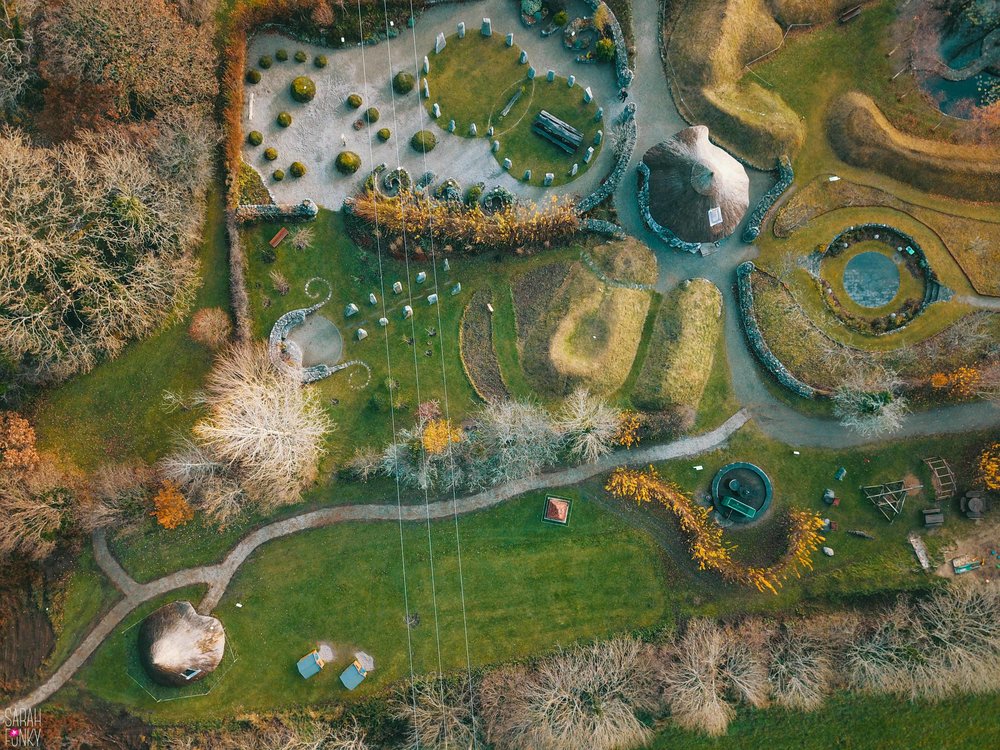 Soon after, we were on our way to Ballynahinch Castle Hotel. It is one of Ireland's finest luxury castle hotels. Voted #1 in Ireland by the readers of Condé Nast magazine. The manor is set on a private 700 acre estate of woodland with rivers and walks in the heart of Connemara. From its interior we saw the views overlooking its famous salmon fishery with a backdrop of the beautiful 12 Bens Mountain range.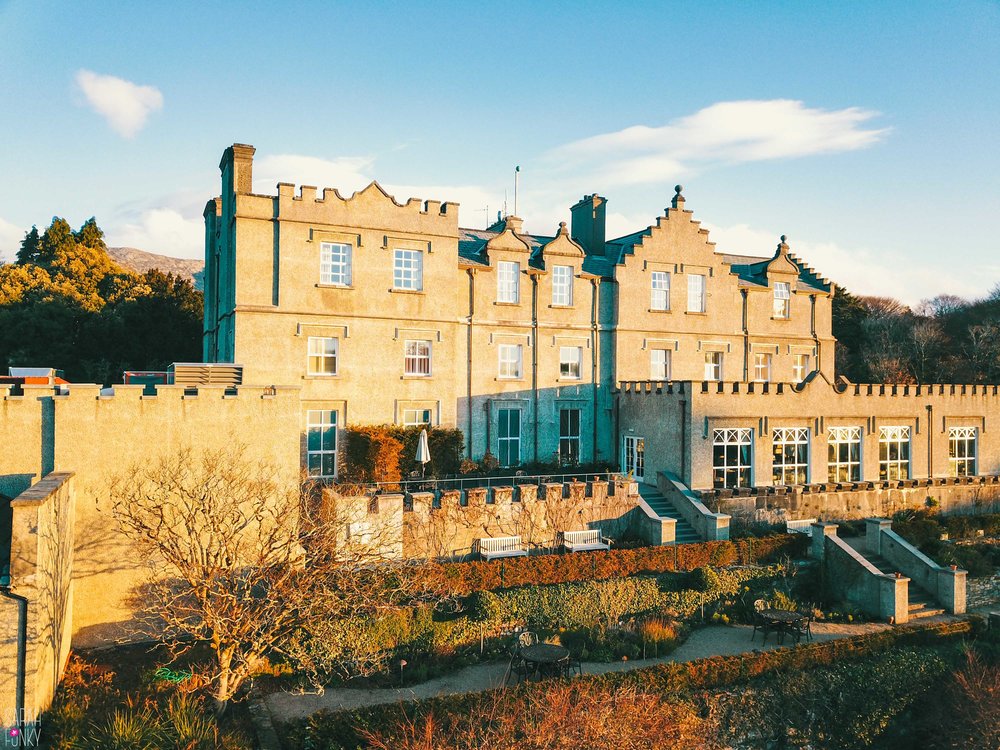 Staying here is an experience in itself. The moment we stepped foot out of our car we smelled the aroma of peat burning in the fireplace. The interior of the castle was decorated like a 1920's Irish mansion. There were leather bound books, tons of cozy reading nooks, and a traditional pub complete with two fireplaces. Our room felt like we were royal guests since it had a duel sink bathroom, make up room, and a massive bedroom with a lounging area overlooking the river.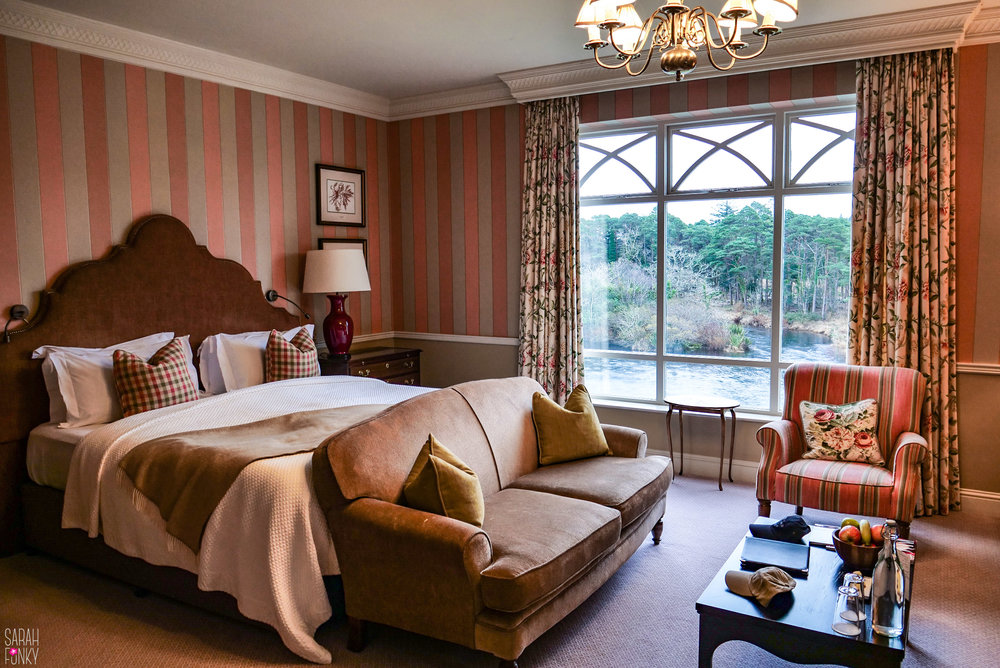 Once we were settled in, we joined local guide Noel to do a walk of the grounds. This is something that all guests have access to and I highly recommend it because it gives you a wonderful history of the castle and area. Noel guided us along the river and through the forest showing us an old train station, a hidden cemetery, a castle on an island, and much more. We even met a little pony in the woods!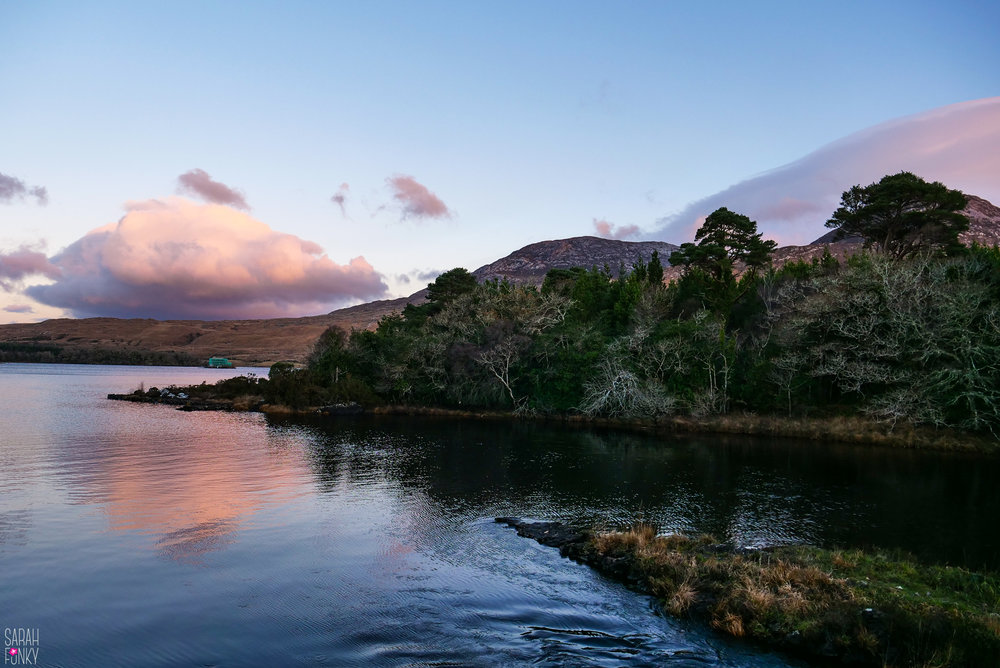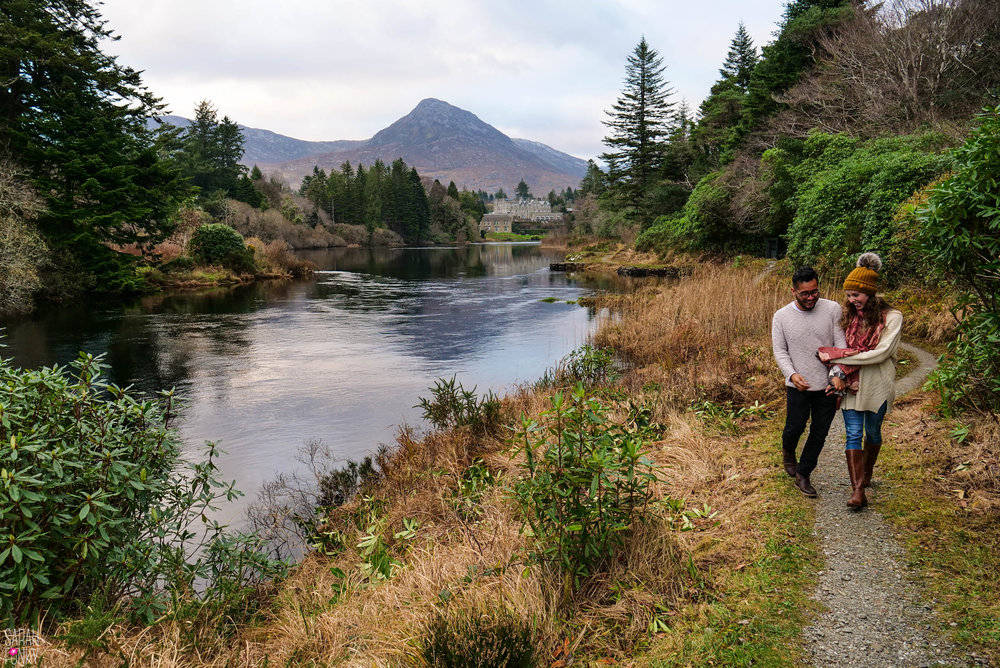 That night we dined at the castle for dinner, which made me realize that there is no need to leave the property for a good meal. At Owenmore Restaurant we enjoyed a meal that was completely locally sourced from both the surrounding area and the castle grounds themselves. Noel even mentioned during our tour that many of the mushrooms that are used in the kitchen are picked fresh each morning in their forests.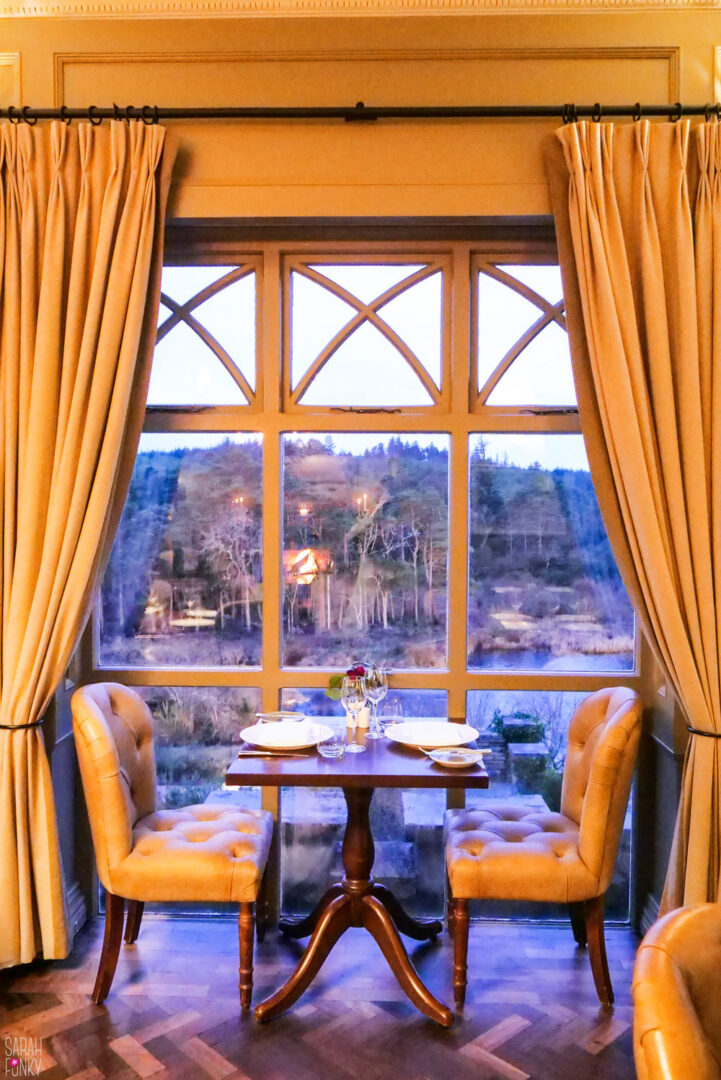 Owenmore Restaurant overlooks the magnificently appointed terraces above the majestic salmon river and offers a relaxed elegance that reflects the subtle sophistication of the kitchen. Head chef Gianluca Marongiu and his team extract exceptional flavor and texture from the region to present the very best in Irish food. While savoring the delights of the kitchen we took in the artwork of Gerard Dillon, Mary Swanzy, William John Leech and many other artists, and enjoyed the welcoming fireplace in the main dining area.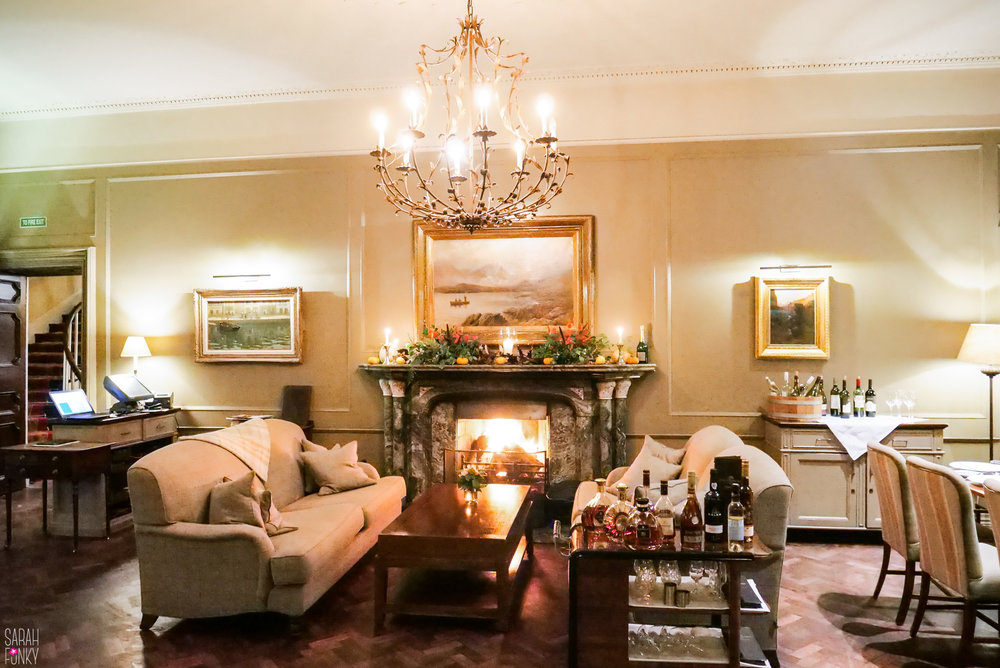 DAY 3: WESTPORT
Small towns often portray the culture of a place better than it's big cities. They show what was once a historical town, a well integrated . For a small town, they showcase not only their history, but also how well they blend in with the present (in a better way than bigger cities do!). This is why I wanted to visit Westport, a small town that is located along Clew Bay. We checked out of Ballynahinch Castle Hotel and began the drive to Westport.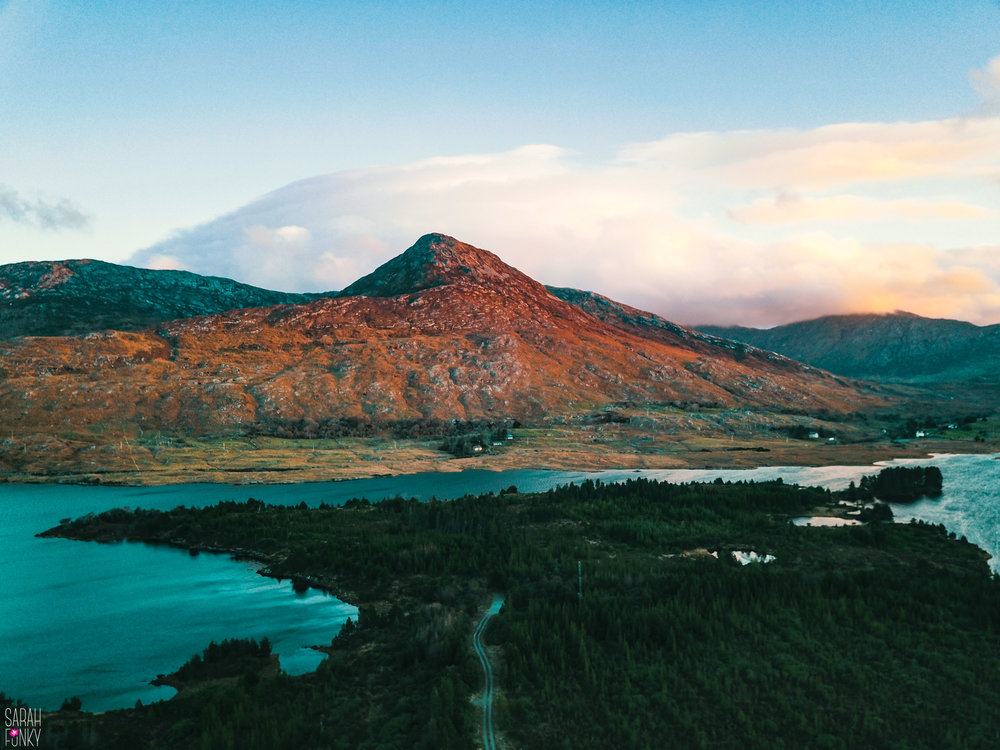 To cut up the trip we stopped at Kylemore Abbey. It is one of Ireland's top tourist attractions. Kylemore Castle was built in the late 1800s by Mitchell Henry MP, a wealthy businessman and liberal politician. Inspired by his love for his wife Margaret, and his hopes for his beloved Ireland, Henry created an estate boasting 'all the innovations of the modern age'. An enlightened landlord and vocal advocate of the Irish people, Henry poured his life's energy into creating an estate that would showcase what could be achieved in the wilderness of Connemara. There are woodland and lake shore walks, magnificent buildings and Ireland's largest Walled Garden.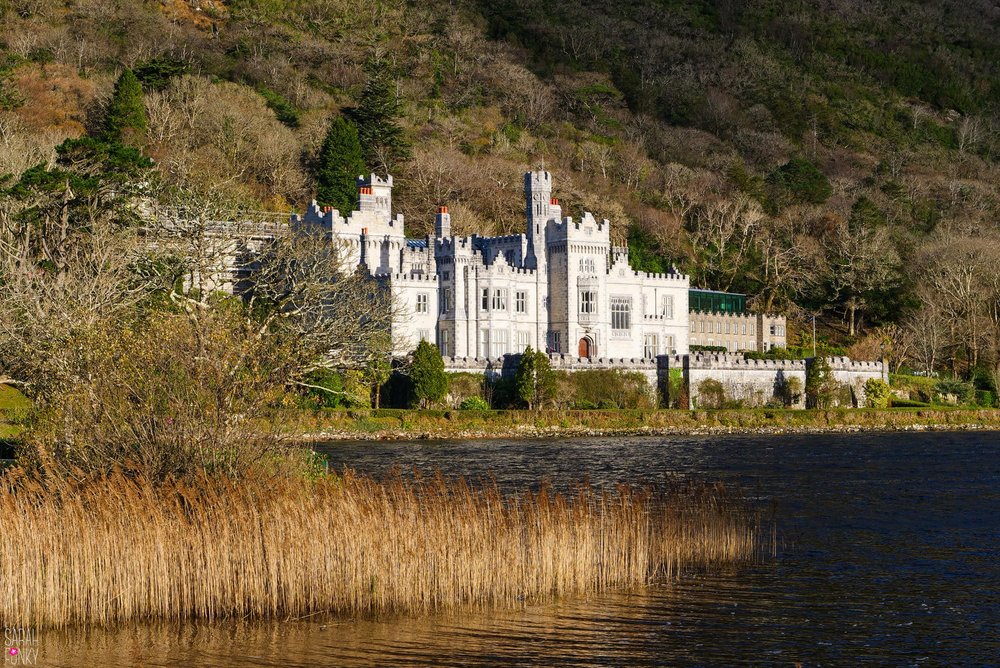 We continued the drive to Westport and checked in to the centrally located Hotel Westport. It is a family owned 4 Star Hotel perfectly positioned within the extensive grounds of Westport House. We checked into a stunning suite that had a living room and fireplace. It was incredibly relaxing and modern.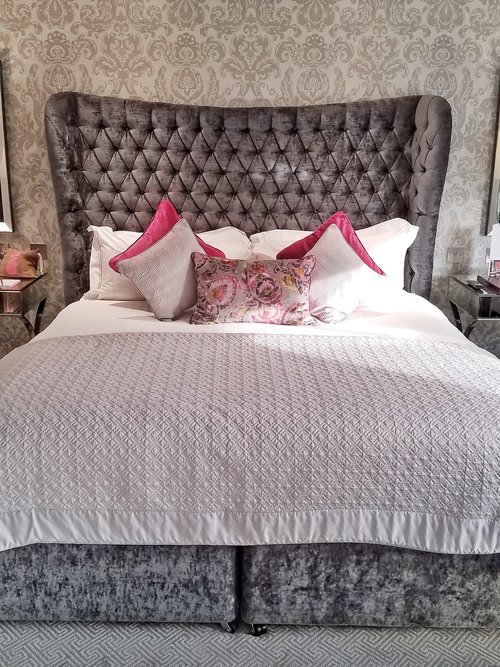 Since we were already on the grounds of the Westport House, we decided to explore it. It is one of the country's best loved heritage attractions and is called the most beautiful house in Ireland. It is set on a majestic 400-acre woodland estate. The Georgian era manor house drips with fascinating history which we learned on the tour, while its stunning Italianate grounds are home to a myriad of wonderful walks and gorgeous gardens. A sophisticated experience here is to do their Victorian Tea served by their own Victorian maid. It feels as if you've traveled back in time!
The stories behind the house are equally fascinating – it dates back to a castle belonging to a 16th century Pirate Queen, includes the emancipator of the slaves in Jamaica – 10 years before Lincoln in the USA, and now is in the ownership of a family that were originally peasant farmers on the estate. This is one spot you can spend the whole day at!
For dinner that night, we went to Sage Restaurant. This was by far the best meal we had in Ireland, and one of the best restaurants I've been to in a while (which is saying a lot since I had spent the last two weeks reviewing restaurants in Dubai, Ireland, and Germany)! The reason it stands out is because the dishes are creative, unique, and packed with flavor. They are also beautifully presented.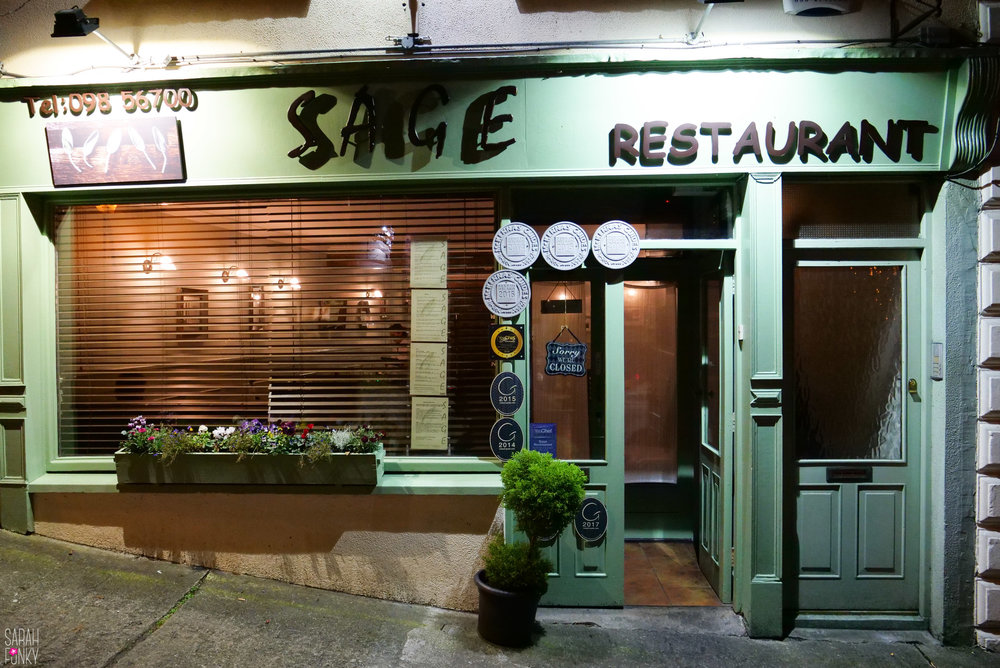 The cuisine is a fabulous combination between Bulgarian and Irish food. It is all locally foraged by the Chef and Proprietor Shteryo Yurukov. The dishes are hearty yet don't make you feel heavy. The restaurant is run by Chef and Proprietor Shteryo Yurukov and his partner Eva who looks after the front of house. Together they make a great team and have won tons of awards, which are displayed in the entrance way. Even if you don't spend a night in Westport, this is a restaurant that you should make an effort to visit as you're traveling along the Wild Atlantic Way.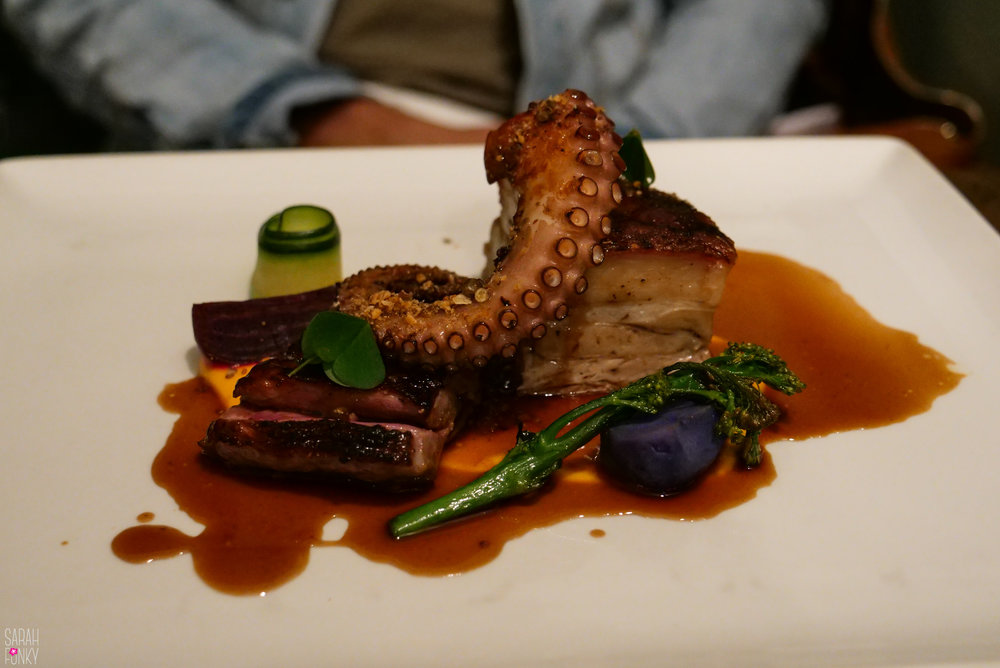 After dinner, we closed out the night with traditional Irish music at Matt Molloy's. This traditional pub has live music seven days a week and is as authentic as it gets. I'm pretty sure we were one of the few tourists that were there, which was awesome because we felt like locals.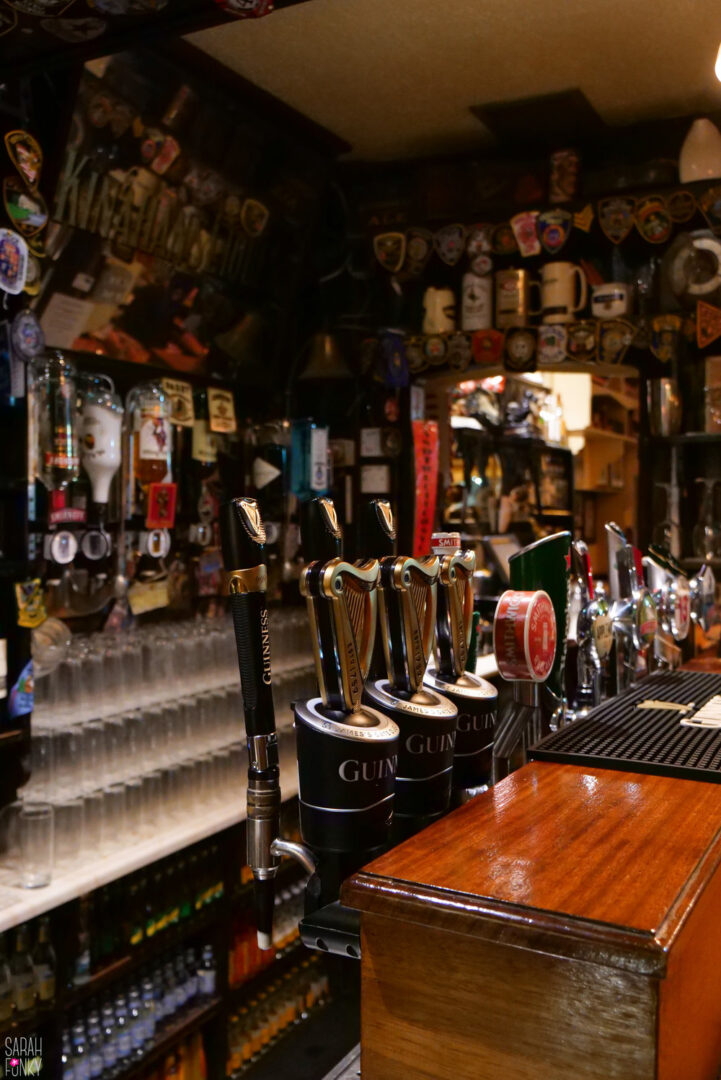 It was also the perfect way to end our time in beautiful Ireland. For my first trip to Ireland in the winter, I'd say it was a great success and made me realize that visiting this time of year has a whole different feel than the busy summer months. It is less crowded and more personal. Exactly what a traveler looks for when visiting a destination.