ASTORIA, NEW YORK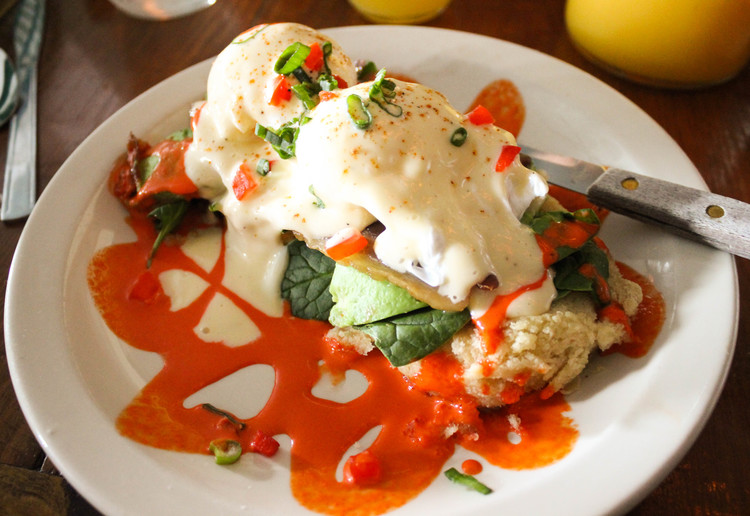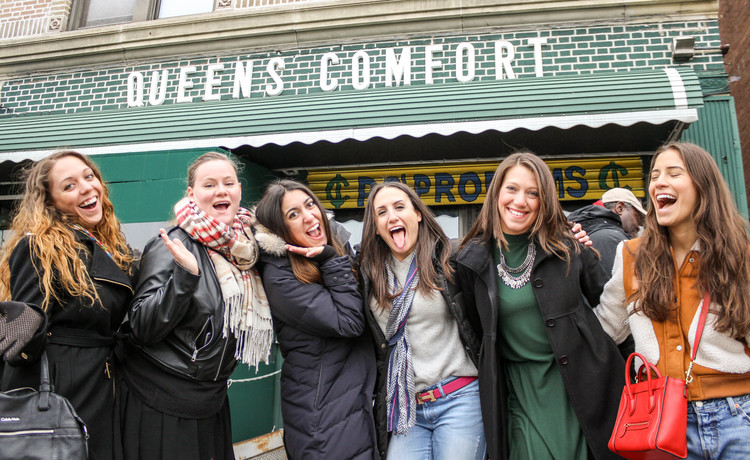 Queen's Comfort attracts food lovers from all over the city. My roommate, an epic foodie, wanted to celebrate her birthday at this BYOB no holds barred comfort food spot. In preparation for the enormous popularity of the restaurant, we dragged ourselves out of bed at 8:00am on a Saturday to wait to get in. As someone who tries not to wake up even that early for work, this was a challenge, but dreaming about the delicious brunch motivated me to throw on my rain boots and head to the subway.
We arrived at Queens Comfort about 30 minutes after they opened and had to wait about an hour, which was to be expected. What we didn't expect was the entertainment from James Avatar, who greeted us with open arms and enthusiasm, asking us what our team name would (this weekends theme was TV shows.) Naturally, as 4 roommates living in a Manhattan sized apartment we choose FRIENDS. Throughout the hour wait, James worked his way around the crowd by telling jokes of all types and keeping our minds distracted from the wait.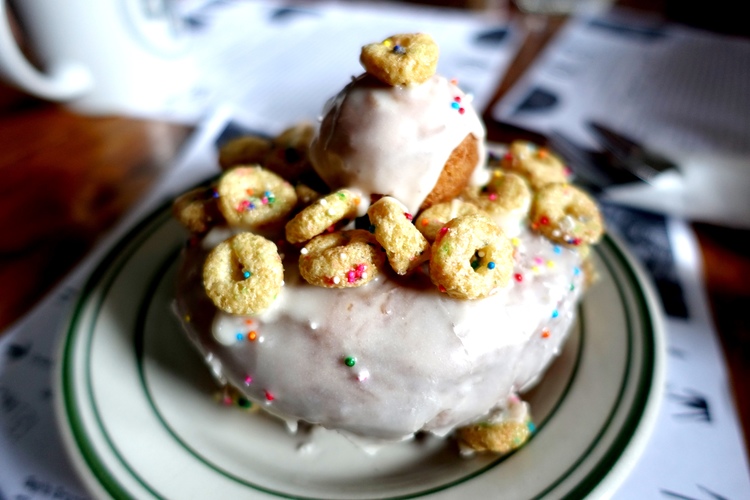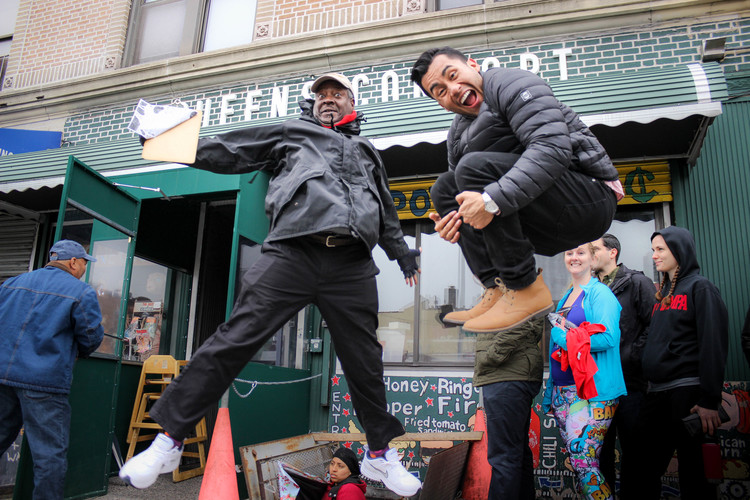 Then the moment came, "FRIENDS! We're ready for you!" shouted a member of the wait staff. We entered with excitement to the already bumpin' environment and were seated at the center table between the DJ (Yes, like a club but with delicious food) and the kitchen. The smell of fresh baked donuts wafted to our table from the kitchen and the moment the waiter came over we insisted on a doughnut before anything else. A Cap'n crunch cake doughnut – let's say that again – Cap'n Crunch. Doughnut. Why do my fingers even need to type anymore words? It was a moist soft doughnut, which you can enjoy with a little munchkin on top (like the fairy tale, kinda magical).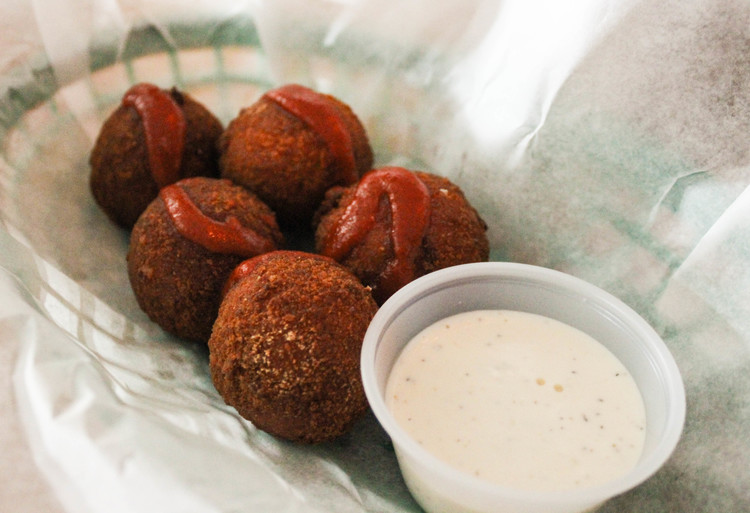 The food here is stunningly unique. Our appetizer (after the doughnut hehehe…) was Atomic Fire Balls. As if mac and cheese isn't good enough, frying it and adding some spice definitely brings new textures and flavors to the dish! One of our favorites, this dish had the right amount of spice and cheesiness. For a main course, Kate ordered the "Down by Law" Benedict, one of their signature dishes. It is not your typical Benedict- since everything tastes great with Bacon, why not have a sweet/savory flavors and the chipotle aioli to accompany your eggs Benedict?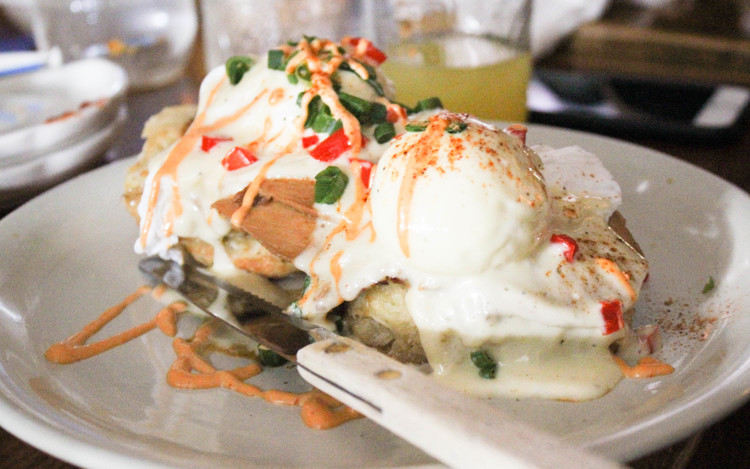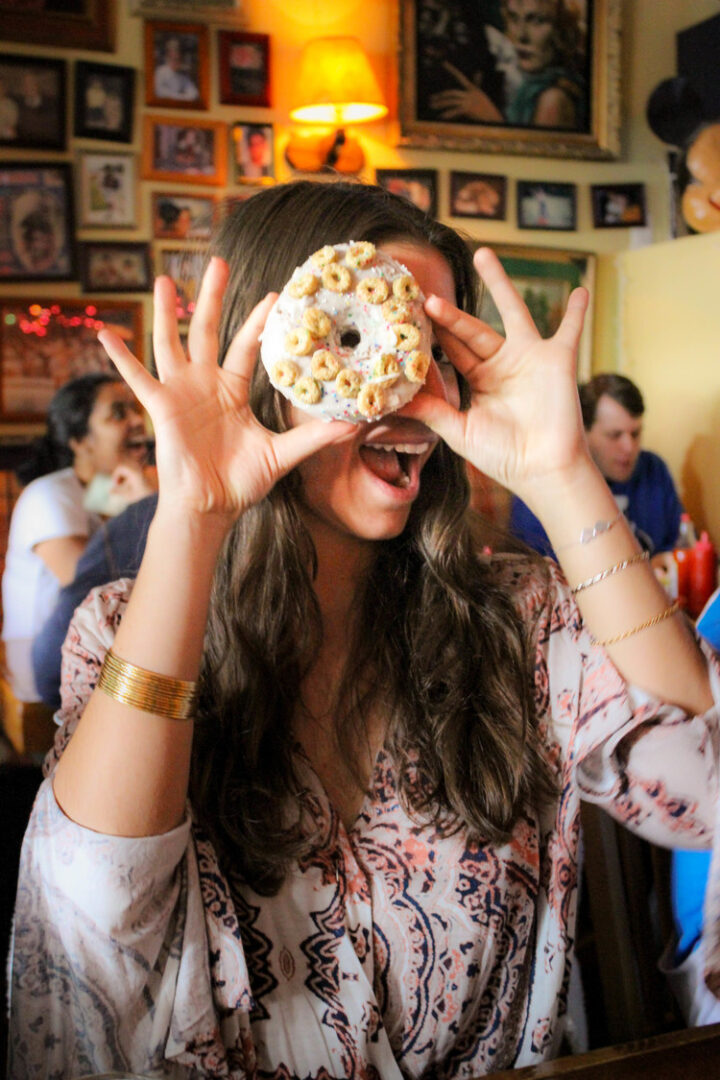 We also ordered the Avocado & Bacon Benedict, which was a light twist on a hearty brunch meal. The main feature was the biscuit, which was creamy and had a great crust. The Avocados and eggs added to the creaminess that you would want your biscuit to team up with. Luis was bold and ordered a new item on their menu, shrimp pancakes. Looks like a regular pancake, but it most definitely was out of the ordinary! Being suckers for sweet and savory items, this pancake came with chives, cranberries, shrimp, and a side of cranberry syrup. Pretty much a dream to have, only thing we would change is add more shrimp.
Overall, we rate Queen's Comfort an A-. The atmosphere and staff are one-of-a-kind. The main courses were great but the hype may lead to disappointment. One things is for sure though – the doughnuts are world class.
Queens Comfort | 4009 30th Ave. Queens, NY 11103
Queens Comfort serves brunch on Saturdays and Sundays from 10am – 3pm.