WATCH THE RECIPE VIDEO ON YOUTUBE!
INGREDIENTS:
2 cups flour
1 packet of active dry yeast (.25 oz)
1 cup warm water
1 tsp of sugar
28 oz can whole peeled tomatoes
½ tbsp of olive oil
1 tbsp red pepper flakes
1 tbsp garlic powder
1 tsp fresh cracked pepper
½ tsp Salt
¼ cup Parmigiano-Reggiano
Breadcrumbs
½ cup shredded low moisture mozzarella
8 oz fresh mozzarella slices
2 tbsp of fresh basil
SUPPLIES YOU'LL NEED:
SUPPLIES THAT ARE NICE TO HAVE: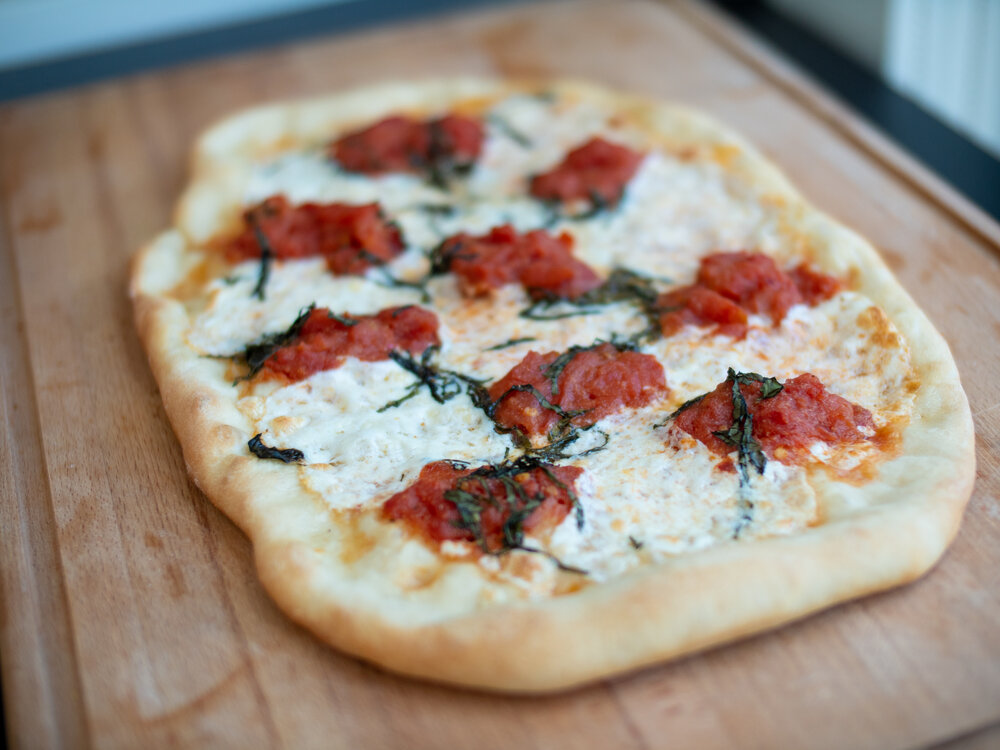 RECIPE:
1. START ON THE PIZZA DOUGH:
Add two cups of flour to a bowl, while letting one packet of yeast hydrate in 1 cup of warm water with 1 tsp of sugar for 10 minutes.
Preheat the oven to the highest setting it goes to. Ours went to 480F (248C).
2. START ON THE SAUCE
Pour 28 oz of whole peeled tomatoes in a bowl then crush with your hands until it is liquid with some tomato chunks.
Pour ½ Tbsp of olive oil in saucepan.
Pour mashed tomatoes in saucepan then add red pepper flakes, garlic powder, freshly cracked pepper, and salt. Then bring to a simmer.
Grate Parmigiano-Reggiano into the sauce.
3. WHILE SAUCE IS SIMMERING ON LOW, GET BACK TO THE DOUGH
Pour the yeast into the flour and mix until fully mixed, add a pinch of salt.
Set the bowl of dough to the side and cover it with a kitchen towel for 10 minutes.
4. COMBINE THEM ALL TOGETHER!
Lightly cover your counter with flour then shape your pizza dough into a circle or oval – or just do your best. All shapes are accepted. This part was tricky for us! Important note: The dough must be at room temperature during this process. If you refrigerated your dough before rolling it out, please wait for it to get warm before starting.
Put olive oil and breadcrumbs on the pizza stone or baking tray, then put your shaped pizza dough on it.
Put the shredded mozzarella on your pizza followed by slices of mozzarella (about an inch apart).
Add dollops of pizza sauce to the pizza then sprinkle ribbon cut fresh basil on the top. Make sure you slice the fresh basil into thin ribbons.
5. PUT THE PIZZA IN THE OVEN FOR 15 – 20 MINUTES AT 480F (248C).
Put the pizza in the oven for about 15 minutes until the crust turns golden brown. You may need to watch the pizza carefully to make sure it doesn't burn.
6. TAKE THE PIZZA OUT OF THE OVEN CAREFULLY (LET COOL SLIGHTLY IF NEEDED) DRIZZLE OLIVE OIL OVER THE TOP, AND ENJOY!