Located 7,000 feet above sea level among some of the best mountains for snow sports in the USA is Park City, Utah. This town is the ultimate luxury getaway for ski addicts, mountain biking enthusiasts, fly fishers and foodies. In fact, their culinary scene will be shown off at the upcoming James Beard Dinner in New York later this month.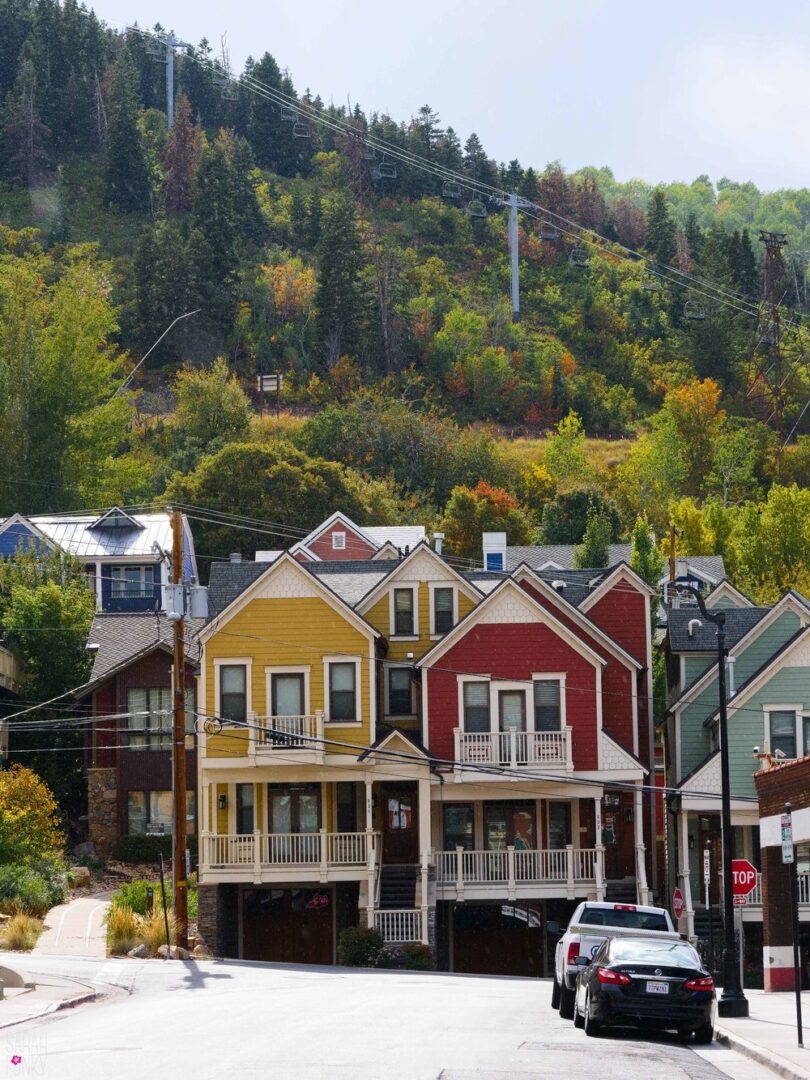 On a recent trip to the town with my husband, I learned that there is much more to this small skiing community than what meets the eye. Park City is a beautiful destination to get away from it all year round.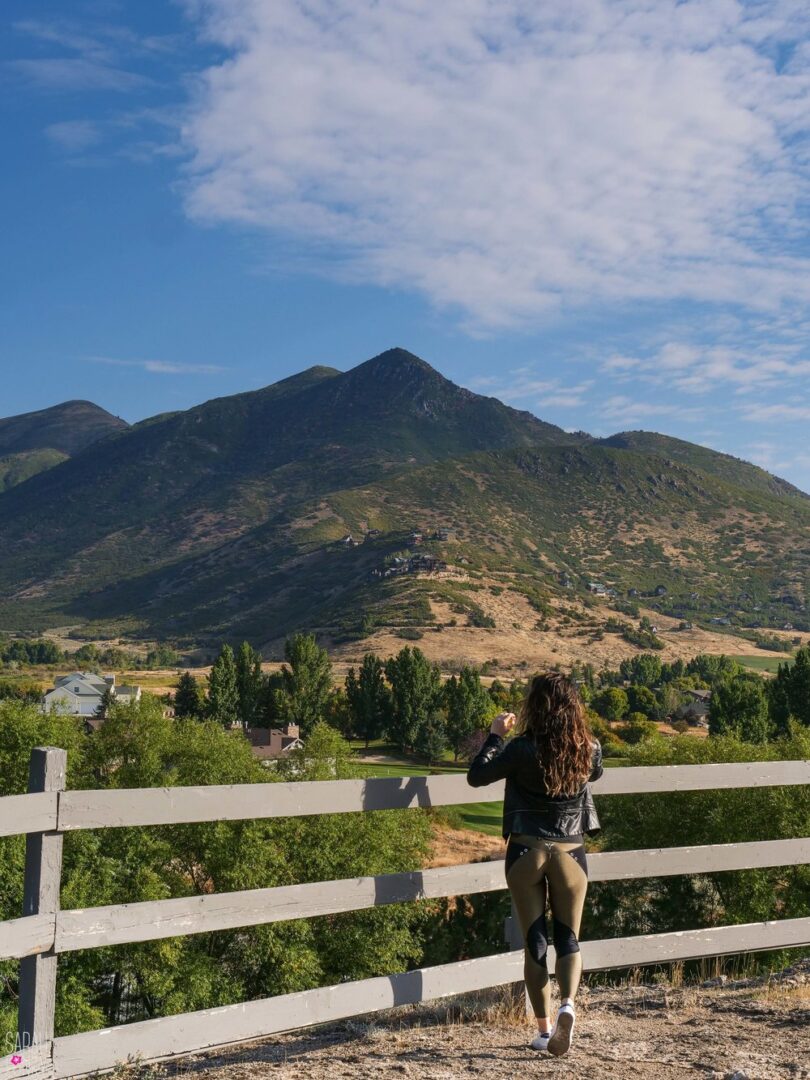 DAY 1:
To make the most of your weekend getaway, catch an early morning flight to Salt Lake City then drive thirty minutes to Park City. I recommend staying at the Washington School House Hotel. This historic luxury boutique hotel was formally a schoolhouse that opened in 1889 during the height of the silver rush. The property only has 12 rooms, which makes the experience incredibly personal. Within the first day you'll know most of the staff by name and even begin to make friends with many of the guests. It felt as if we were staying with family.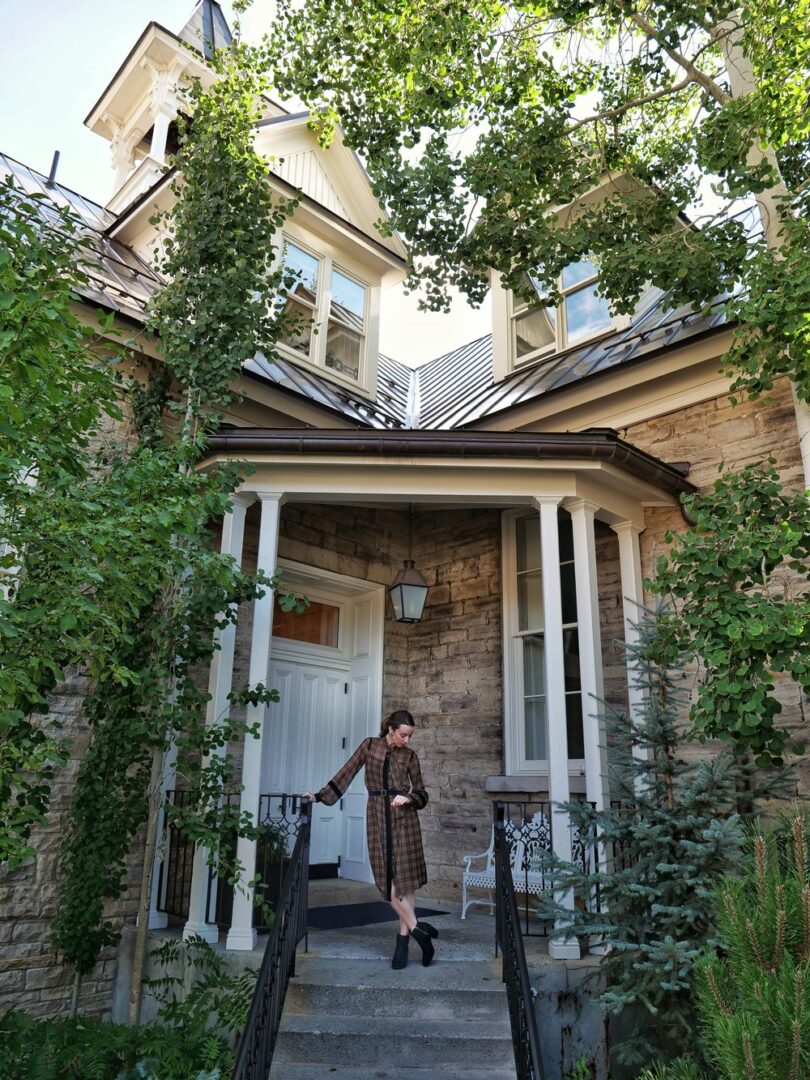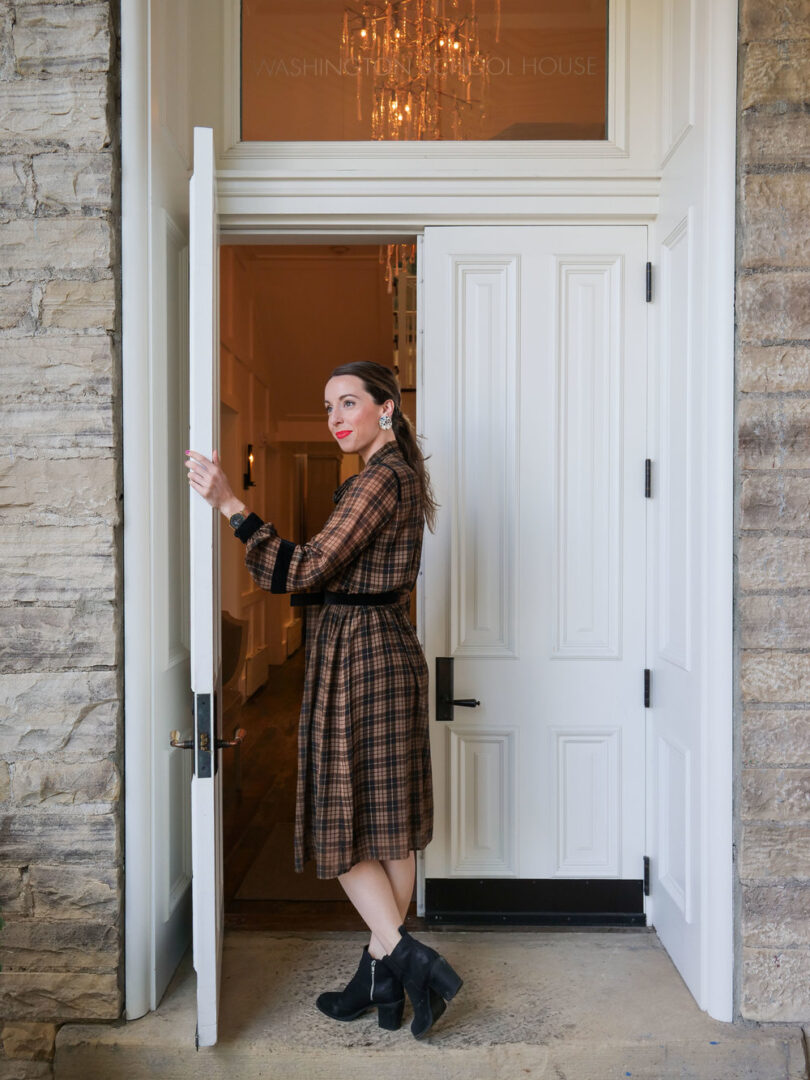 The high-end style of the hotel is worth noting. The concept is exquisite luxury in good taste with judicious use of color, beautiful fabrics, fine artwork and a carefully curated collection of antiques. Nothing here is standard. Forget about typical hotel flatware. At the Washington School House you'll find a stunning collection of antique and vintage silver from around the globe. The art collection features fabulous collections of original oil paintings from around the world. Suites are piled with white Pratesi linens and are multilevel with a spiral staircase connecting the floors.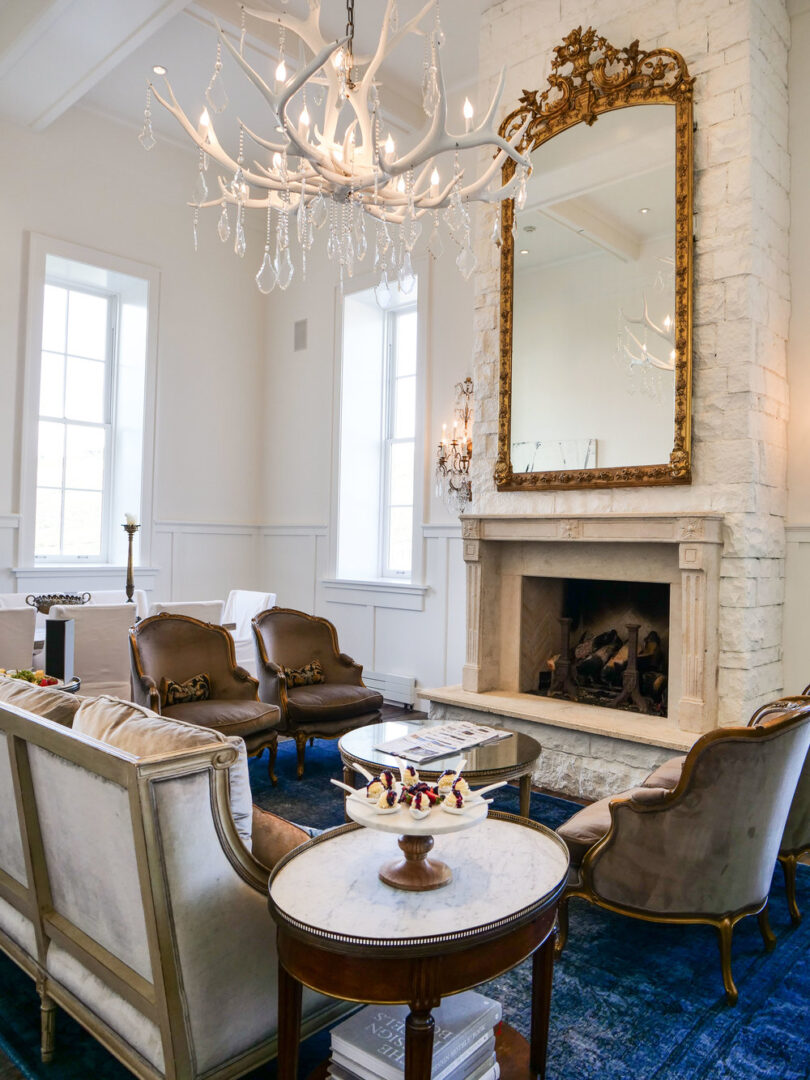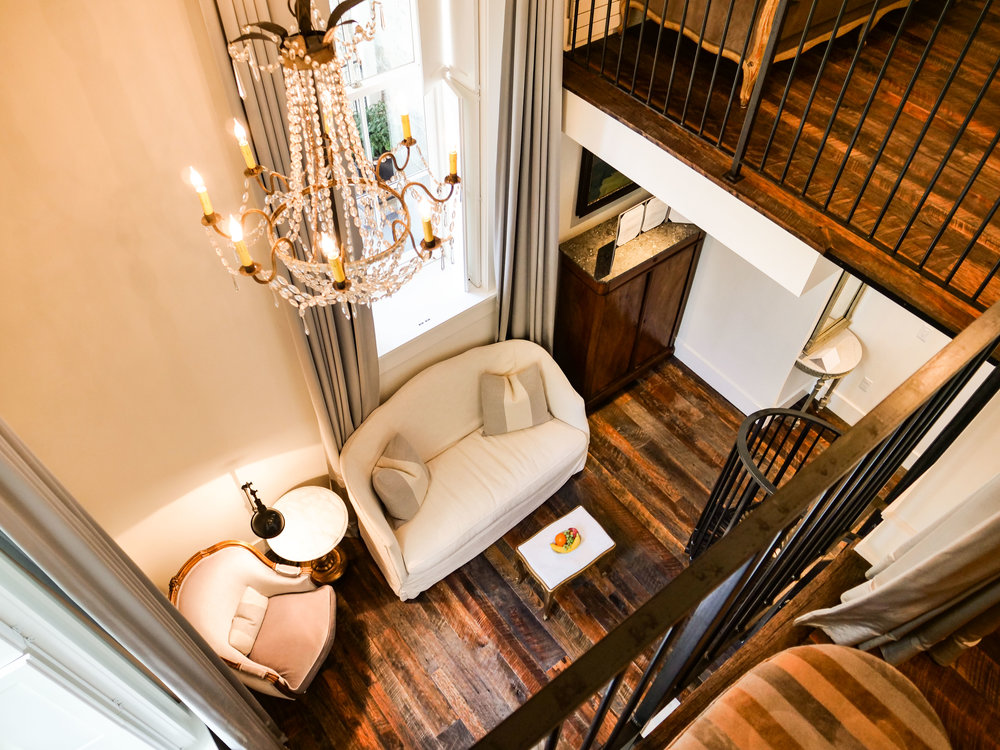 A beautiful limestone rock-building exterior compliments the grand interior décor. In the back of the schoolhouse, guests find a hillside heated pool and hot tub on a heated deck that is surrounded by blue spruce, aspen trees and mountains. One of the most enjoyable ways to wind down from a day of exploring is by cozying next to the outdoor fire with a glass of wine. The experience becomes even more special when you realize the fire is burning within an Olympic torch from the 2002 Winter Olympics.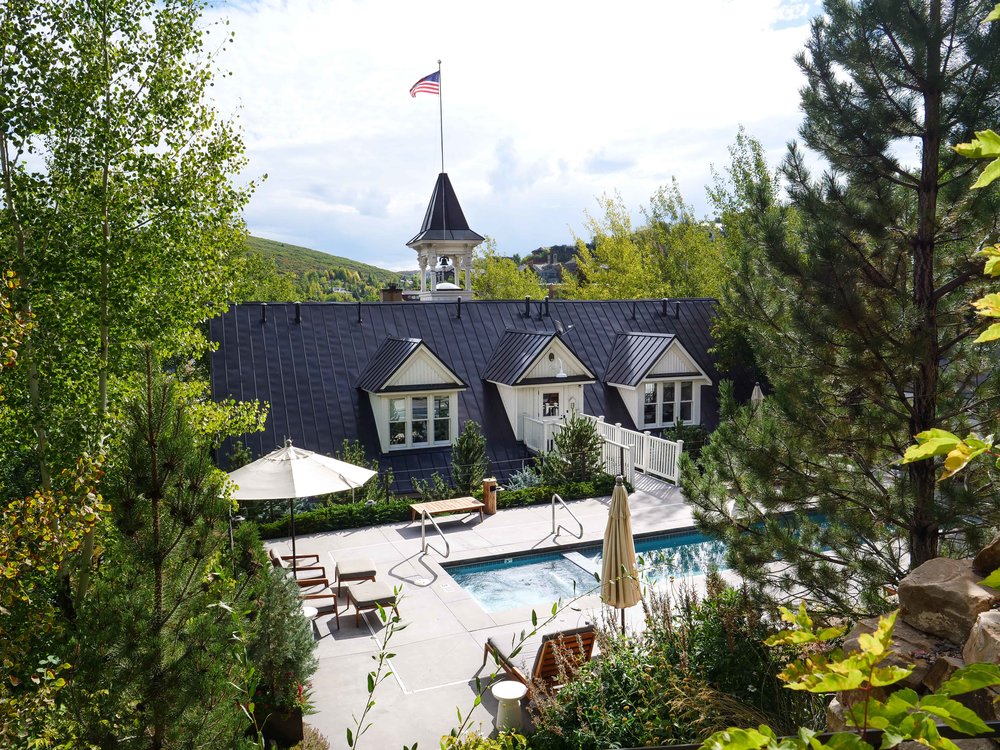 After checking in, we ordered lunch service and had it brought out by the pool. The air was warm and breezy. It was the perfect autumn day to enjoy by the pool. We ordered the fruit plate, salad of the day, turkey club, and chocolate chip cookies. All of the ingredients served at the hotel are locally grown and organic, which made them incredibly flavorful. The chocolate chip cookies are served right from the oven, warm and gooey. I can't recommend these enough! They are the best I've ever had.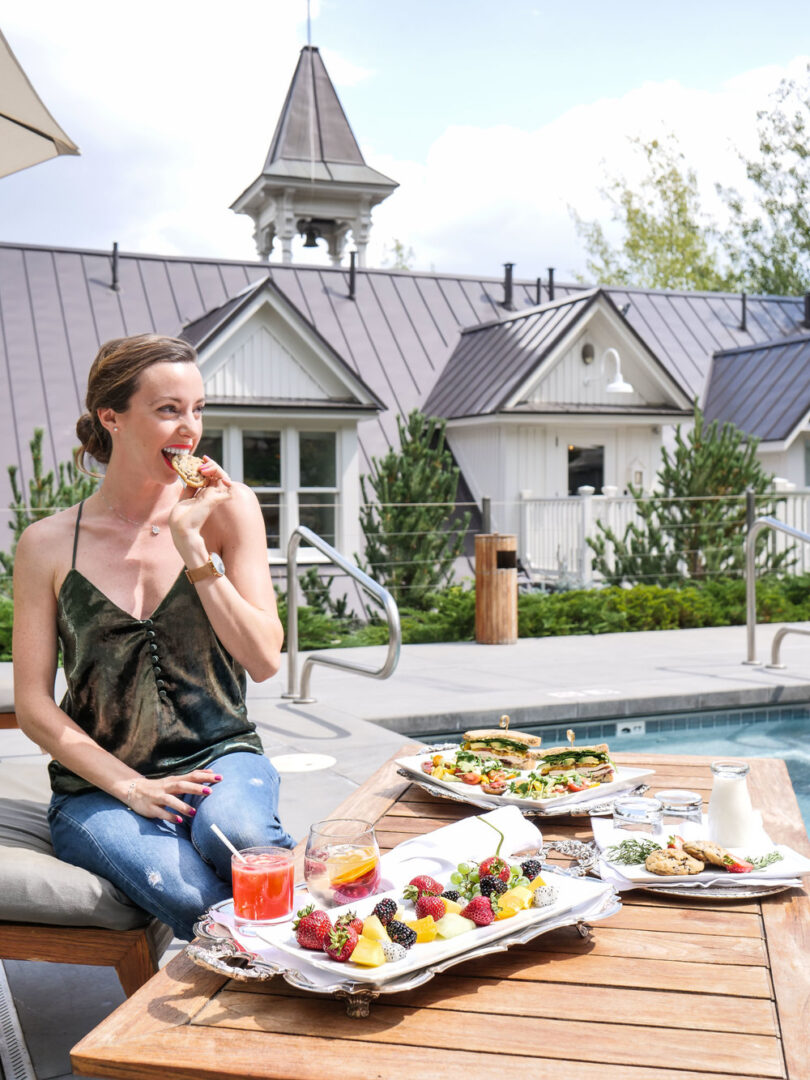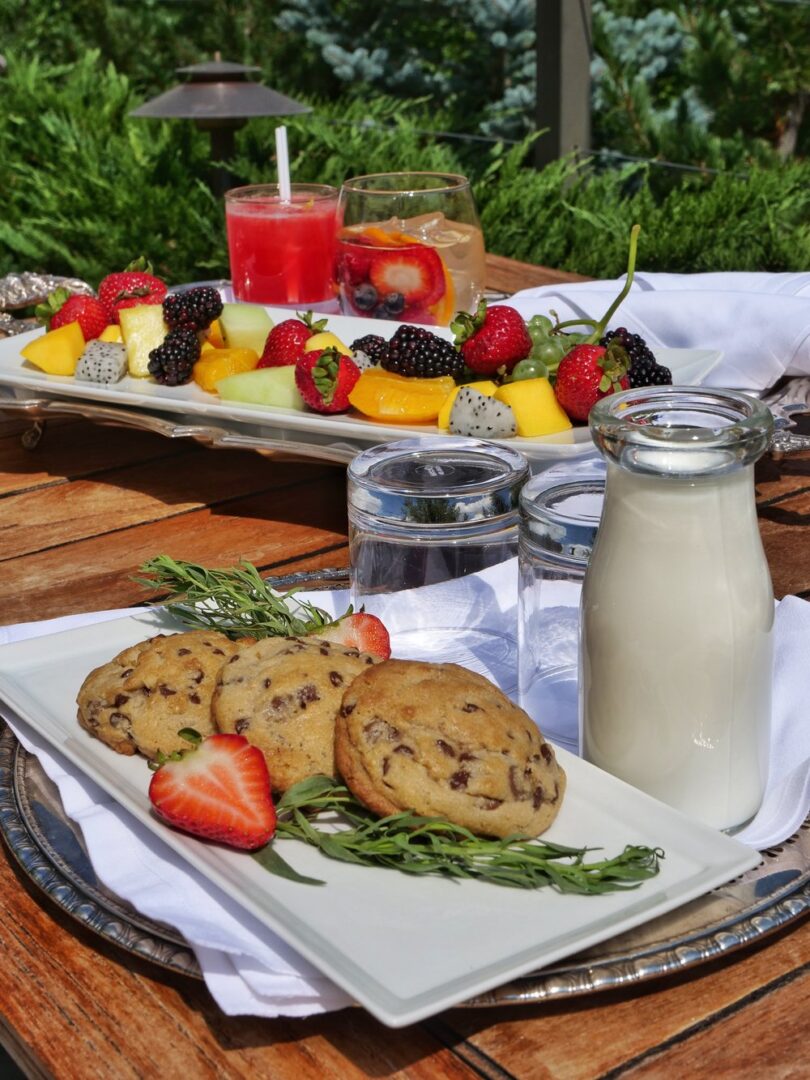 For drinks we ordered the seasonal sangria and the "Summer Break" which had Alpine Distilling Gin, honey, Angostura Aromatic Bitters, muddled fresh raspberries, and a splash of soda. The drink menu featured five options of local craft beers, wine, and craft cocktails. All of the liquors used in the drinks were also made in Park City. It made it more special that everything we were eating and drinking was made locally.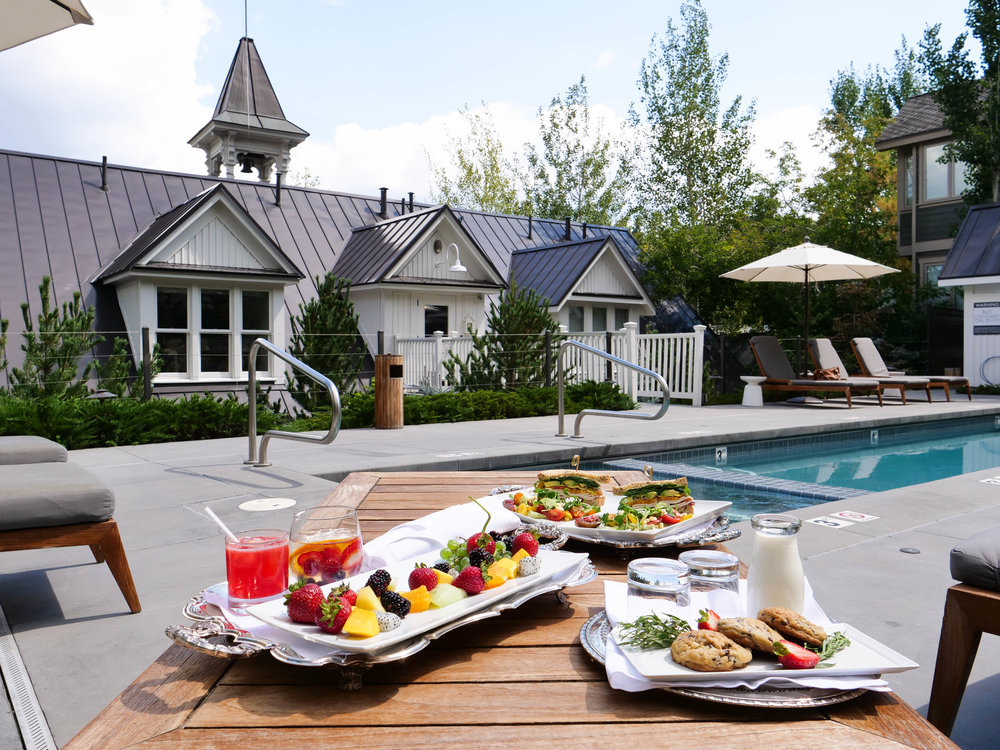 Once you're settled into your suite, I recommend walking into Park City town. It is lined with saloon style boutique shops, restaurants, bars, and art galleries. What stands out is the unique style of the village. It is Wild West meets ski town. There is also a lot of color on the main street and surrounding areas. Little cottages line the smaller streets and are painted vibrant shades. You'll notice that the chair lift comes directly into the heart of the city which makes the skiing both convenient and luxurious. It is a no-nonsense way to enjoy the winter season.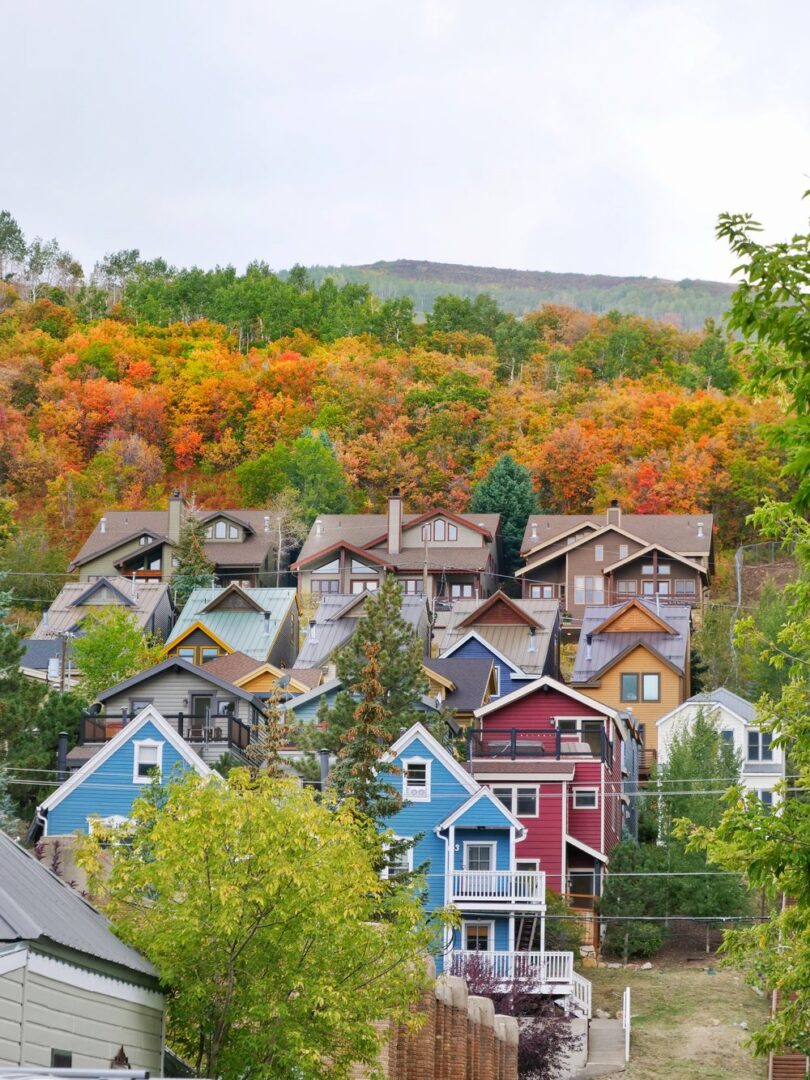 Historical monuments and statues are found throughout the town and give insight into its mining past. To learn more about the city's fascinating history head over to the Park City Museum where you will find an in-depth collection of artifacts from the silver rush.
After you've had your fill of exploring the Park City town, head back to the Washington School House Hotel for their daily Après Ski Happy Hour from 4:30pm – 7:00pm. It's called "après ski" because in the winter it is generally enjoyed after a long day on the snowy mountains. However, they serve it year long in their living room with a stone stacked 16ft high fireplace lined with French limestone. A beautiful charcuterie board is served with local cheeses, cured meats, olives and spreads. Their pastry chef also makes a different sweet treat each day, so dessert lovers, rejoice!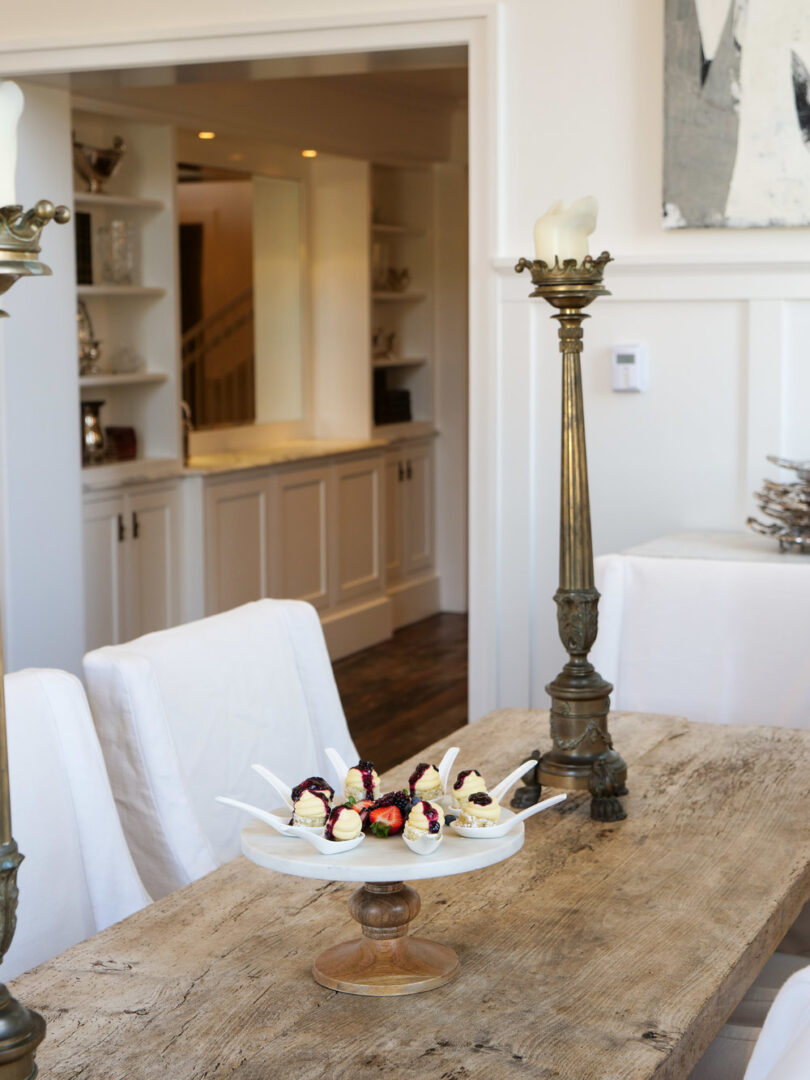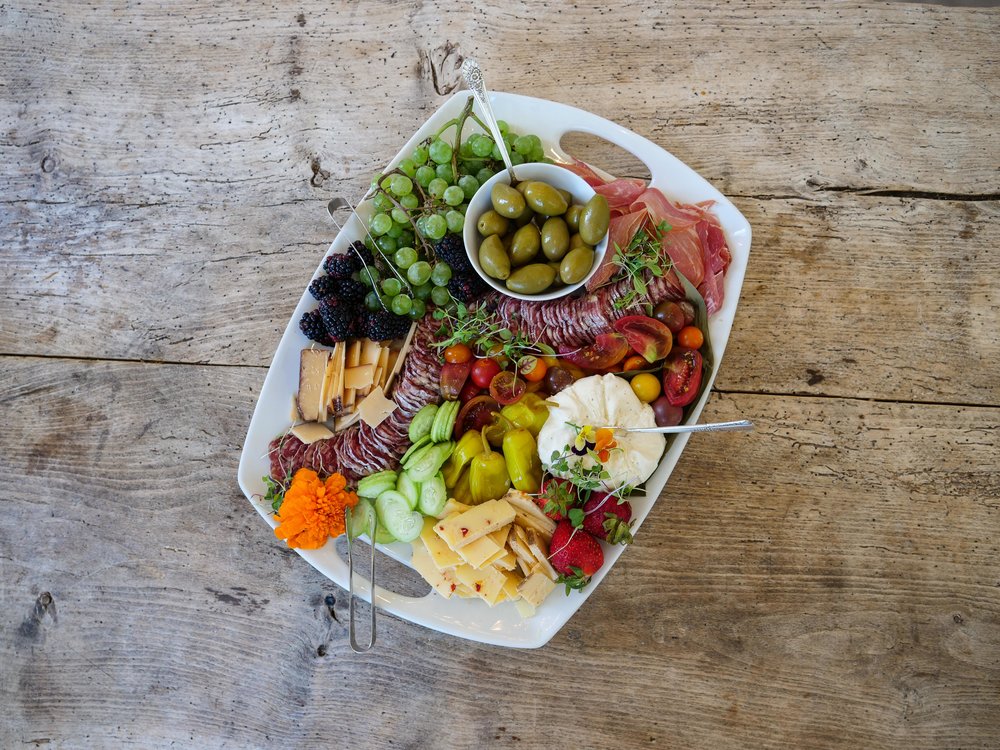 As we nibbled on cheeses and cured meats, we took in the interior design of the living room. It is quite magnificent. A 10ft gold gilt mirror from a French opera house hangs above the fireplace mantel. A 6ft antler chandelier dipped in white lacquer and adorned with brilliant crystals sparkles from the ceiling above. The café tables bordering the right wall are marble-topped while a 150-year-old oak plank-topped table from Belgium borders the left wall.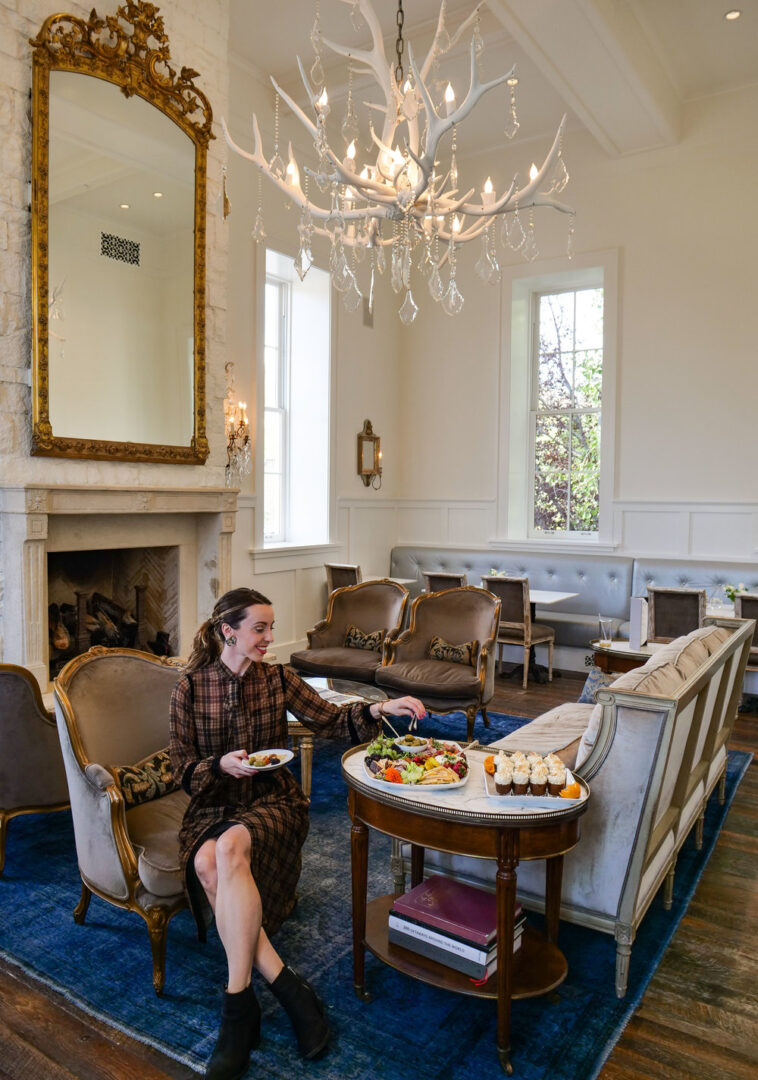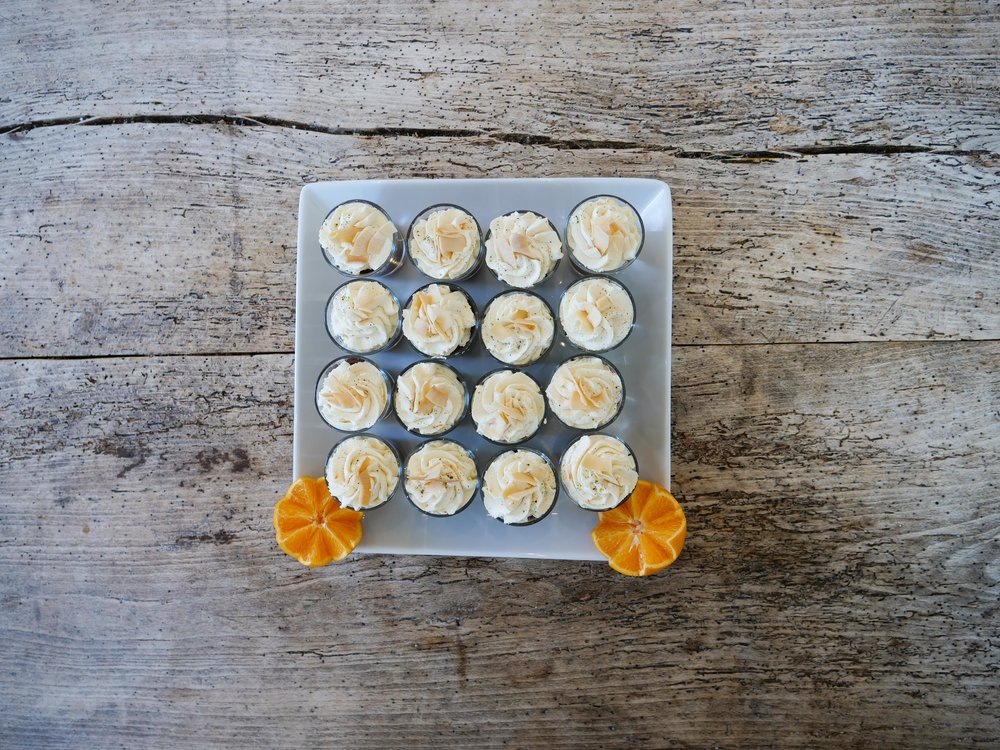 That night we had the honor of attending the James Beard Preview Dinner. This year Park City has been honored with presenting five dishes from the best local restaurants/chefs at the James Beard Dinner in New York City. They did a run-through for locals in which they served the exact dishes and drinks that will be presented that night. It was a lucky opportunity for us to try the best dishes from the top restaurants in town. Although this was a one time event, it did highlight which restaurants visitors should go to when in town. To learn the top spots to eat at when visiting Park City, read my article here.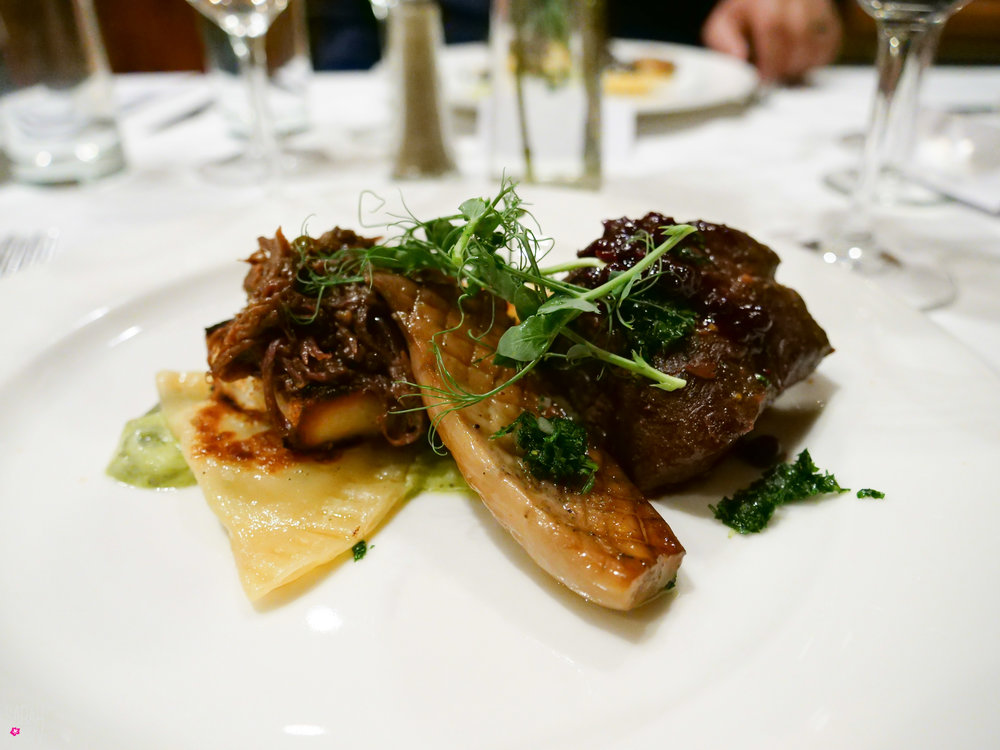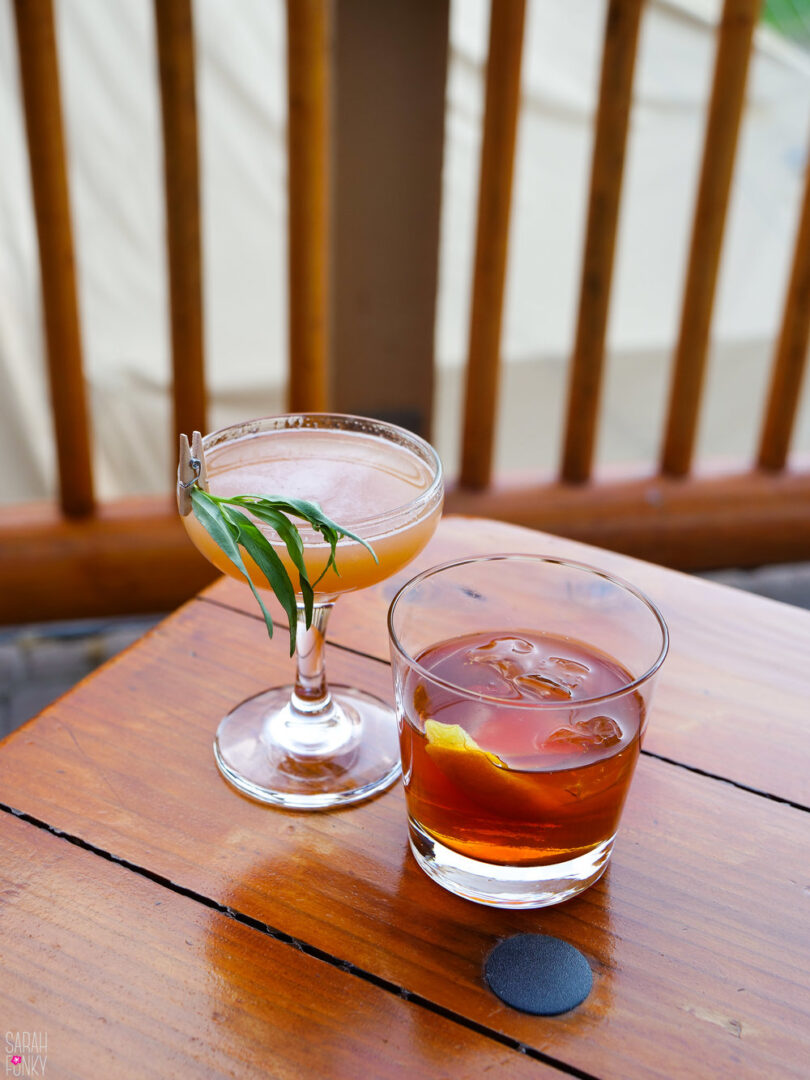 DAY 2:
The next day we woke up early to do paddleboard yoga in a 10,000 year-old Homestead Crater. This unique experience is offered year round and involves doing yoga on a stand-up paddleboard that is floating in a 90-plus-degree natural therapeutic pool. It was truly an other worldly experience and something you should not miss doing!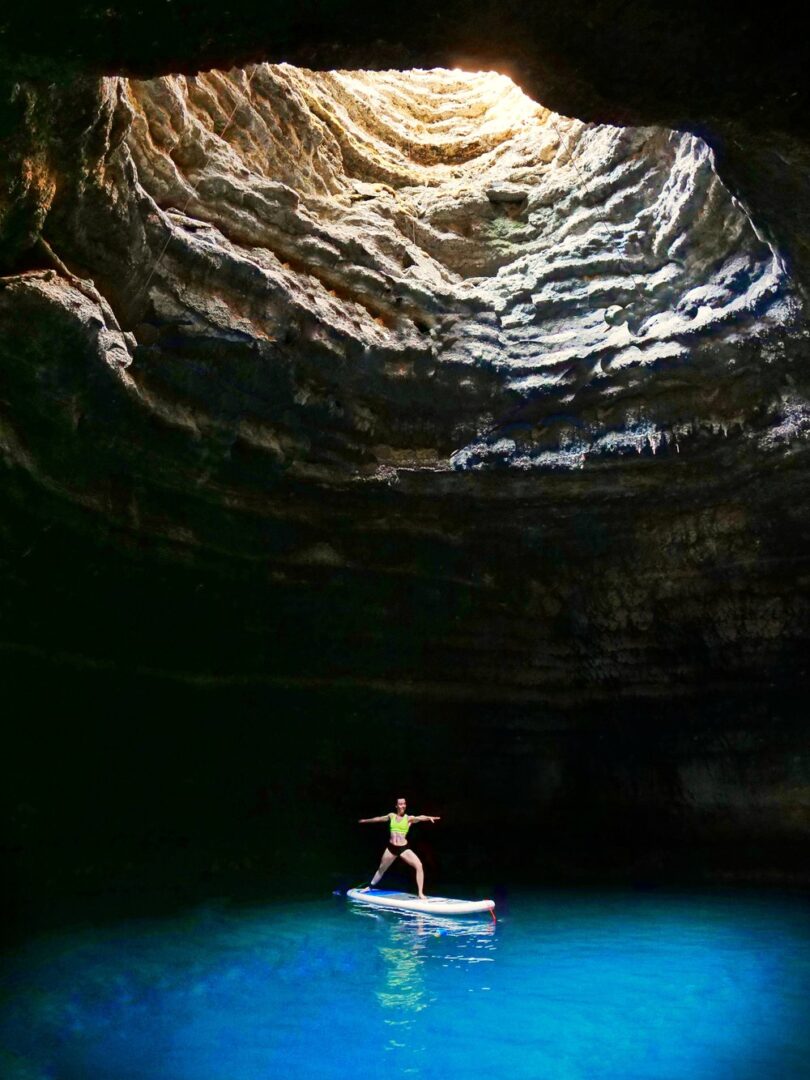 The hour-long class starts with you diving into the warm therapeutic mineral water then going through a standard yoga class while balancing on a paddleboard. There is no better way to learn how to equally distribute your weight in yoga than by doing it on the water. It teaches you exactly where the problem areas are and it a fantastic workout.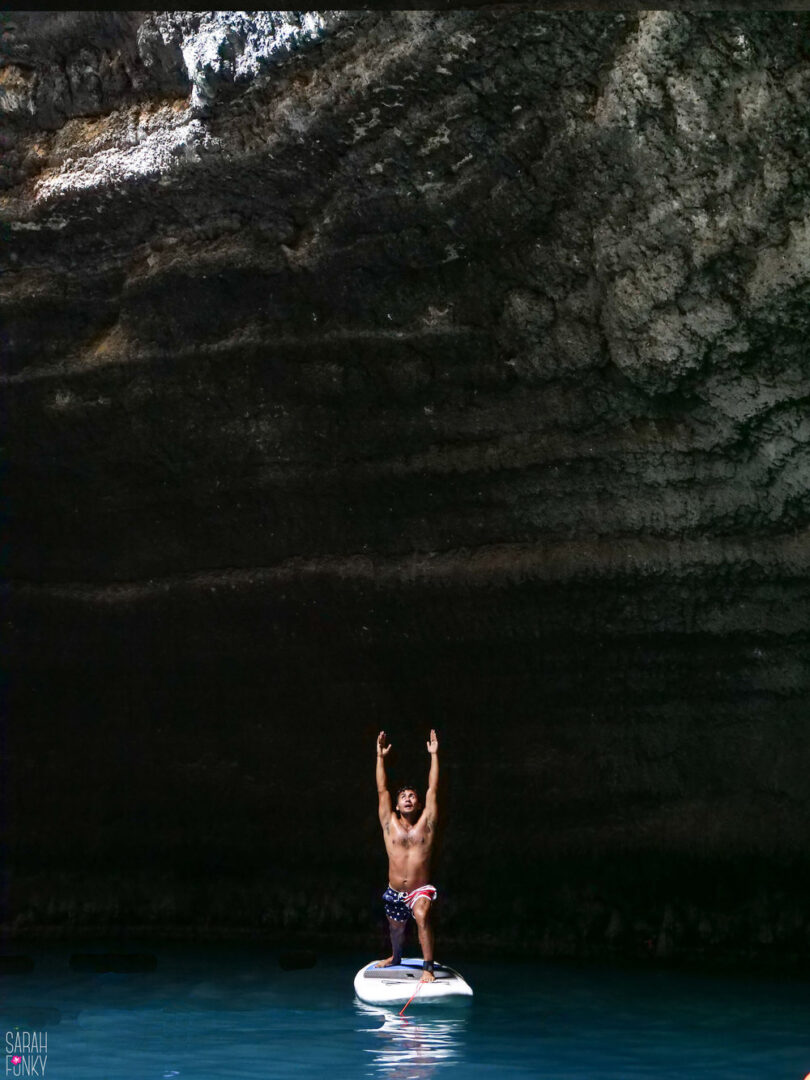 This is offered through Park City Yoga Adventures. They do a variety of active experiences, including packages that involve pairings such as snowshoeing, hiking, acro yoga and more.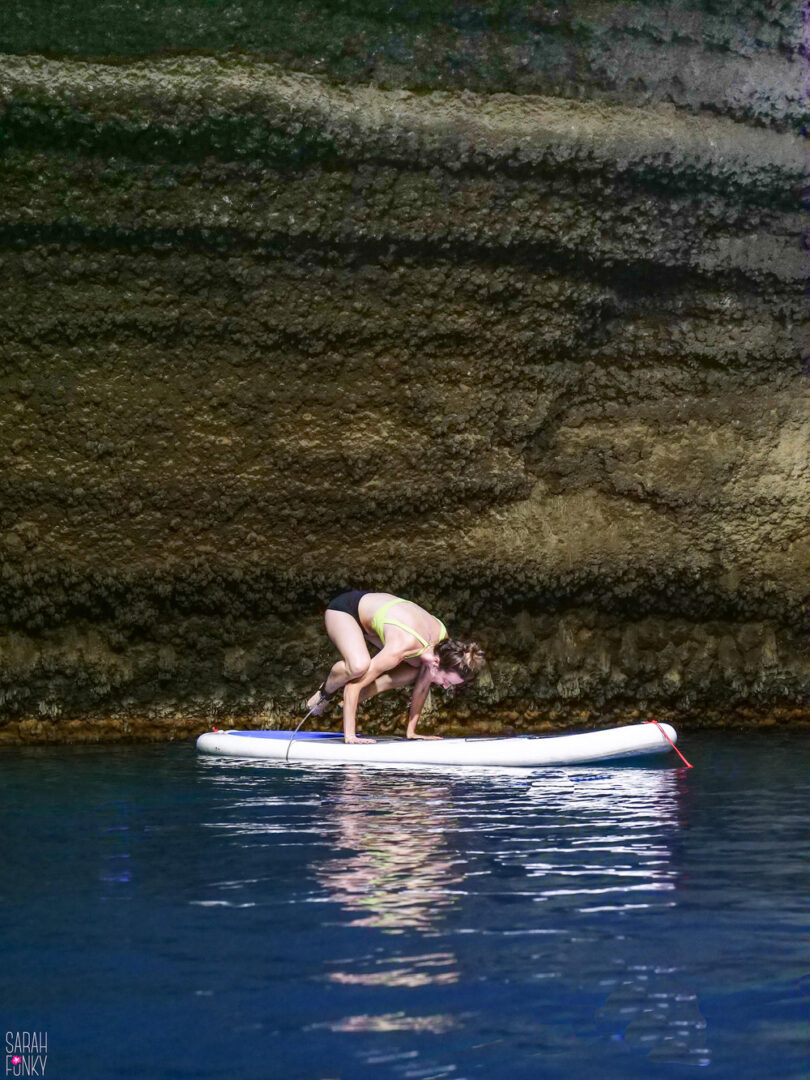 After yoga, we headed back to Washington School House Hotel for their gourmet farm-to-table daily breakfast in the grand living room. Every day it is served from 7:30am – 10:30am and is included in the cost of stay. Each morning there are the classic dishes and then specials. We went for the specials each day and were impressed with both the quality and the presentation.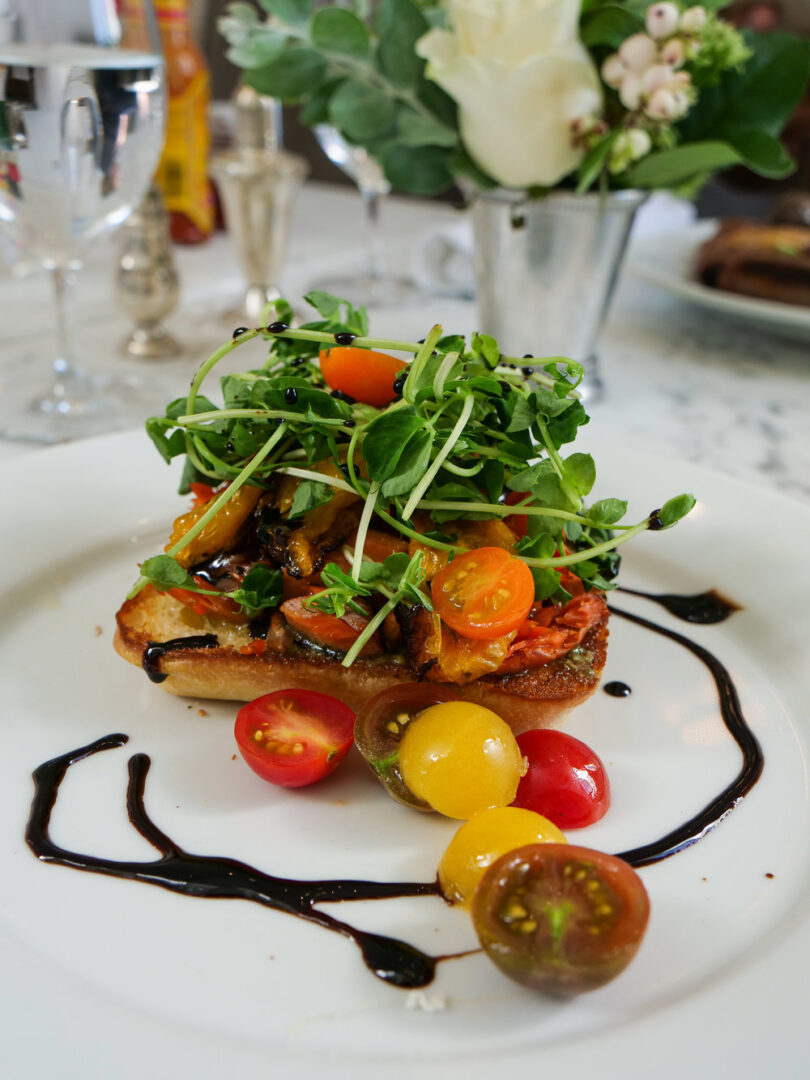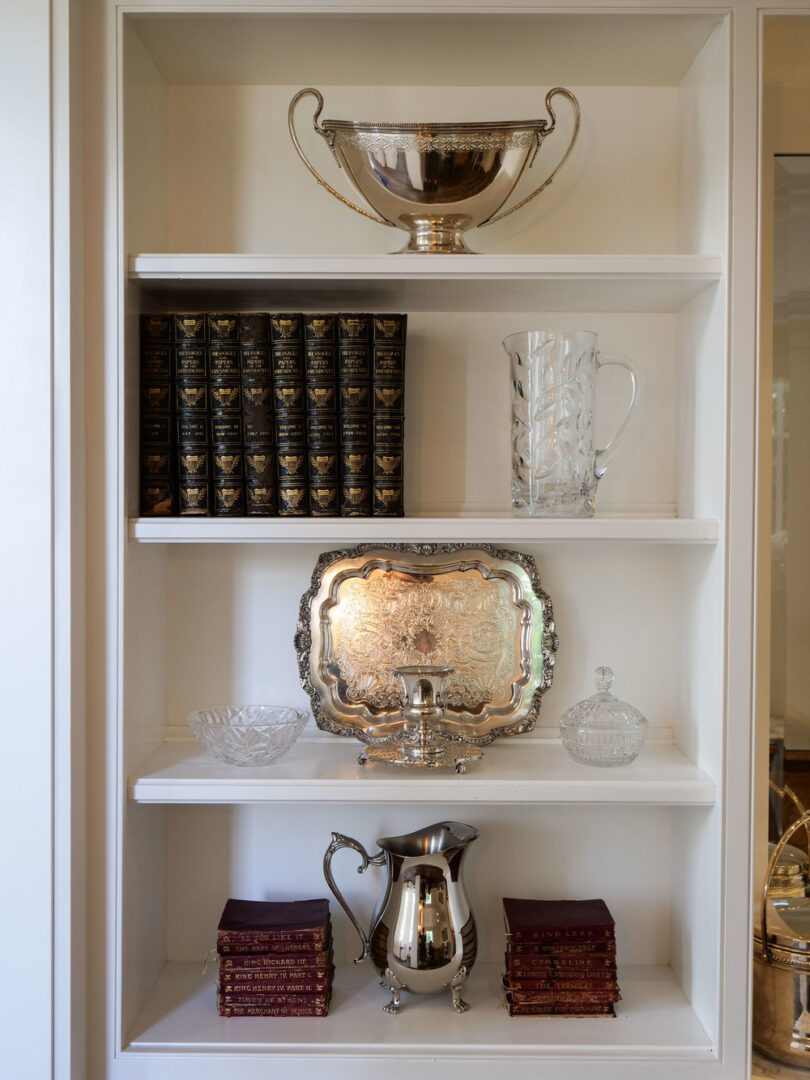 With our bellies full, we headed to the Park City Mountain Resort to try some of the adventure activities that are offered there. They don't need snow to keep the fun going here! Yearlong there are active experiences. In the warmer months, you can bike or hike along the mountains. There is also an alpine slide, two zip lines, a coaster, and mini golf. It's a great place to take kids of all ages.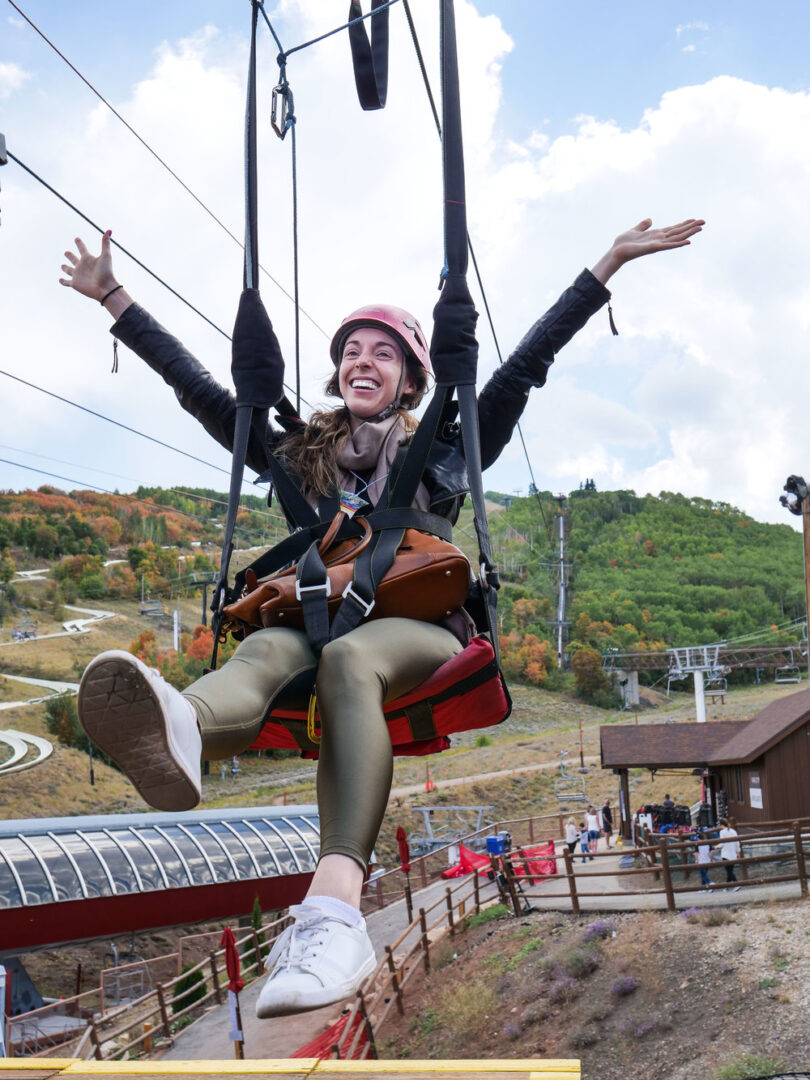 We were there in early September and the leaves had just begun to change colors creating beautiful vistas while zip lining down the mountain range. I think one of the most stunning parts of Park City is the Western mountains surrounding the village from all sides.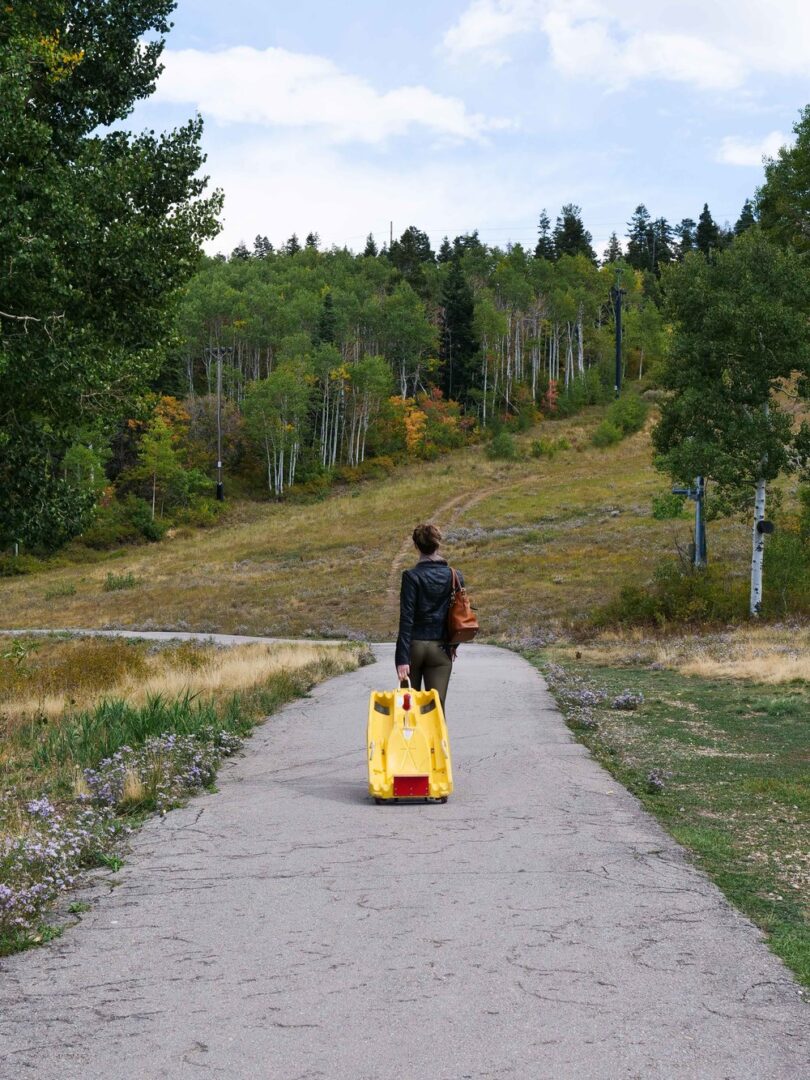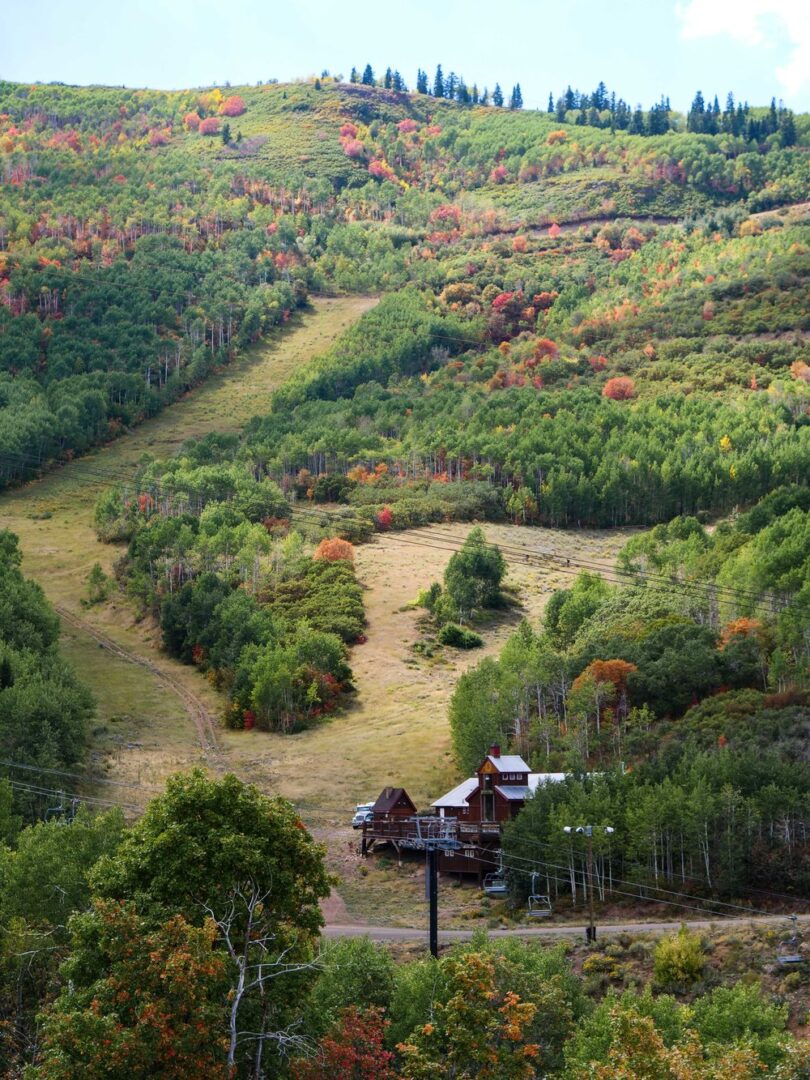 After spending the day adventuring we were ready to relax. We went to the daily après ski at the hotel, then enjoyed the heated outdoor pool and hot tub with a glass of wine. While enjoying the hot tub we met another couple that was staying there and had a lovely chat. Meeting awesome people that were guests of the hotel was another reason that made our stay at the Washington School House Hotel special. Sometimes all it takes to have a memorable night is great conversation with interesting people and good wine.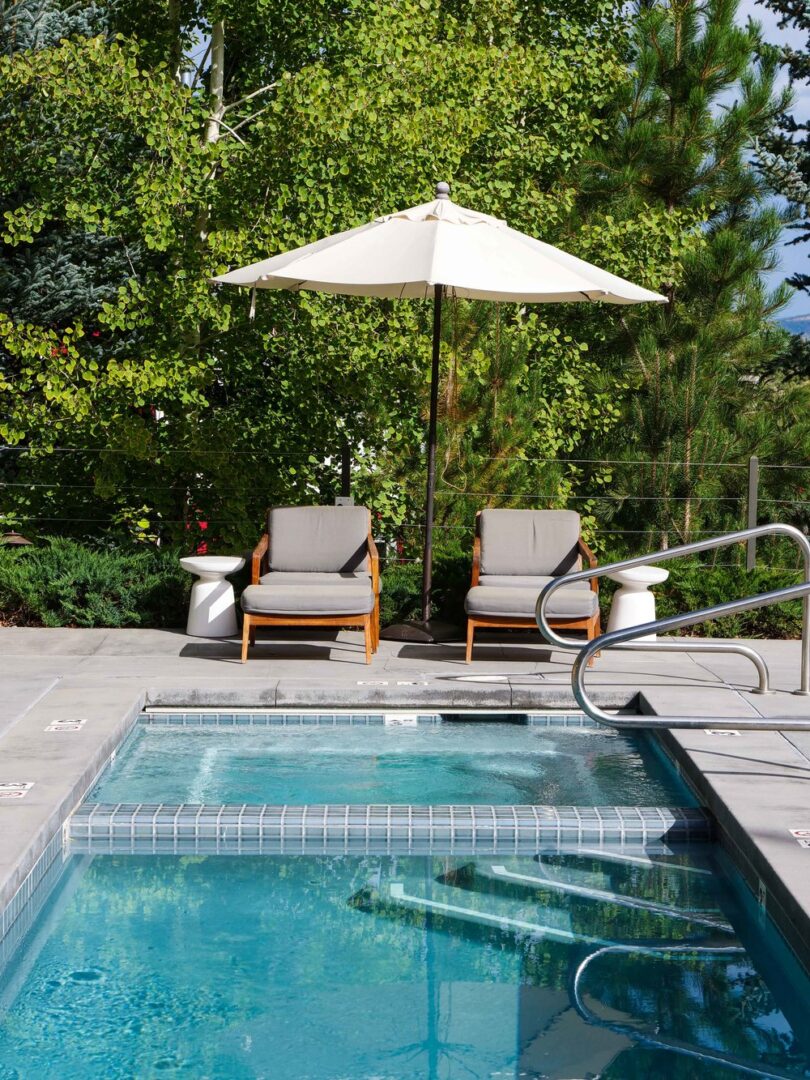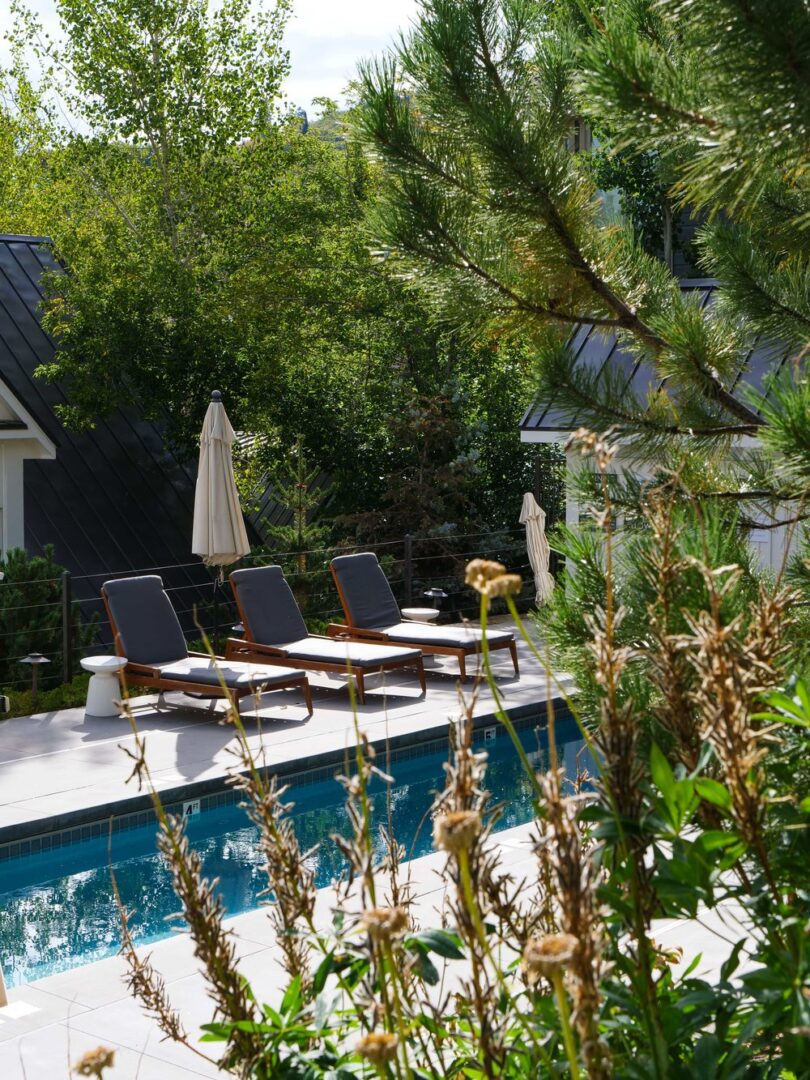 Next came dinner at the High West Distillery and Salon. This Park City icon was the first legally licensed distillery in Utah since the end of the American Prohibition. They are a whiskey and bourbon distillery and offer wonderful whiskey and food pairings. If you're a fan of whiskey then this is a great option. They also have a whiskey flight available, which allows guests to try four different types. We ordered two of their whiskey cocktails; the "Hang On Sally" with American Prairie Bourbon, pineapple rum, pear brandy, lemon, and sour beer and the "Lauraceae Hand Shake" with American Prairie bourbon, Wray & Nephew Rum, avocado, coconut milk, and pineapple. Both drinks were refreshing and tasty.
For an appetizer we ordered their popular "Shishito peppers" that come both fried and fire roasted. They had a crunchy and balanced heat with a creamy beer cheese sauce that was a marriage between beer and jalapeno.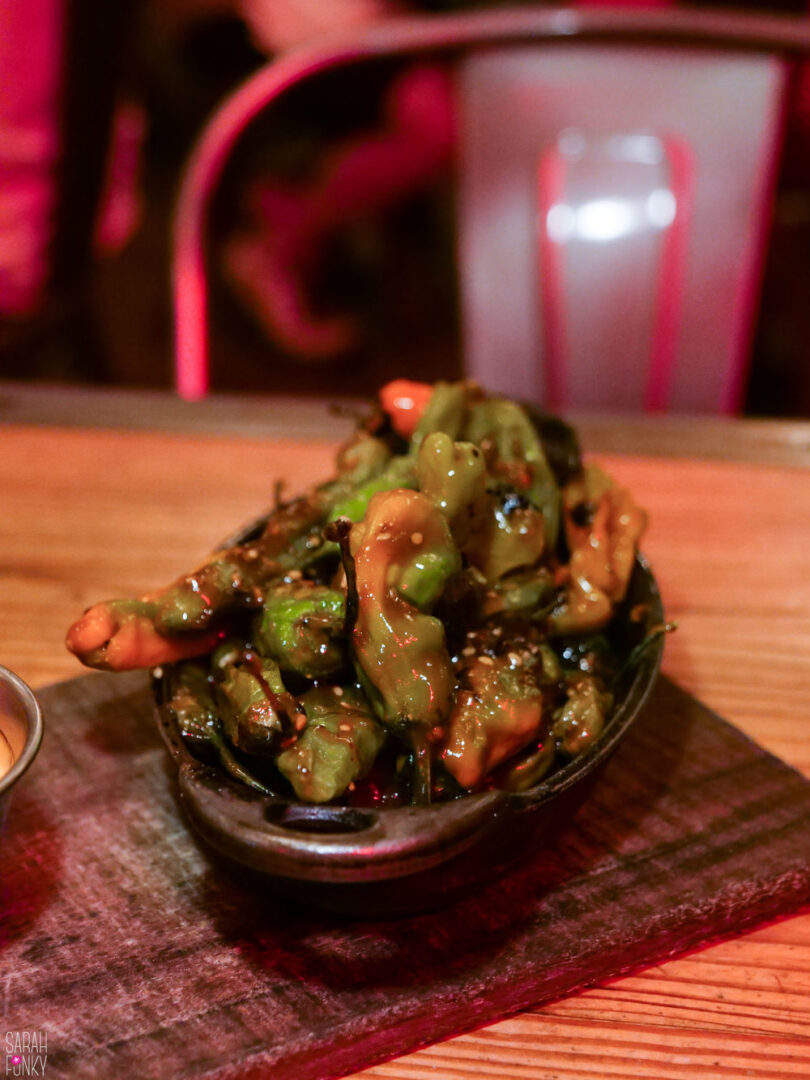 For main courses, Luis ordered the burger that had an awesome blue cheese sauce that complimented the juicy meat perfectly. I had a succulent steak. It was served with a side of smoky and crunchy charred corn.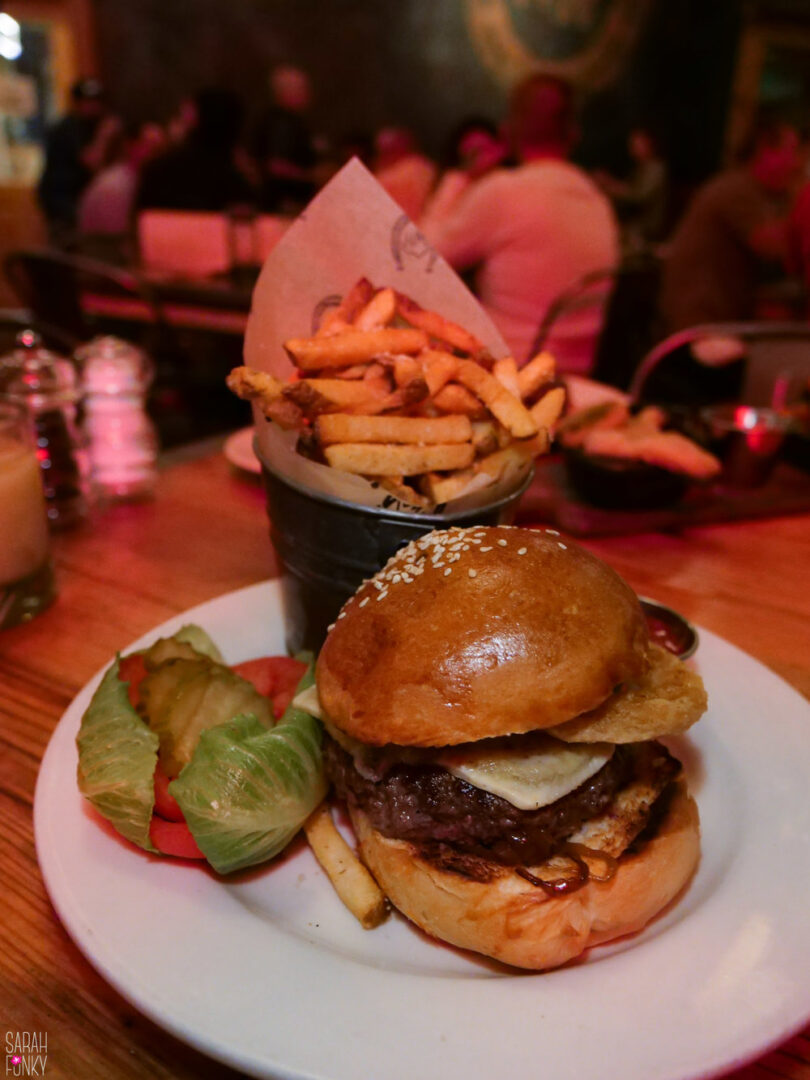 After dinner, we went back to Washington School House Hotel to experience a new offering that they have for the winter season. It is a build-your-own- S'mores kit for guests to order in-room. We decided that there was no better place to do this than by the outdoor poolside fireplace that is made from a steel Olympic torch from the 2002 Winter Olympics. The kit comes with homemade graham crackers, chocolate, marshmallows, and a variety of seasonal gourmet spreads made in-house.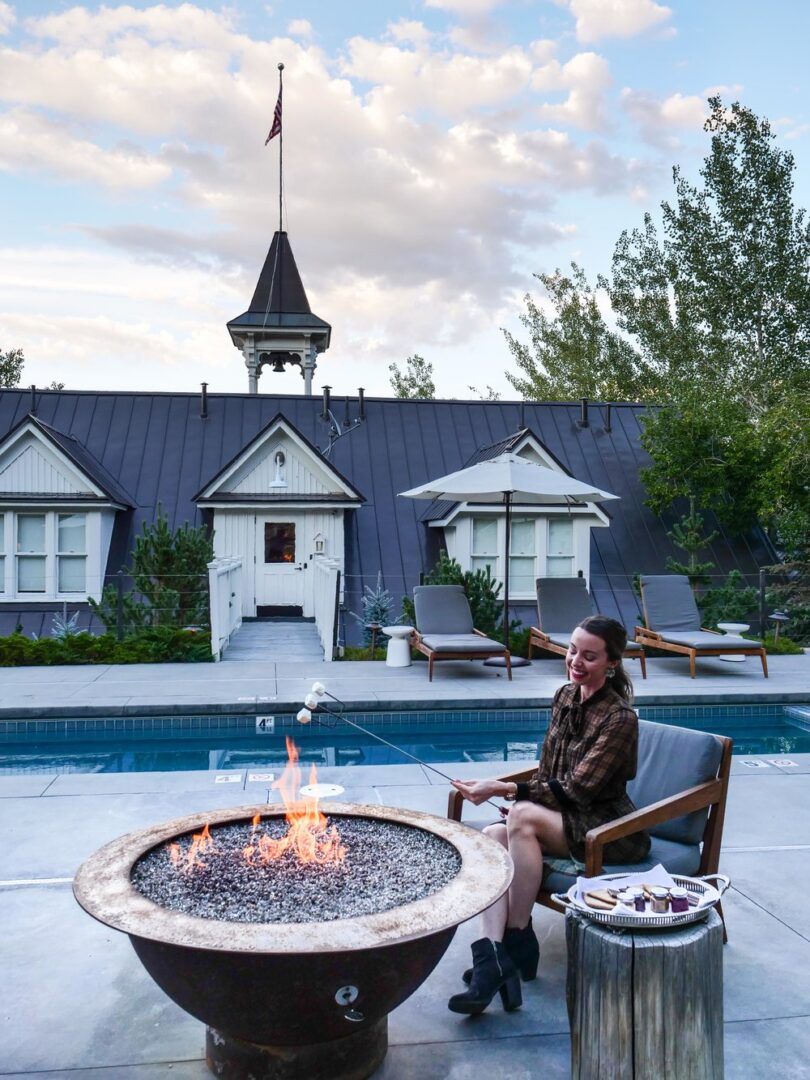 What I quickly learned is that once you have a gourmet s'more, you can't go back to a regular one. I truly don't know why I haven't thought to pair peanut butter with a s'more. Washington School House Hotel taught me that this is practically essential for the ultimate s'more experience!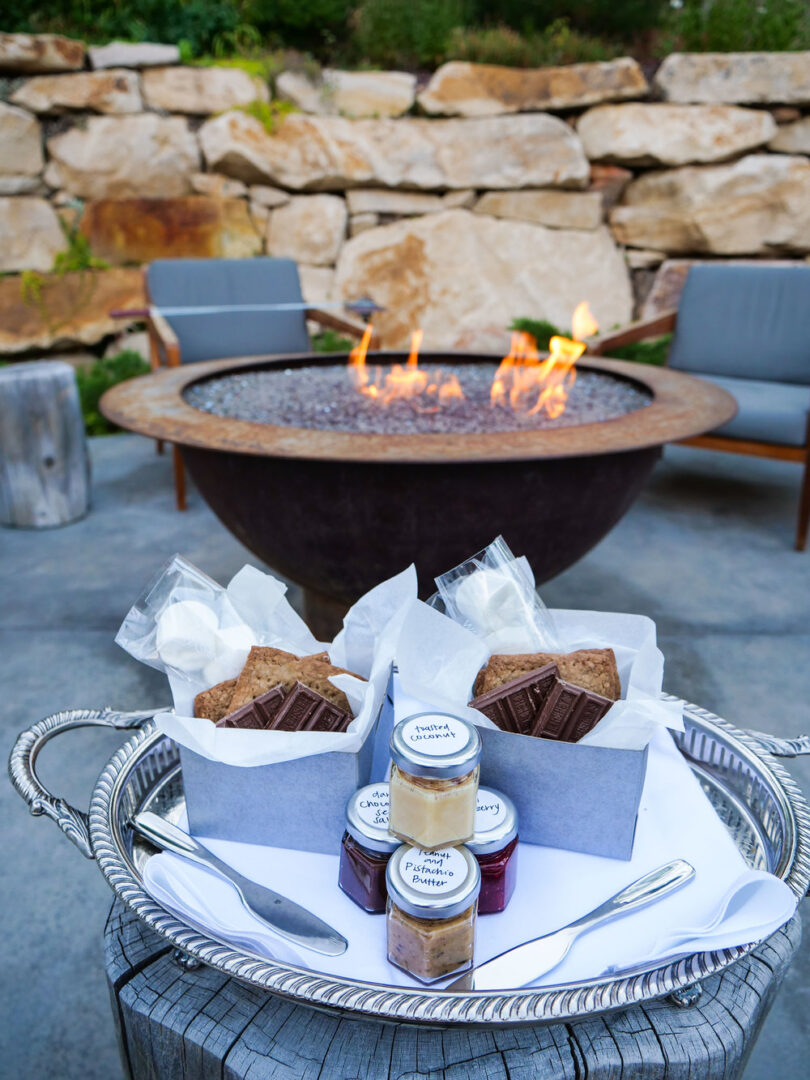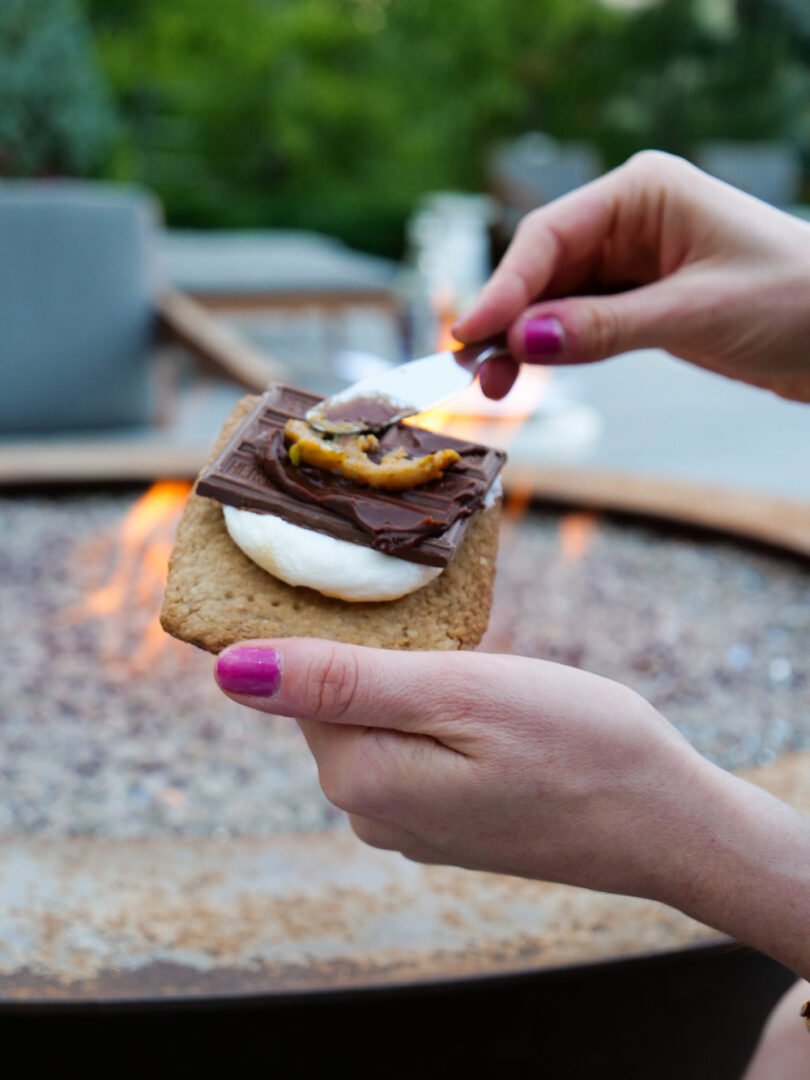 We enjoyed our s'mores with local craft beer and cider under the starry sky. It was the perfect way to end our last night in Park City.
DAY 3:
We woke up in our multi-level suite at the Washington School House Hotel, packed up our room and headed to a final breakfast in the luxurious living room. As we enjoyed avocado toast on a bagel and an omelet made with fresh picked vegetables, we discussed how we need to come back to experience Park City for the winter season. After all, it is what this town is known for the most.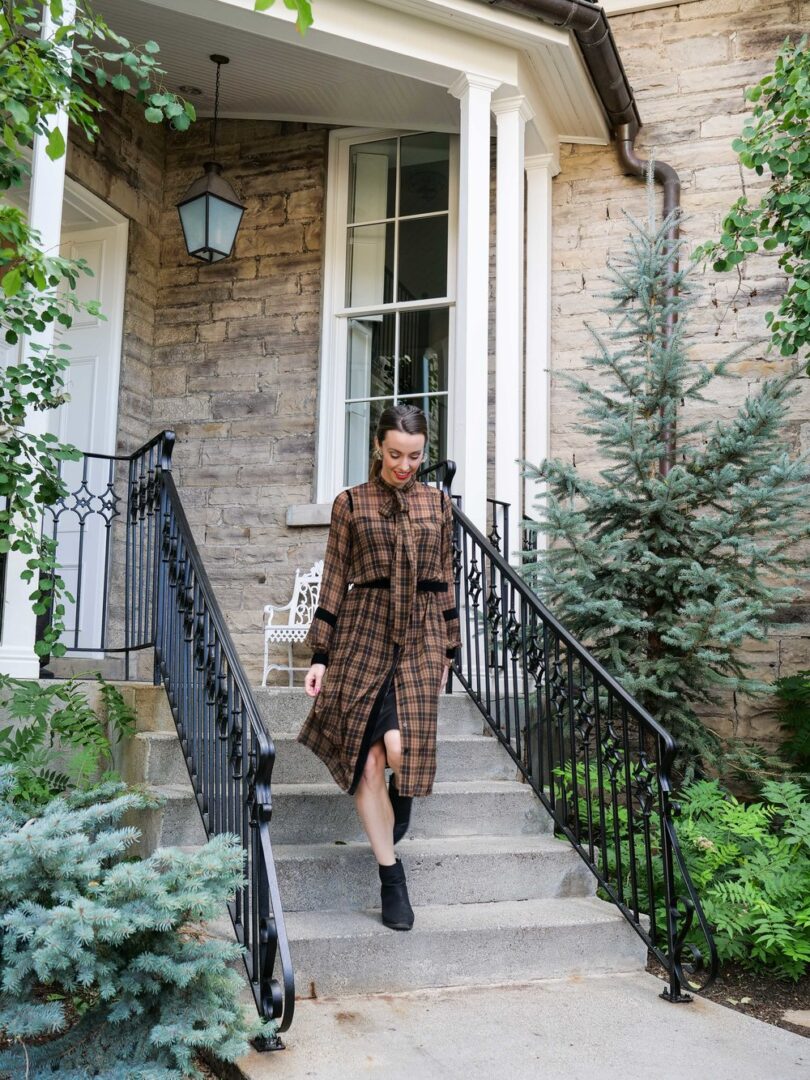 Three days in Park City was everything I needed to escape the summer heat of NYC. It was the ideal getaway and made me excited for autumn's return!