New York, oftentimes termed as the city that never sleeps, excels in the fashion industry. Coming in second place, after Paris, New York fashion is the epitome of defining stereotypes while still maintaining your individuality. Be it Women's Leather Jackets or a silk dress, New Yorkers can rock any type of apparel with equal glamor and grandeur.
However, a common misconception about New York fashion is that it's all limited to the color black. While New Yorkers do have a penchant for this particular color, this city's fashion is much more than that. It's trendy, stylish, and charming. It has the ability to make you stand out in a crowd while simultaneously making you blend in with the rest of the population.
When we talk about New York fashion, we can't just not mention leather jackets as they are a style staple for both men and women alike. Their popularity as a preferred piece of outerwear has risen so much in the past few decades that you may see many people in the streets of New York donning these charming jackets. In this article, a small guide will be given to you on how to style your leather jacket just like a New Yorker. Let's get started!
#01: Everything Black
As we have previously mentioned, New York fashion has a lot of black incorporated in it, also what is better than an overall black outfit? That's right, nothing. Simply take out your favorite black Bomber Jacket for Women and pair it with black jeans and a black tee. Slip-on a pair of Chelsea boots and you're ready to stroll through the streets of New York. Since black is the color that is often associated with elegance, poise, and grandeur, it is the perfect outfit for people who tend to control through their clothes. This outfit also gives off a modern and polished look.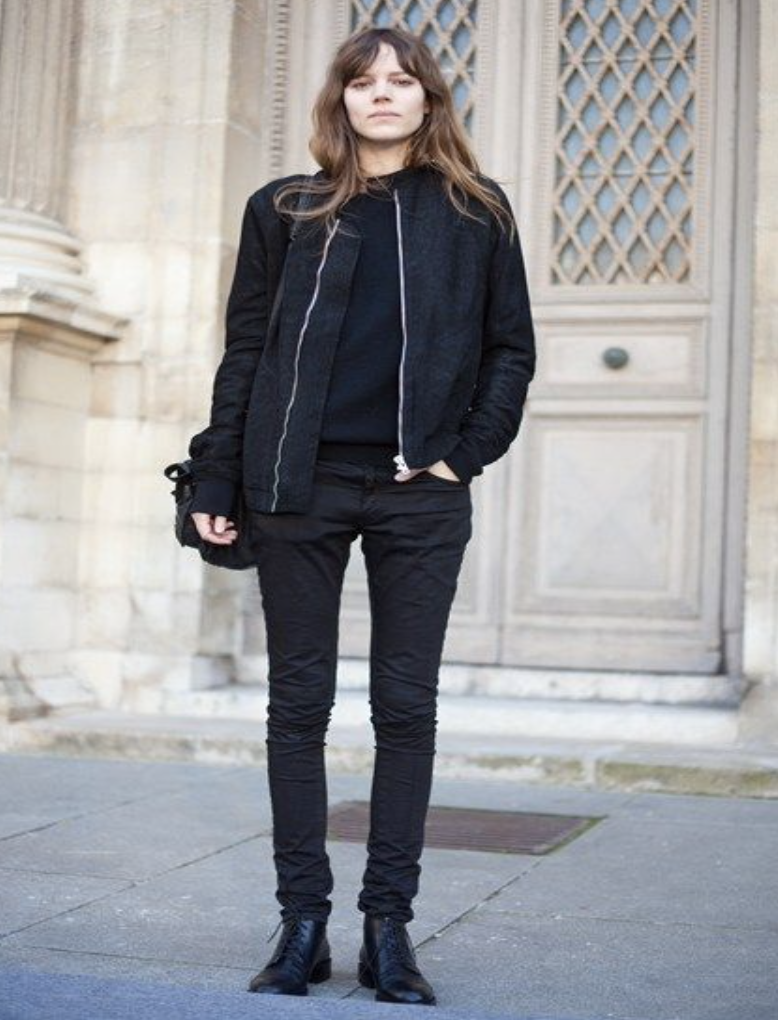 #02: Printed Skirts
Leather jackets with printed skirts may be a bit unconventional, but isn't New York fashion all about being unique? Make your printed skirt the statement piece and pair it with a black leather jacket and a black blouse. Slip-on black strappy heels for added effect and your favorite pieces of jewelry. Contrasting a black leather jacket with a printed skirt will soften the color of the jacket and put emphasis on your gorgeous skirt. There you have it, a perfect outfit for a night out. You can even wear this outfit on a casual get together with friends by simply trading the heels with sneakers or boots.
#03: Wide Leg Trousers
These dramatic yet relaxing trousers look great with any apparel you pair them with. Combining them with leather jackets is just a cherry on top. Wide leg pants add a feminine touch to your outfit while keeping intact the glamor of the outfit. If you're a bit daring and like to play with bold and bright colors, opt for turquoise or a red pair of trousers. However, if you prefer dull and neutral colors, opt for tan colored trousers. Slide on a brown leather jacket and you're good to go.
#04: Denim Jeans
Truthfully there's nothing better than going classic once in a while. The leather jacket paired with a pair of denim jeans is a tried and tested formula that can never go old. It surely is an outfit that screams everyday casual. You may have seen many New Yorkers rocking this combo like nobody's business, and rightfully so because it is the perfect mixture of comfort and fashion. It is the perfect outfit to opt for when you feel extremely lazy at the mere thought of styling a presentable ensemble. Slide on a pair of sneakers to finish your outfit and you're ready for the day.
#05: Everything Leather
Leather jackets and leather skirts have existed as two separate entities in the fashion world. Both of them are a staple in every female's wardrobe. However, if we combine the two of them, it would be unusual right? Not really because New York fashion is all about being daring, going for unique combinations, and getting out of your comfort zone. This outfit radiates a posh and poised aura, one that screams confidence. So if you feel like taking charge for the day, then this should be your go to choice.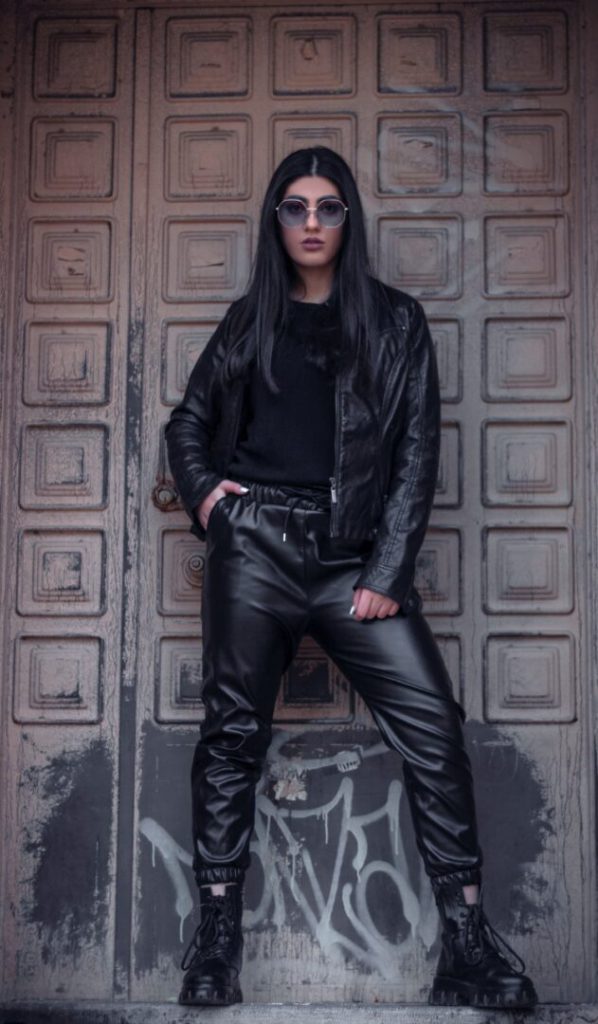 #06: Graphic Tees
Admit it, all of us love printed tees. They're comfortable, stylish, and available in a myriad of designs. Pair a leather jacket with a graphic tee and a midi skirt. Add on a pair of boots and you have yourself a work appropriate outfit. If you want to dress it up, swap the midi skirt with a silk skirt and you have an outfit for a romantic date night.
#07: Printed Dresses
A lot of women opt out of wearing a leather jacket over a dress because of the misconception that it doesn't look good. But believe us when we say that there is nothing more stylish than a leather jacket on a dress. Leather outerwear paired with a floral maxi cotton dress is the perfect remedy for standing out in the crowd. To further polish your look, slide on a pair of wedge heels and delicate jewelry pieces. If you want to dress it up, simply trade the cotton dress with either a chiffon or a silk one.
#08: Printed Pants
Another way you can style your leather jacket like a New Yorker is to simply pair it with printed pants. Depending on your mood, go for either a subtle look with striped pants or you can go as crazy as you want and go for bright and bold pants.
To Conclude
We have curated this list of outfit ideas especially for the women who are inspired by New York fashion and would like to incorporate it into their own wardrobe. However, at the end of the day, you should always dress up how you want to according to your personality and taste, while simultaneously having fun with how you mix and match your clothing items.