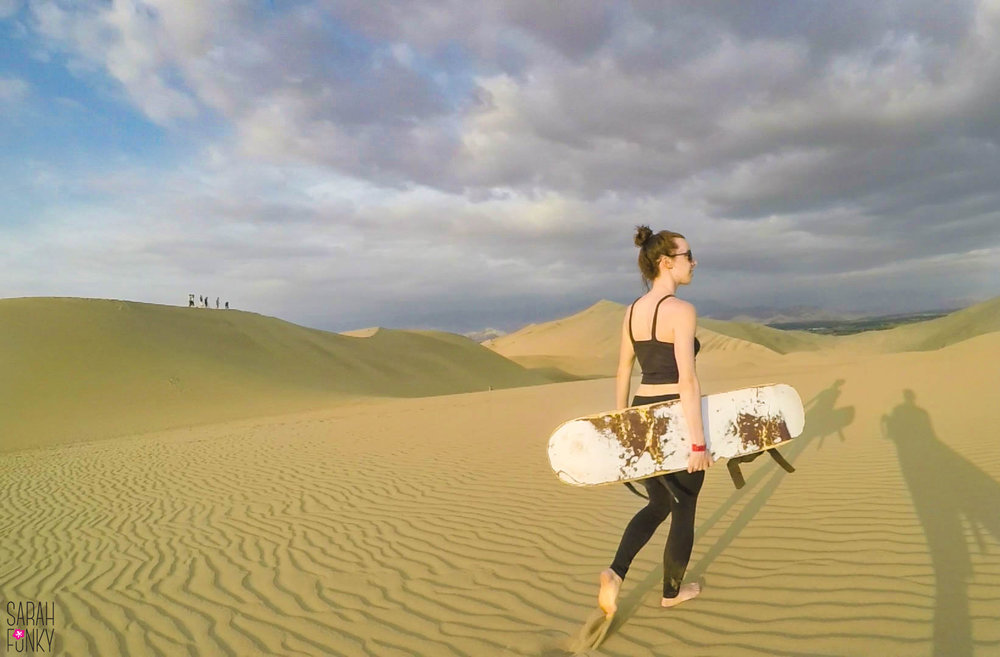 The rugged dune buggy driver shoved the dusty sand board in my hands and mumbled vague instructions on how to use it. I gripped the board with white knuckles and placed it on the golden sand. The dune was steep, at least 100 feet down to the bottom. Shades of golden hues stretched as far as the eye could see. I felt the tickle of wind picking up particles of sand at my ankles. This is Huacachina, the only desert oasis in South America and I was about to test my skills at sandboarding with barely any instruction. It was the board and me. There was no turning back now!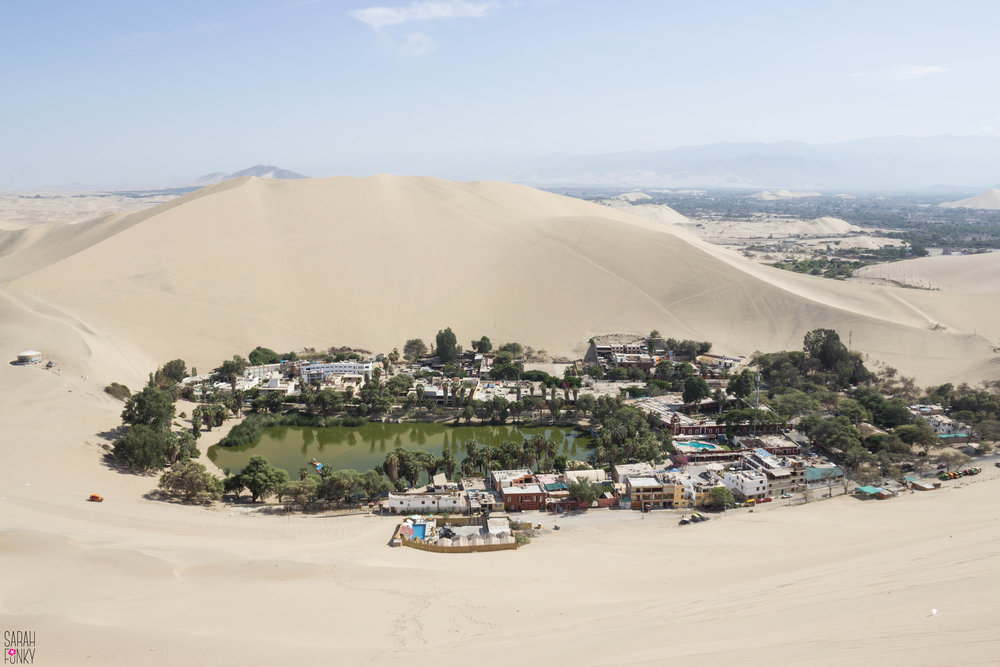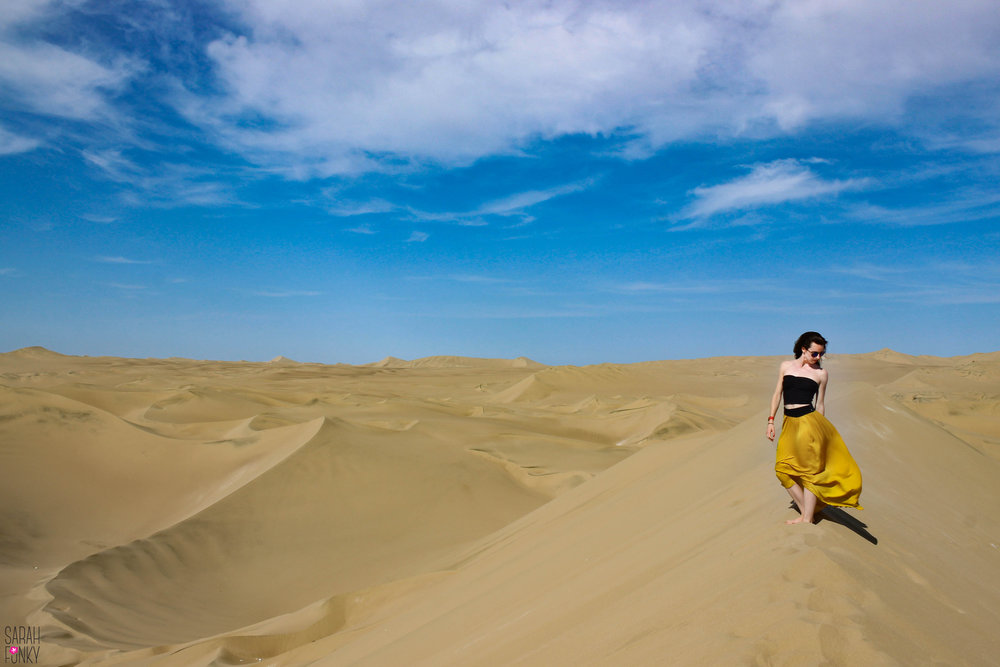 Huacachina is the most interesting Peruvian town you've never heard of. At first glance, this village is straight out of the set of a Hollywood movie. It's center is a small oasis, nestled in a valley of mountainous sand dunes. Street vendors, Peruvian restaurants and hostels hug the shore. As visitors walk through the tiny village, locals call out to tourists to book a dune buggy ride or sandboarding excursion.
HOW TO GET THERE:
Getting there is easy. Take a 5-hour bus ride from Lima directly to Huacachina. I took PeruHop, a company that organizes the tours for you at a low price. There are many options; direct buses or organized tour buses. Pack; sunscreen, a bathing suit, clothing that would be comfortable in hot desert days and cold desert nights, and comfortable shoes.
THE LEGEND OF HUACACHINA: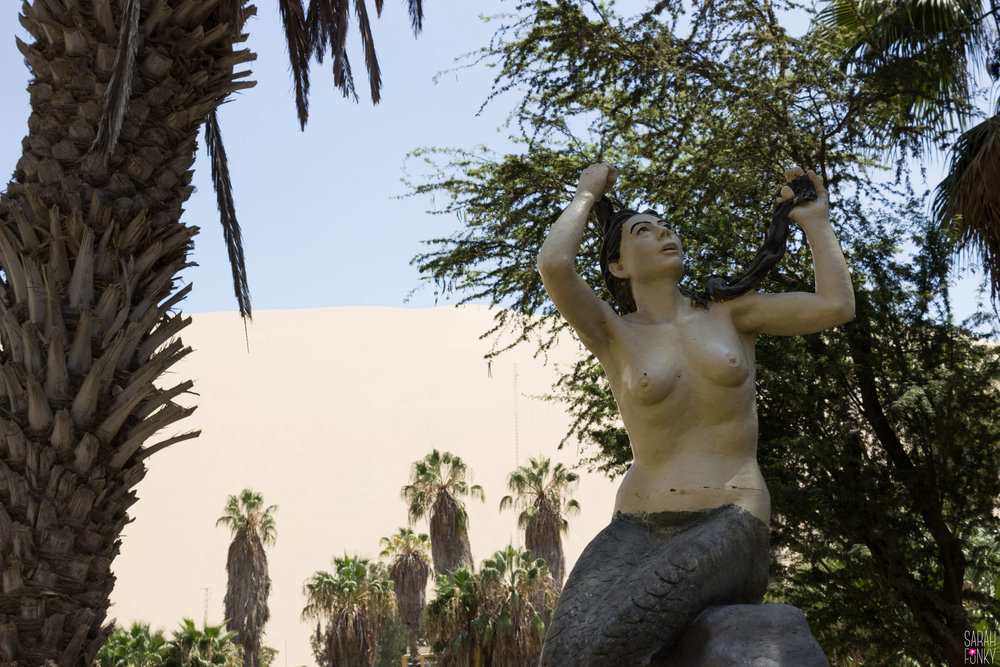 Its mystical origin is almost as fascinating as it's vista. It is said that the lake was created from a princess whose voice was so beautiful that it made people cry. They called her the "Huacca China" or "the girl who cries". One day as she was bathing herself and singing, she noticed through her mirror that a hunter was watching her. He startled her and she tried to run away. As she ran, the cloth that covered her fell off and created the sand dunes. She stumbled and broke the mirror, which transformed into the lake. She was turned into a mermaid and it is said that to this day she comes out in the moonlight and sings her ancient song.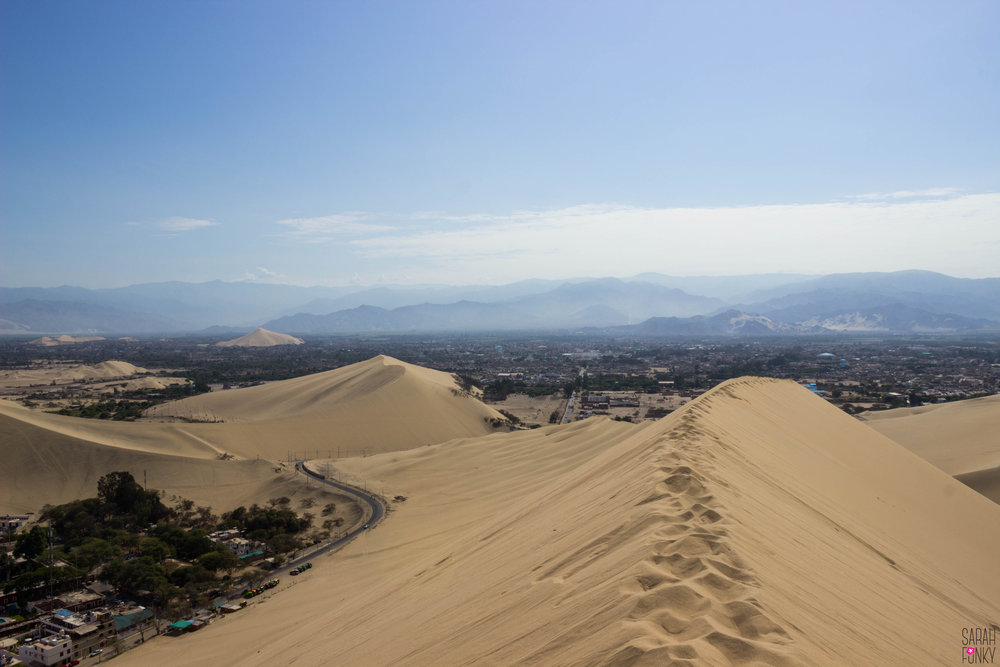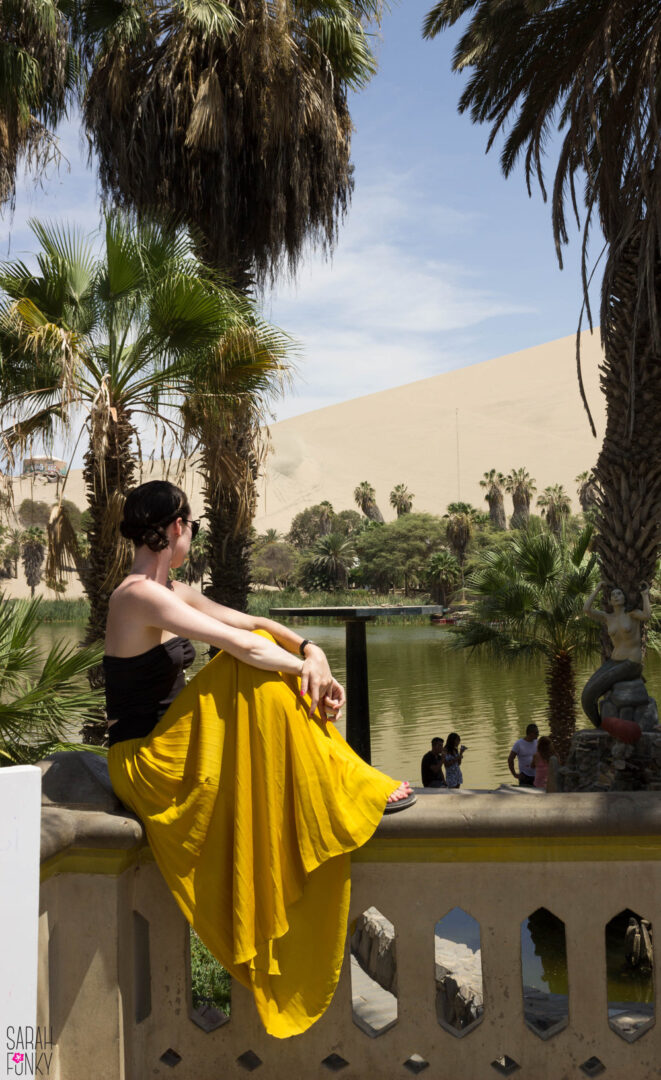 At the main entrance of the lake, lies a stone-carved statue of the "Huacca China" in mermaid form. She looks over the lake, town and its people. Palm trees line the lagoon's shore as children play in the water, known to have therapeutic properties. Parents lounge on the grass surrounding the lake watching their kids splash in the lagoon, wrestle in the reeds and blowing up rafts. The village has a breezy, beach town feel.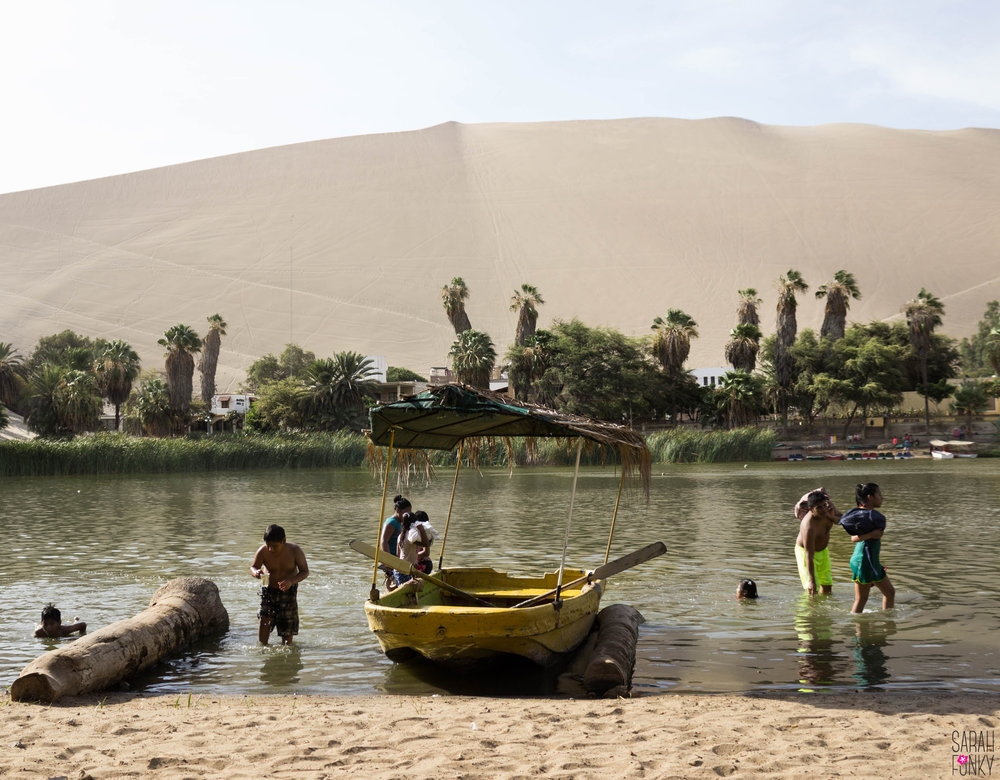 The oasis seems isolated from the world. Surrounding dunes rise up 300 feet, however, a road to the west leads to the city of Ica. It is only a 10-minute drive and many of the locals that cater to tourists in Huacachina live there. Ica is also where all the restaurants in Huacachina get their food: they have no grocery store.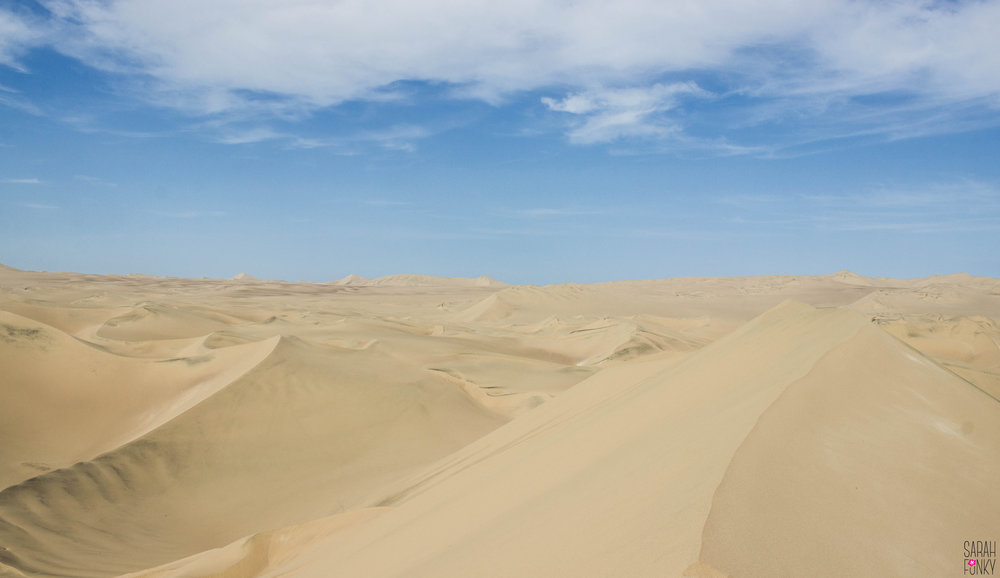 Surrounding the lagoon, local women offer snacks made from corn, fruit and sugar. The local men offer dune buggy tours and sandboarding. As a tourist it is impossible not to be pursed by an eager sales man from a dune buggy company. It is one of the main activities to do in the area and is incredibly enticing even to the most hesitant adventurer.
A TOWN OF ADVENTURES: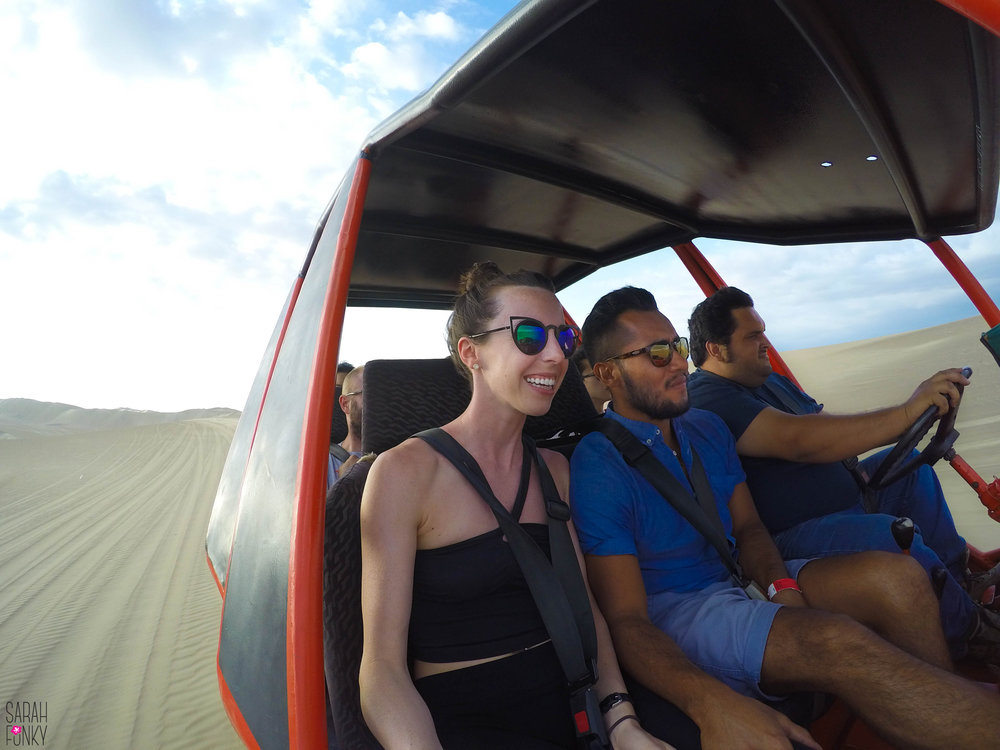 As my dune buggy's engine started, the smell of diesel fuel filled the air. We wove between taxis, cars and locals; and eventually reached a road that led on to the dunes. The smooth ride immediately became a bumpy trek as we were shot up to 6 inches off our seats. We were in sand dune territory, a land of little rules, few trails and no speed limit. Our lives were in our dune buggy driver's hands as he made our buggy leap, turn and fly over the hills of golden sand. It was exhilarating and only slightly scary.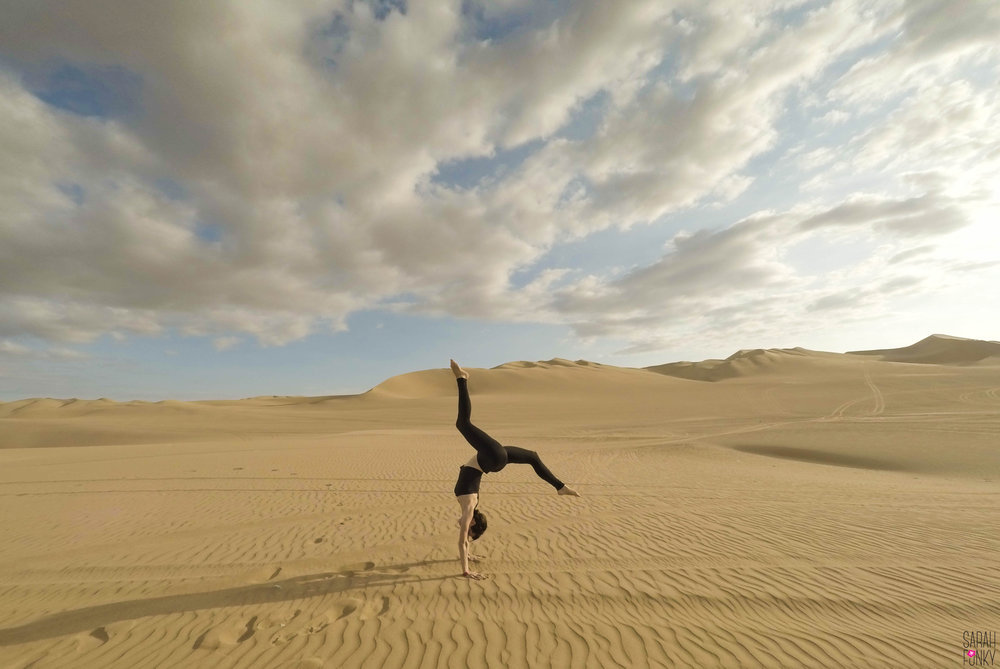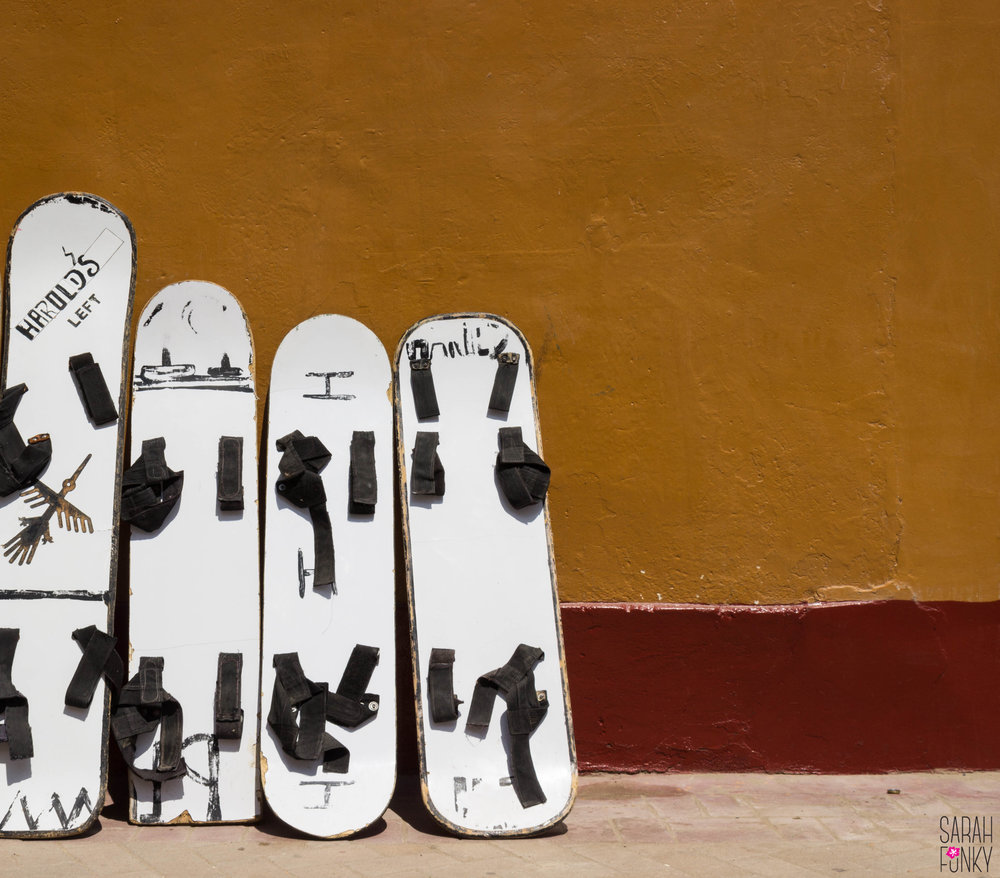 Sandboarding was another experience. Boards were thrust in our hands, we were told to lay on them like a sled and simply go down the 100 foot hill. One hour later, we had sped down dunes up to 300 feet high and had only one person out of a group of 30 get injured. She had tried to stop with her hands instead of her feet and had flipped over her board, breaking her finger. I suppose that is the nature of Huacachina, try it at your own risk and the odds are probably in your favor!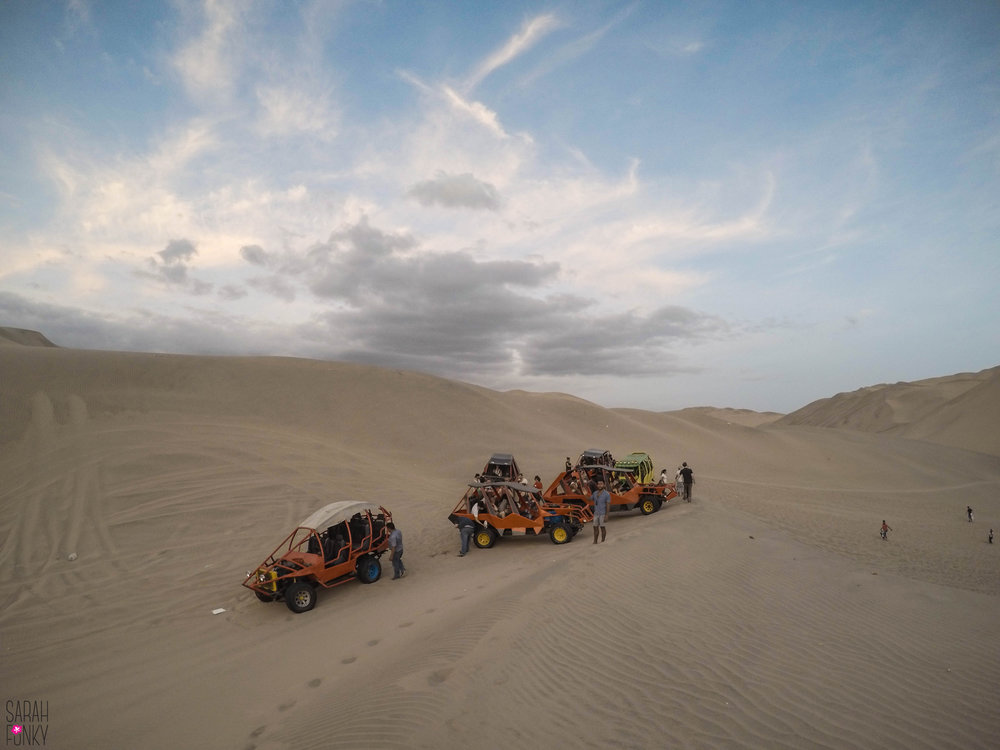 A PLACE FOR EVERYONE:
There are many options on how to experience this one-of-a-kind city. From $10 a night hostel dorms to luxurious hotels, authentic Peruvian restaurants to American cuisine, calm sightseeing to active adventures. It's a place that everyone will find something they love, if not they'll enjoy the unique desert oasis views that are a rare visual feast.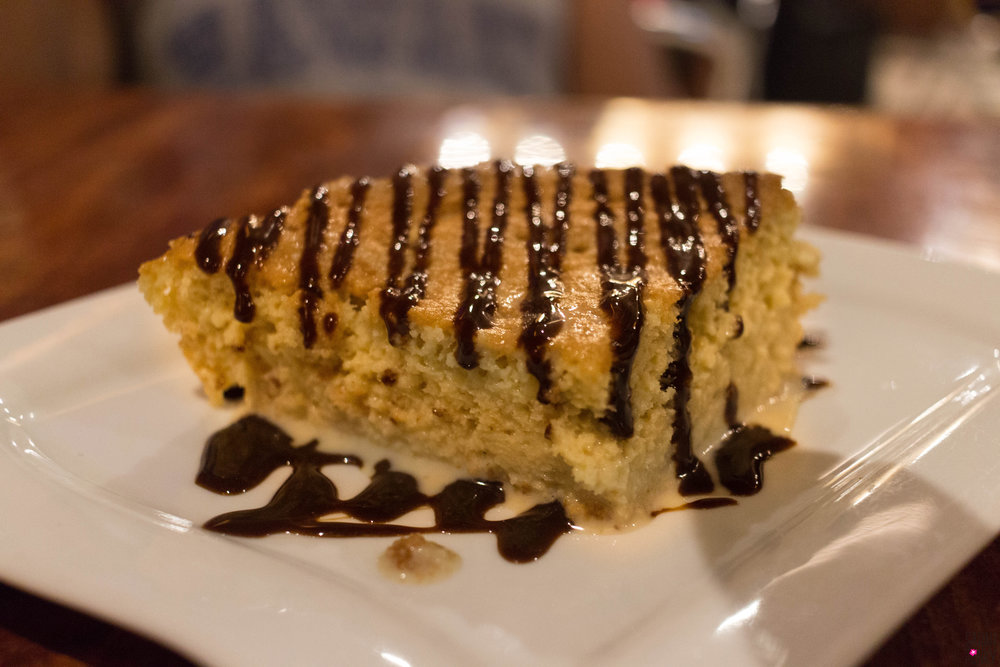 Bars, clubs and restaurants surround the palm tree lined lagoon offering incredible prices to visitors. Dine at one of the local watering holes and you'll be sipping on fresh watermelon juice (or one of the other juices they make on hand) while gazing at the massive dunes that surround the oasis. Have lunch or dinner at Desert Nights Restaurant, where tables are covered in woven Peruvian cloth. Three-course meals of authentic cuisine such as lomo saltado, causa and passion fruit mousse can be had for less than you would spend on one entre in the US.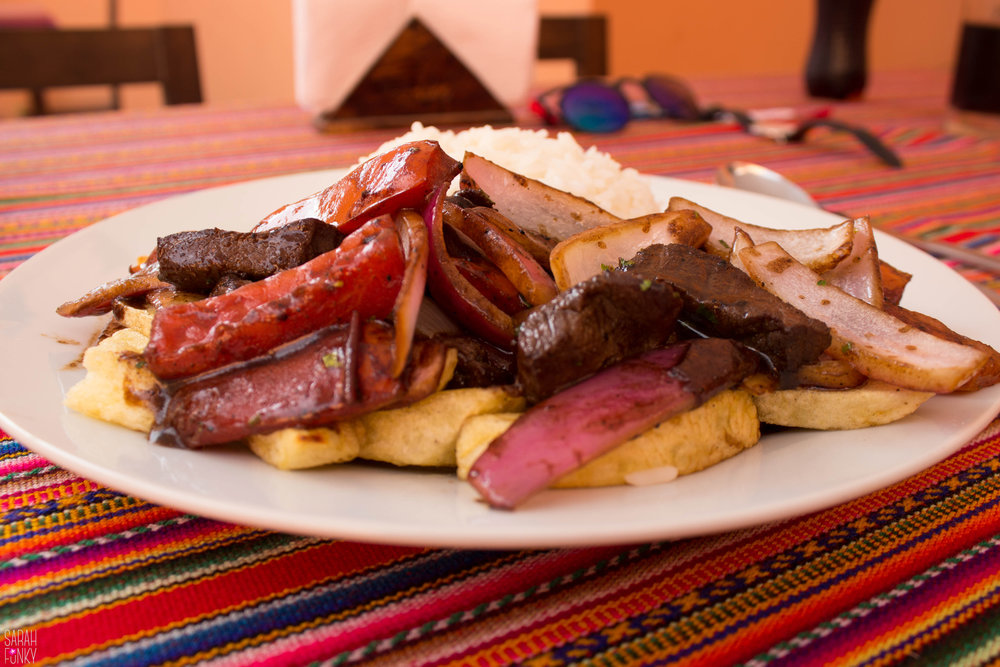 WHERE TO STAY:
There are hotels and hostels lining the lagoon. We stayed at Hotel Curasi and it was had everything we needed plus a nice pool. No matter where you stay, you will be walking distance from the center of town. Huacachina is very small and it's possible to walk through the entire oasis in two hours and see everything.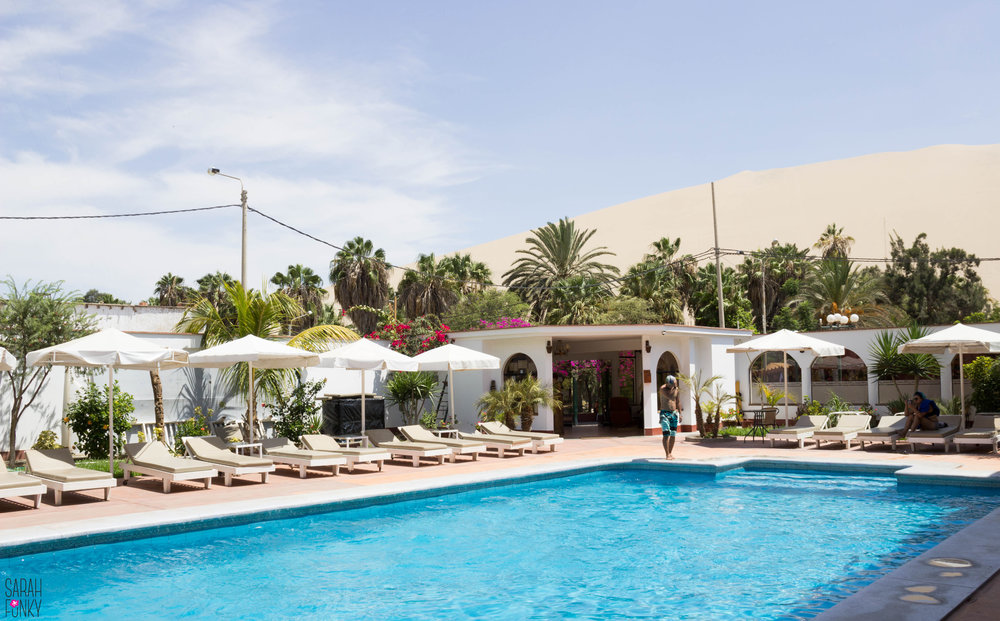 It's surprising that visiting Huacachina is not as popular as visiting the historic ruins of Machu Picchu. Both places are unique to Peru and South America. Huacachina is one of the only desert oasis' in the world. It's a place that will leave visitors in awe!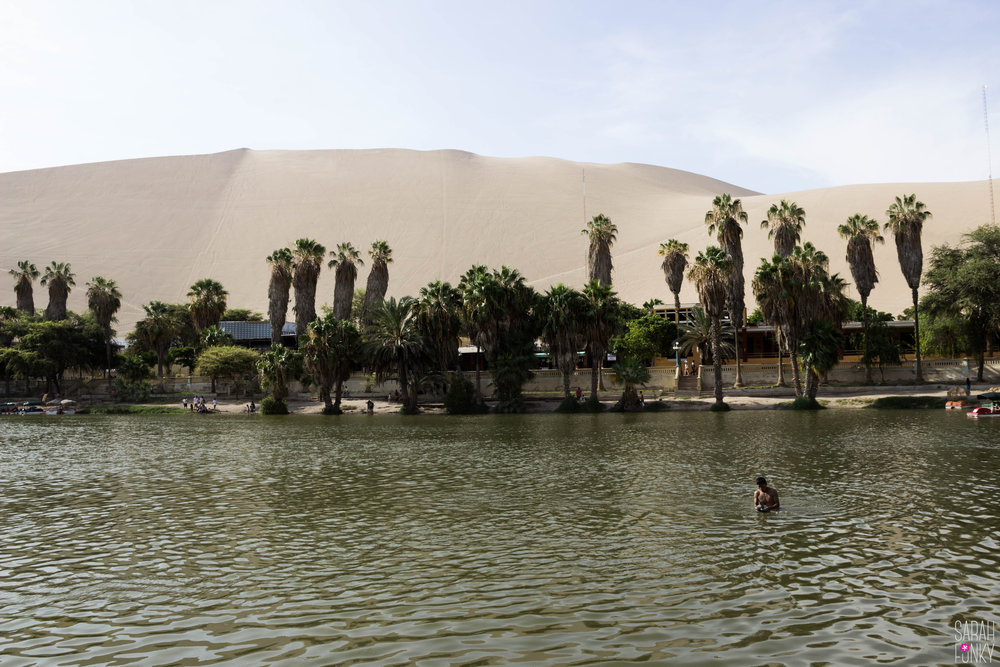 Perhaps sandboarding is not for everyone however, I found it exhilarating. You may not know what's on the other side of every dune. It could be a lagoon created by a singing princess or a broken bone. Huacachina will keep you wondering.