By: Stefanie DiMartino
It's August in New York City, and things are heating up in the best possible way! Whether you're a local or an excited traveler, NYC in August has something special to offer everyone.
NYC experiences the peak of its summer season, with the hot weather drawing everyone to parks, rooftops, and outdoor events. The city's vibrant energy, combined with numerous festivals and cultural activities, makes August an exciting time to explore the Big Apple. I'm sharing the best things to do and see, the best in dining and drinks, and the best entertainment and museum and art exhibits. These are my top picks of NYC things to do this August!
The Top 17 Best Things to do in NYC this August
THINGS TO DO + SEE + PARTIES
THE ROOFTOP AT PIER 17: SUMMER CONCERT SERIES
Now – August 30, 2023
89 South Street, New York, NY 10038
If you've been wanting to experience a New York City rooftop and live music, then the Rooftop at Pier 17 is the place for you!
"There are rooftops—and then there's The Rooftop at Pier 17—a one-of-a-kind concert atmosphere featuring your favorite artists with the iconic NYC skyline as the backdrop." – Pier 17
Some featured August artists: Rina Sawayama, Shakey Graves & Lucius, Pixies & Modest Mouse, and JVKE.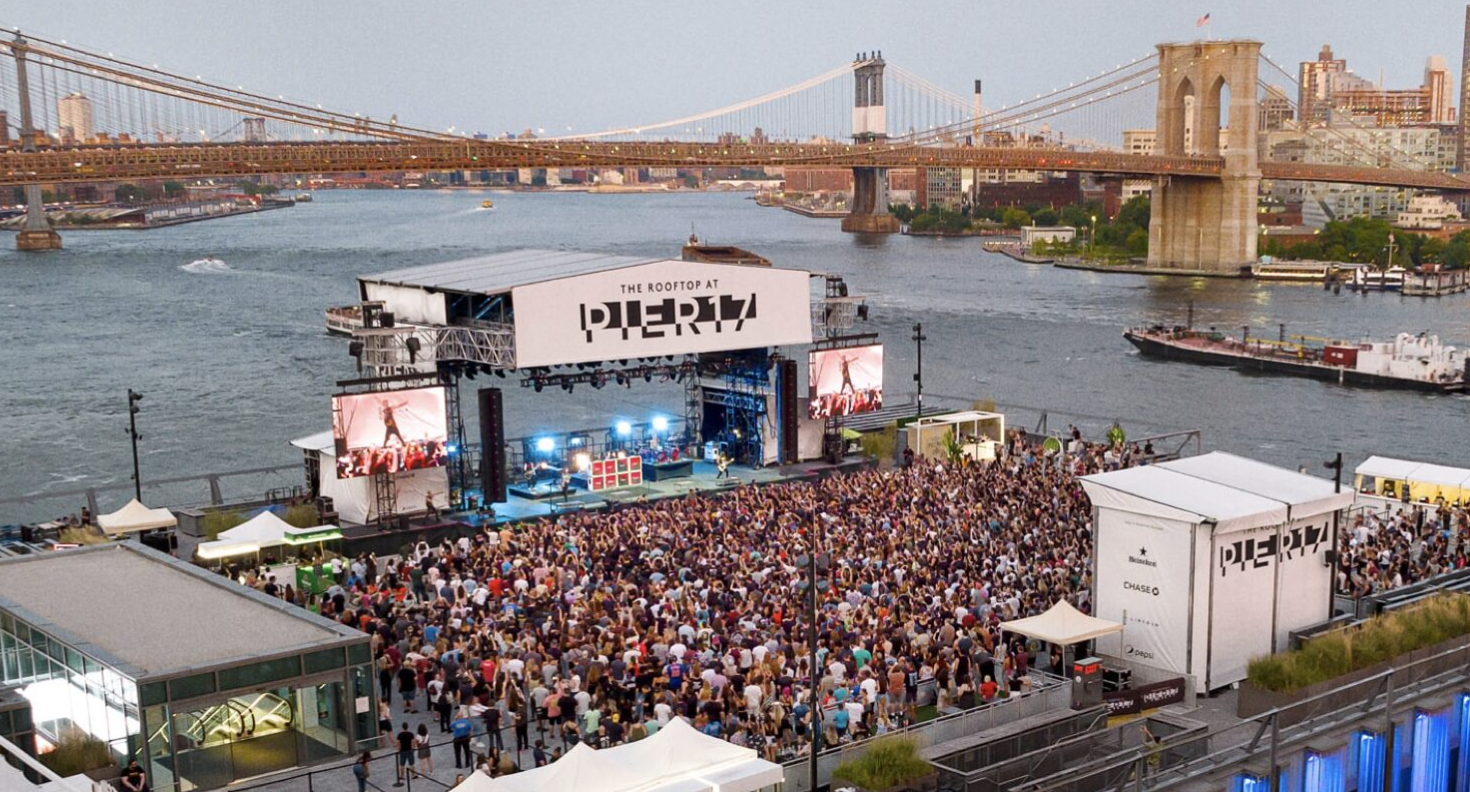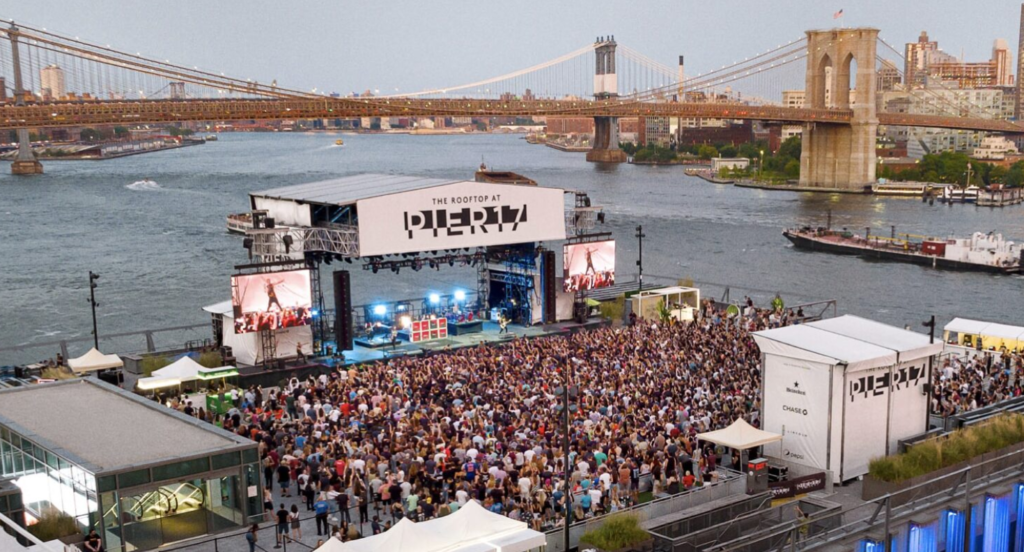 ANCIENT ROME: THE EXHIBITION
Limited Run! August 5 – September 30 | Tues-Sun 10am/11:30am-7:30pm | $20+
378 Broadway, New York, NY 10013
"Explore the captivating world of Ancient Rome at this fascinating exhibition in New York. Immerse yourself in authentic artifacts and reconstructions, experiencing the triumphs and technological advancements of this legendary empire firsthand. Don't miss out on this unique opportunity to learn and discover!" – Fever/Ancient Rome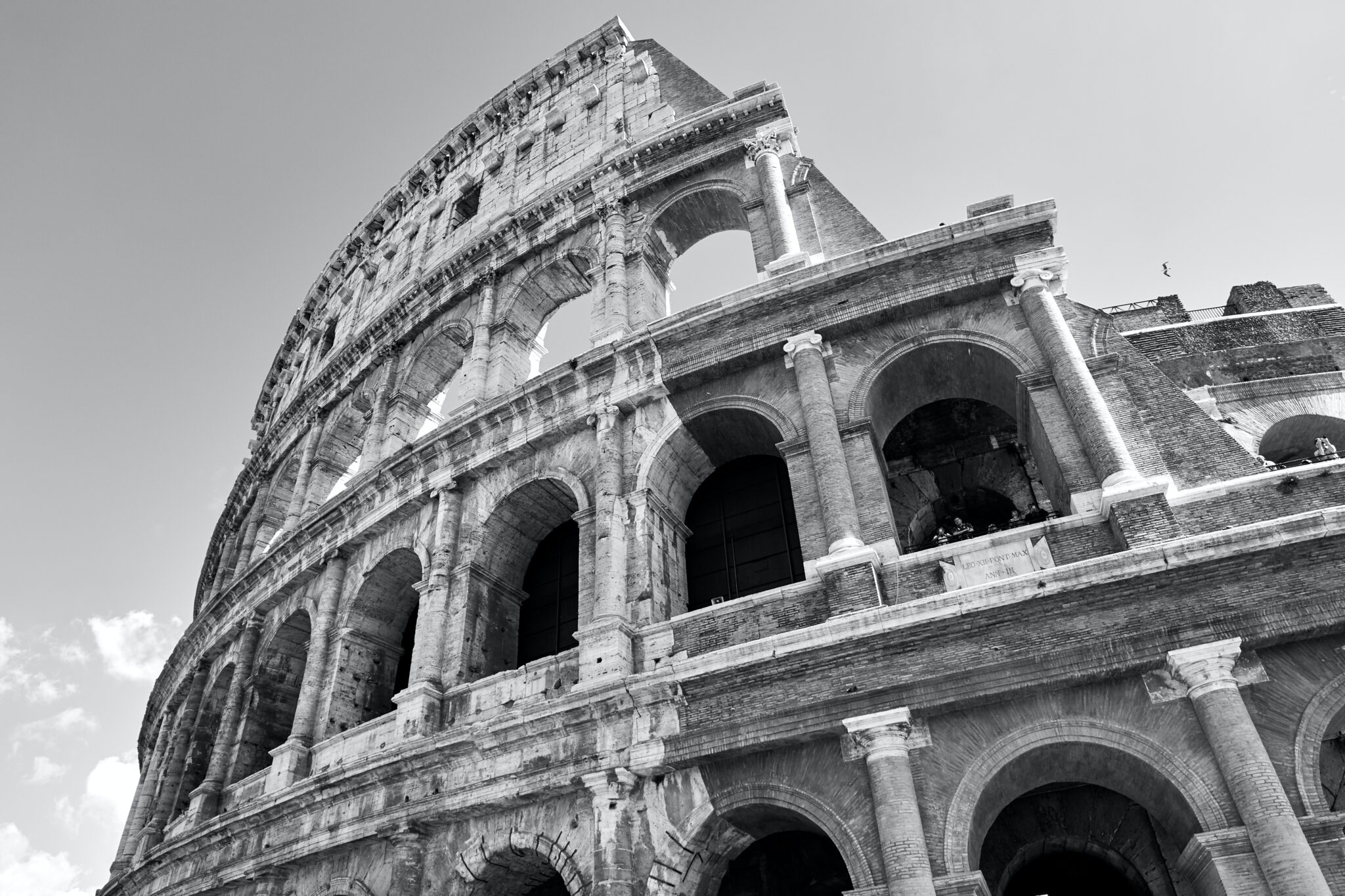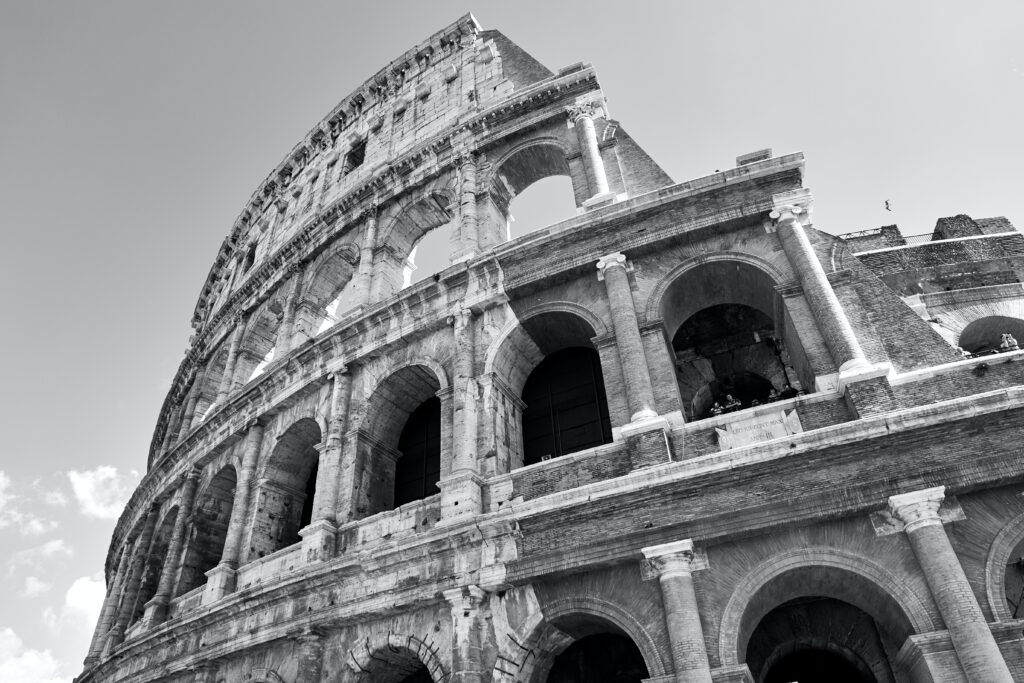 NYPL – DANCE PARTY NYC: 50 YEARS OF HIP-HOP
Saturday, August 5, 2023 | FREE!
476 5th Ave, New York, NY 10018 (And more locations!)
Join The New York Public Library for a special edition of Dance Party NYC celebrating 50 years of hip-hop! Come to hip-hop dance parties at our flagship location on Fifth Avenue and 42nd Street and six of our neighborhood branches. Plus, discover everything the Library is doing to celebrate the 50th anniversary of the birth of hip-hop.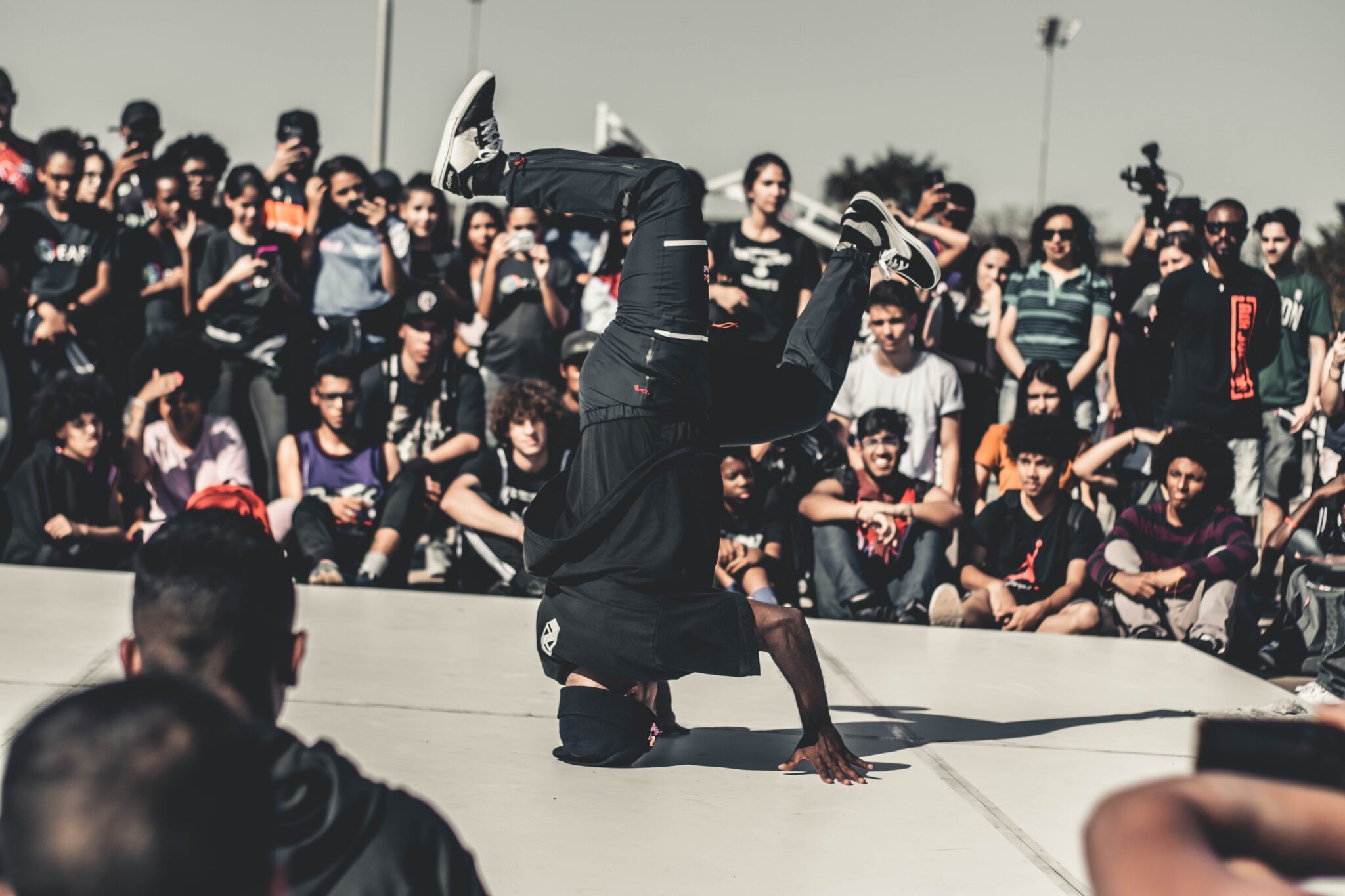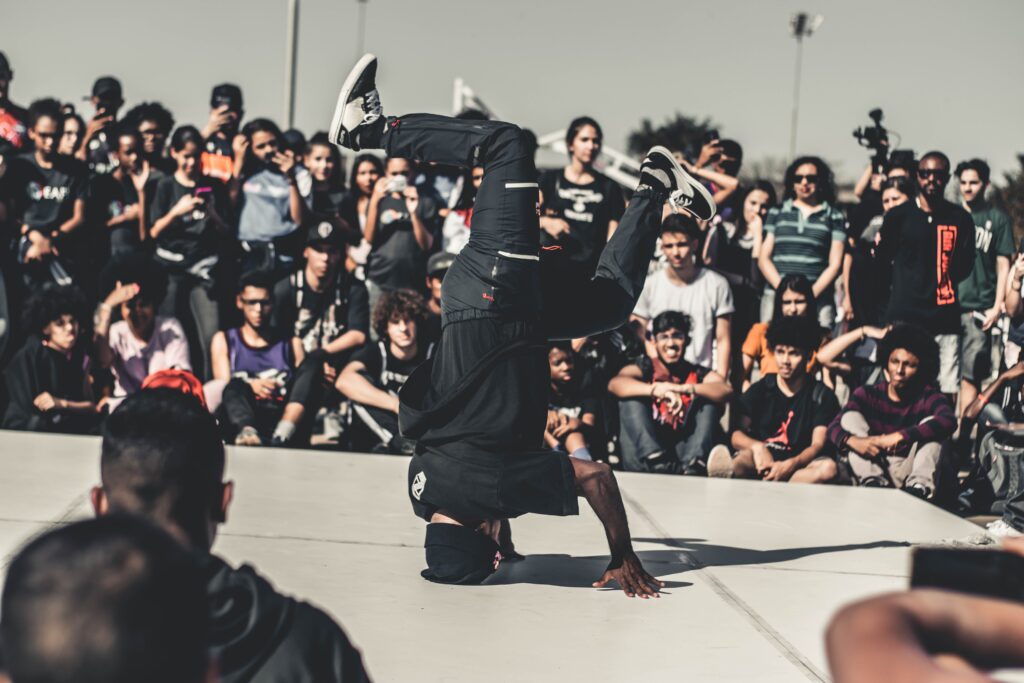 DAYBREAKER NYC: TOGETHER TOUR
Saturday, August 12, 2023 | 8am-12pm | $67.95+
Circle Line Cruises, Pier 83, West 43rd St & 12th Ave, New York, NY 10036
There ain't no party like a Daybreaker party!
The theme is Togetherness "to shine a light on the importance of belonging, friendship, and real social connections to support a meaningful life — and to heal the world." – Daybreaker
SUMMER SWAY
August 11 – 26 | Fridays & Saturdays, 5pm – sunset | FREE!
The Shed, 545 West 30th Street, New York, NY 10001
Summer Sway is taking over The Shed's outdoor, public plaza. Summer Sway celebrates the summer season with the community, joy, and liberation that music and dance gives.
"DJs and special guests from across the city will spin for us on Friday and Saturday evenings from 5 pm to sunset. Bring your family and friends to enjoy music and more by New York's most innovative and creative DJs and musical artists who continue to reinterpret and mix sounds of hip hop, house, Afrobeats, salsa, reggae, and more. Enjoy specialty cocktails from Cedric's, The Shed's bar. The Plaza stays open throughout the week, so make the space your own to gather, relax, and soak up summer with your friends." – The Shed/Summer Sway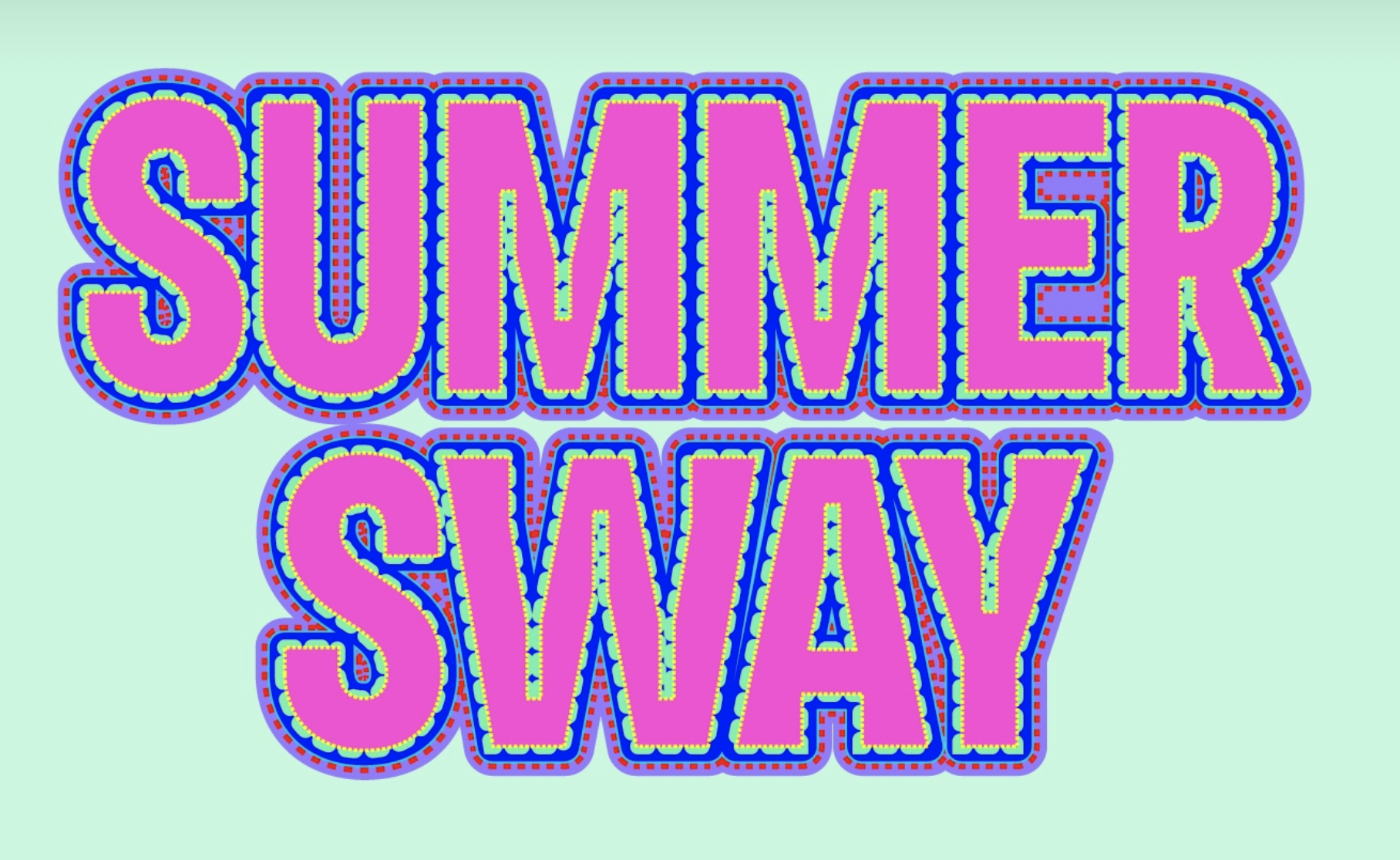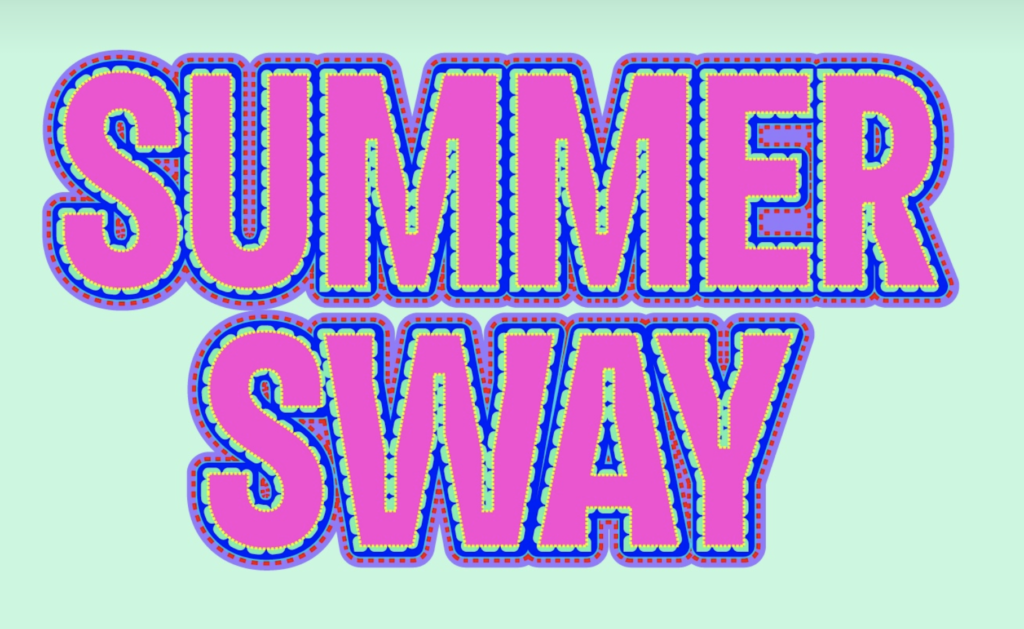 CONEY ISLAND
1208 Surf Avenue, Brooklyn, NY 11224
Coney Island is a must-see for anyone visiting New York City, especially in the summer! It's the perfect getaway from the hustle and bustle of the city, and the heat! Coney Island is an iconic beach destination in Brooklyn and is a true playground for locals and visitors. With its expansive sandy shores and cool ocean breeze, it provides the ideal setting for sunbathing and swimming.
Coney Island's famous boardwalk is lined with an assortment of amusement parks, exhilarating rides, vintage attractions, and classic carnival games, creating a fun and nostalgic experience for visitors of all ages. And, of course, you can't forget about the food! There's everything you could want – ice cream, pizza, cotton candy, Nathan's famous hot dogs, tacos, and so much more!
Watch my Ultimate Coney Island Guide:
JAZZ AGE LAWN PARTY
Saturday, August 12 & Sunday, August 13 | 11am-5pm | $50+
Governors Island, 10 South Street New York, NY 10005
The Jazz Age Lawn Party is back and it's selling out fast! Don't miss out on the return of the roaring 20's!
"Jazz Age Lawn Party is celebrating its 18th year! The event attracts thousands of time travelers each year, who come together to discover the music and zeitgeist of the 1920s. Relive one of the most colorful and formative periods in American history at this unique and interactive vintage fest! Break out your best flapper dresses, linen jackets, straw hats and spats, and 100-year-old Gatsby-inspired attire! Enjoy live music, retro cocktails, and 20s Prohibition era entertainment. Explore the park and join dance lessons, take a vintage portrait, check out the antique 1920s cars, play croquet, enjoy a gourmet picnic, and more. So whether you are looking for a romantic getaway with your partner in crime à la 'Bonnie and Clyde' or a solo afternoon surrounded by nature, this is the vintage party for you!" – Fever/Jazz Age Lawn Party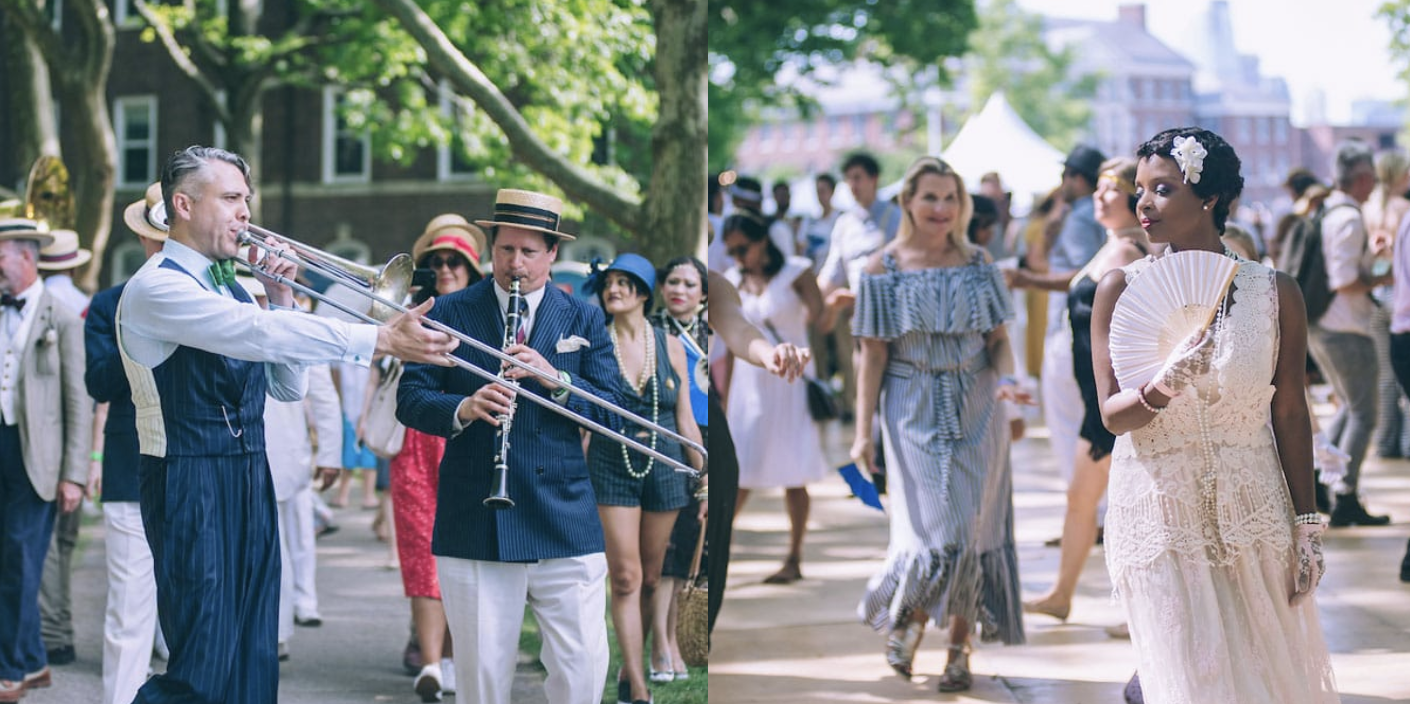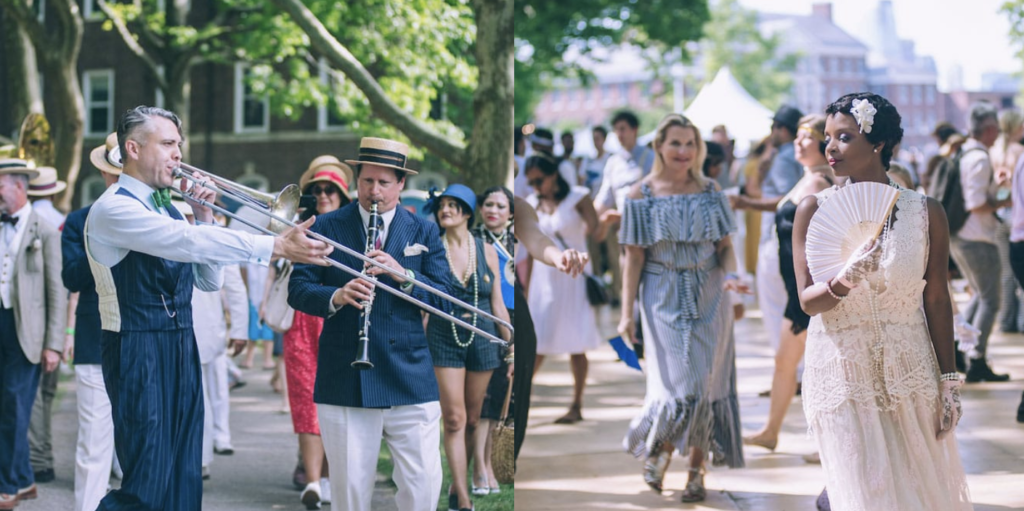 CLASSIC HARBOR LINE CRUISE
All of August, various dates/times | $64+
Chelsea Piers, Pier 62 (West 22nd Street) New York, NY 10011
A Classic Harbor Line cruise in NYC is an amazing choice for August! There's nothing like a warm summer breeze on the water while admiring the iconic skyline views. And, a bonus is there's so many great cruises to choose from: Evening Jazz Cruise Aboard Manhattan, Statue & Skyline Sightseeing Cruise, Sunset Cruise or City Lights Cruise on Yacht Manhattan, and more!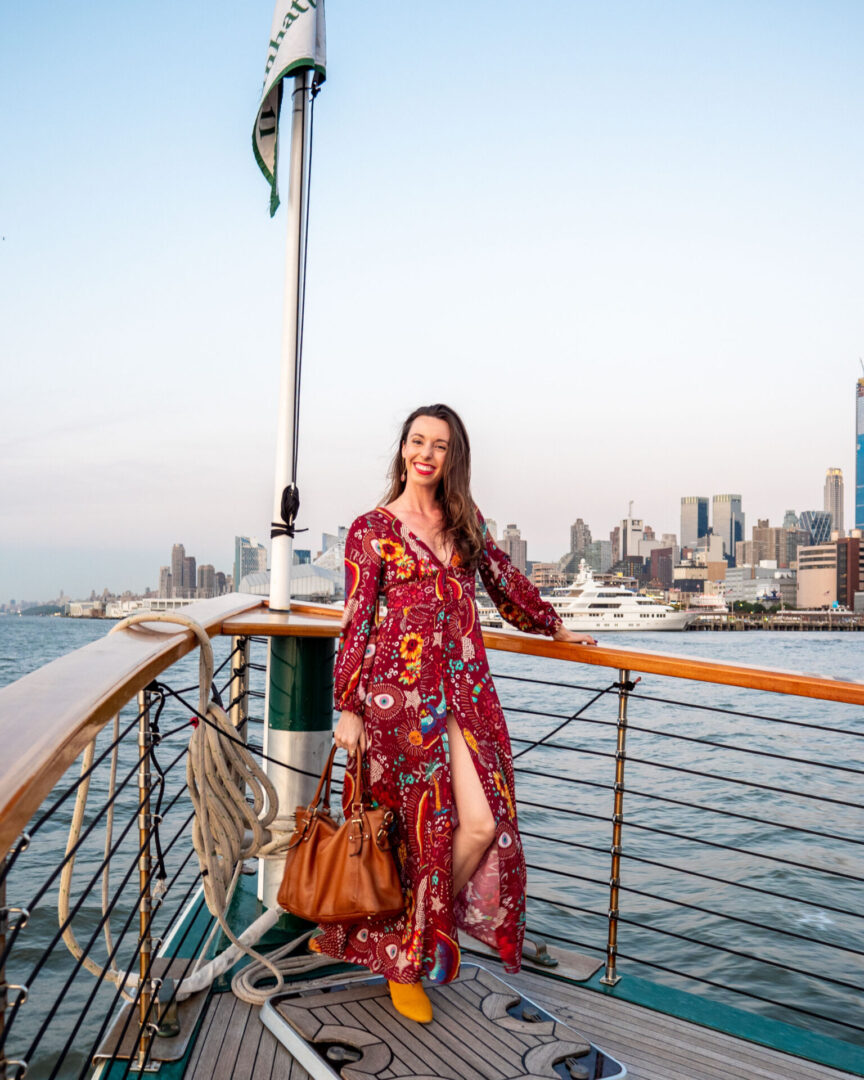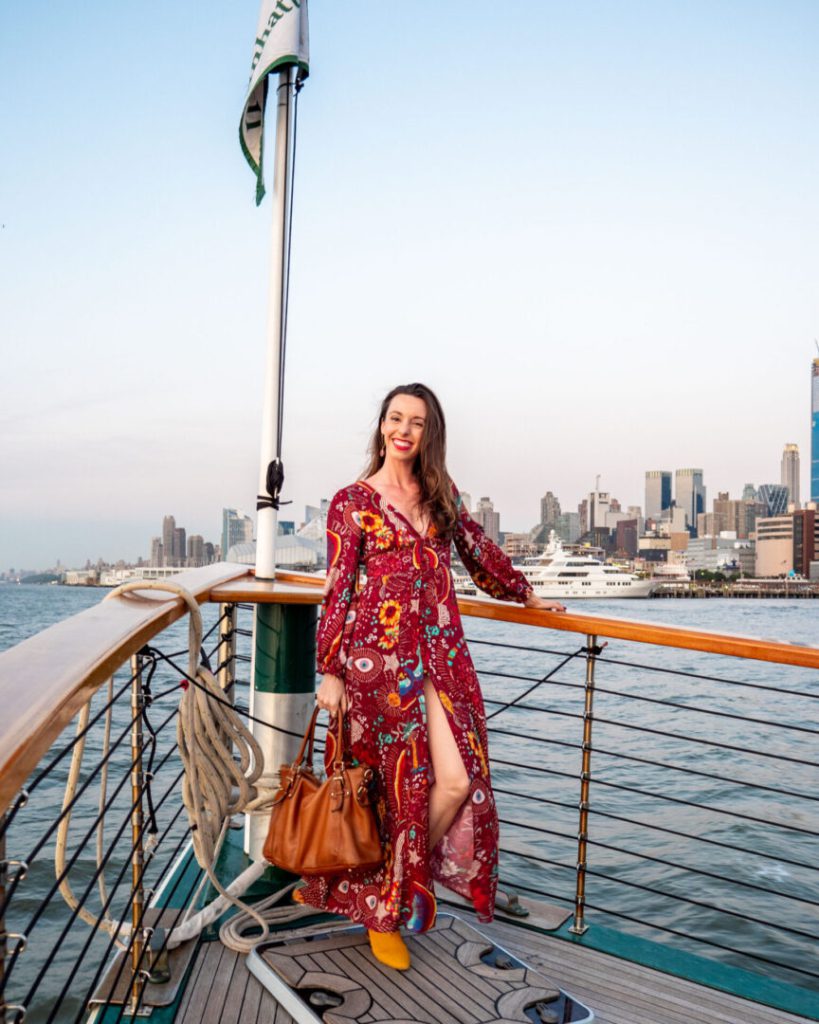 PEACHES AND WINE FESTIVAL
August: 6th, 12th, 13th, 19th, 20th, 26th, 27th | 11am-6pm | $5+
Weed Orchards & Winery, 43 Mount Zion Road, Marlboro, NY 12542
If you're looking for a quick city escape this August, then head up north for the Peaches and Wine Festival!
Weed Orchards and Winery is a fun spot, especially when it's peach season! It's perfect for the whole family – you can pick your own delicious peaches, and then spend the day enjoying the winery! Enjoy amazing specialty menu items (of course all peach themed) like: Peach Frose, Spicy Peach Sangria, Peach Wine, Peach Prosciutto Flatbread, Peach Burrata Salad, and Peach Pie Milkshakes!
Note: Children 5 and under are free.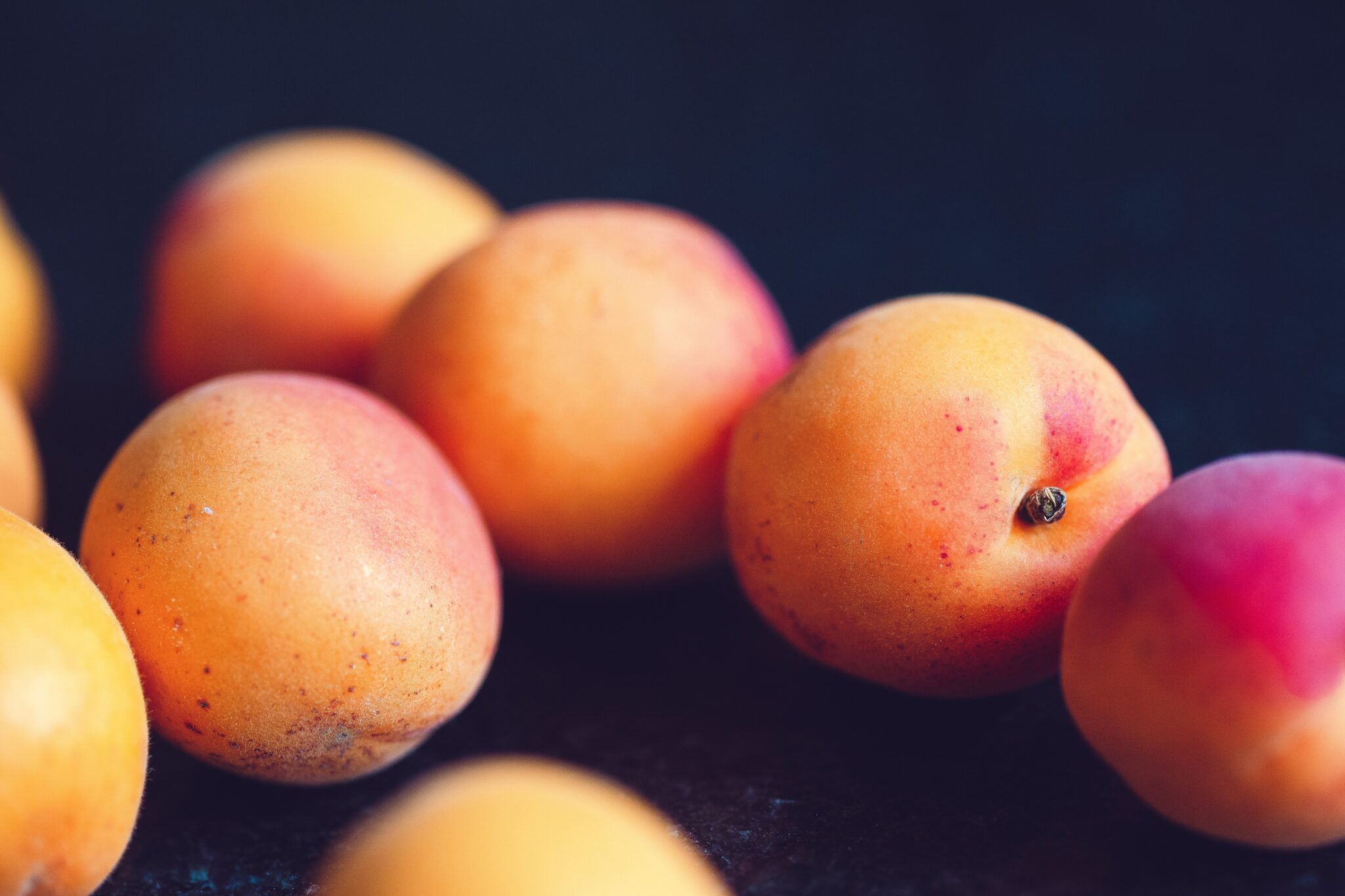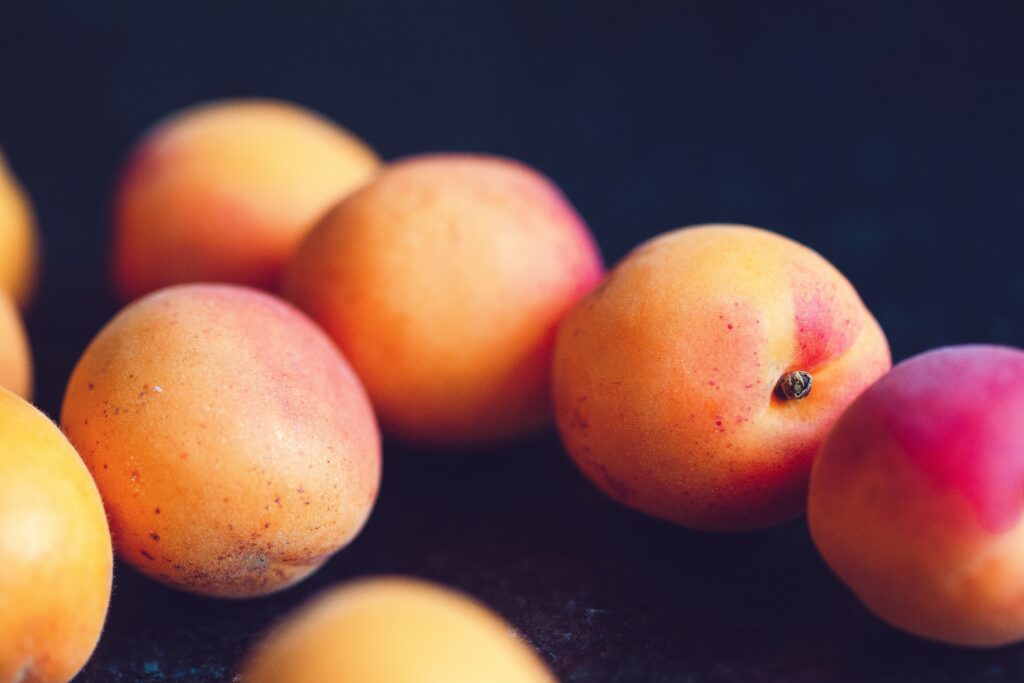 KAYAKING ON THE HUDSON
Pier 96 Boathouse, 56th Street in Hudson River Park, New York, NY 10019
Now – August 29, 2023 | Mondays & Tuesdays, 5:30pm-7:30pm | FREE!
Now – October 8, 2023 | Saturdays & Sundays, 1pm-6pm | FREE!
NYC is known as a concrete jungle, but you can enjoy time on the water too! August is the perfect time to enjoy some water sports. Manhattan Community Boathouse offers kayaking on the Hudson River, for free! There's nothing like being on the water surrounded by the city's vibrant atmosphere. It's a memorable adventure whether you're a local or just visiting! Kayaking is available on a first-come, first-served basis. Reservations are not required, but you can sign up in advance.
Note: You will get wet, so dress accordingly!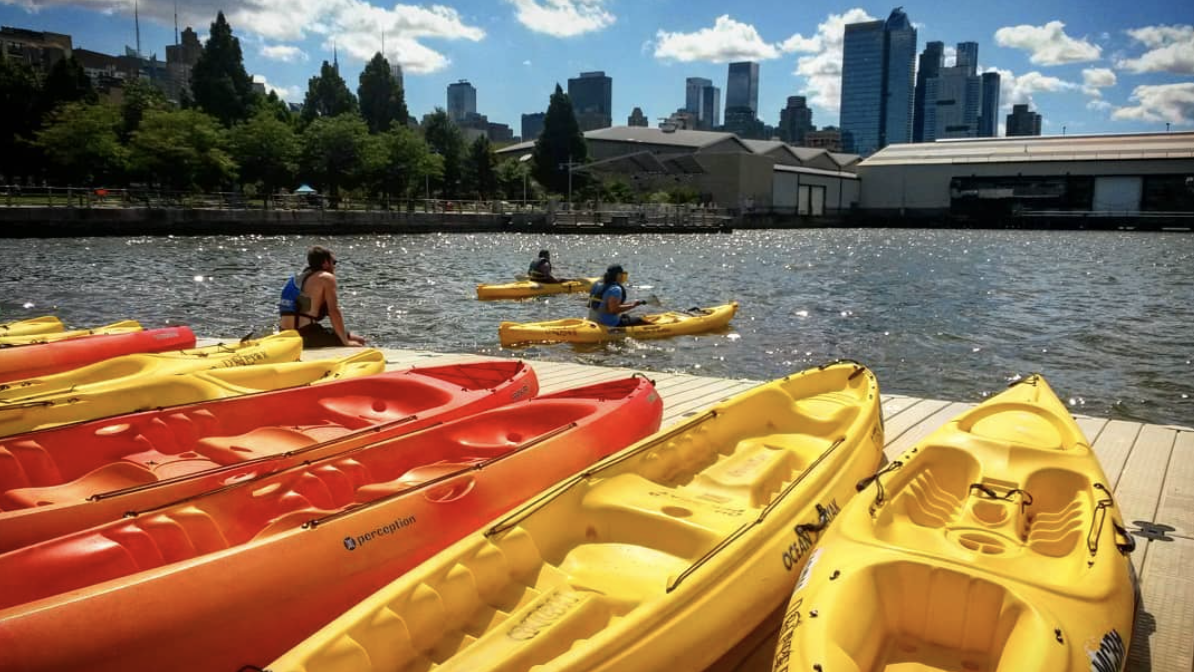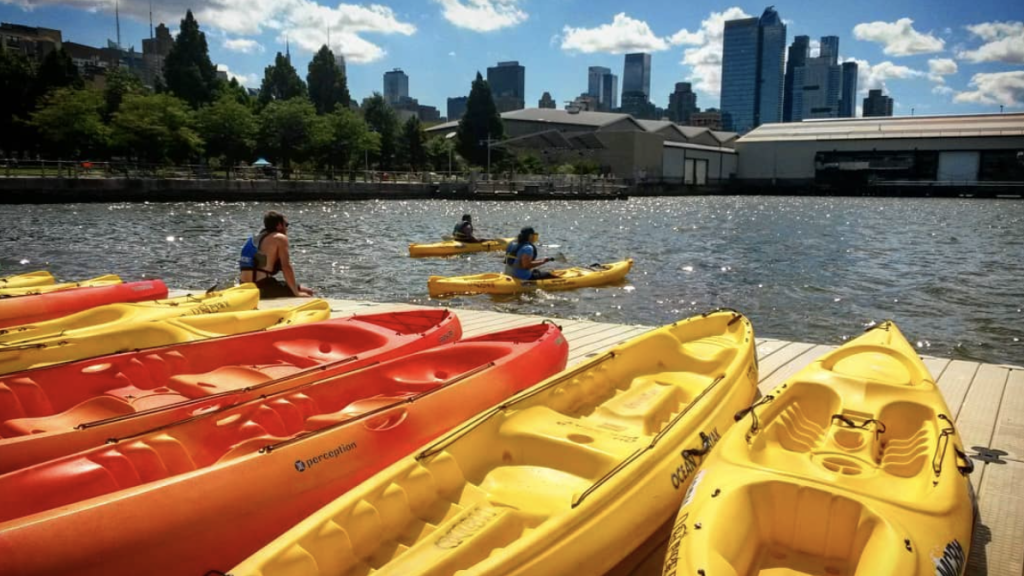 CANDYTOPIA
111 West 32nd Street, New York, NY 10001
Last Chance! Ending August 23rd | Wed-Mon, 11am-7pm | Adults $36, Ages 4-12, $29, Under 3, FREE!
Dreaming of a sweet summer? Well, now's your last chance to experience the sweetest exhibit in all of NYC! How to describe Candytopia? It's part museum exhibit, part art installation, part interactive show. The minute you step off the elevator, you know you're in for a sweet treat. The space is 24,000 square feet with 17 detailed and interactive rooms. It's a full sensory experience unlike any other. Some of the fun exhibits include the signature Candytopia marshmallow pit, a New York-centric candy art room, a colorful candy confetti room (and trust me, you will find confetti long after you leave), as well as an infinity mirror room, Ring Swing Garden, Sugar High Theater (where the s'mores pillows actually smell like s'mores), and an indoor zip-line! The exhibits are really thought out and detailed and everything in Candytopia provides an amazing Instagram-worthy photo opportunity!
So, unleash your inner kid and enjoy the sugar rush! Candytopia is unbridled fun for all ages and sure to be an unforgettable experience.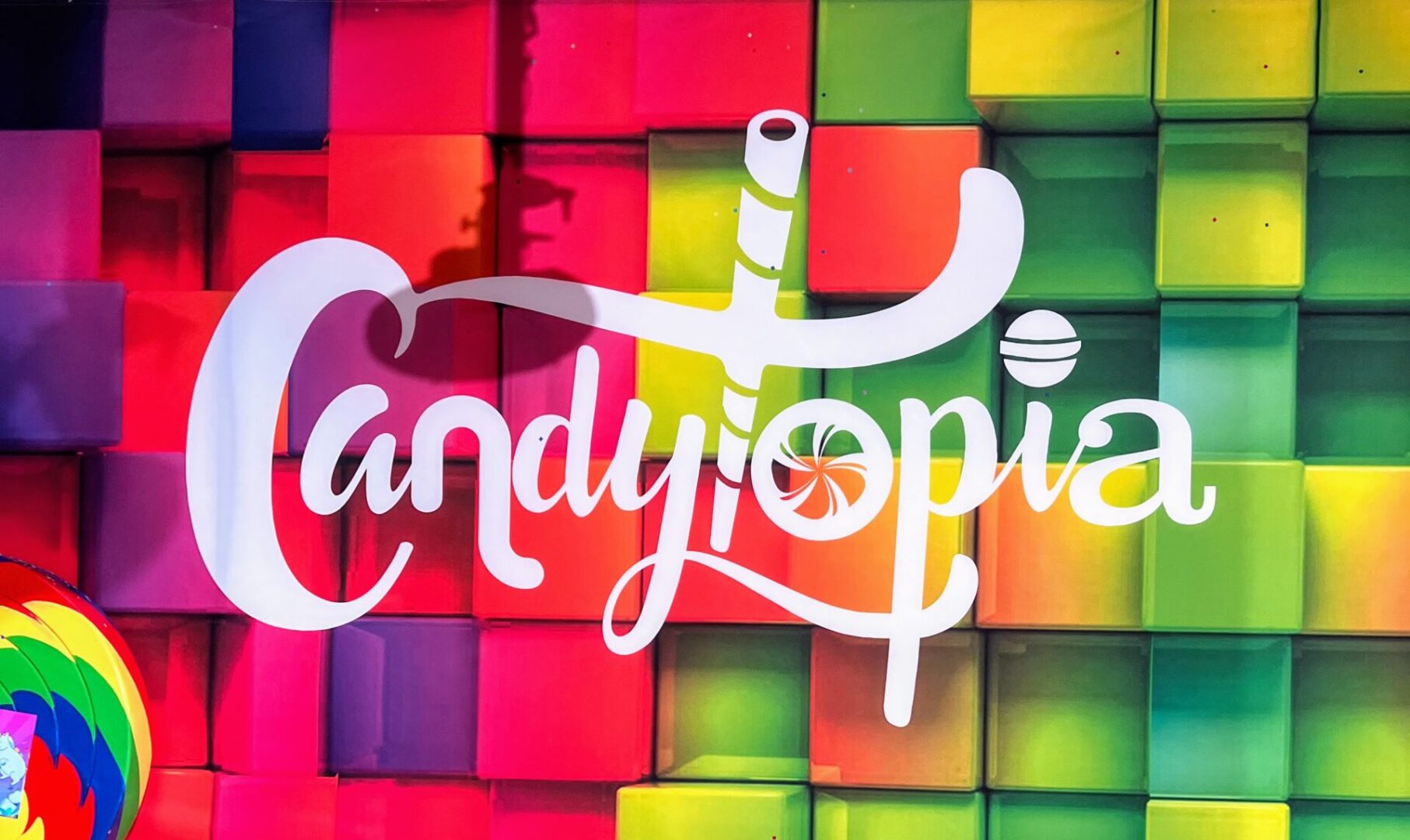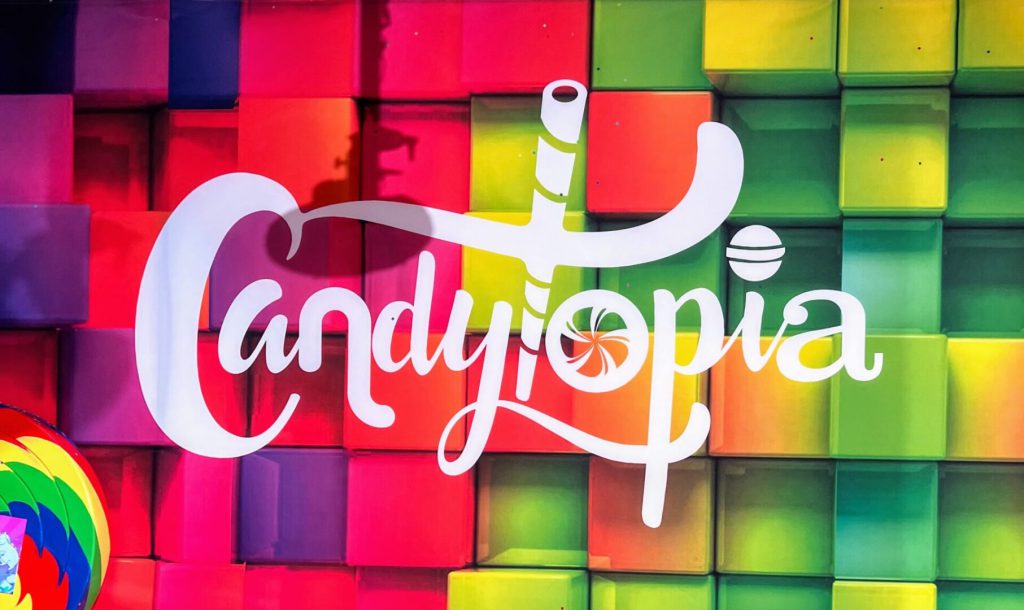 SEA THE CITY HOT TUB TOUR
Liberty Landing Marina, 84 Audrey Zapp Dr., Jersey City, NJ 07305
Sea The City is a unique experience all year round, but is the perfect summertime activity! They offer hot tub boat tours, yes, you read that right. Hot tubs ON a boat! Truly, this is a one-of-a-kind experience that you do not want to miss!
This boat has two full size hot tubs on it and sails to the Statue of Liberty and back, offering stunning views of the Manhattan skyline. I went with about 20 friends (10 per hot tub). The ride is BYOB and 90 minutes long. Coolers, Ice, and Cups are provided free of charge. Don't miss it this summer!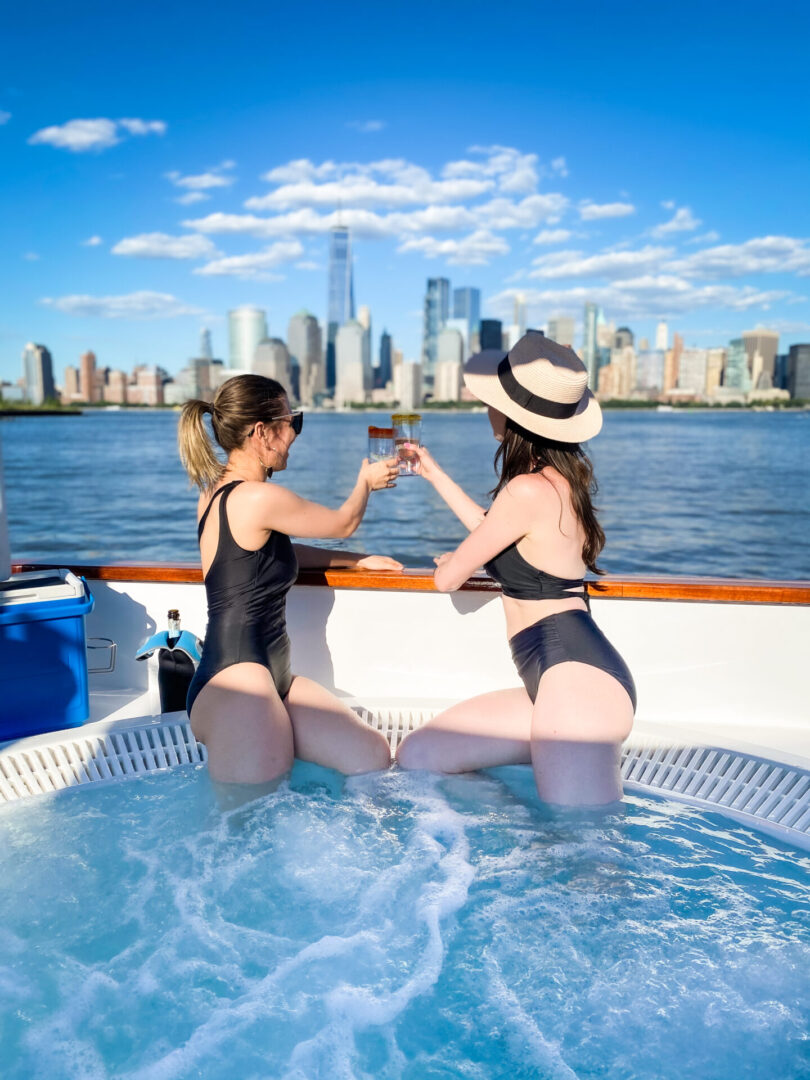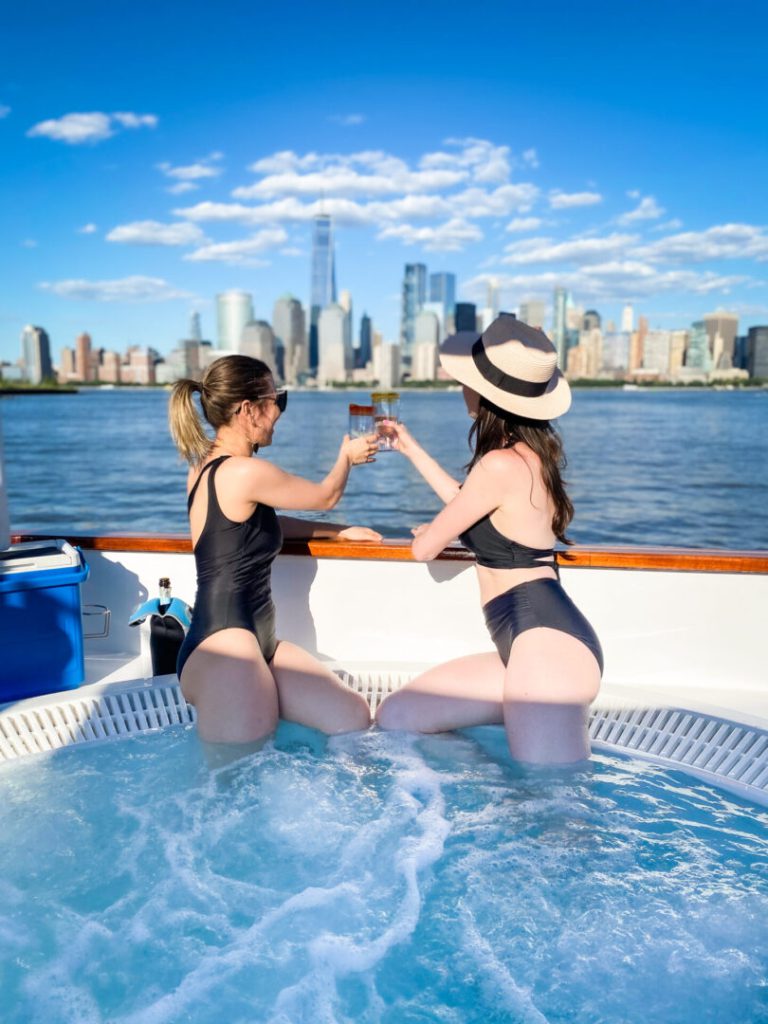 FUNKY EXPERIENCES
Fridays, Saturdays, Sundays, Custom day + time | Starting at $49+
I love New York City so much that I started a tourism company here. We offer a variety of tours around the city, from history, to sightseeing, to shopping, and one of my favorites – our food tour!
Rated 5-stars on TripAdvisor and the winner of the "best of the best" award in NYC, you definitely do not want to miss out on any of these amazing tours! There are different tour options available to choose from to fit your interests AND your budget! For a truly unique experience, book a custom-designed private tour with our expert NYC guides!
Newest to our tour lineup is the Must-See Manhattan tour! This experience shows you Manhattan's most iconic sites during a 2-hour walking tour. And, you can add on Top of the Rock tickets to end your experience with breathtaking views of the city's skyline on a historic skyscraper!
Visit and learn the unique history of iconic sites such as Times Square, Grand Central, the NY Public Library, Fifth Avenue, Rockefeller Center, Radio City Music Hall, St. Patrick's Cathedral, and more! Plus, we'll take you inside Grand Central for an exclusive tour of its secrets.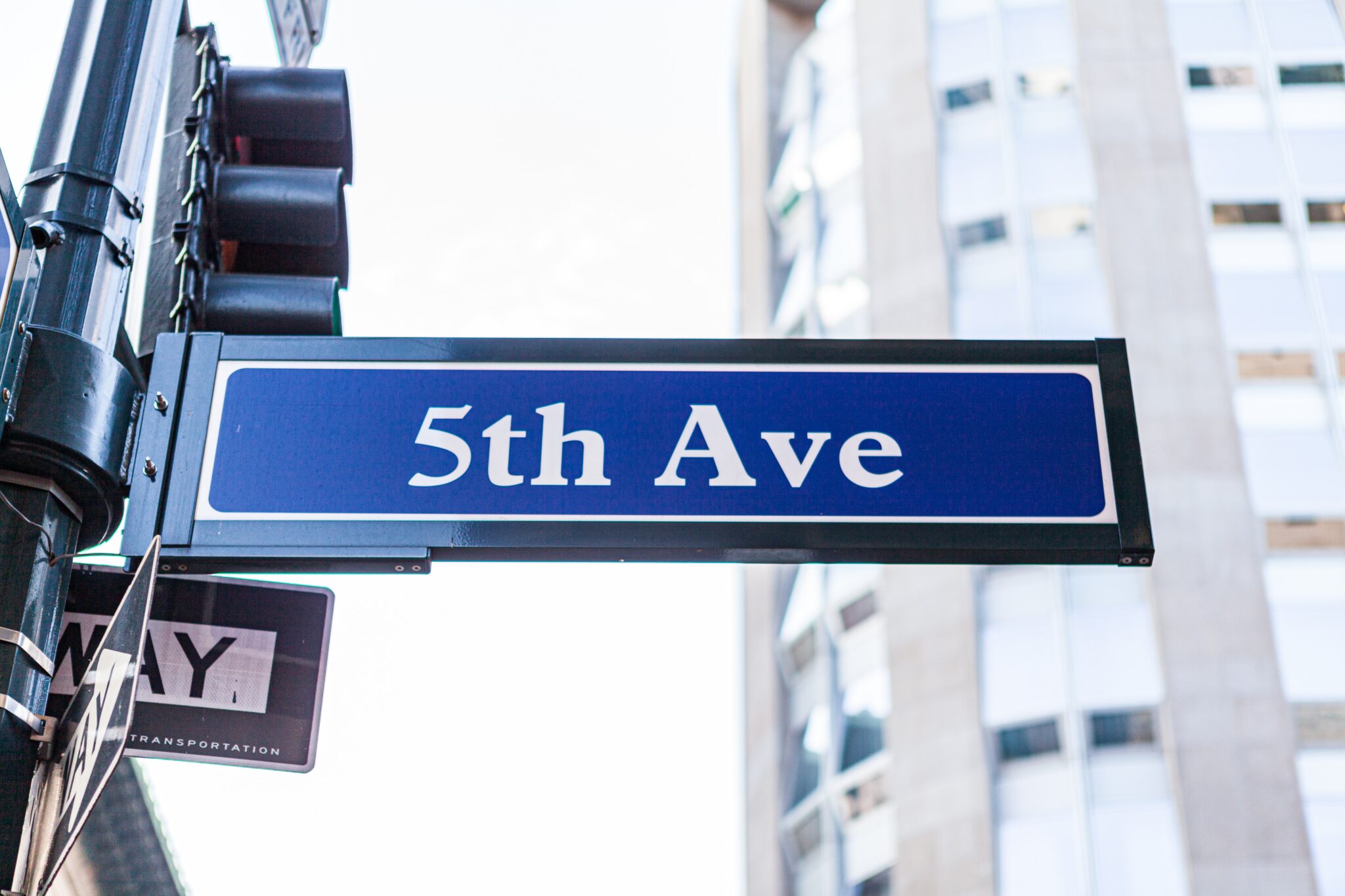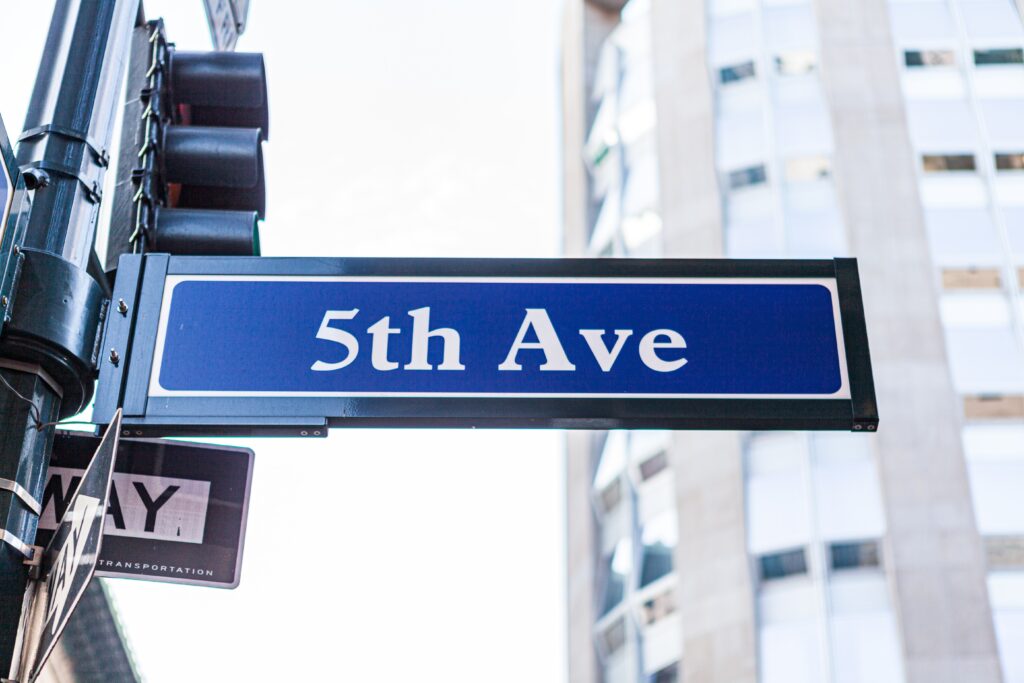 For the best of both worlds, with food and sightseeing, consider joining the Best of New York Food Tour. The tour includes five dishes at delicious restaurants and a historic walking tour through Brooklyn!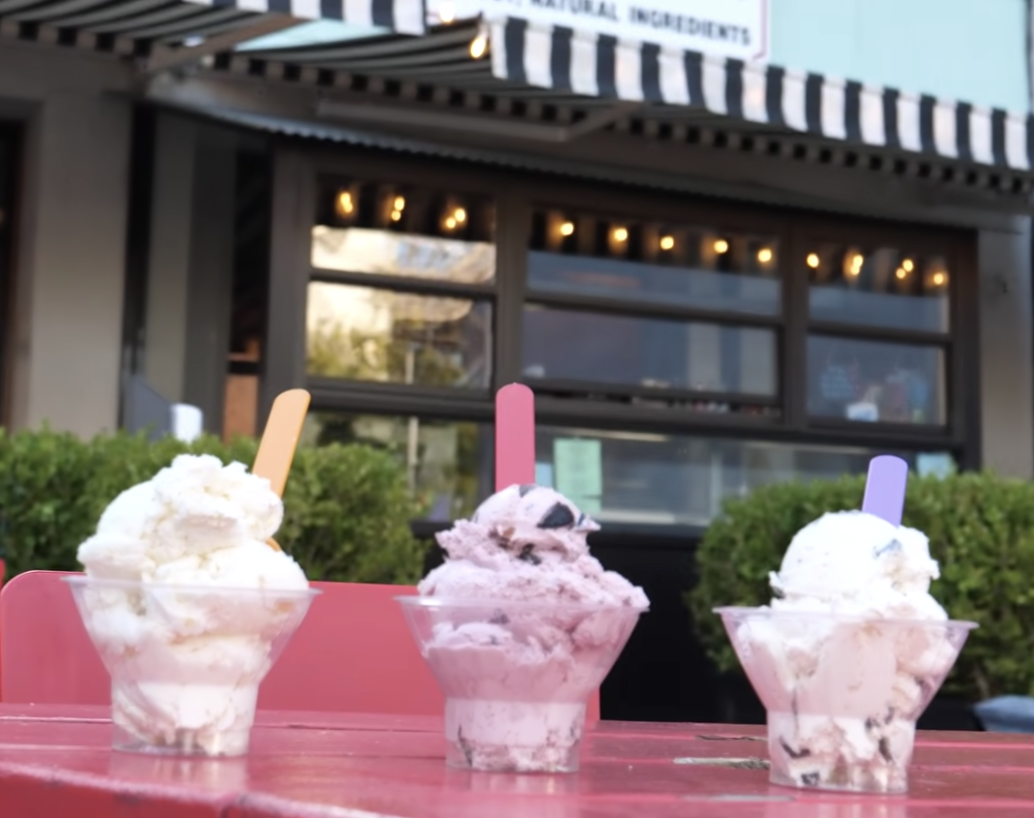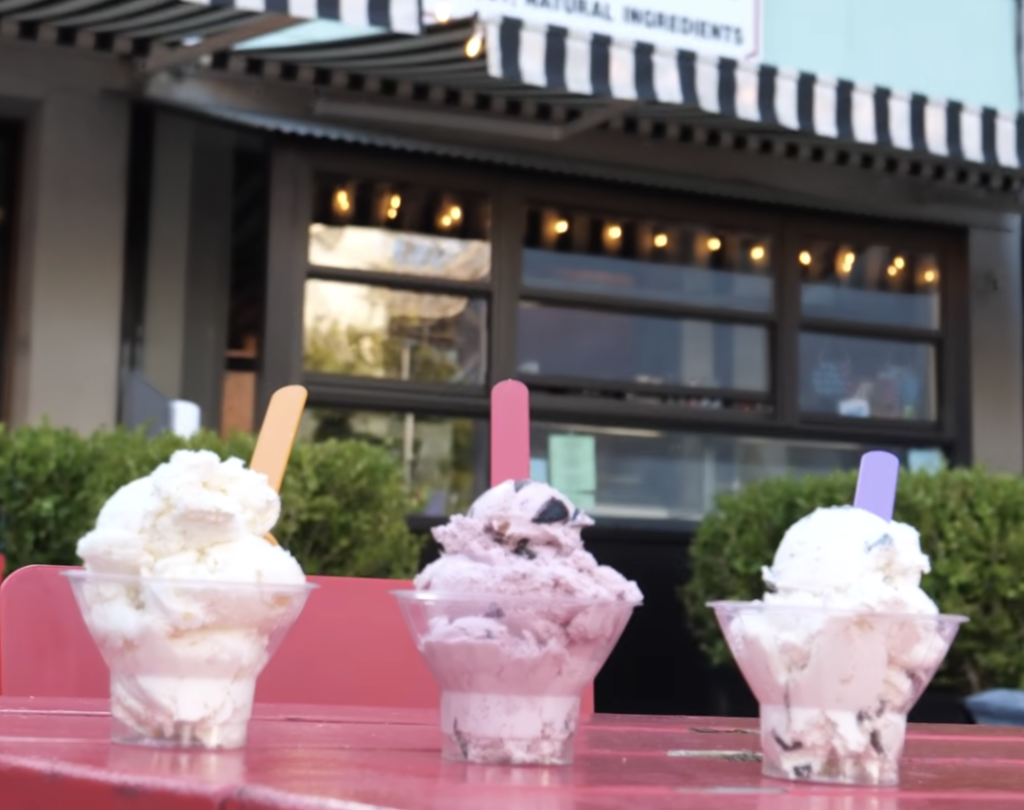 Another option is to join the Secrets of New York Tour and visit hidden locations in lower Manhattan and learn secrets most New Yorkers don't even know! Tours book up fast, so get your tickets today!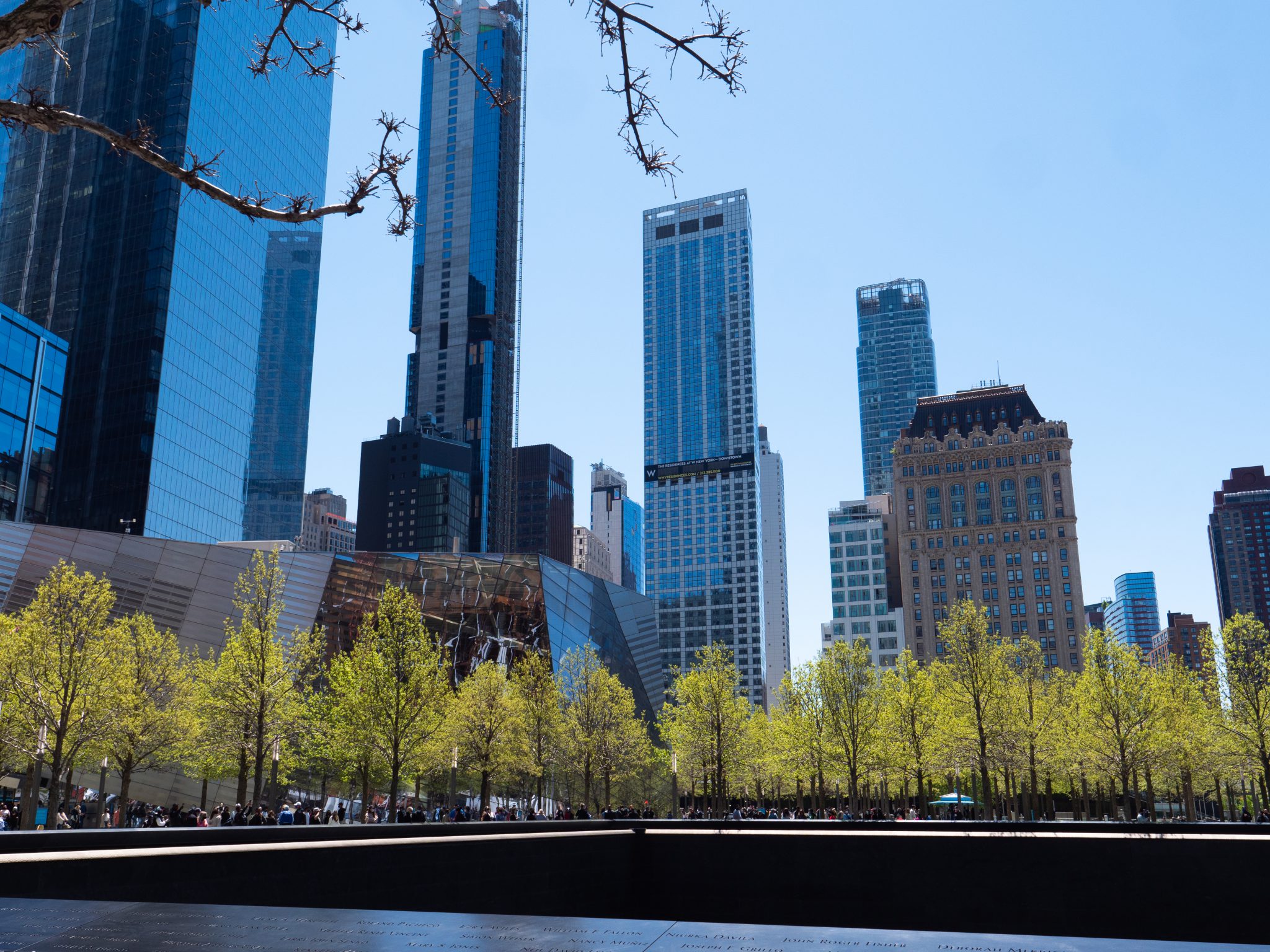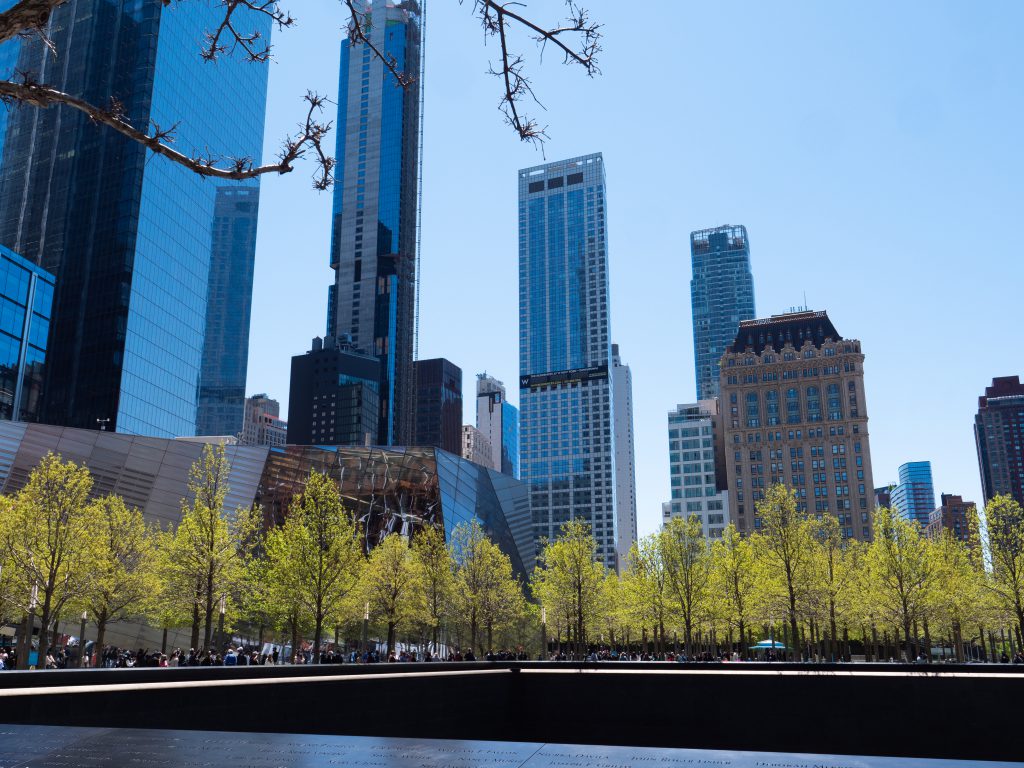 Planning a vacation to NYC? If you're feeling overwhelmed and don't know where to begin, we are here to help! With Funky Tours Concierge, our team of experts can help you plan your dream NYC vacation! You can make your NYC trip and experience more special with custom-designed plans that fit your budget and your unique interests.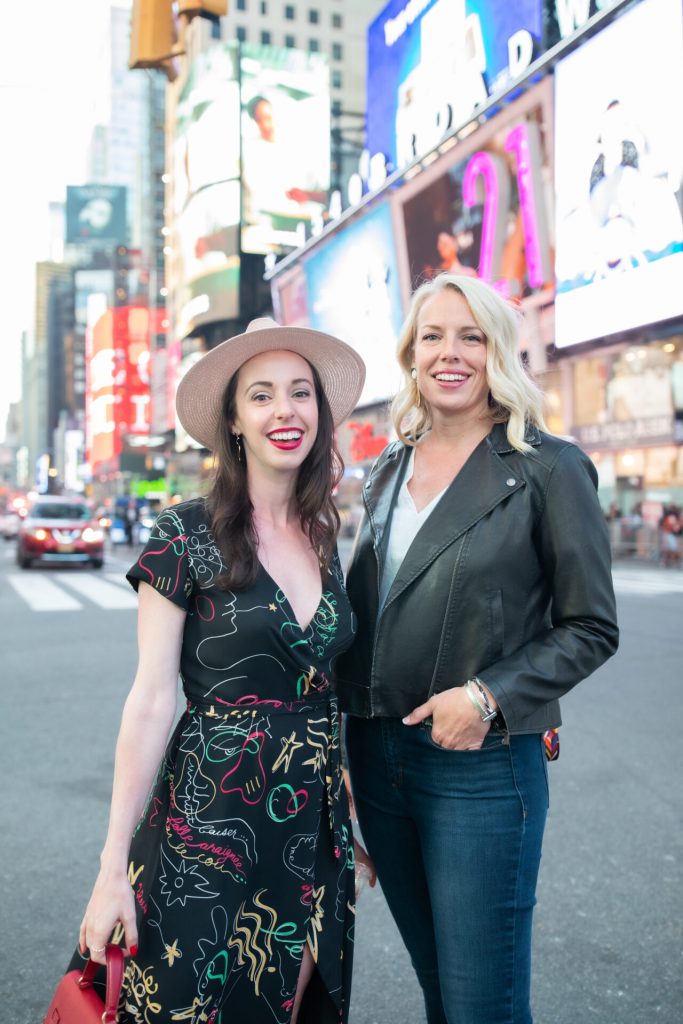 DINING + DRINKS
NYC RESTAURANT WEEK
Now – August 20, 2023
Restaurant Week is a New York City staple! More than 450 restaurants across all 5 boroughs are participating, so you are sure to find an amazing deal and meal!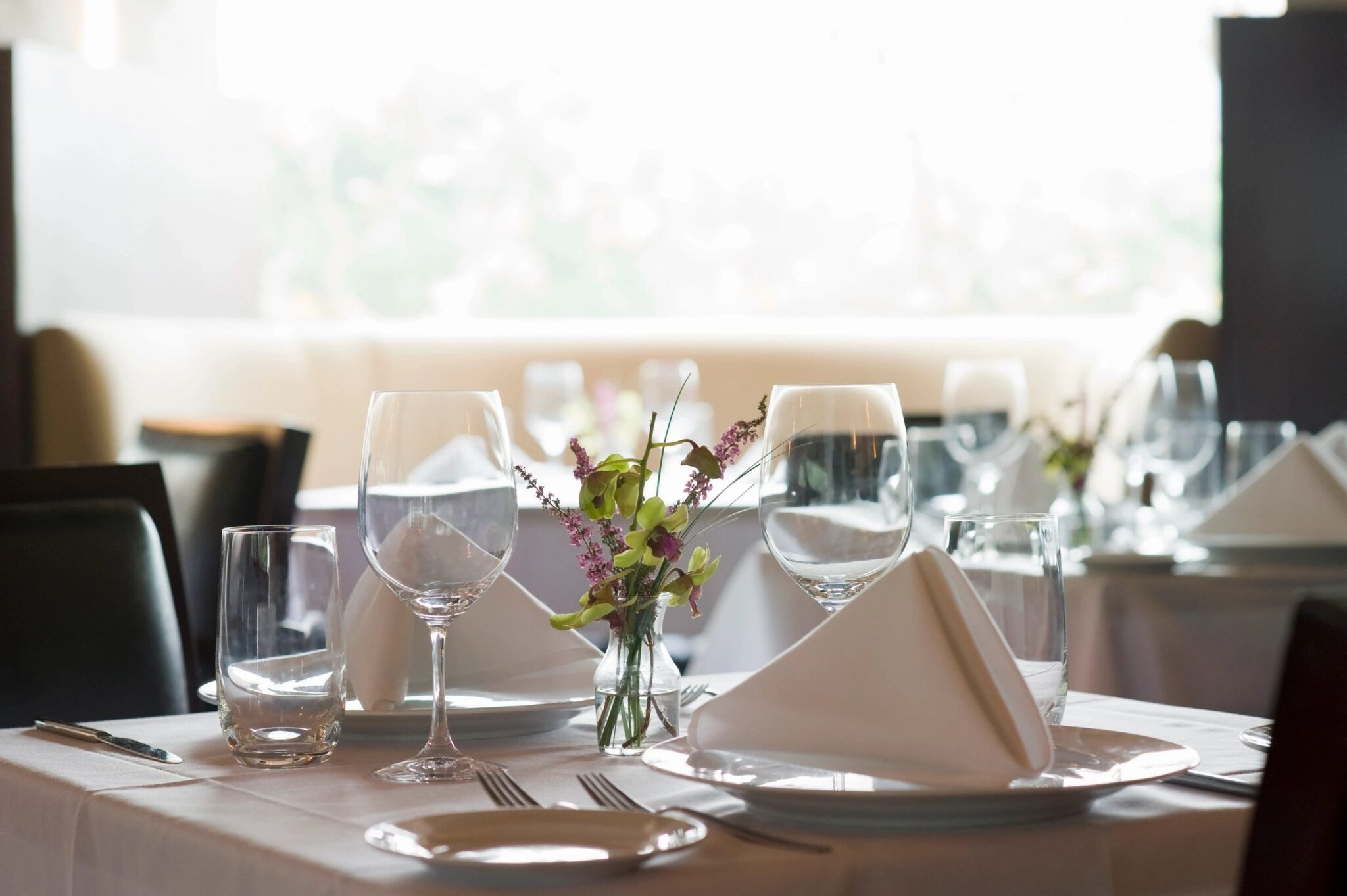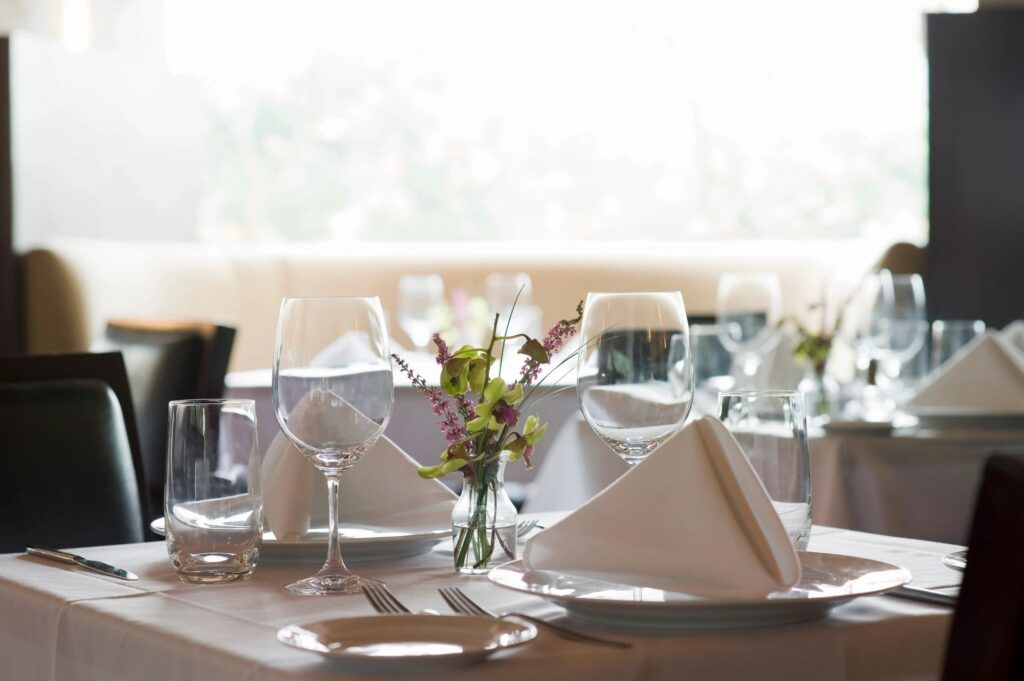 BLUES BBQ FESTIVAL
Saturday, August 19 | 1pm | FREE!
Pier 76, Hudson River Park, 408 12th Ave West, New York, NY 10018
"This free, day-long music festival invites exceptional blues artists to perform on our stage. Come for a Saturday filled with great food, great company and great music! We will be rocking with the best, enjoying blues music in Hudson River Park." – Blues BBQ Festival
Note: No laser pointers or professional photography/recording equipment. No outside alcohol. No coolers or other large containers. No glass of any kind. No vending allowed without Hudson River Park Trust permit.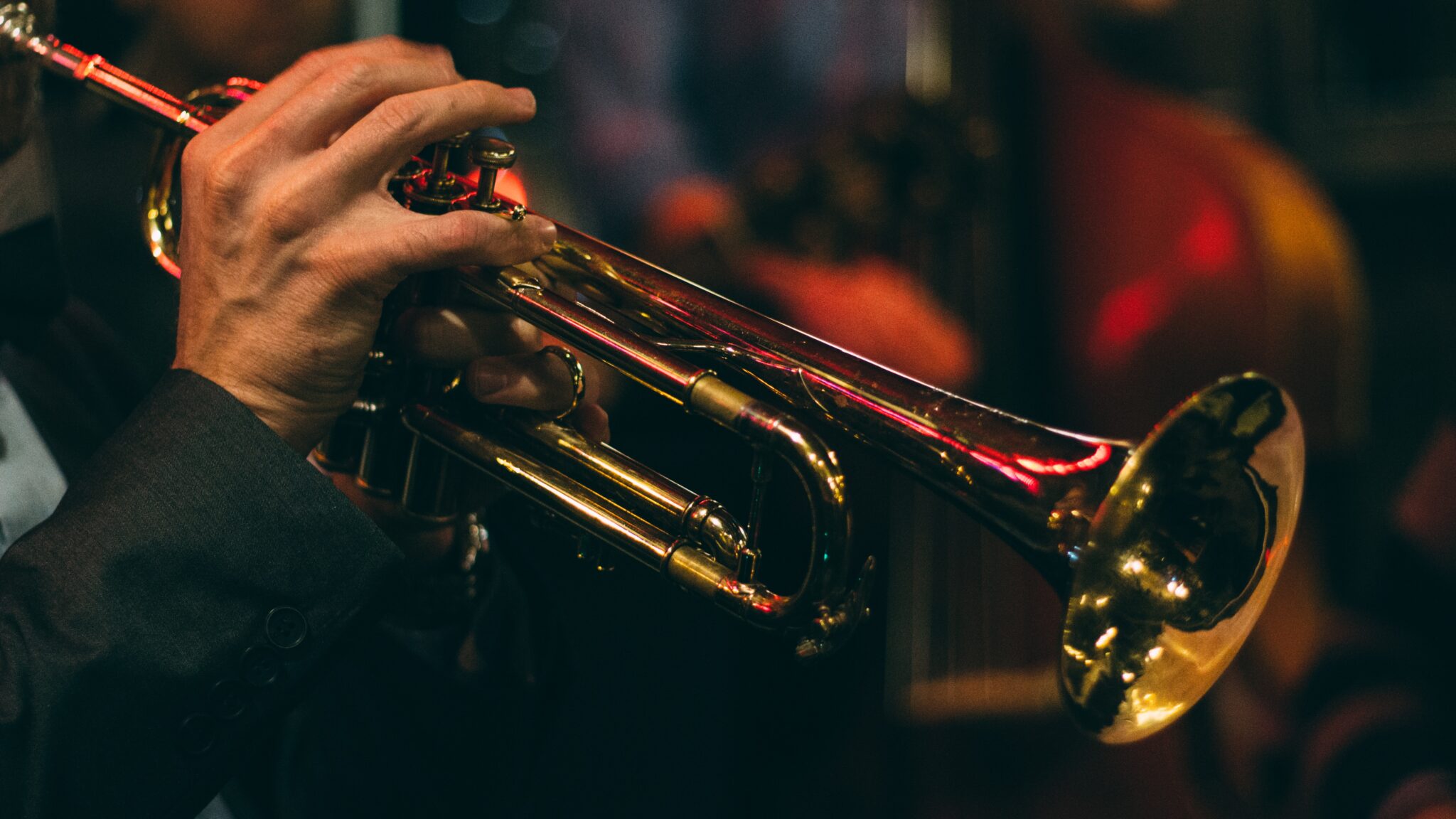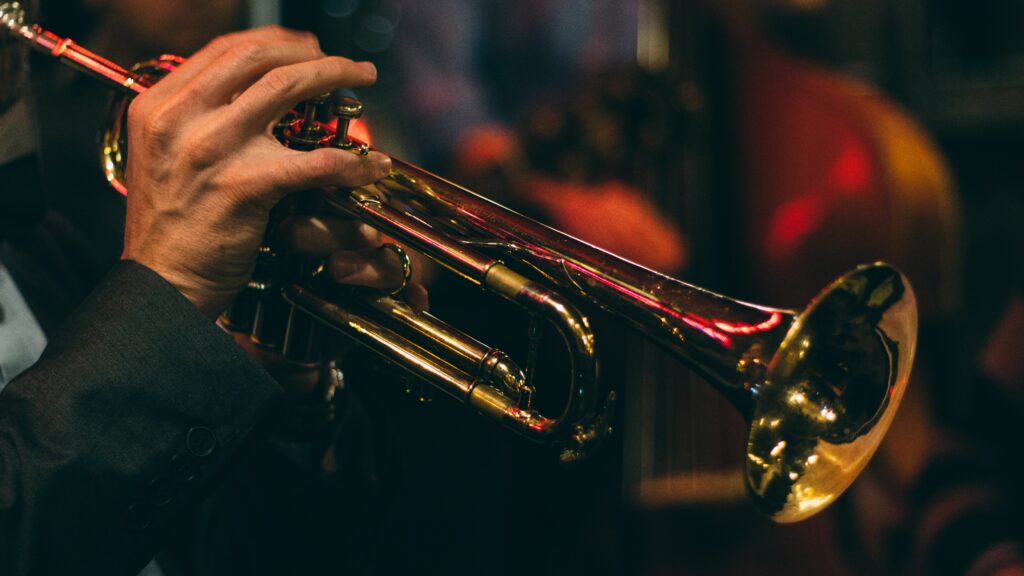 MUSEUM + ART EXHIBITIONS
SMALL IS BEAUTIFUL
Last Chance! Ending August 27, 2023 | $21+
The Miniature Art Museum, 718 Broadway, New York, NY 10003
"The #MiniatureArt movement that started on social media comes to life in Small Is Beautiful, a unique experience devoted to the tiny yet vast world of miniature art. Miniature art helps us better apprehend and understand the world by reducing its scales; the artists on display in this unique museum contribute to this in a poetic way. Their tiny artworks make us laugh, feel awe-inspired, and ponder the nuances of our own regular-sized world. They show us that, indeed, small is beautiful." – Small is Beautiful
WONDERLAND DREAMS
Ending Soon! Now – September 10 | $25+
529 5th Avenue, New York, 10017
Save 15% with code SARAH15
"Step into a world of wonder with Wonderland Dreams by Alexa Meade! This hand-painted immersive exhibit brings the beloved story of Alice's Adventures in Wonderland to life with bold art installations that blur the lines between art and reality. Created by renowned artist Alexa Meade, whose mind-bending work has been exhibited around the world, this is an experience you won't forget." – Fever/Wonderland Dreams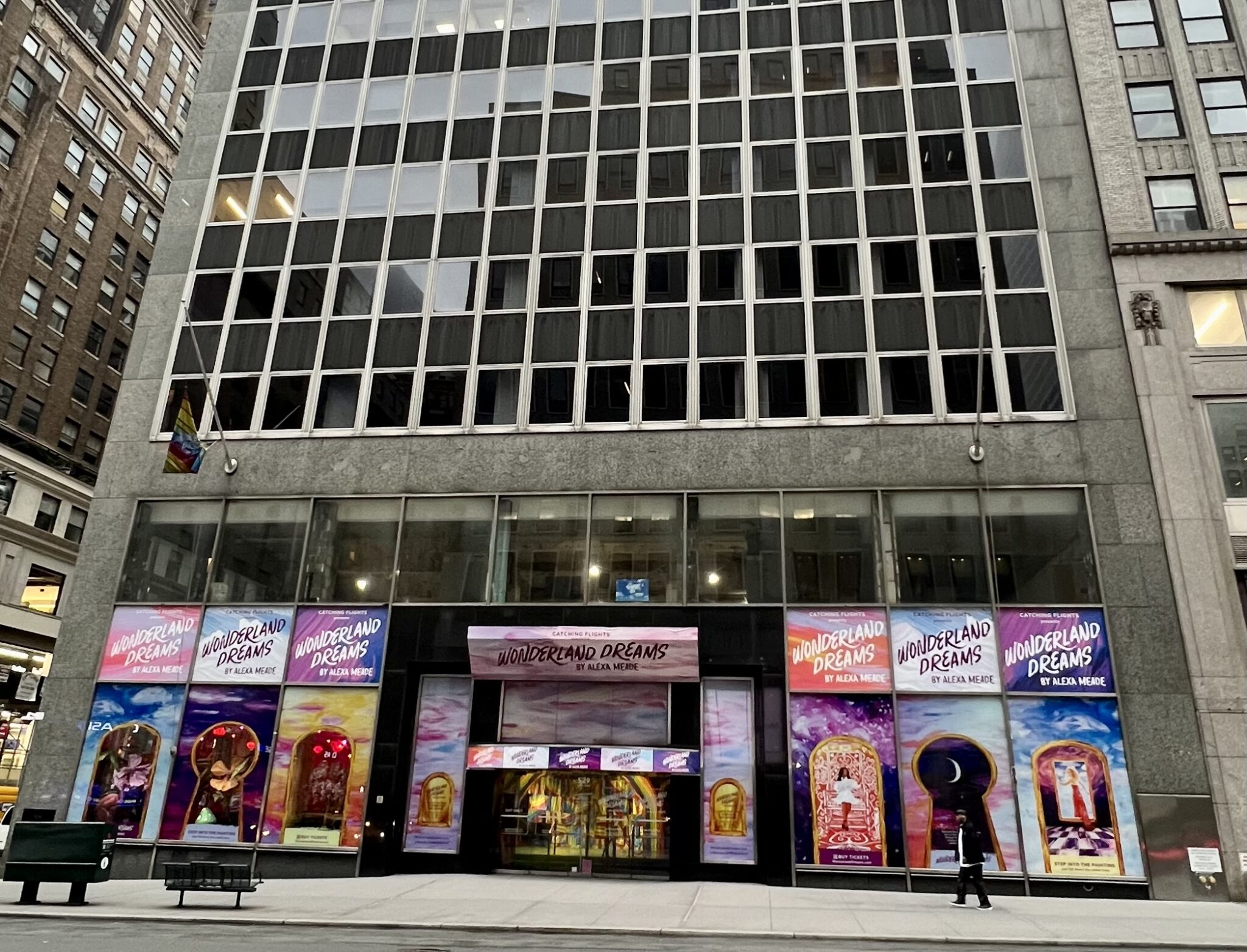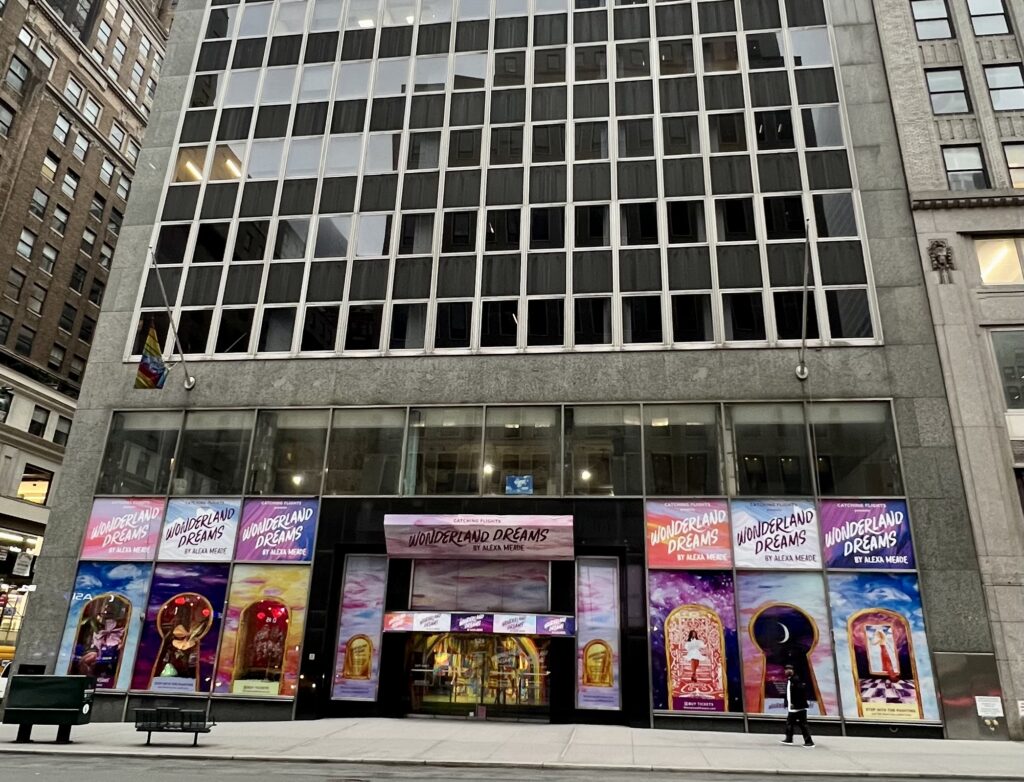 SHOWS
COMPANY XIV: SEVEN SINS
Théâtre XIV, 383 Troutman Street, Brooklyn, NY 11237
Ending October | $105+ | Age 21+
Save 10% with code SARAHFUNKY
Sinning in the summer has never been sexier! Seven Sins is back and better than ever! Theo show is based on the creation story of Adam and Eve – but with a provocative twist. Temptation is all around and it's surely a feast for the senses. As is typical of a Company XIV show, it combines burlesque, acrobatics, aerial arts, theatre, dancing, and singing. All of this is rolled up into one incredible show and an unforgettable night. Seriously, there is no sexier date night than one spent relishing in Seven Sins.
The show is enthralling, enticing, hedonistic, entertaining, imaginative, provocative, sexy, and simply put, ah-mazing! Enjoy a curated list of immersive cocktails, champagne, absinthe and treats. I highly recommend the Champagne Couch for Two! It offers a great stage view and with a half bottle of champagne included, you have the secret sauce to a sexy date night in NYC. Company XIV consistently puts on productions that rival Broadway. And, the show has the most talented and good-looking people I've ever seen. The seven sins are all distinct and easily identified and interpreted in the most creative ways. I really cannot say enough good things about this show. Get your tickets now!
In conclusion, these are the top 17 best things to do in NYC this August. Have fun and stay safe!