New York is a city for dreamers and doers. With some of the most talented people in the world all in one place, you get insane competition on everything from jobs to apartments to dating. One of the rights of passage, for any New Yorker, is finding an apartment you adore. It is not easy here, with an available apartment inventory rate of under 1%, an average rent of $4,200 per month, and average square footage of 703 sq feet (or 65 meters) it is no wonder that New York is the fourth most expensive city in the world to live in.
After living in crowded, dingy, and inconveniently located apartments for the last ten years my husband Luis and I were finally ready to find one that we can call home. In the first two episodes of our apartment video series, we met with Phillip Salem a real estate agent with Triplemint to determine our specific needs and go apartment hunting. Before watching this finale episode, stop and click the first link in the video description to watch our journey because finding a beautiful apartment in NYC is tough! After much deliberation, Luis and I finally agreed on the apartment of our dreams and I can't wait to give you a tour!
CHECK OUT MY APARTMENT REDESIGN VIDEO!
Thank you so much to Soniya from Dwellistic for helping me redesign my apartment! Dwellistic is an online home decor and styling service that offers creative design solutions to make any space comfortably stylish and functional. Whether you are renting or own your place, they'll make sure you will live in style (no matter what your budget). Mention my name when making an inquiry with Dwellistic to save 30%!
Watch the video tour above but for more details on specific design and furniture, let's go room by room!
LIVING ROOM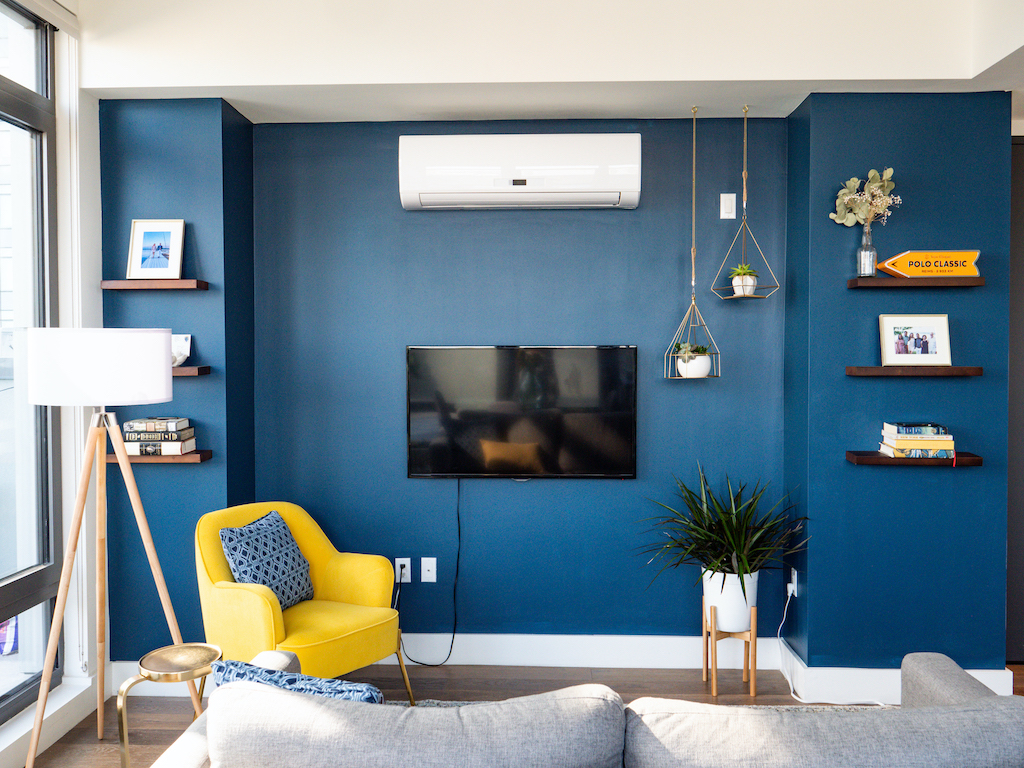 We are still working on the small details of our living room design, but have decided on a yellow-blue modern theme.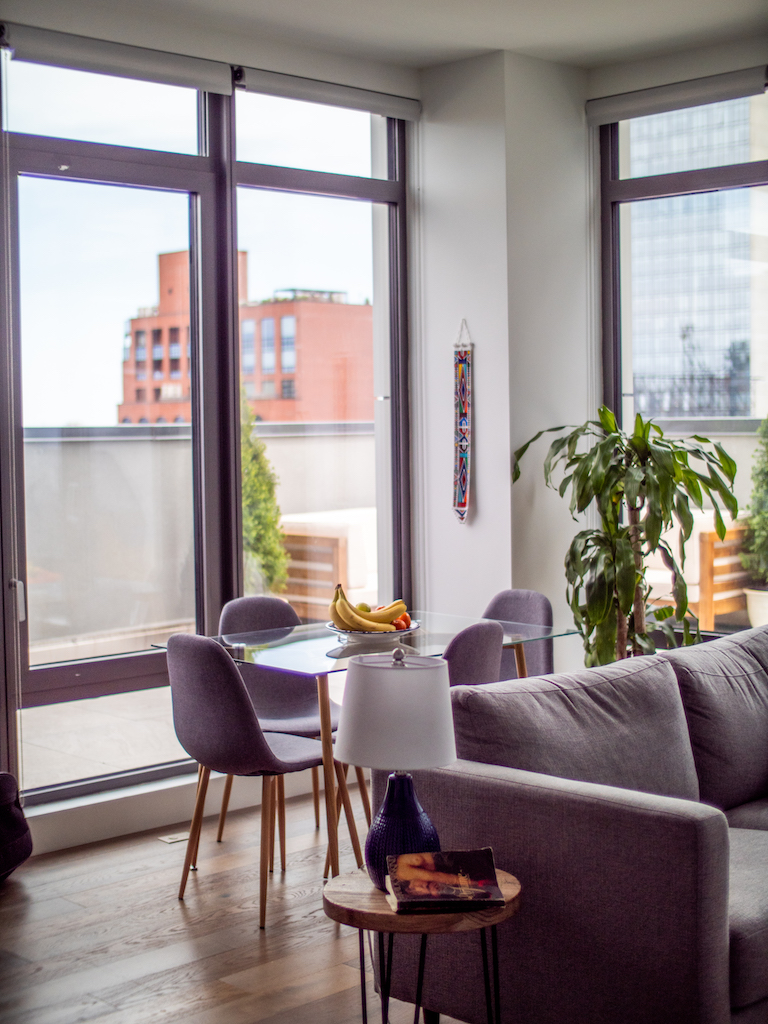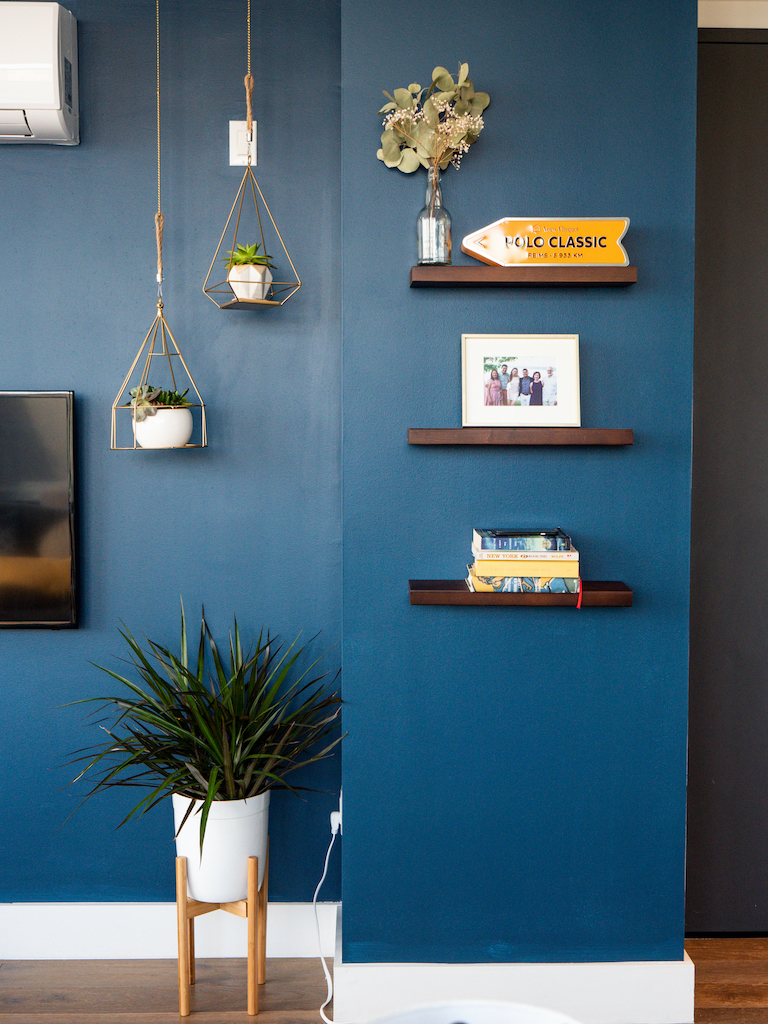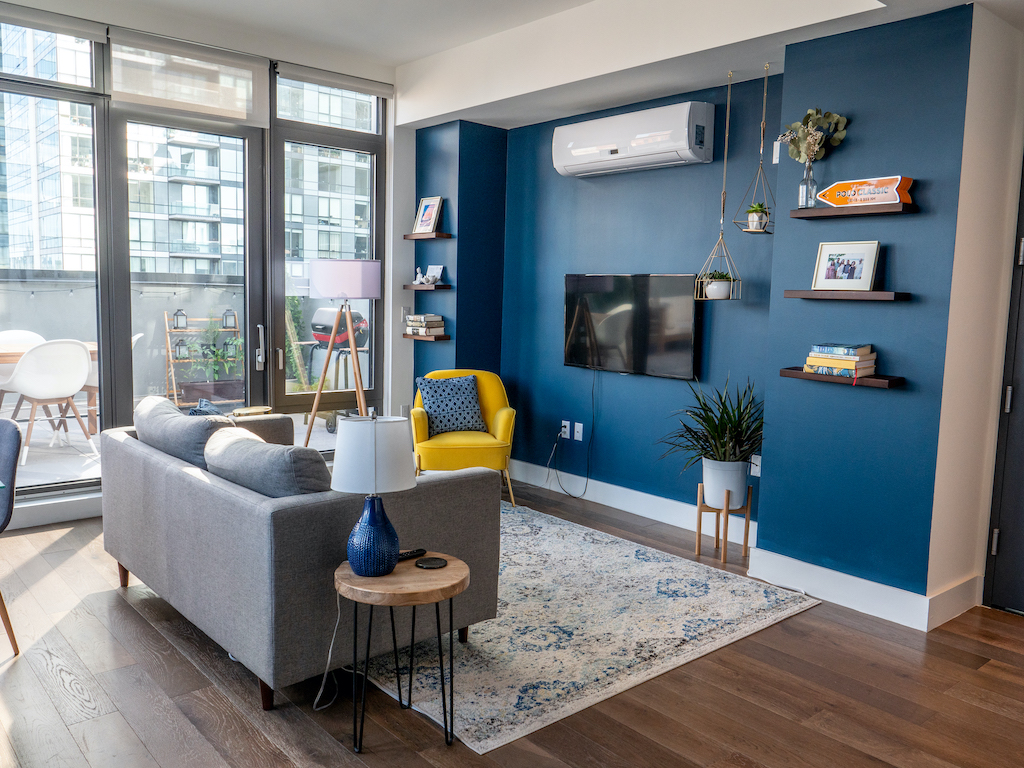 TWO TERRACES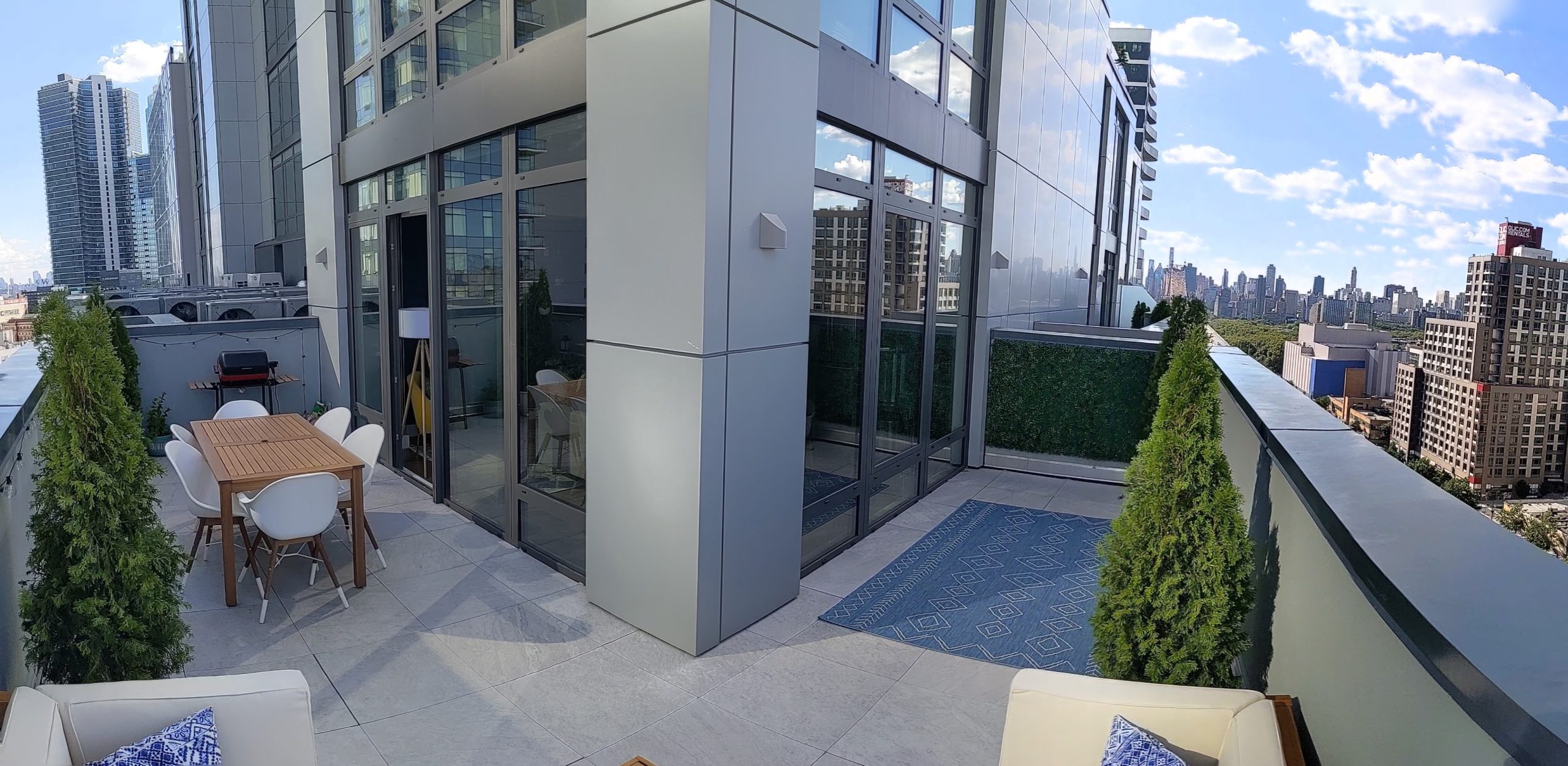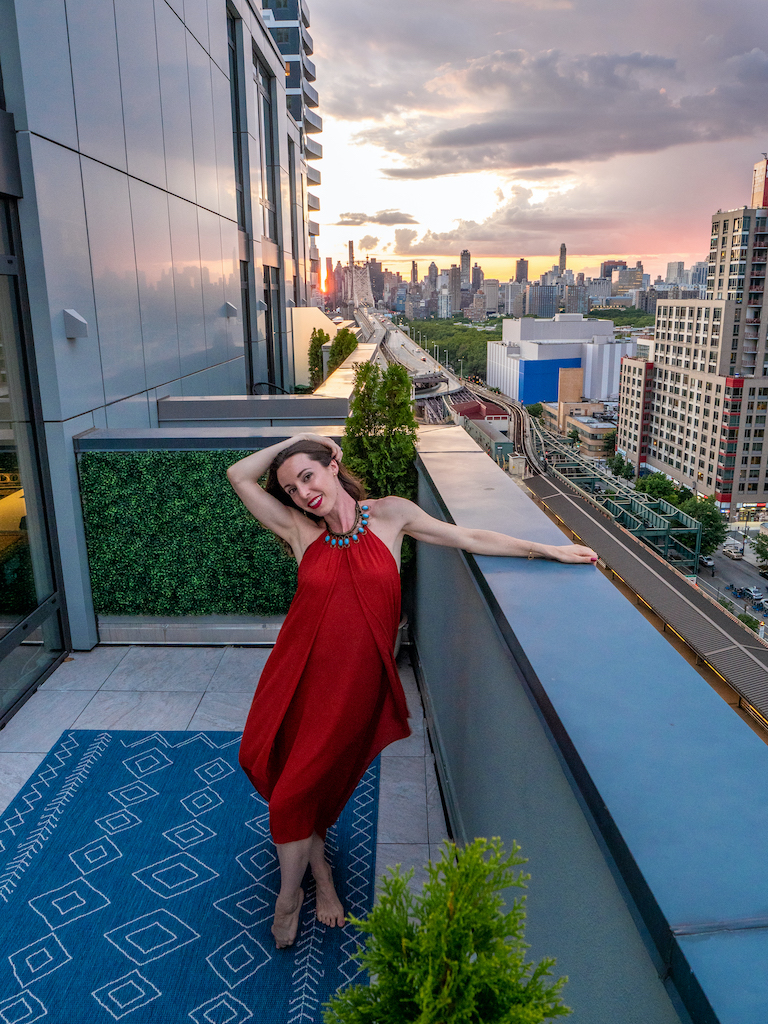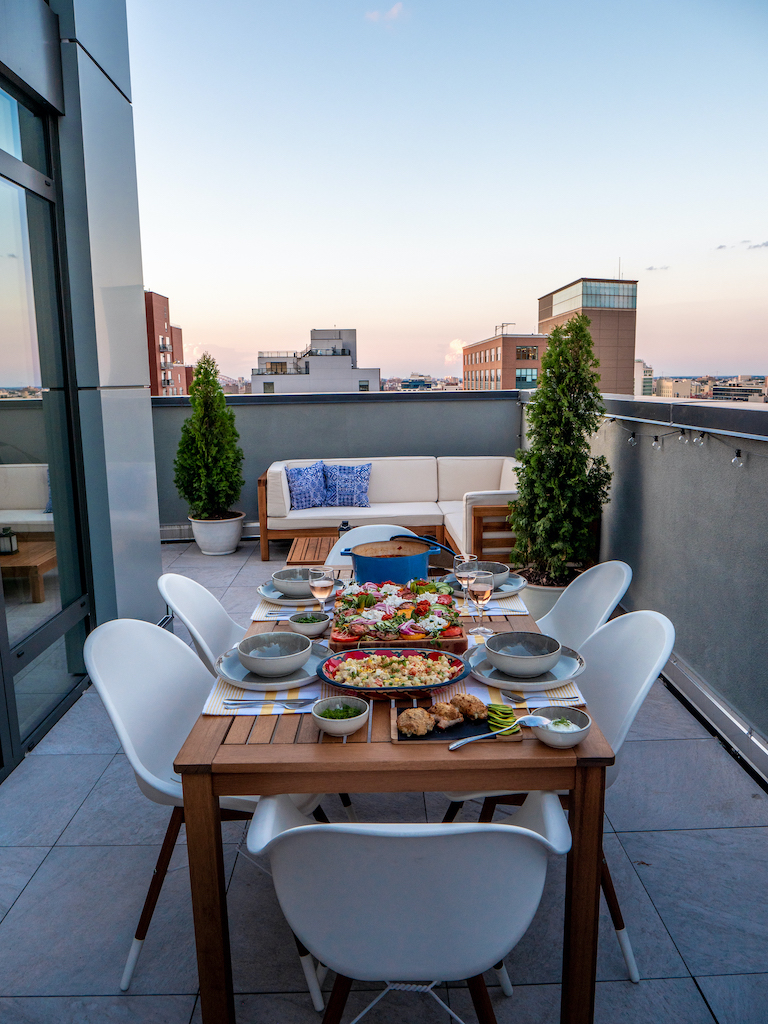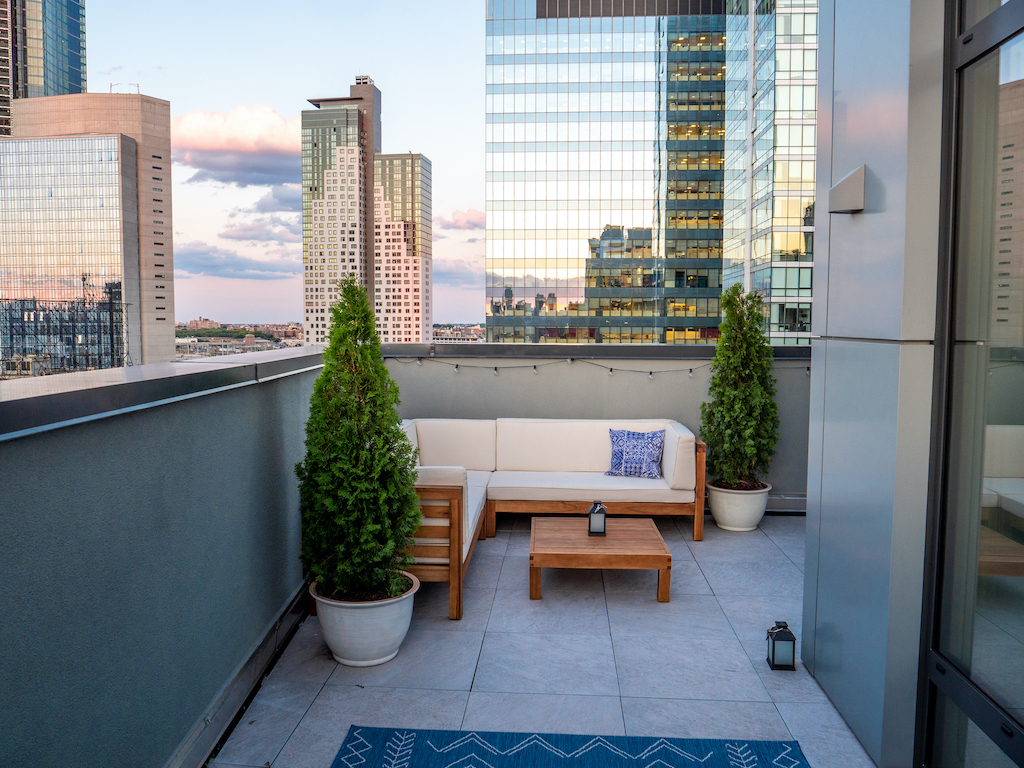 The main reason we selected this apartment from the other options was because of the two terraces. It is very important to Luis and I to have a place to entertain our friends and family. We chose to design the larger terrace for entertaining guests with a big table and couch. Then for the smaller terrace, we designed it as a reading and yoga nook that is more relaxing and private.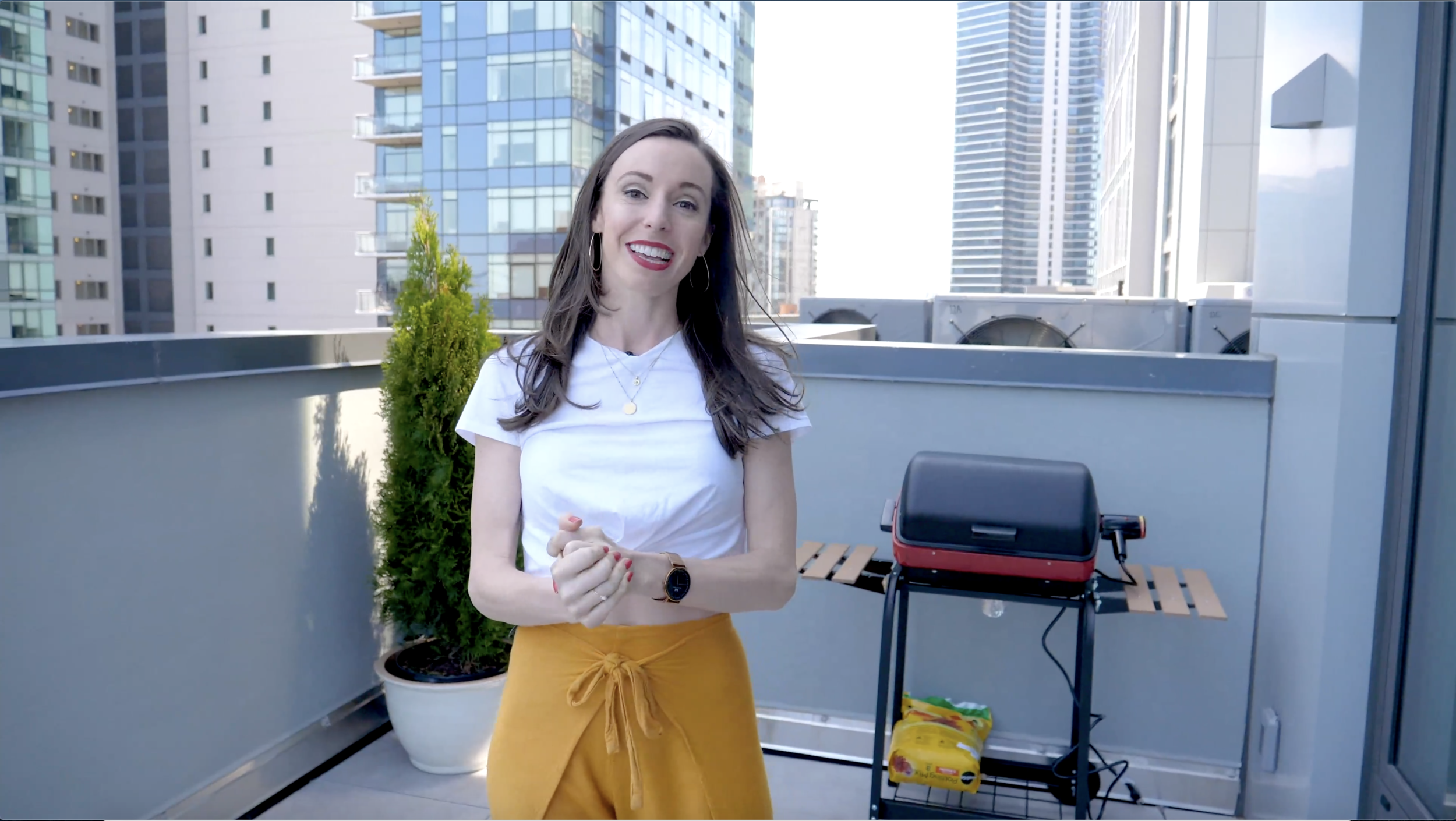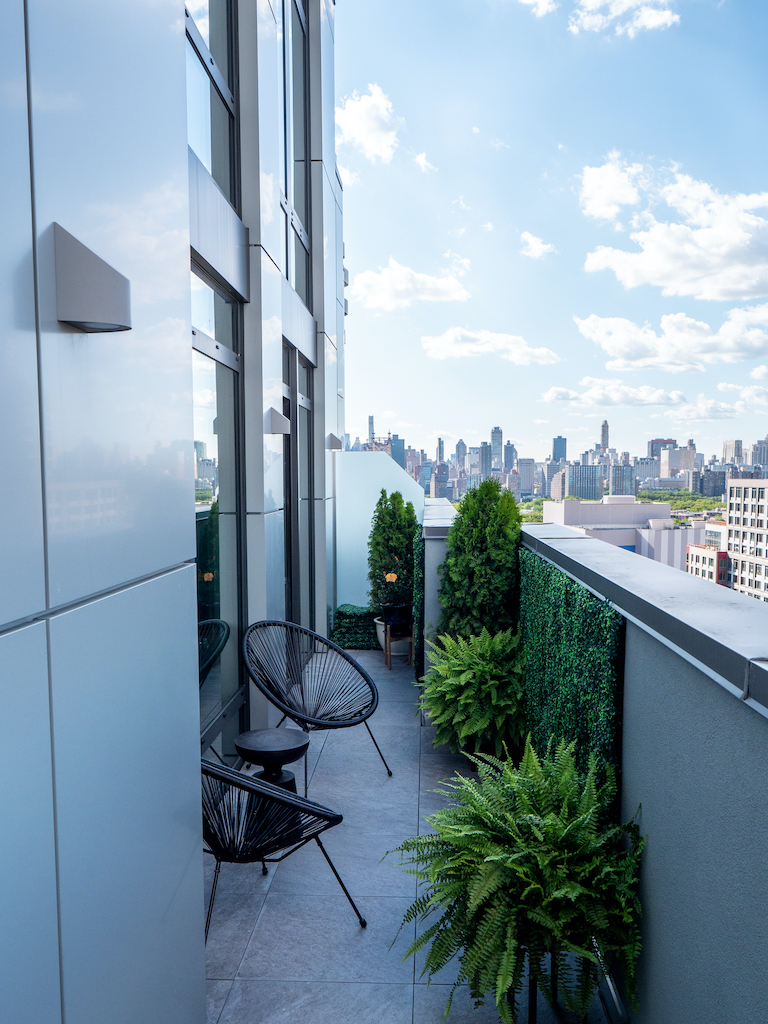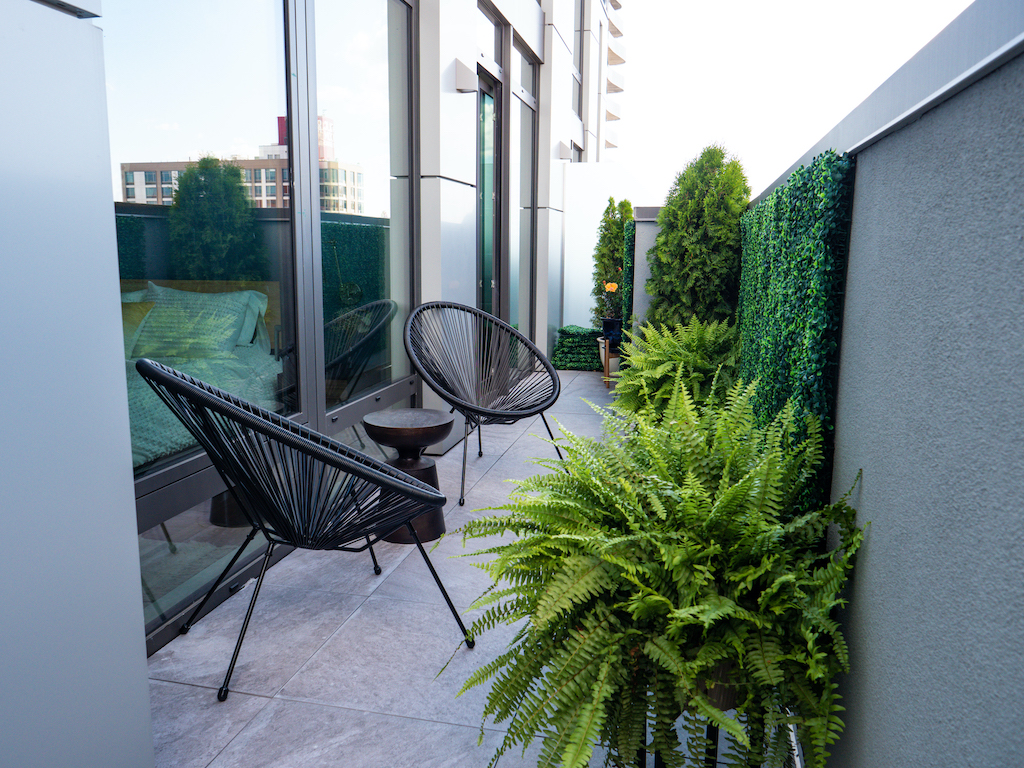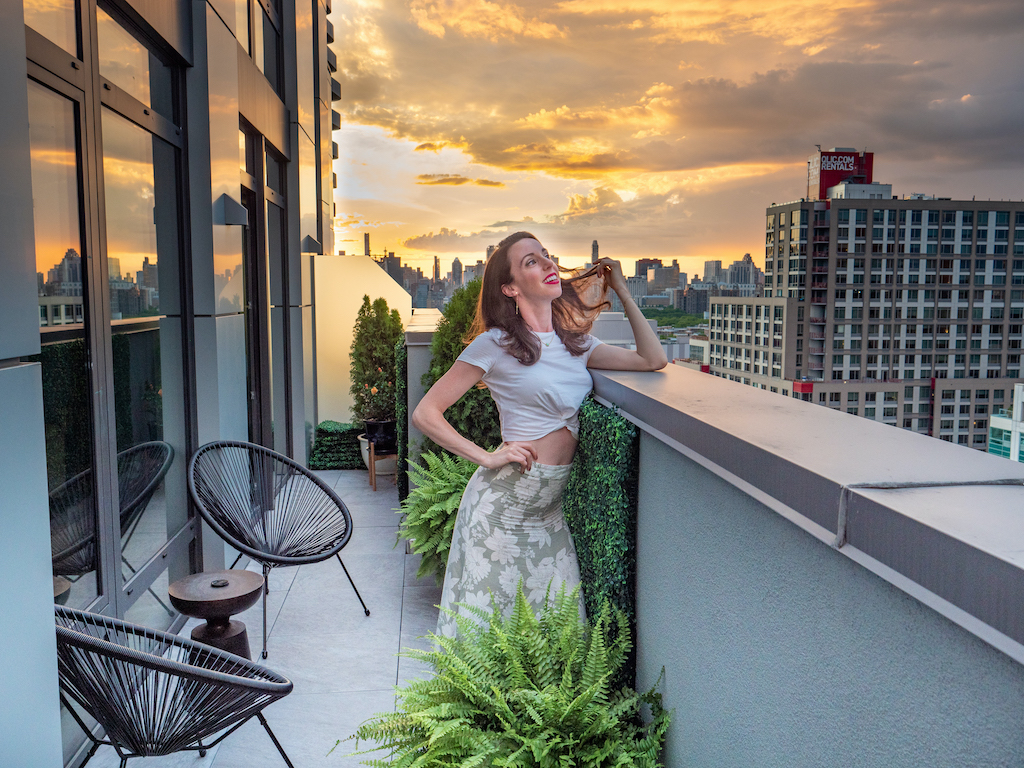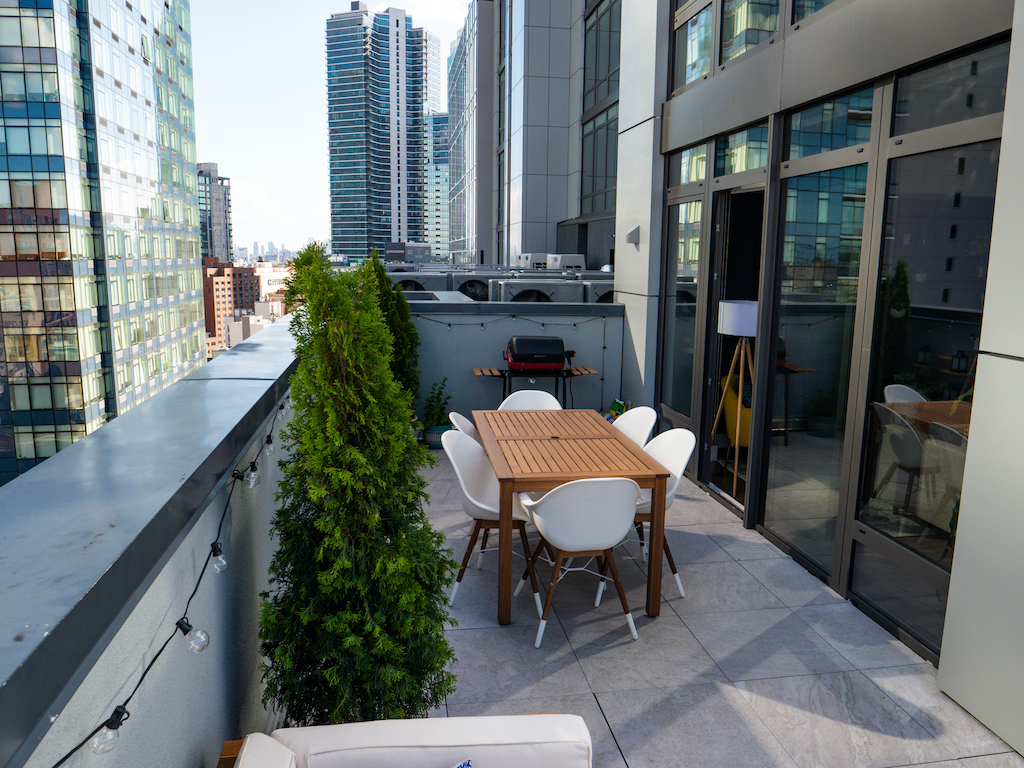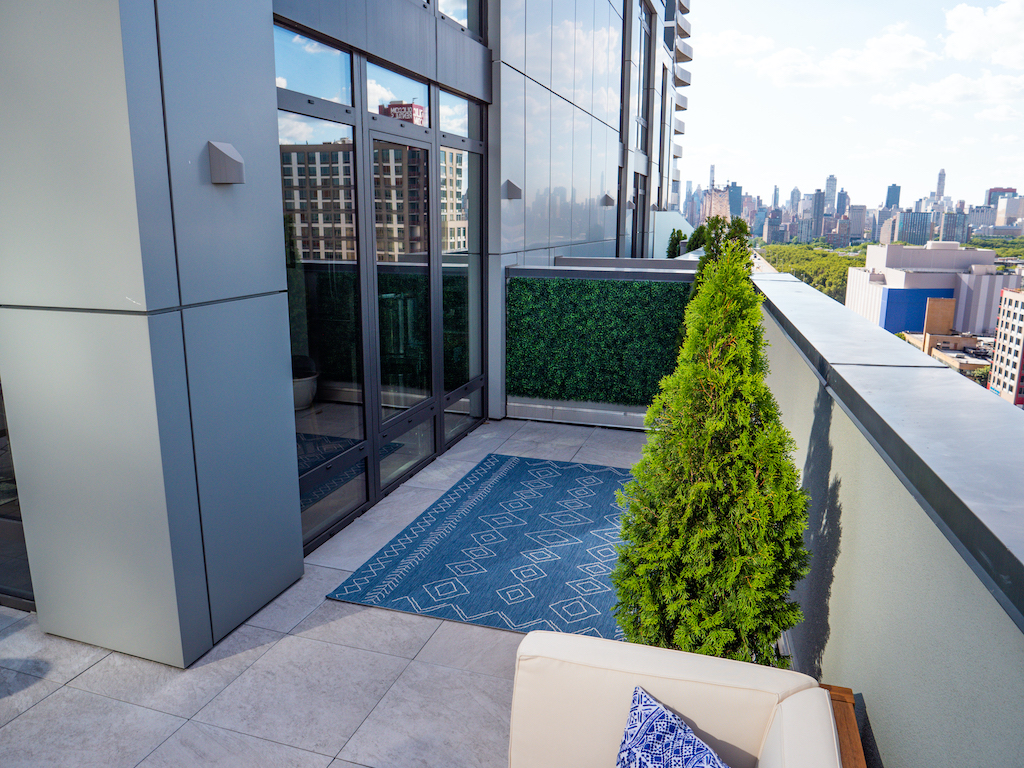 OFFICE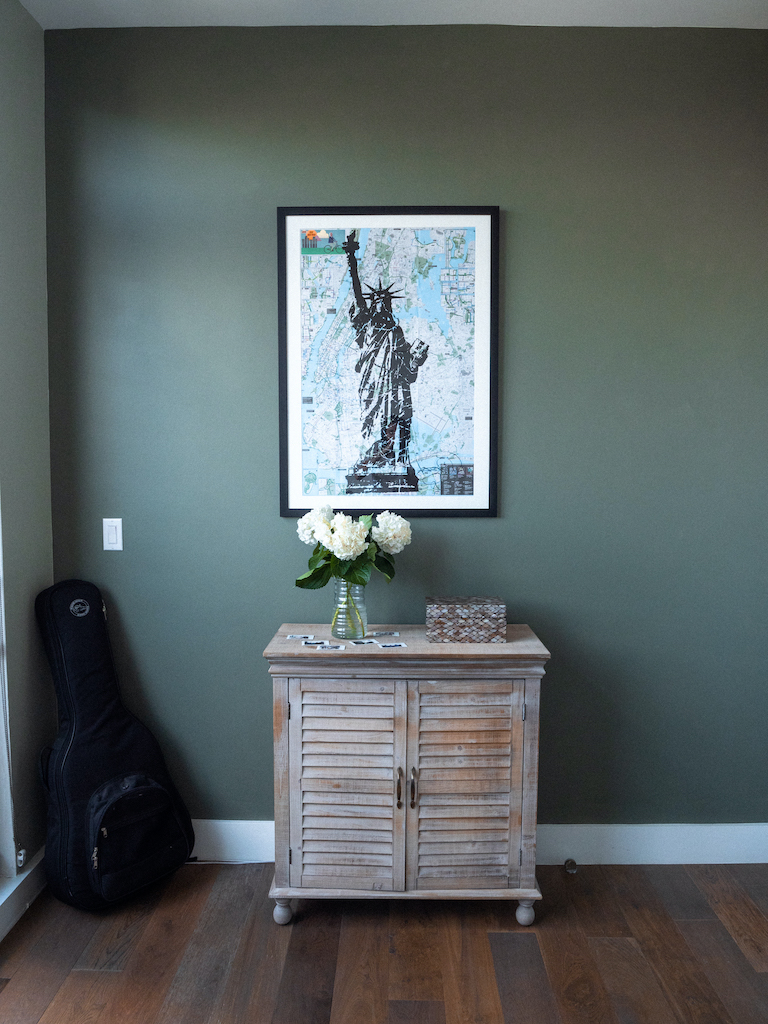 Since Luis and I work from home we needed to convert the second bedroom into an office that we share. Luis desk is on one side and mine on the other. We painted the walls a light greenish-grey tone to bring out the darker grey sliding door to the terrace and the beautiful wood floors.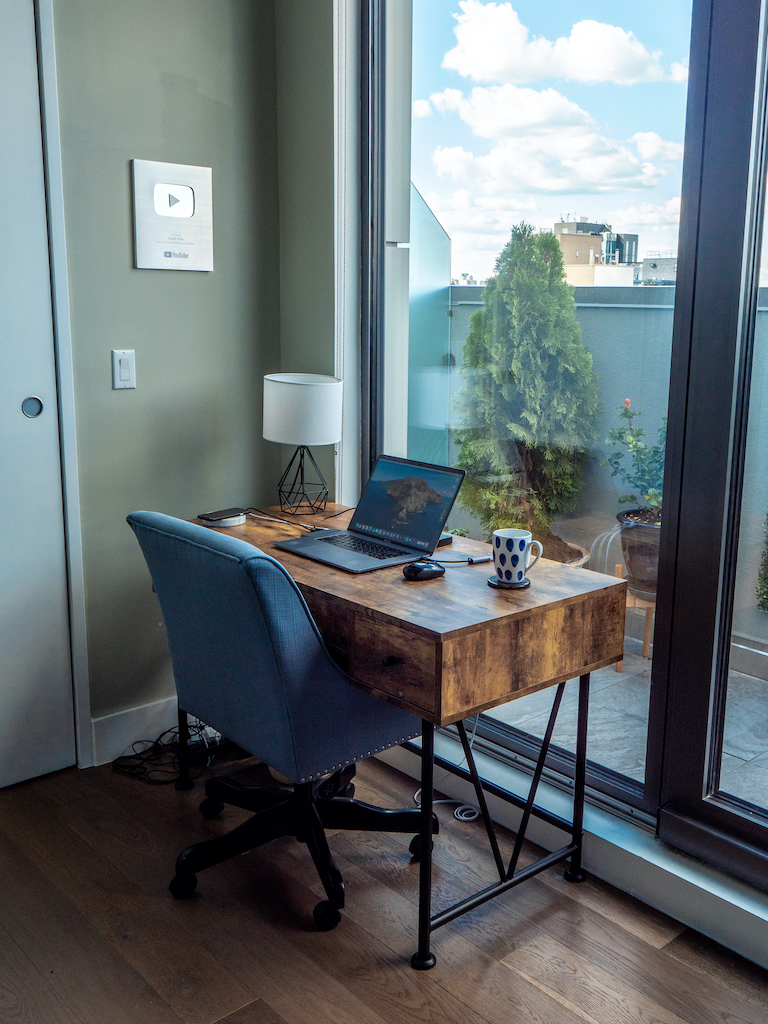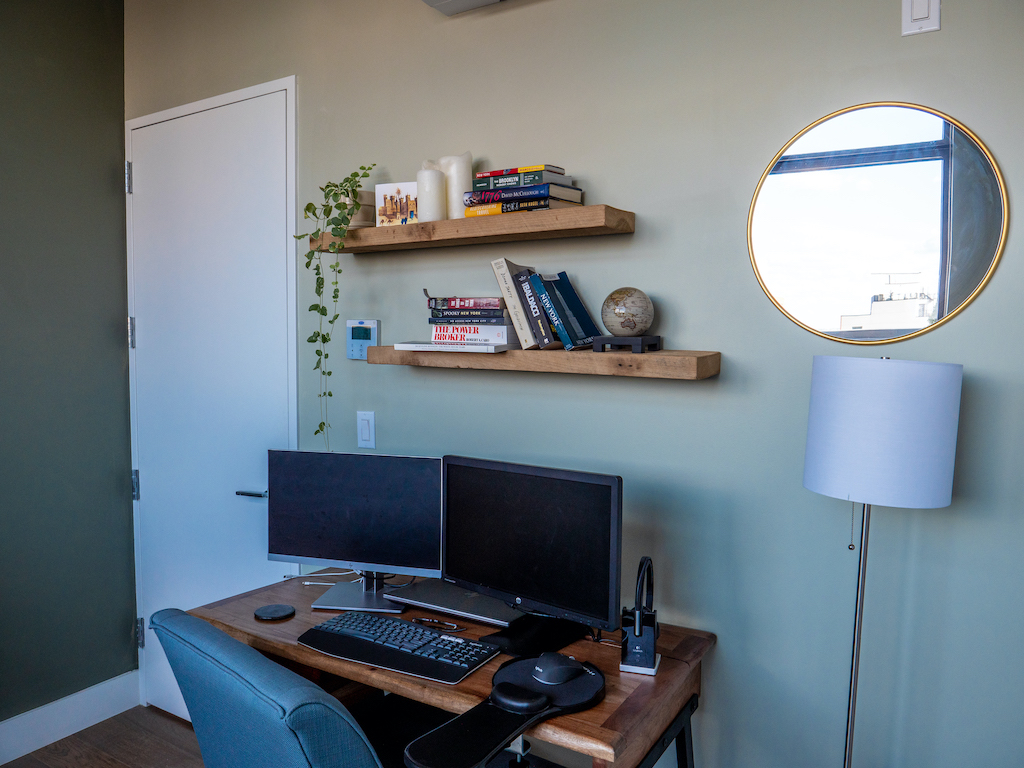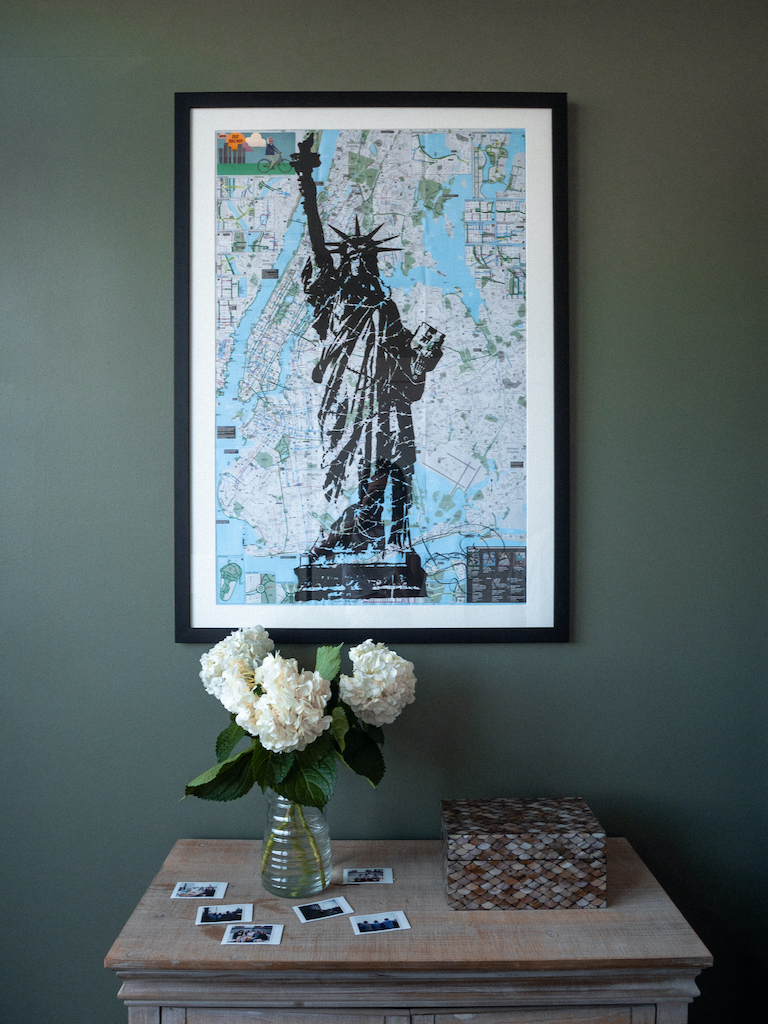 HALLWAY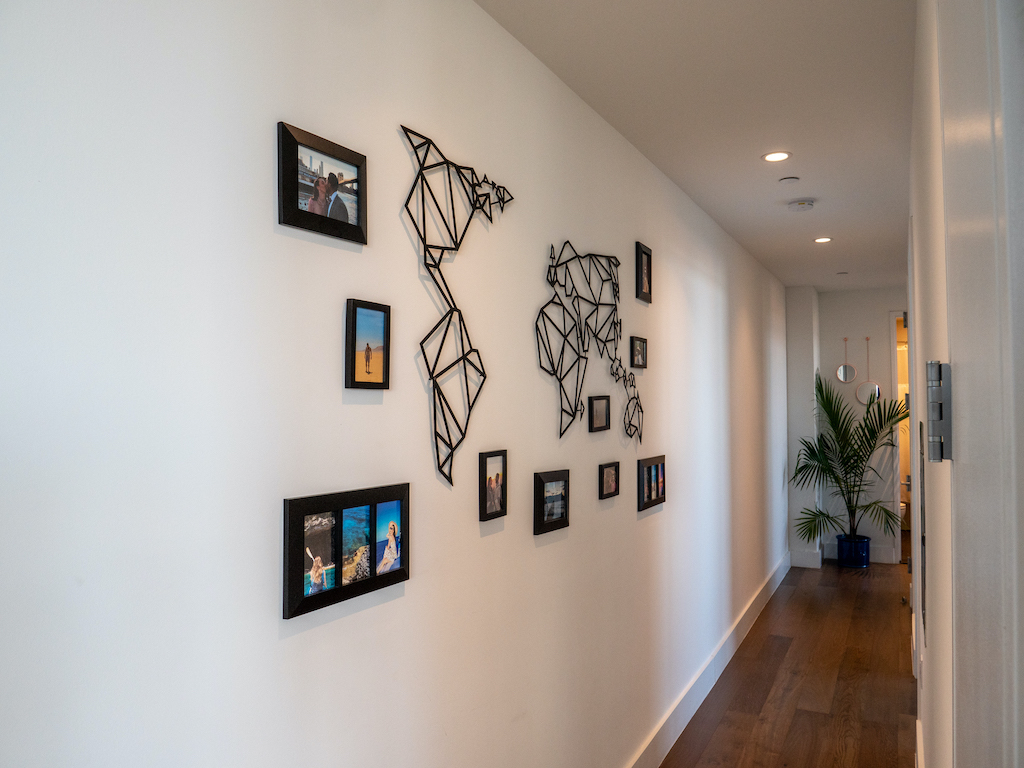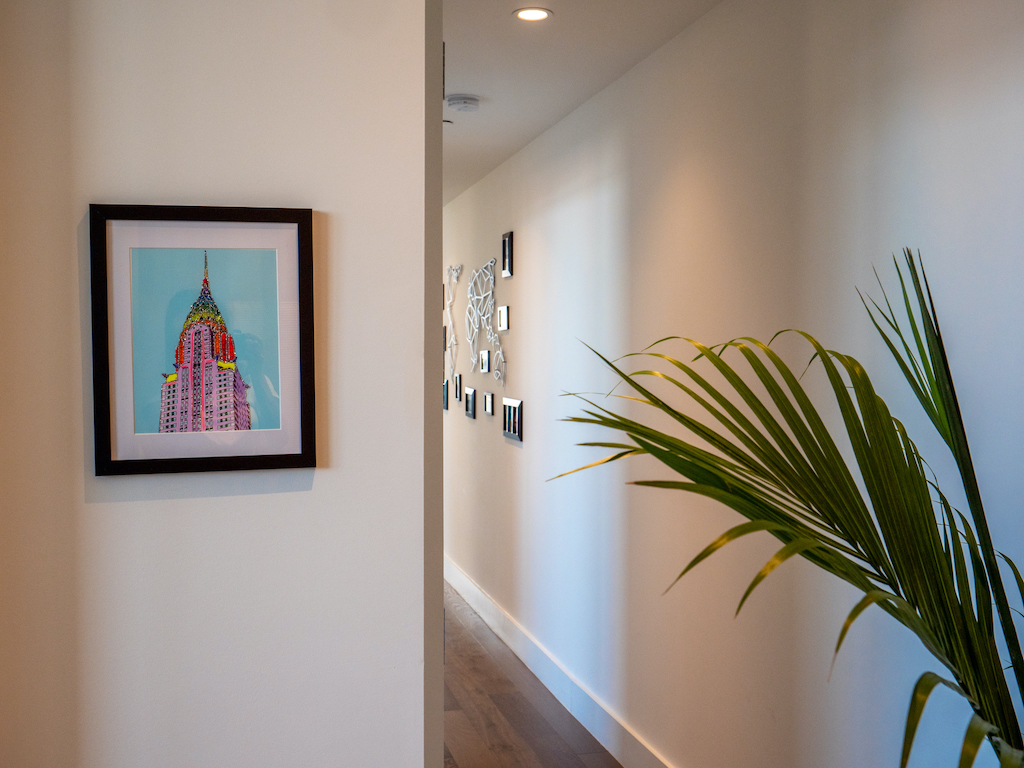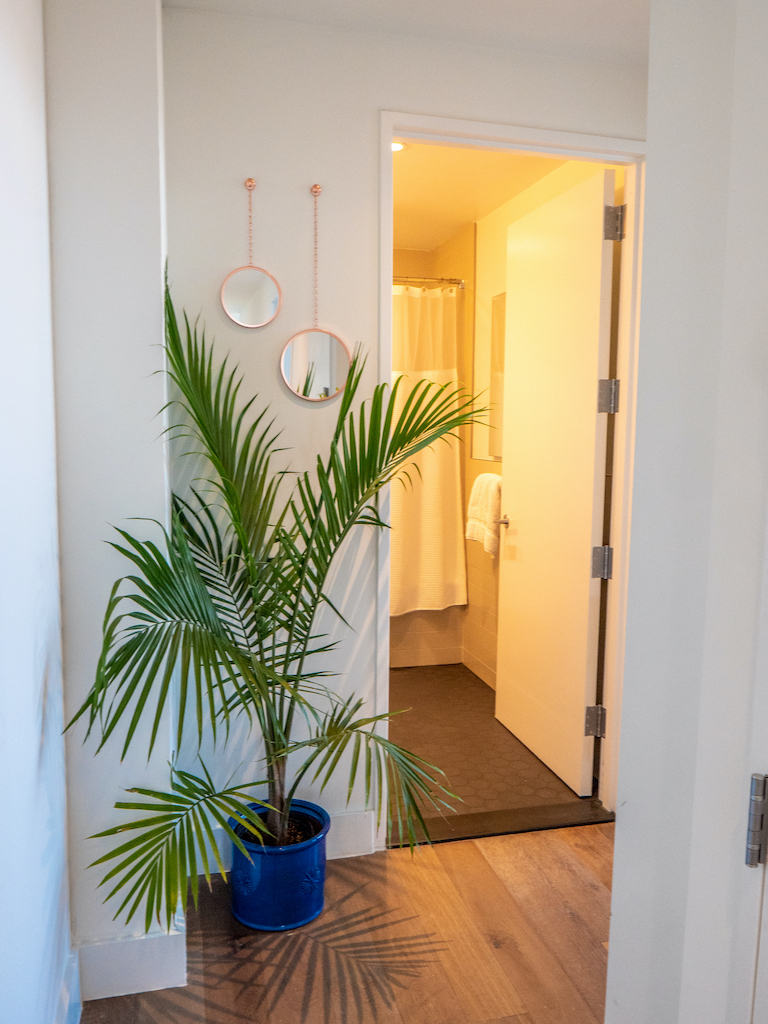 Luis and I travel a lot. We wanted to highlight that in our space. To display our images on our hallway wall I ordered the iron world map from Hoagard and placed images strategically around it, starting with my home base, NYC. I absolutely love how this came out!
BEDROOM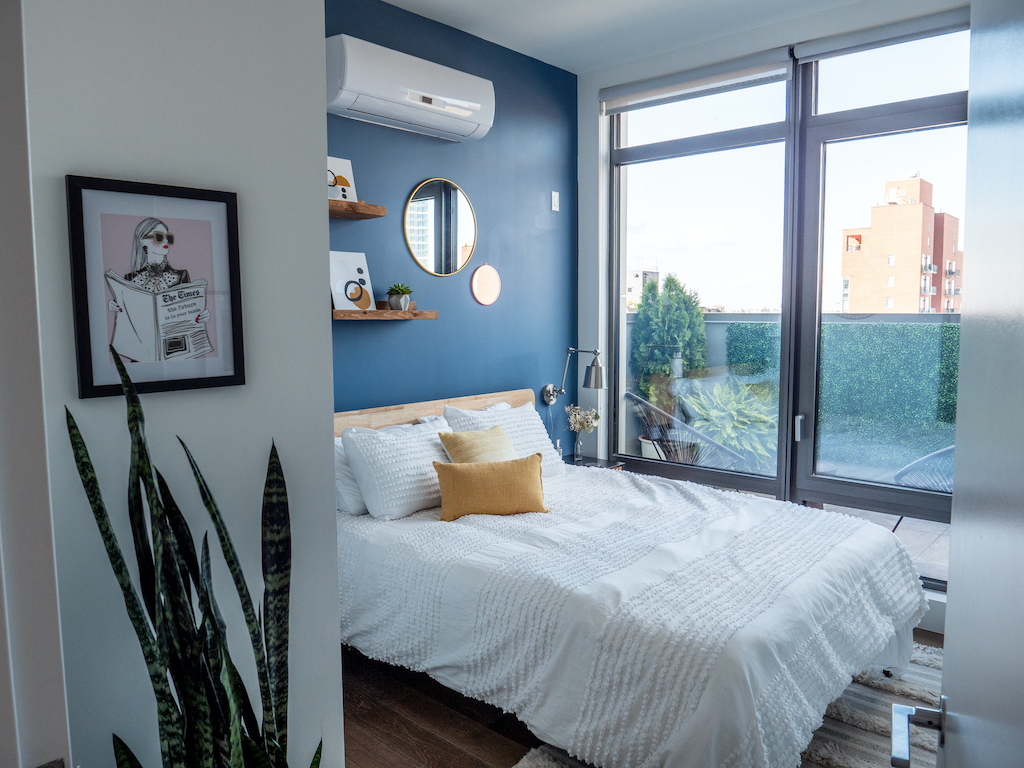 I love how Soniya from Dwellistic designed the bedroom! Right now we have a beautiful "Twinkle, Twinkle" deep blue color on the wall from Valspar Paint.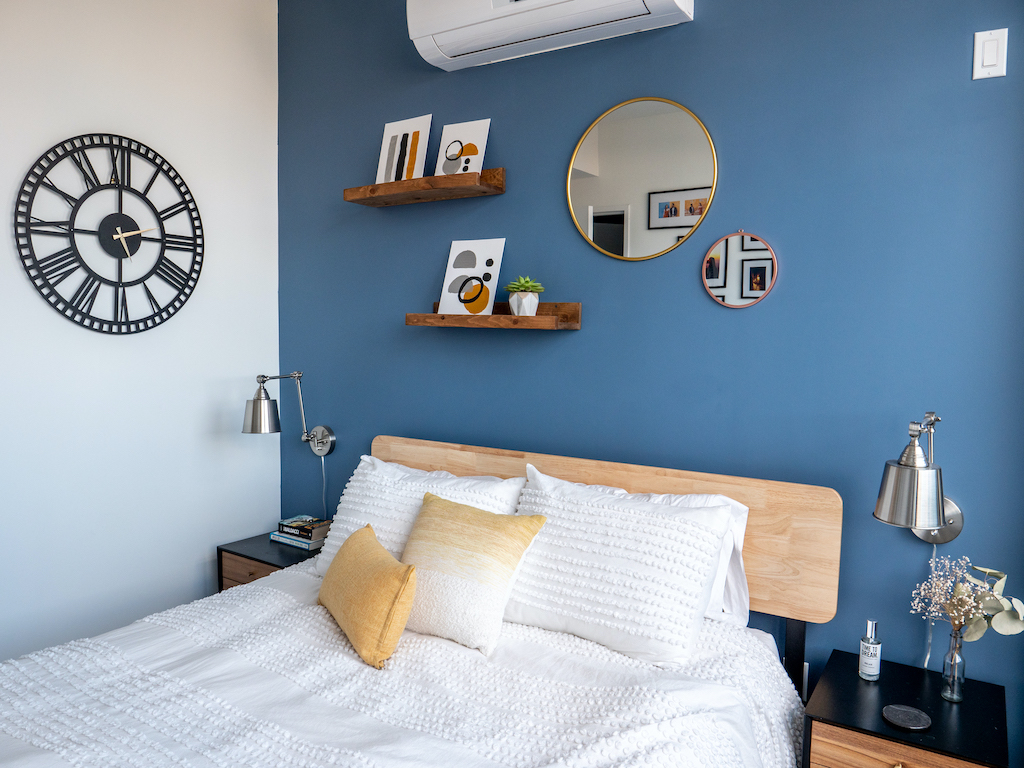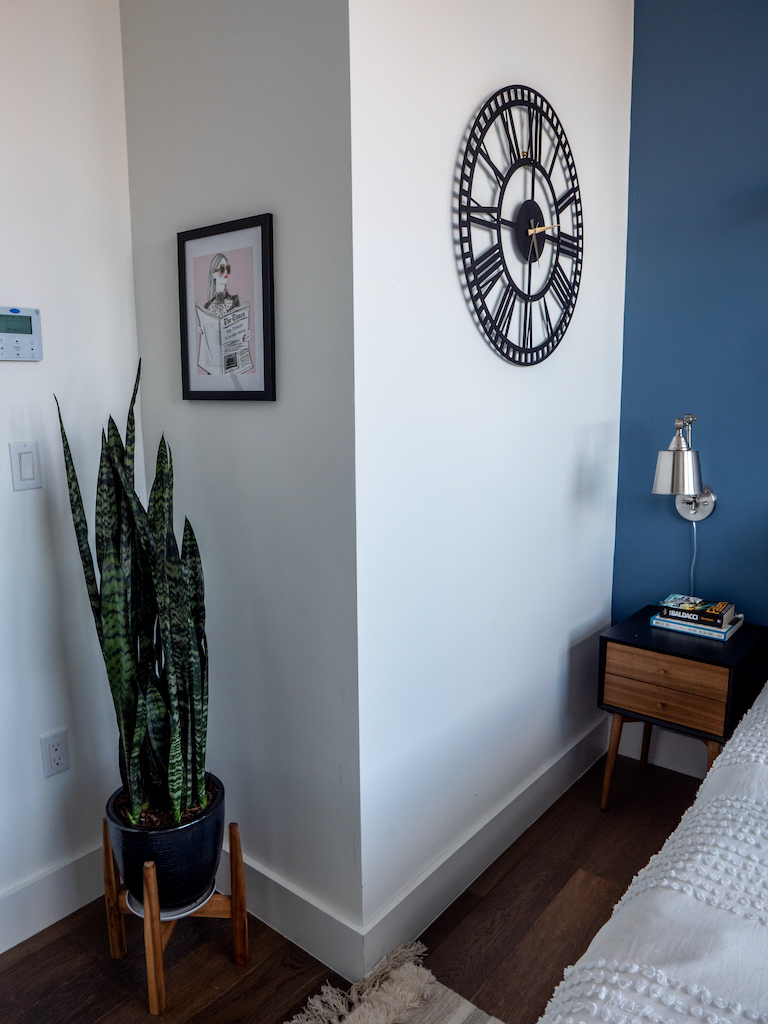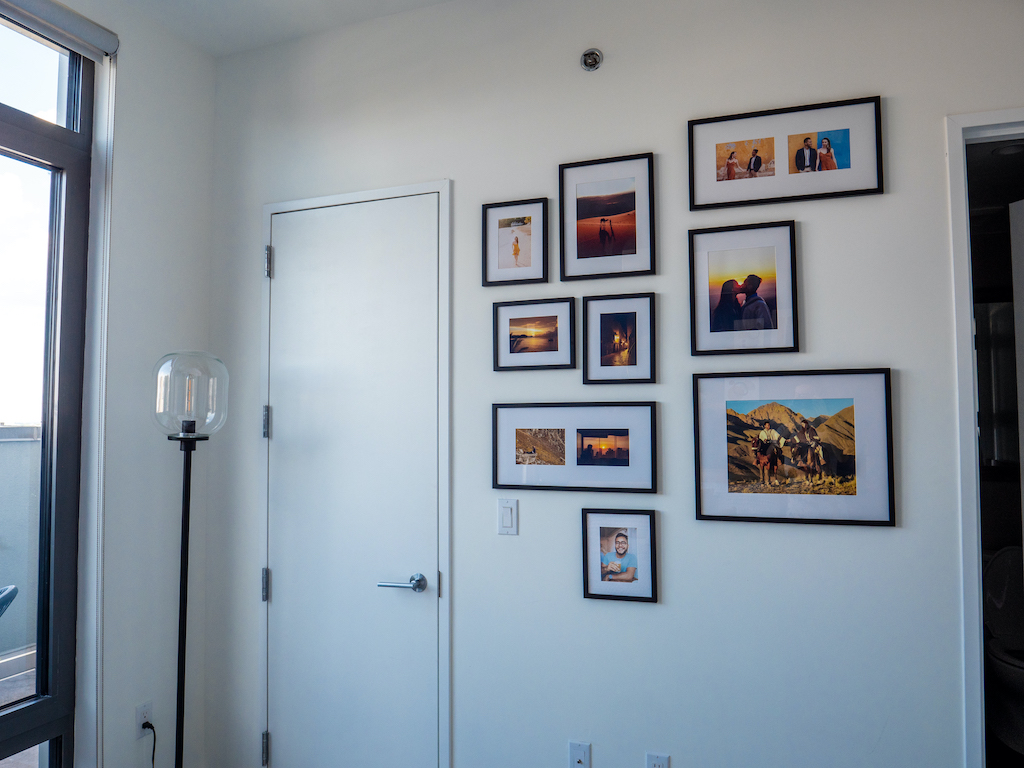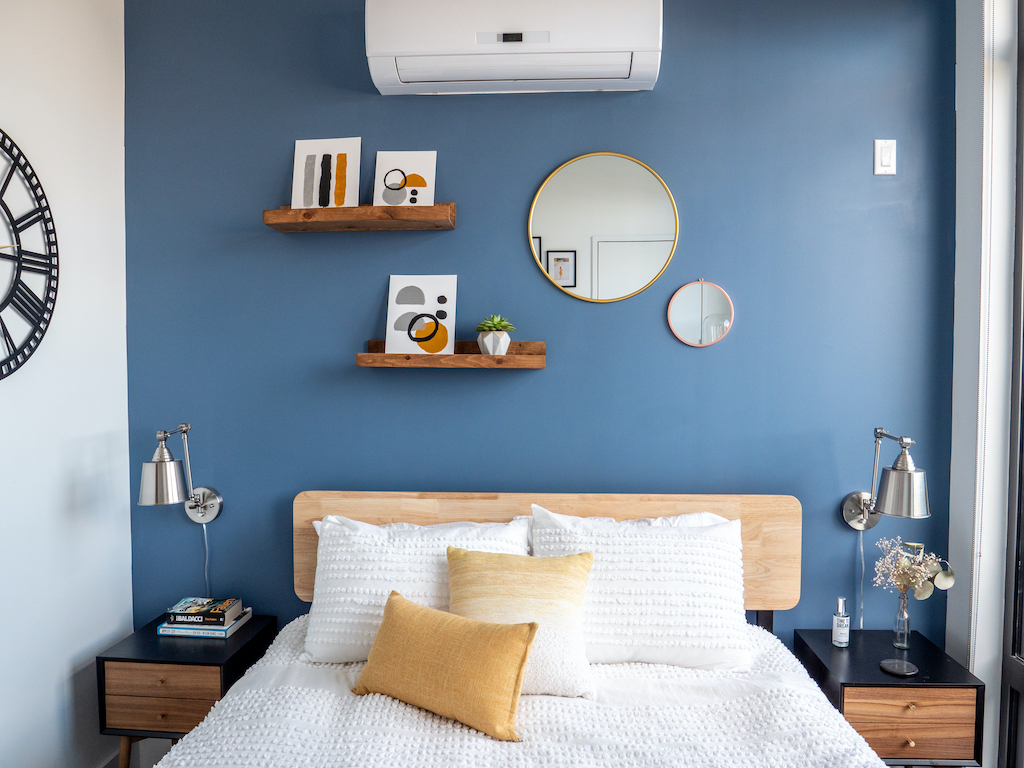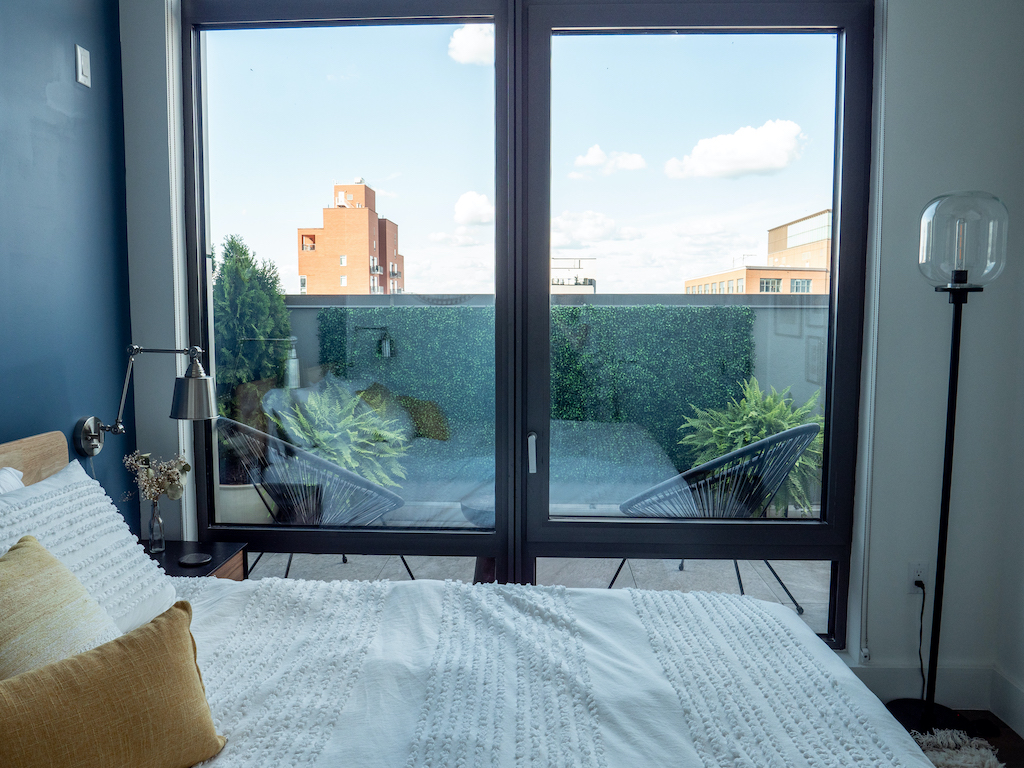 BATHROOMS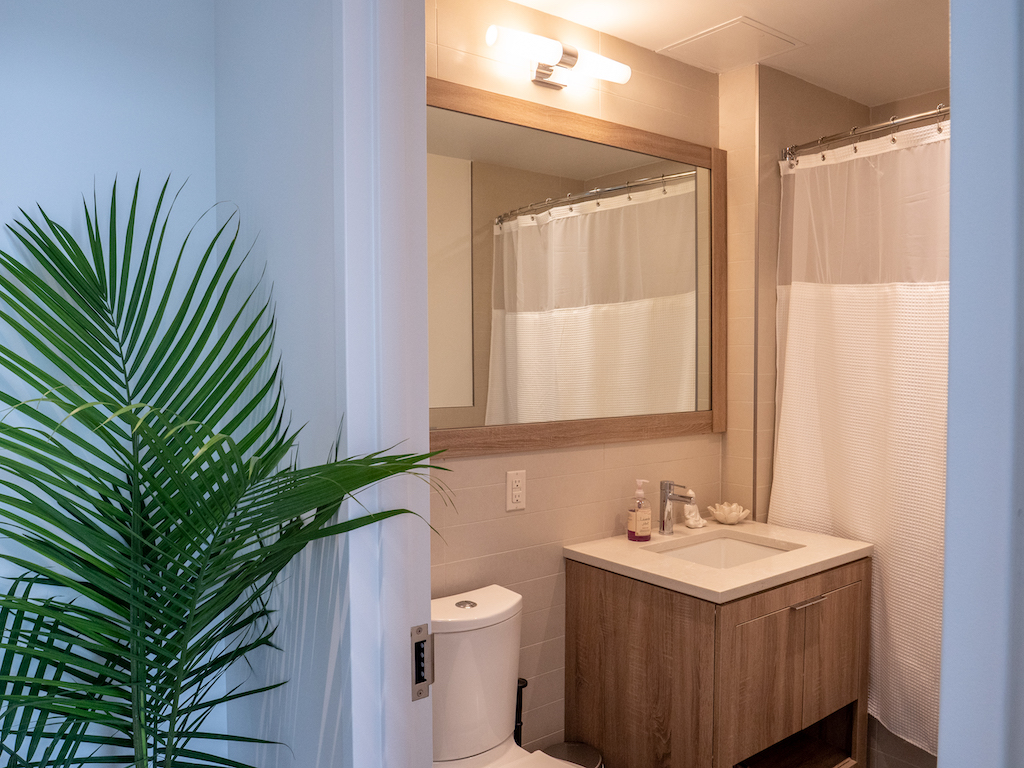 We have two bathrooms. They are already well designed so we don't need to do much here, but one has a tub which is wonderful to take a bath in. I did that a few days ago and used the Snooze bath bomb from Bathorium. It was relaxing!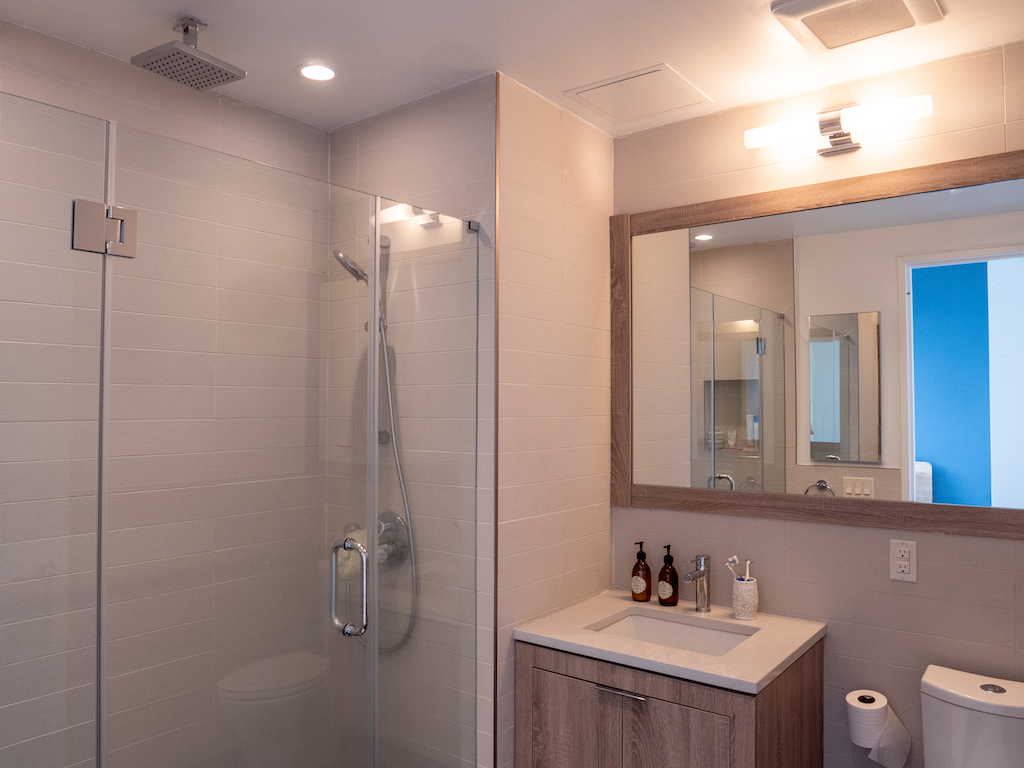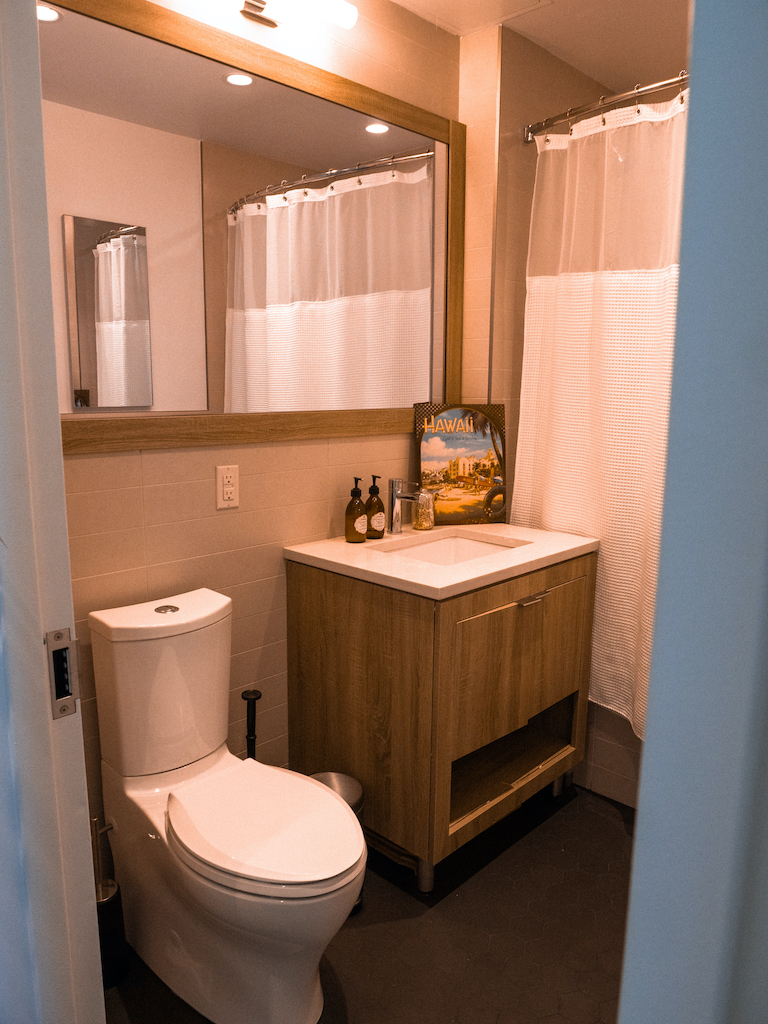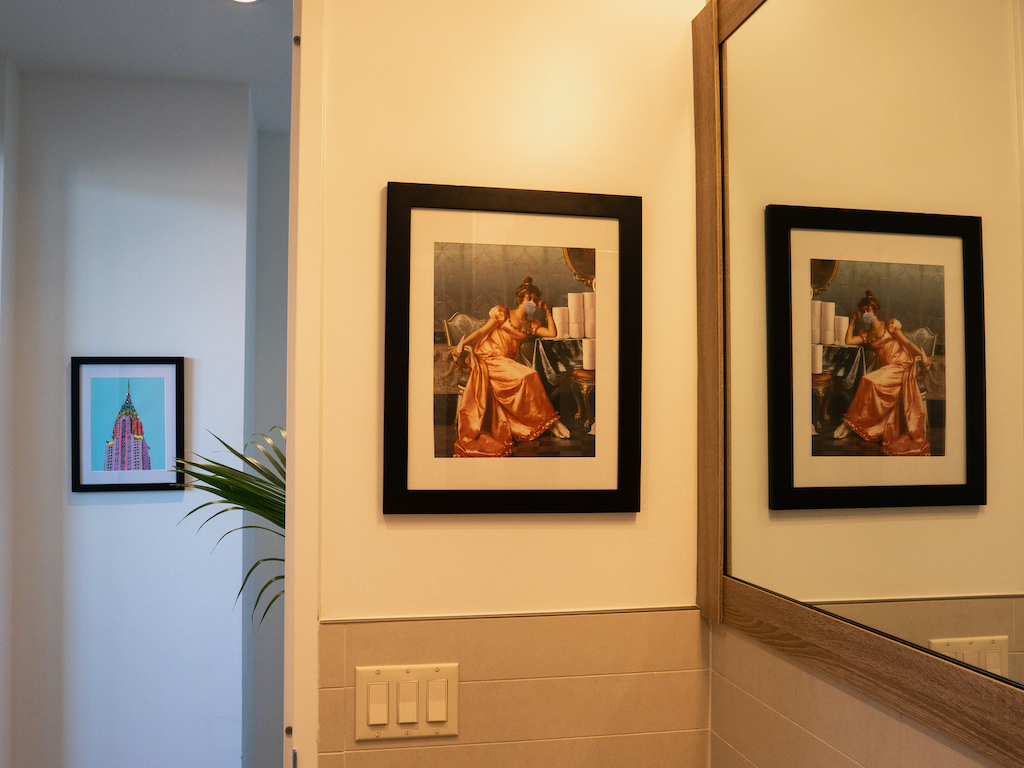 The master bathroom has two shower head options. Having a rain shower head is a dream! I love how it has a glass door and heated floors!
Overall, I feel very fortunate to be able to live in this apartment. It was a long journey getting to an apartment like this in NYC. If you want to hear our story, then watch our video here. We are nowhere near done designing this apartment so if you have any suggestions please comment them below and we will take them into consideration!