New York is known for its diverse culinary scene. As a visitor, it can get overwhelming choosing a place to eat when there are so many incredible eateries around every corner! In this article, I break down the best restaurants in New York by customer reviews. I compared the reviews of Google, Yelp, and Zagat then consolidated the winners here! If you're visiting the city as a foodie the first thing I recommend doing is downloading Yelp. Yelp is the go-to food app that New Yorkers use to discover where to eat breakfast, brunch, lunch, snacks, and dinner.
As a local New Yorker, there are many places that I recommend. You can see them all in my video above and listed in this article with an interactive map for your use while exploring the city. However, I could not name all of the places I love in that video, so I've included a few bonus recommendations here. If you are a budget traveler, you might want to watch my video on the best budget dining because many of the places on this list are not as budget-friendly! And if you're planning a trip to California, these are essential Hollywood restaurants worth visiting!
Whether or not you visit the restaurants on this list, there are certain dishes that you MUST try when visiting the city. Watch my video above for my list of the top five New York food to try or take my NYC Foodie Feast tour to learn more about food history (plus try many of the dishes I recommend).
BEST RESTAURANTS IN NEW YORK BY CUSTOMER REVIEWS MAP!
Use this map from your mobile device as you explore NYC to find the best restaurants and bars near you anytime, anywhere. It covers the best of the best. Click here to view the google map on your phone while you explore the city. It will make it easier to see everything you can while you're in town! The map is also embedded below. To filter according to category (restaurant and bars) click on the square with the arrow in the left top corner then check the boxes of what categories you would like to view.
The Best Restaurants in New York by Customer Reviews List
1. LE BERNARDIN
Price: $$$$
Yelp: 4.5 out of 5
Zagat (food score): 4.9 out of 5
Google Reviews: 4.6 out of 5
This elite French restaurant offers chef Eric Ripert's refined seafood, expert service & luxurious decor. It is rated number 17 of the world's 50 best restaurants (so that is reason enough to visit!). The menu is split into three sections – Almost Raw, Barely Touched, and Lightly Cooked – with dishes mixing French and Asian influences. Think poached halibut with Manila clams and a wild mushroom casserole or a single barely cooked scallop with brown butter dashi. Visit their site here.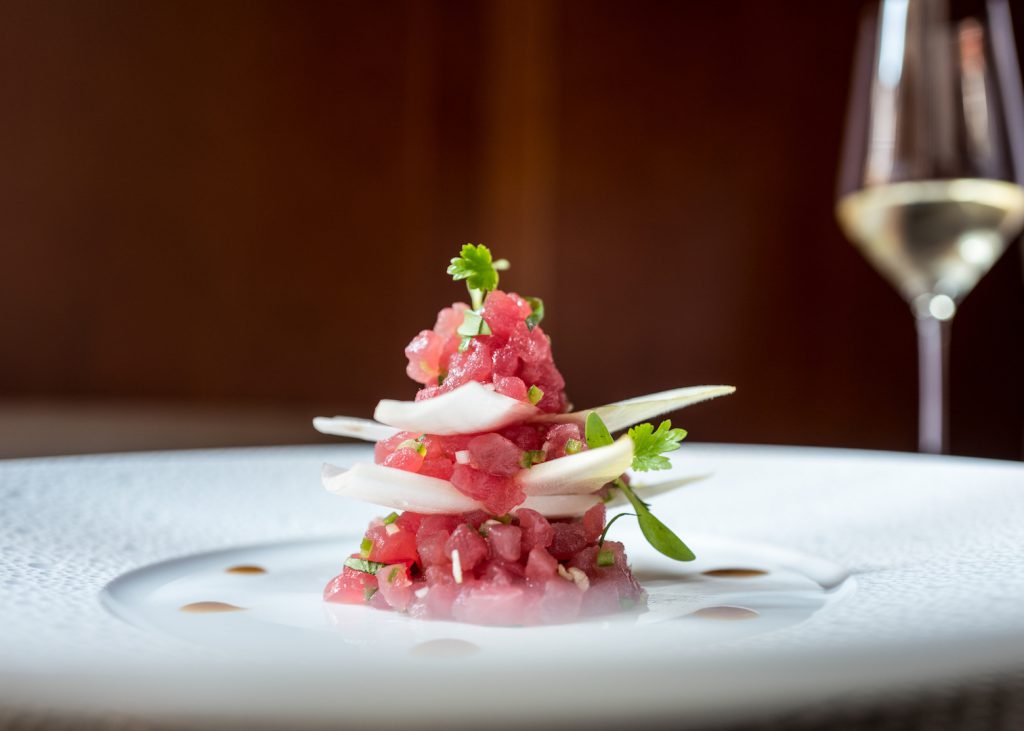 2. ELEVEN MADISON PARK
Price: $$$$
Yelp: 4.5 out of 5
Zagat (food score): 4.7 out of 5
Google Reviews: 4.5 out of 5
This restaurant offers upscale American tasting menus from chef Daniel Humm served in a high-ceilinged art deco space. It is rated number 1 on the top 50 restaurants in the world list. If there is one eatery you go to while in NYC make it this one! When you go make sure to order Humm's signature roasted duck. It has had many iterations, from the classic honey and lavender version to honey-glazed with turnips and huckleberries. Their dishes on the seven-course tasting menu also include celery root cooked in a pig's bladder, which Humm cites as a career-defining creation. Visit their site here.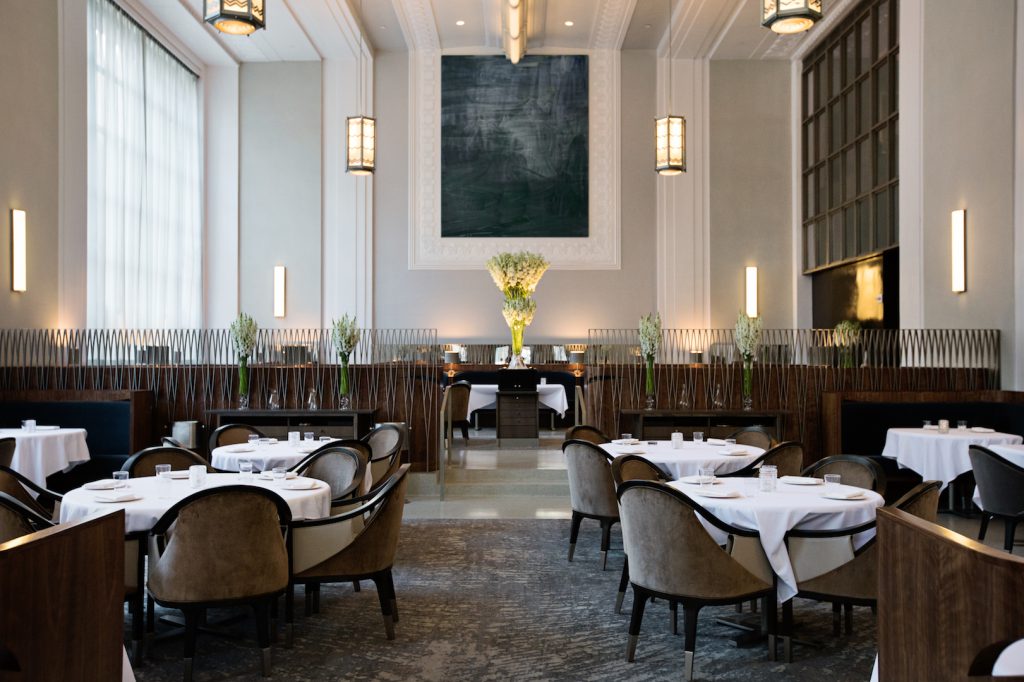 3. LOS TACOS NO. 1: The BEST Restaurant in NYC by customer reviews!
Price: $
Yelp: 4.5 out of 5
Zagat (food score): 4.7 out of 5
Google Reviews: 4.7 out of 5
Believe it or not, this street taco spot hits the top slot for the best restaurant in New York by customer reviews. This bustling taqueria serving tacos, quesadillas & aguas frescas in a street-style set-up in Chelsea market. Note that there is no seating here, but it fits the quick-paced vibe of New York. Here you'll find some of the best tacos (pork, steak, chicken, and cactus tacos only) in NYC. I love them so much I gave them one of my slots on my food tour you can do when you visit! When you visit, prepare to wait in a line (normally it goes fast but looks long). When I visit I get one of each type of taco because they are so inexpensive! Visit their site here.
Insider tip: They also have a fish version of this restaurant! Visit their site here.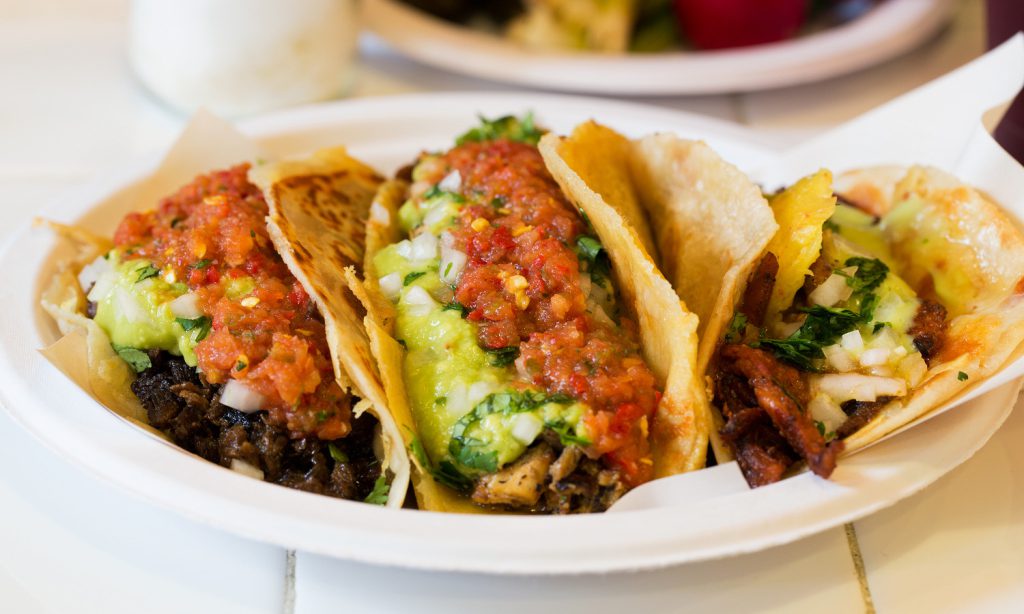 We love this restaurant so much that we even made a video on how you can make these tacos from home. For the best authentic Mexican taco recipe click here.
4. MORIMOTO NYC
Price: $$$
Yelp: 4 out of 5
Zagat (food score): 4.6 out of 5
Google Reviews: 4.3 out of 5
This sleek, spaceship-like restaurant & lounge serves Iron Chef Masaharu Morimoto's Japanese cuisine. Here you'll get fish that is sent overnight directly from Japan and caught specifically for this restaurant. That's how you know you'll get the best of the best here. I love this restaurant because they offer a unique sushi sunset sail every Monday in the summer (this is temporarily on hold because of COVID but Classic Harbor Line offers other awesome sails you can do). It's something that you absolutely need to do when you're visiting! Book the experience here and watch it in my restaurants of NYC video here.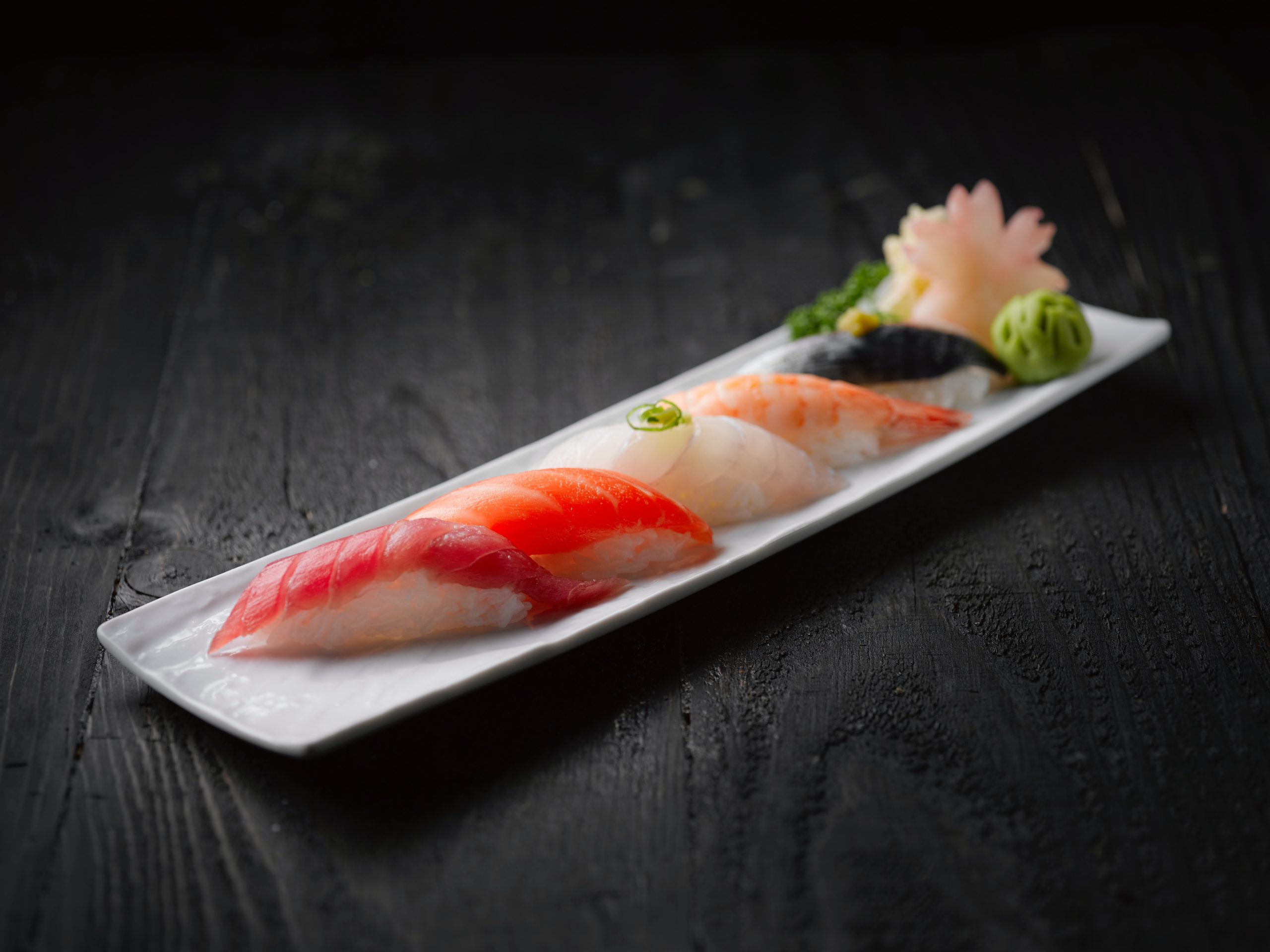 5. CARMINE'S
Price: $$
Yelp: 4 out of 5
Zagat (food score): 4.1 out of 5
Google Reviews: 4.4 out of 5
I have to admit, I was surprised when I learned Carmines was considered one of the best restaurants in NYC by customer reviews, mainly because I consider this spot a little touristy. Regardless, it is delicious every time so it makes the list! This bustling Italian restaurant serves enormous portions of traditional dishes in family style. It has been reviewed almost 7,000 times combined on Google and Yelp, yet it still has a high rating. If that is not a testament to its tasty dishes, I'm not sure what is! The other reason I appreciate Carmine's is because it's pretty much the only restaurant worth visiting in the Times Square area. If you're headed to a Broadway show, make sure to stop in Carmine's for a bite to eat before the entertainment begins.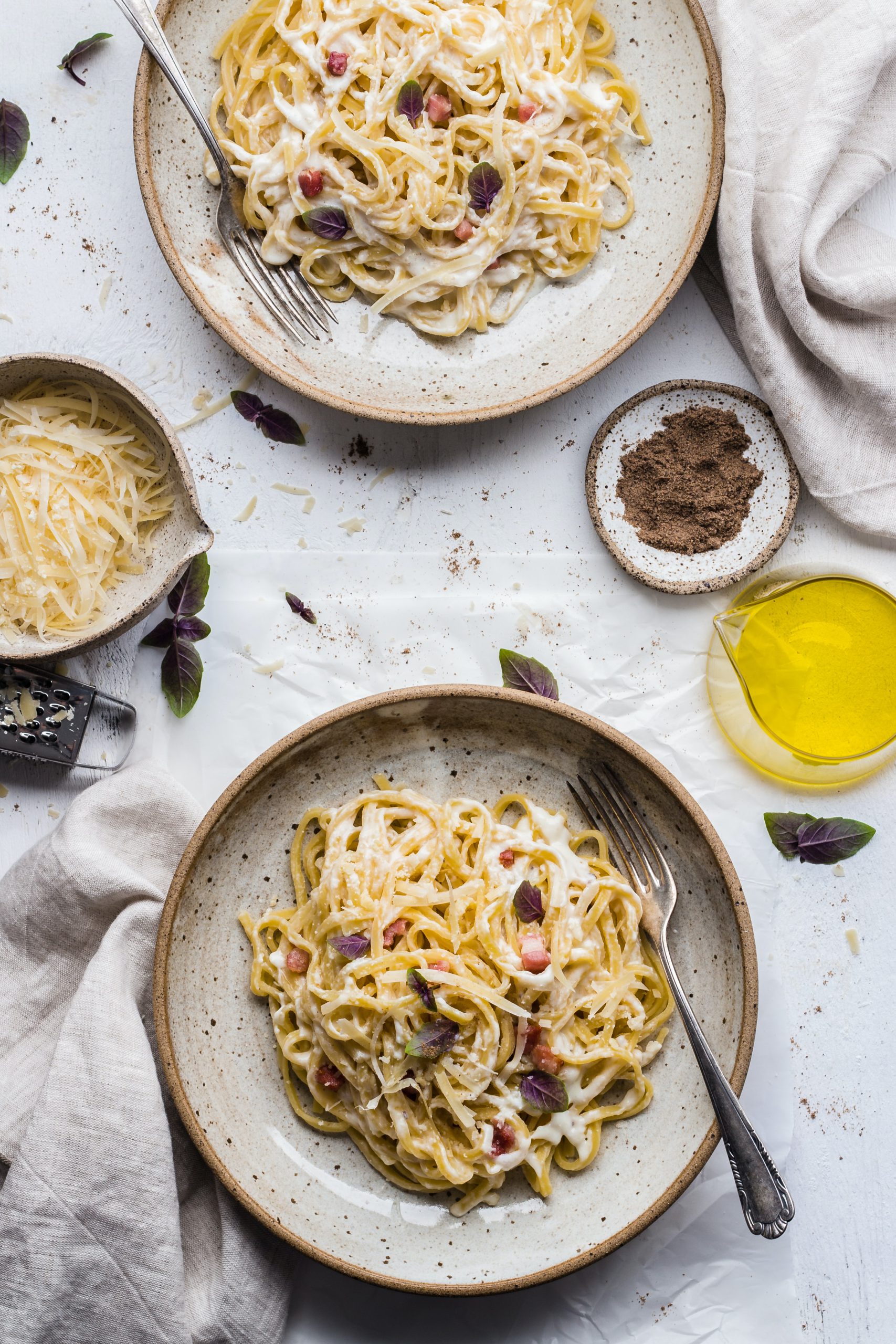 6. THE DAISY
Price: $$
Google Reviews: 4.3 out of 5
The Daisy is a hip Mexican & American eatery offering seasonal dishes, signature cocktails & a bottomless brunch. During the warmer months, they have a wonderful outdoor patio area, which is great for people-watching. I personally love this place because they have the best dessert I've ever tasted. It is a brownie s'more concoction of deliciousness. (By the way, if you don't know what a s'more is then you MUST try one when you come to the US. It is a toasted marshmallow and melted chocolate hugged by golden graham crackers. A camping staple in the US that is normally cooked over the fire!)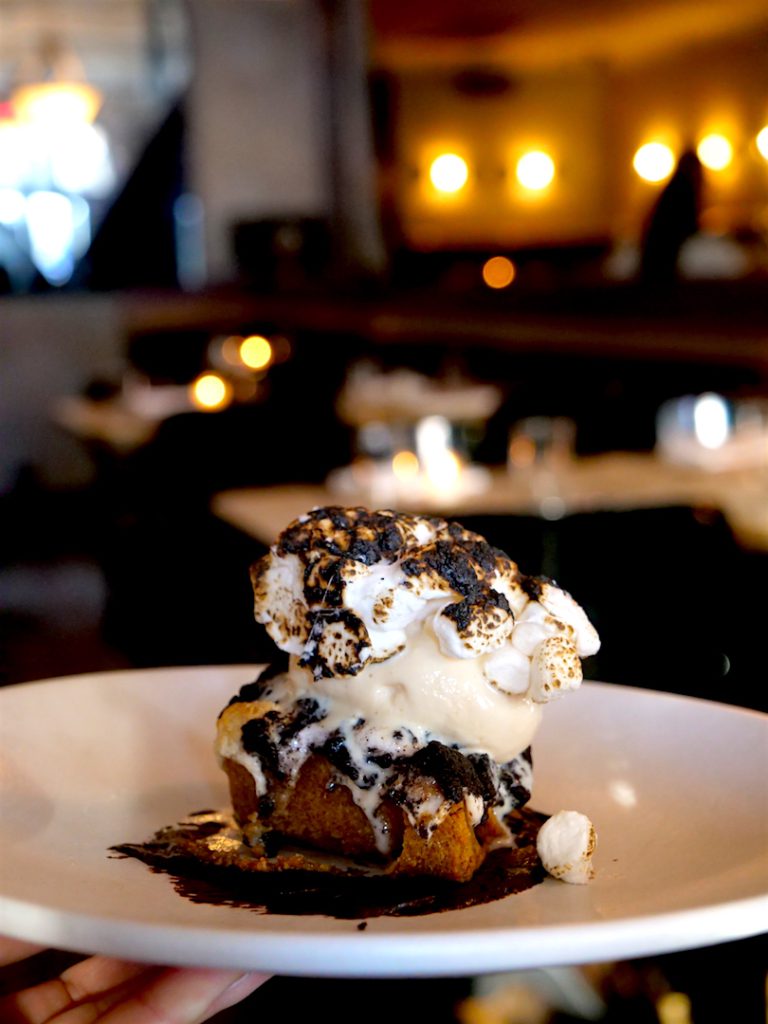 7. FELICE
Price: $$
Yelp: 4 out of 5
Zagat (food score): 4.2 out of 5
Google Reviews: 4.4 out of 5
At Felice, you'll find a sleek outpost with warm leather & wood decor offering Tuscan fare & a long list of Italian wines. This place is as authentic as it gets. Every person that works here has a true Italian restaurant and a story.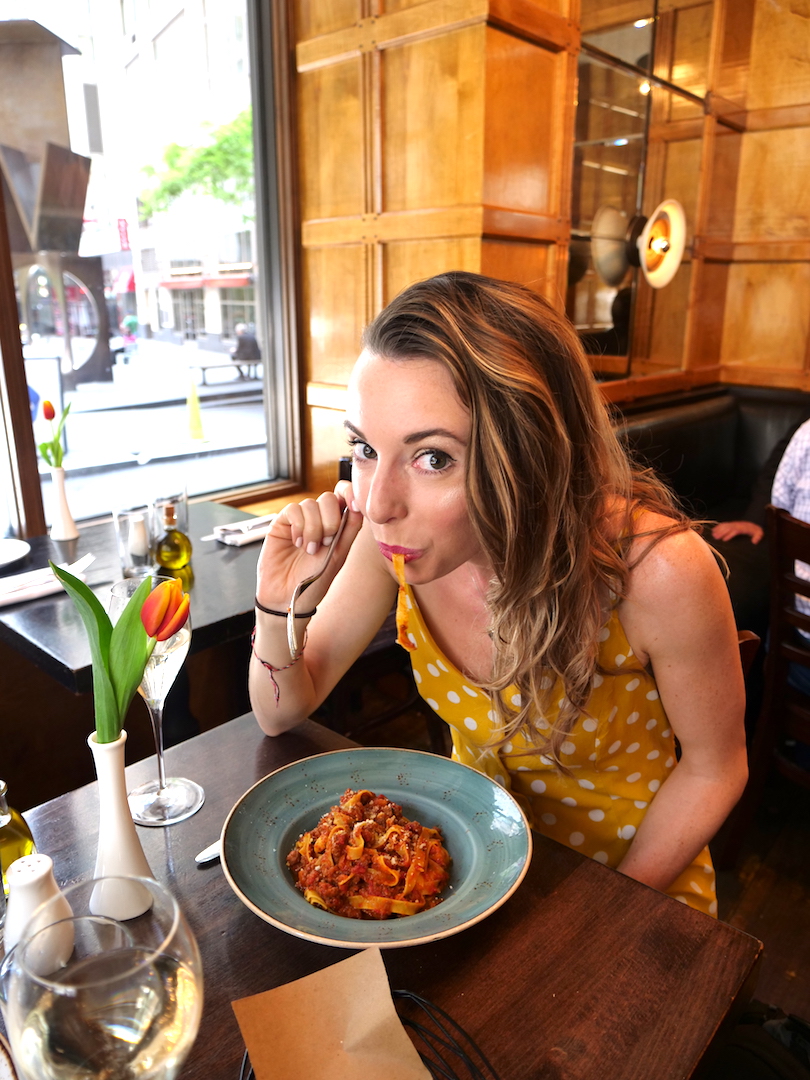 8. DANIEL
Price: $$$$
Yelp: 4.5 out of 5
Zagat (food score): 4.8 out of 5
Google Reviews: 4.6 out of 5
Daniel Boulud's restaurant is an elegant French flagship where jackets are required & expense accounts come in handy. Zagat says "A "wow every time", Daniel Boulud's "luxurious" UES "icon" "sweeps you into another world" with "masterly" New French fare and a "rarefied atmosphere" defined by "magnificent" decor, "VIP" service and a "dressed-up" clientele (jackets are required); granted, the prix fixe–only tabs are "Himalayan", but "you'll understand why" – and the bar provides the "same stellar" quality à la carte."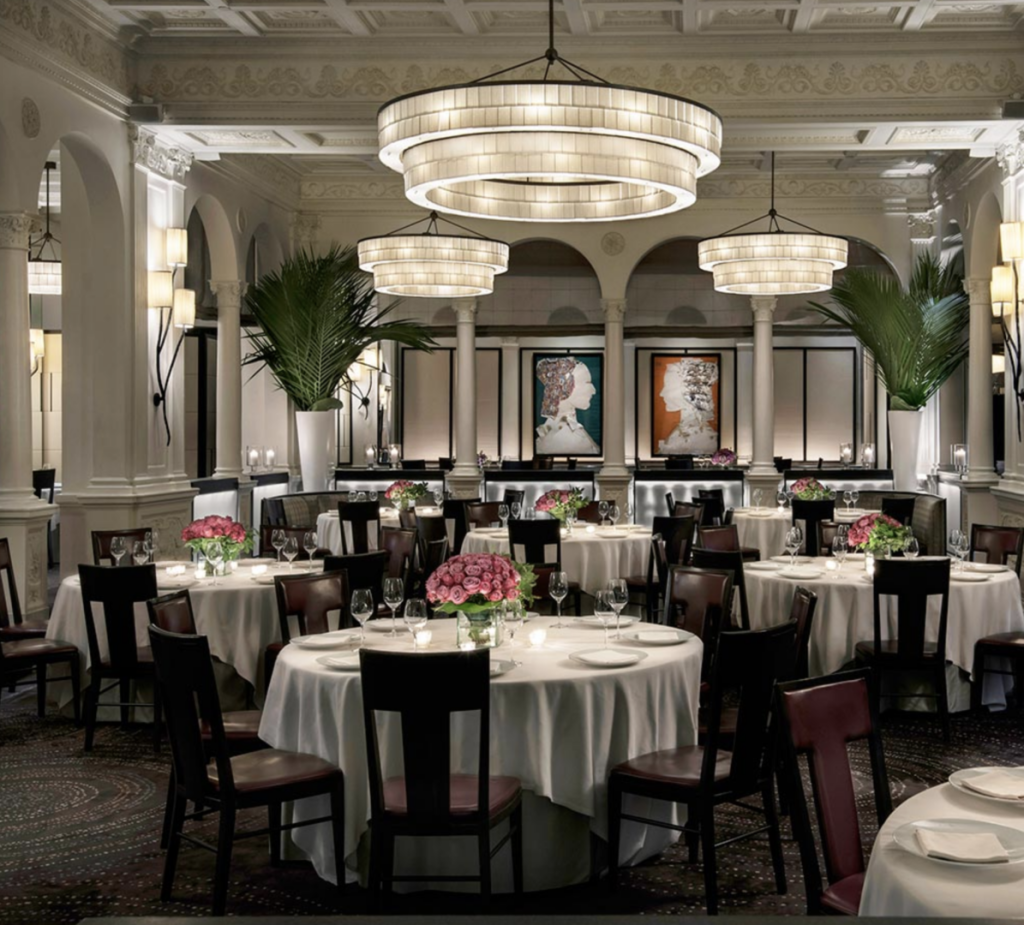 9. MAREA
Price: $$$$
Yelp: 4 out of 5
Zagat (food score): 4.7 out of 5
Google Reviews: 4.5 out of 5
At Marea, you'll discover high-end Italian seafood & housemade pastas from Michael White in a chic Central Park South setting. Zagat says this Michelin star ""Excellence abounds" at Michael White's Italian "star" on Central Park South, where the "adventurous" seafood and "heavenly" housemade pastas "never fail to wow"; the "impeccable" service matches the "sleek", "convivial" setting – as well as the "power broker" prices (lunchtime set menus are a comparative "steal")."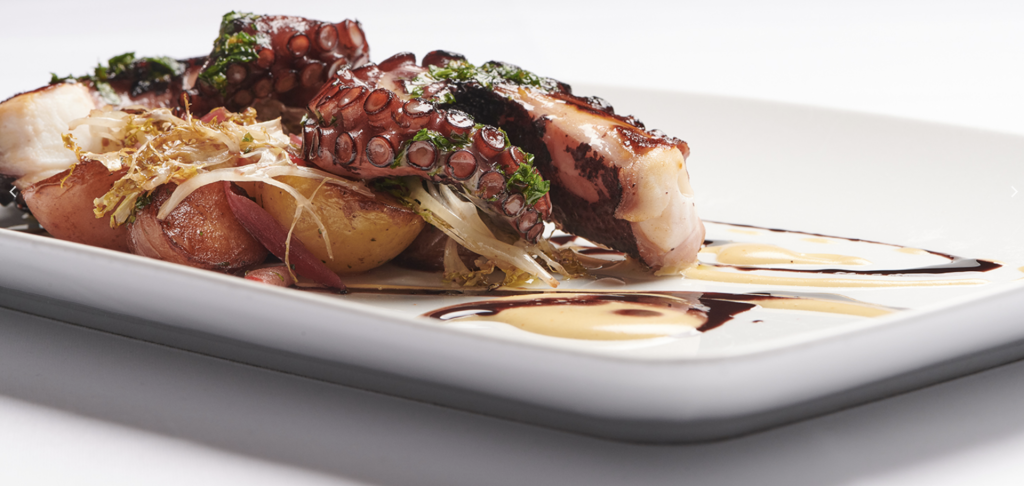 10. BLOSSOM
Price: $$
Yelp: 4 out of 5
Zagat (food score): 4.2 out of 5
Google Reviews: 4.5 out of 5
Blossom is NYC's top vegan destination, but the reality is that even if you are not a vegan you'll love their food, which is why it's made the best restaurants in NYC by customer reviews list. Last time I went here, I couldn't believe that what I was eating was not meat; it was that flavorful. They do an incredible job using the freshest ingredients in a creative and delicious way; so much so that you won't think you're eating vegan at all!
11. BLUE HILL
Price: $$$$
Yelp: 4.5 out of 5
Zagat (food score): 4.7 out of 5
Google Reviews: 4.6 out of 5
Blue Hill has locally sourced, seasonal ingredients on an American menu served at a townhouse-set spot. Zagat says "A true "farm-to-table pioneer", Dan Barber's Village American "does a magnificent job" producing "unbelievably fresh and flavorful" American fare with "thoroughly satisfying" seasonal "integrity"; set in a "lovely, calm" room run by an "especially caring" staff, it "isn't cheap" but the performance is "worth repeat visits."
12. THE SEA FIRE GRILL
Price: $$$
Yelp: 4.5 out of 5
Zagat (food score): 4.6 out of 5
Google Reviews: 4.7 out of 5
The Sea Fire Grill is upmarket American seafood & raw-bar offerings in a swanky, spacious dining room with a fireplace. Zagat says "This East Midtown seafood "oasis" provides "exceptional" catch and "premium" steaks ("the best of both worlds"), backed by a "limitless" wine list and served in "sophisticated" confines complete with fireplace and "high-energy" bar; factor in "a big welcome" from the "stellar" team, and the upmarket prices are "worth every penny."
13. L'ARTUSI
Price: $$$
Yelp: 4.5 out of 5
Zagat (food score): 4.7 out of 5
Google Reviews: 4.6 out of 5
L'Artusi offers Italian small plates and an extensive wine list. Zagat says ""Incredible" pastas and other "creative" Italian dishes are "done with great care" at this "happening" West Village "standout" where the "polished" staffers also curate an "impeccable wine list"; the "intimate" bi-level digs "bustle" with a "youngish crowd", so "bring earplugs" – and good luck getting a reservation."
Those are the top thirteen best restaurants in New York City based on customer reviews. Which dining spot would you like to go to first? If you're visiting New York (or live here), you might like to check out my NYC Foodie Feast tour. During this 2.5 hour tour, you'll be guided throughout Dumbo, Brooklyn to learn the culinary history of the city plus taste five award-winning dishes (all included in the ticket price). To learn more about my food tour, click here.