Scottsdale offers lush desert landscapes like no other. There's also a unique urban edge to this desert city that offers so much to do. Certainly, that's why we chose it as our first family vacation destination! In this Scottsdale Travel Guide, I'm sharing some of the best things to do and see for families and kids. And, of course adults too!
Subscribe and watch the Arizona Family Travel guide below:
Learn more about Scottsdale here!
The Ultimate Scottsdale Family Travel Guide
WHERE TO STAY
HYATT REGENCY SCOTTSDALE RESORT
7500 E Doubletree Ranch Rd, Scottsdale, AZ 85258
For a family friendly hotel, you cannot go wrong with the Hyatt Regency Scottsdale Resort & Spa at Gainey Ranch. The beauty of the majestic McDowell Mountains, palm trees, cacti, wildflowers, Frank Lloyd Wright-inspired architecture, and the spirit of Native peoples creates a comfortable Southwestern elegance. There are many recreational amenities including a 2.5-acre "water playground" and three-story waterslide, and sand beach – absolutely perfect for kids, families, and adults alike. The Hyatt also has 27 holes of championship golf at the award-winning Gainey Ranch Golf Club, four tennis courts, miles of jogging and bicycle trails, Spa Avania, the Native American Learning Center, Camp Hyatt Kachina for children, five distinctly different restaurants and live entertainment nightly in the new Center Stage Bar.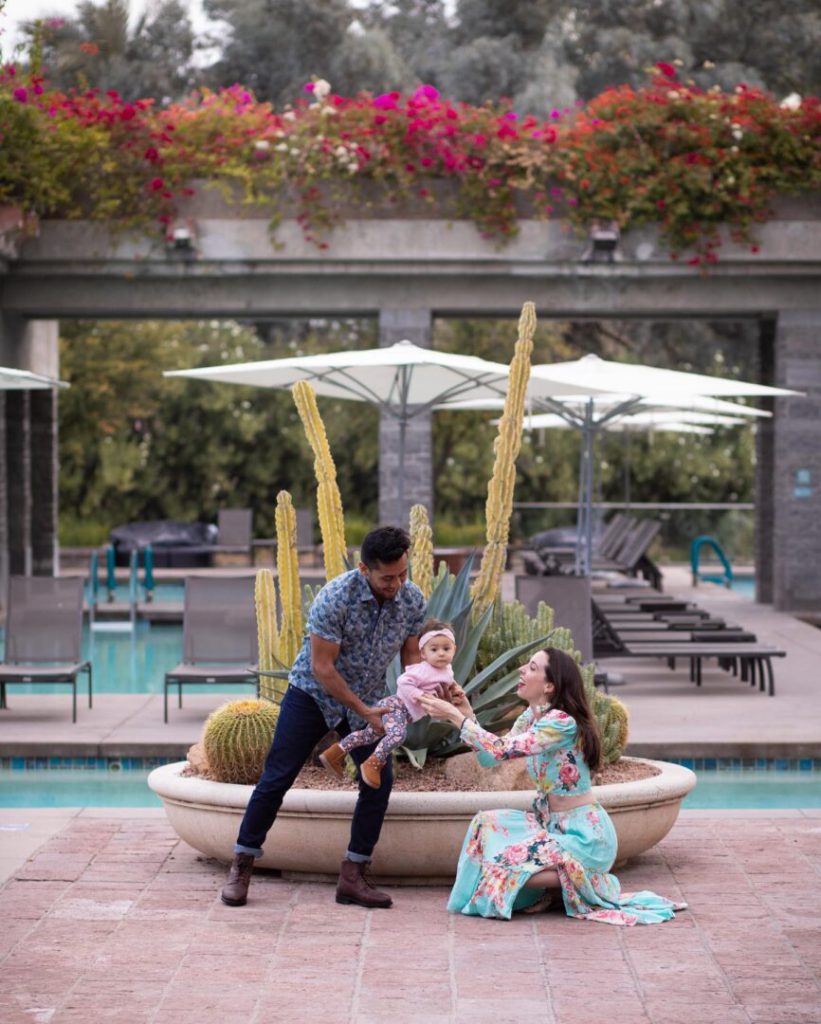 WHAT TO DO
MCCORMICK-STILLMAN RAILROAD PARK
7301 E Indian Bend Rd, Scottsdale, AZ 85250
A visit to McCormick-Stillman Railroad Park is the perfect family activity. The park sits on 30-acres and is the most unique park of its kind in the country. "Take a ride on the Paradise & Pacific Railroad and the 1950-vintage Allan Herschell carousel. Visit a variety of shops and museums, play on one-of-a-kind playgrounds or play areas, or just relax in the grass under a tree in Scottsdale's most beautiful park." Perfect for the whole family! 
PHOENIX ZOO
455 N Galvin Pkwy, Phoenix, AZ 85008
There is no family activity more quintessential than visiting the zoo! It's fun for all ages. The Phoenix Zoo is situated on 125 acres of land and is home to over 1,300 different animals, over 200 of which are endangered species. Spend the day admiring the wildlife, take a break on the endangered species carousel, or ride a camel!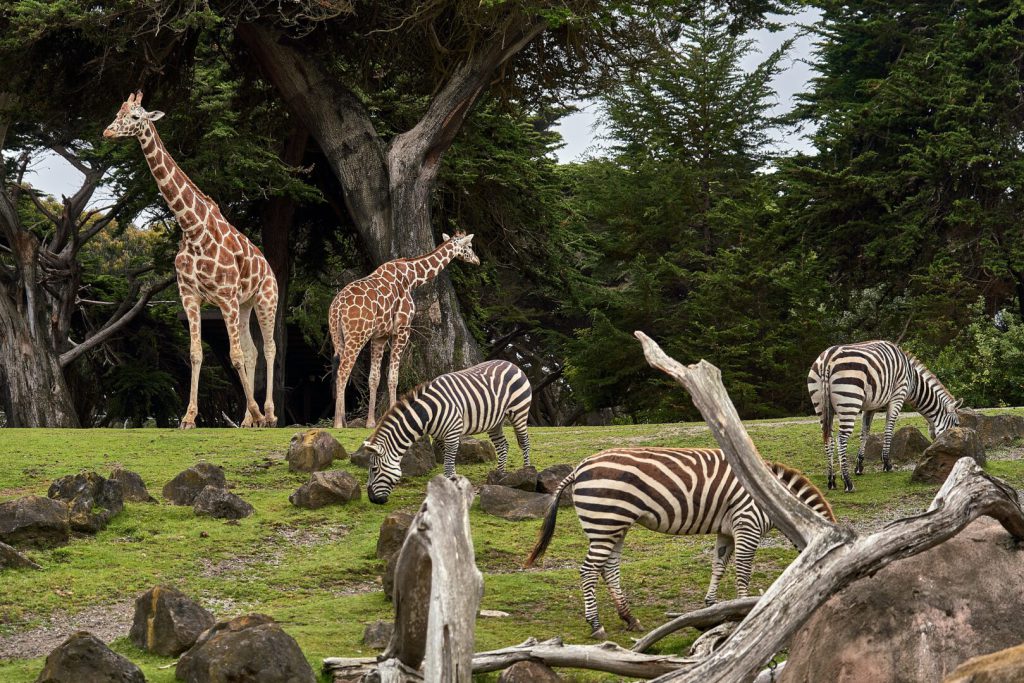 ODYSEA AQUARIUM
9500 East Vía de Ventura Suite A-100, Scottsdale, AZ 85256
OdySea Aquarium is the 4th largest aquarium in the United States and the largest in the Southwest. It is a 16-acre complex spanning more than 200,000 square feet over two levels and holds 2 million gallons of water – that's a LOT of water! It's also located in a prime location – the Arizona Boardwalk which is Arizona's premier entertainment destination along with shopping and dining. OdySea houses an abundance of marine life – over 30,000 marine animals to be exact! And one of the coolest things? You can see the animals swimming by while in the bathroom. Yes, the bathroom! OdySea Aquarium is an absolute must-do!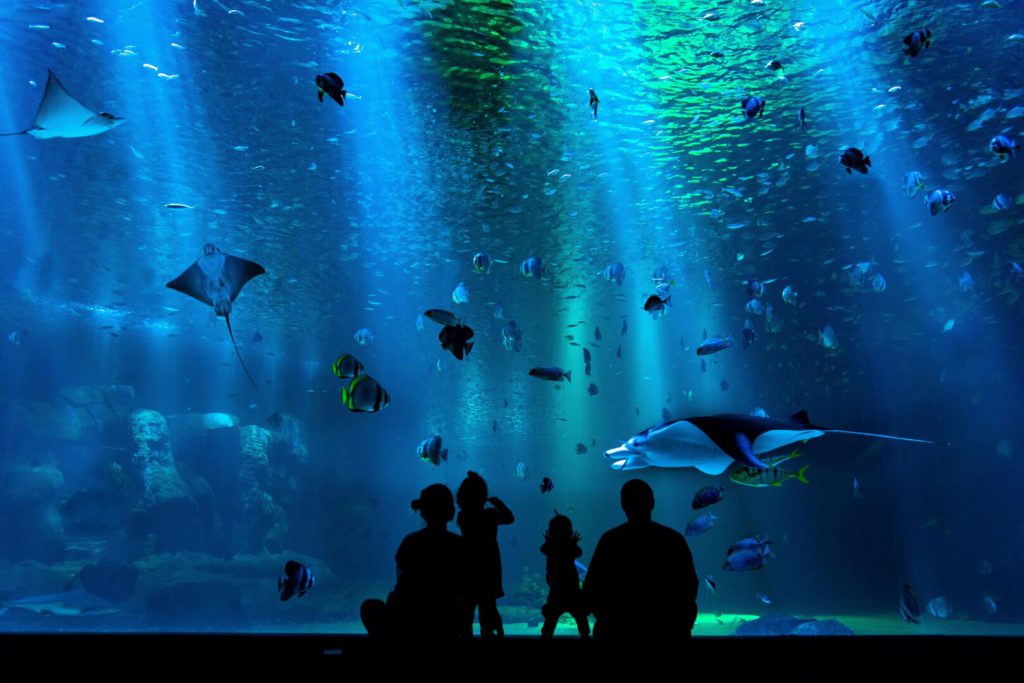 SPA AVANIA
7500 E Doubletree Ranch Rd, Scottsdale, AZ 85258
Spa Avania is an absolutely beautiful spa with equally beautiful grounds. It is the perfect spot for relaxation and a "mom break." I especially enjoyed the hot and cold plunge pools as well as a deep tissue massage. Spa Avania is one of the world's first resort spas to carefully choreograph all details of the spa experience to the science of time and the body's internal clock. Covering 2.7 acres of indoor/outdoor treatment rooms, gardens, pools and meditative spaces carved out of the serene beauty of Arizona's Sonoran Desert, Spa Avania was conceived specifically by Spa Hyatt designers to provide holistic, total-immersion spa experiences based on the six spa elements deemed most essential to the body's changing daily rhythms and requirements. These include customized spa treatments, mineral water therapy, music styling, diet, the antioxidant benefits of the world's finest teas and natural light.
BUTTERFLY WONDERLAND
9500 E. Via de Ventura, Scottsdale, AZ 85256
Butterfly Wonderland is a state-of-the-art facility that has the largest butterfly pavilion in the United States. Start your journey with the 3D feature film "Flight of the Butterflies," providing insight into their fascinating life. Step into the Butterfly Emergence Gallery, where you'll observe the most dynamic stage of a butterfly metamorphosis, emergence from the chrysalis. Next, you'll be welcomed into a lush rainforest atrium where thousands of butterflies from around the world fly freely, landing on fragrant flowering plants – from sweet almond verbena to plumeria. From the atrium, you will continue on to several interactive exhibits showcasing other natural wonders, from honey bees to sea life.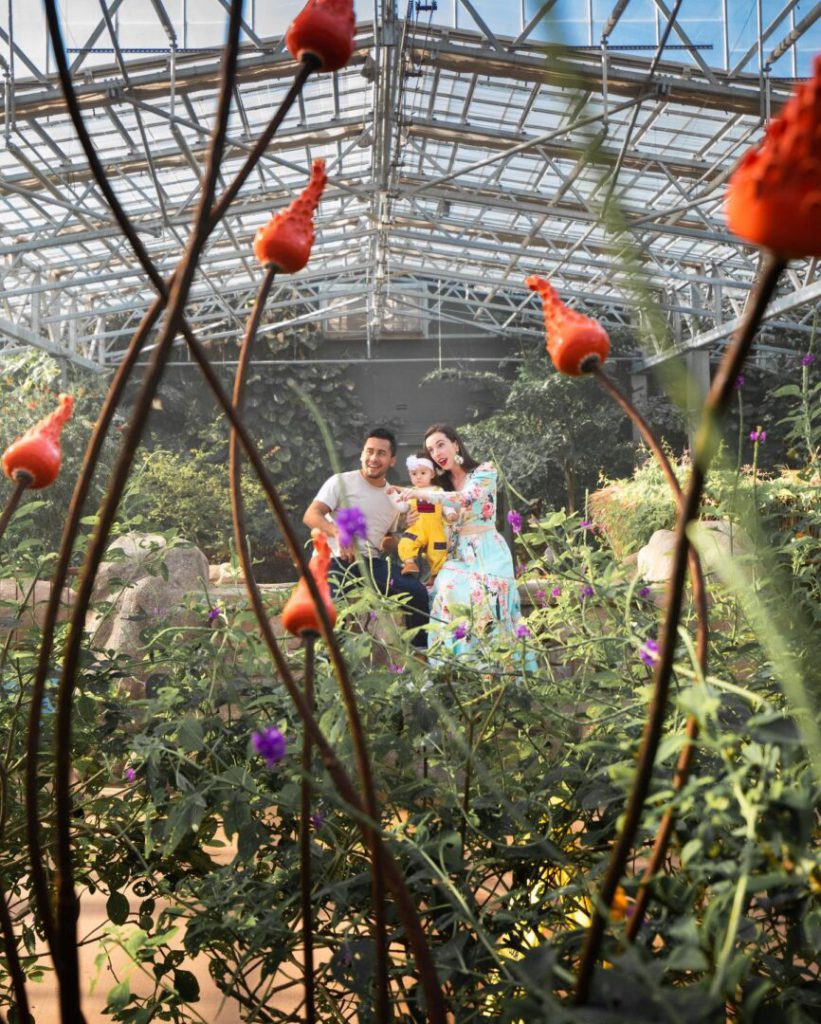 WONDERSPACES
7014 E Camelback Rd #584, Scottsdale, AZ 85251
Wonderspaces is an ever-changing art show featuring immersive and interactive installations, along with a full bar. Many exhibits have lots of light and color, making it fascinating for children! It's a really cool experience, worth coming back to over and over, and I definitely recommend checking it out!
WHERE TO EAT
POSTINO HIGHLAND RESTAURANT
4821 N Scottsdale Rd, Scottsdale, AZ 85251
Postino Highland Restaurant in Scottsdale is the original local wine cafe. It's a nice, casual spot that is very family friendly. "It sits inside a 1960's building that housed the former Valley National Bank branch. Aspects of the building's original design found in historical photos, including stylized metal screens, concrete posts and space age-style light fixtures that now hang over booths were restored. While sharing a bottle of wine and enjoying bites of bruschetta, you're sure to enjoy the expansive art installation backdrop featuring over 10,000 vintage matchbooks sourced by guests."
LOS SOMBREROS MEXICAN RESTAURANT
2534 N Scottsdale Rd, Scottsdale, AZ 85257
Los Sombreros has been rated America's top restaurant by Zagat. Influenced by Central and South Mexico cuisine, some menu highlights are the Mole Verde, the Mole Oaxaqueno, Tortilla Soup, and their Homemade Guacamole. Another plus is their mezcal cocktail selection! In addition to the delicious food and drink options, Los Sombreros also has an authentic and inviting Mexican casita atmosphere, with a striking open kitchen and colorful artwork.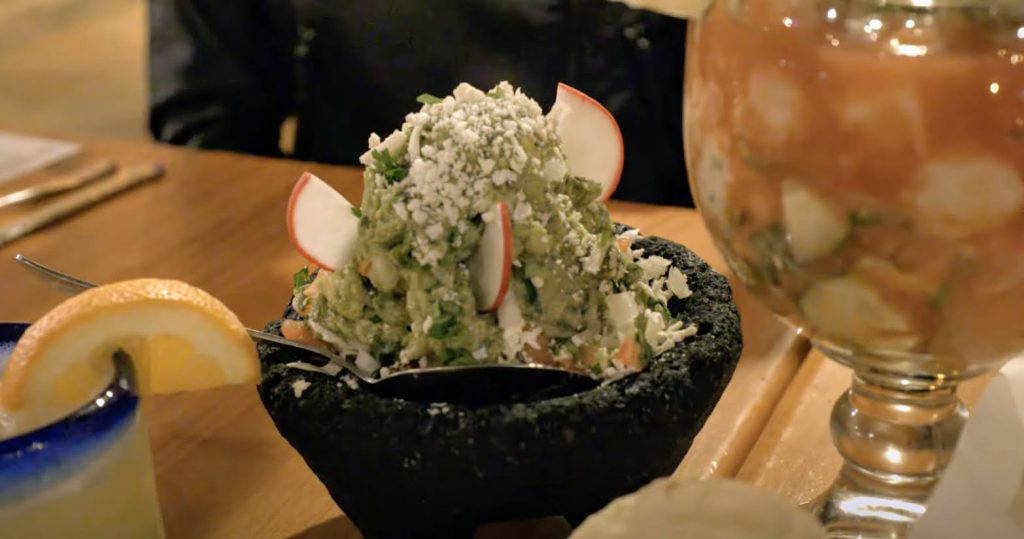 SWB RESTAURANT
7500 E Doubletree Ranch Rd, Scottsdale, AZ 85258
Conveniently located at the Hyatt, SWB is an exploration into contemporary Southwestern cuisine. SWB crafts creative Southwest cuisine in wood-fired ovens. Enjoy the delicious aromas and inviting atmosphere created by the open kitchen. Another plus is that Breakfast, Lunch, and Dinner is offered here! A granite fireplace warms the main indoor dining nook while, outdoors, guests can linger by open fire pits as they take in views of the McDowell Mountains. Among the colorful starters is the resort's signature guacamole spiked with lime and cilantro, prepared table-side. For entrees, I recommend the free range chicken, enchiladas, and steak. And the broccoli cheddar soup is baby approved! 
BRAT HAUS GERMAN BEER GARDEN
3622 N. Scottsdale Road, Scottsdale, AZ 85251
Brat Haus is Arizona's most welcoming beer garden with 28 craft beers on tap. The menu features made from scratch cuisine inspired by European food craftsmen, offering a wide variety of brats, burgers, salads and sides. It's a great family spot for a relaxing and casual lunch or dinner. The patio is dog friendly, and features a fire pit, along with fun patio games like bag toss, ping pong, darts and life-sized Jenga.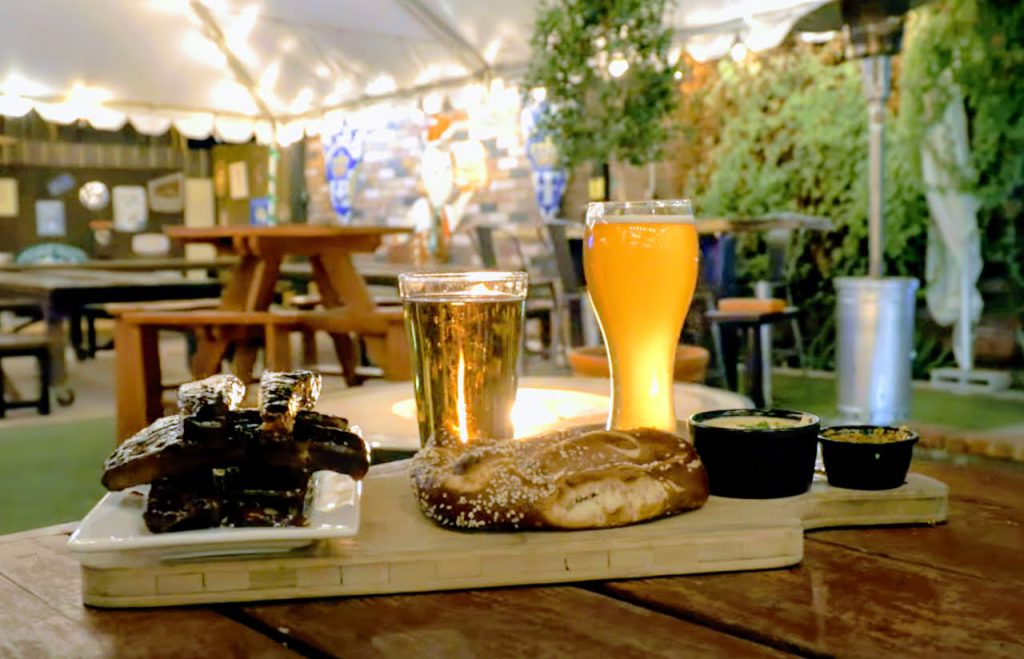 THE HERB BOX RESTAURANT
7051 E 5th Ave J, Scottsdale, AZ 85251
The Herb Box is a great spot that offers a varied menu for brunch, lunch, and dinner. In addition, they have a great cocktail menu. I really enjoyed the salmon and the mac and cheese. They use seasonal and fresh ingredients with a regional flair, so there's plenty of healthy options too.
FARM & CRAFT RESTAURANT
4302 N Scottsdale Rd, Scottsdale, AZ 85251
Farm & Craft is focused on healthy and sustainable food in a community-style atmosphere. One of the most unique things about Farm & Craft is their seasonal Wellness Menu featuring four paths to optimal health, including an anti-inflammatory diet, increasing probiotic levels, maintaining high levels of antioxidants and reducing your overall stress. This is accomplished by providing sustainable, gluten-free, organic and hormone-free ingredients. Another unique thing about Farm & Craft? They have a kombucha bar!
For more: The Ultimate 3-Day Scottsdale Itinerary and The Winter Getaway Guide.
With so much to do and see, it's no wonder Scottsdale is one of the best spots for a family getaway. I hope this Scottsdale Family Travel guide helps you plan your trip so that you can have the best time. Safe and happy travels!